Last week the Formula 1 circus arrived in the USA, where there was entertainment and glamour in the air. Drivers find the Circuit of the Americas very enjoyable to drive, and the circuit offers good possibilities for overtaking. For the first time this season, Hamilton had the chance to secure his fourth world championship on the Texan soil. 
If you had to describe the qualifying in two words, those would be hammer time. Since the summer break, Hamilton has been absolutely unstoppable. The Briton topped the timesheets in all three sessions. Sebastian, on the other hand, struggled with getting into the rhythm, especially in the first two segments. The only driver on a different tyre strategy in Q2 was Red Bull's Verstappen, who opted for the red-marked supersoft compound. The Dutchman had been given a 15-place grid penalty for the use of additional power unit elements, which explained the Red Bull youngster's tyre choice. Hamilton took provisional pole by four tenths to his teammate Bottas, who had set the fastest time on sector 1 but dropped back on the other two. After the first runs, Kimi was third and Sebastian fourth. Sebastian was the big improver on his last flyer; the German was only 0.239s down on pole-setter Hamilton, who was unable to improve on his last run. Bottas, too was unable to improve, which meant losing the front row grid slot to Sebastian. It was rather tight between Ferrari and Red Bull as Ricciardo and Kimi ended up setting identical lap times! However, the Australian had set his lap time first, which meant P4 for the Honey Badger and P5 for the Iceman. Verstappen qualified 6th, but was dropped down to P16 due to the grid penalty. Carlos Sainz, who made his debut with Renault this weekend, did an excellent job by qualifying 8th, ahead of Alonso in his McLaren. Hamilton's pole in Austin was already his 11th pole of the season and his third in a row.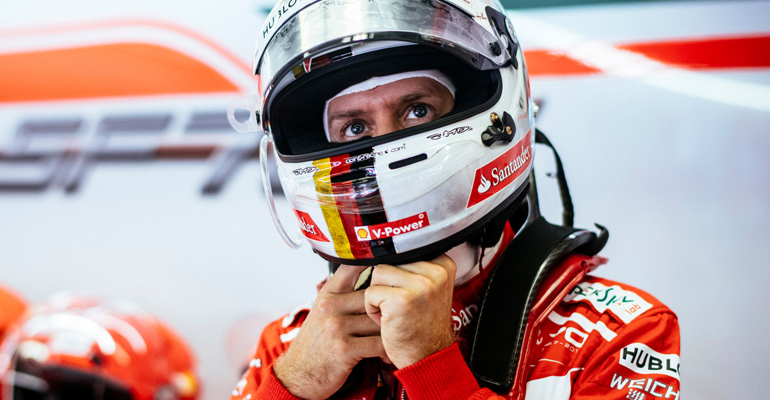 The start uphill into Turn 1 was extremely thrilling. Sebastian took a perfect start and managed to get into Turn 1 ahead of the title rival Hamilton. What a promising start it was! I was absolutely delighted to see Sebastian snatch the lead from Hamilton. Bottas in the second Silver Arrow managed to hold on to his third place, whereas his compatriot Kimi lost the fifth position to Force India's Ocon. However, Kimi was determined to get his position back; already on lap two the Iceman attacked the pink Force India and made his way past the Frenchman. Kimi was driving an impressive race. 
Unfortunately, Sebastian wasn't able to open a gap to Hamilton. Instead, Hamilton kept banging fastest lap times, and, rapidly, the Briton had already made it within DRS distance from the German. Sebastian was clearly struggling with his tyres. On lap 6, Hamilton attacked and made a successful overtaking move on Sebastian. It seemed like an easy-looking move to me, and I found it quite surprising that the overtaking didn't turn out more difficult for Hamilton. Losing the lead was definitely a turning point in terms of Sebastian's race. 
Red Bull's Verstappen was literally flying, as the flying Dutchman had already made his way from P16 up to P6 by lap 10. Once again, the Red Bull ace put up a staggering overtaking show. Teammate Ricciardo, however, had a different fortune. Soon after his first pit stop, the Australian was hit with an engine failure, which ended Ricciardo's race.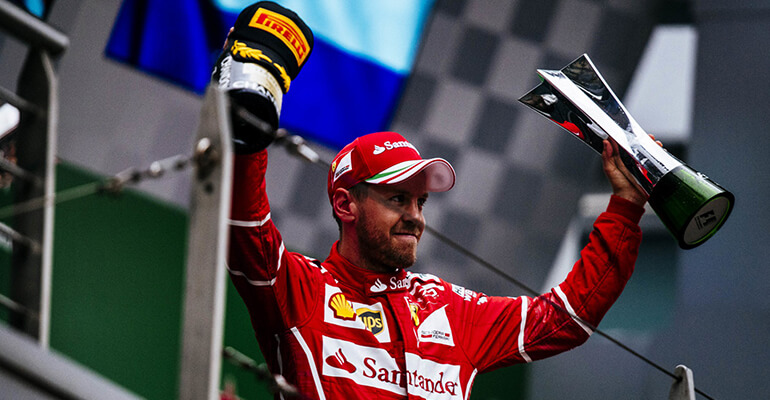 It was interesting to see different pit stop strategies within the top three teams. Verstappen had opted for an aggressive pit stop strategy, coming in for the second time on lap 38. He re-joined the track in P5, having lost no positions due to his pit stop. Ferrari reacted right away by calling Sebastian in for the second time. Sebastian re-joined the track in P4, right behind his teammate Kimi, who was putting serious pressure on his fellow countryman Bottas. It was going to be an intense battle between the Finns! At the finish straight on lap 42, the Iceman attacked; Bottas had no chance to defend his position on his dying tyres. What an excellent move from the Iceman! 
With five laps to go, Sebastian was lurking right at Bottas' tail. The one-stop strategy seemed very costly for Bottas who was in serious trouble with his out-worn tyres. And what a move Sebastian made! Having moved past Bottas in Turn 1, Sebastian also made a close move on McLaren's Vandoorne, who got lapped by the German. What a fantastic and classy move from Sebastian again! Rapidly, Sebastian closed the gap to his teammate, and the Ferrari teammates switched positions as soon as on the following lap. Meanwhile, Verstappen had also stormed past Bottas, who was absolutely toothless against the Dutchman's attack. As there was no threat coming from behind, the Finn pitted for the second time with only three more laps to go.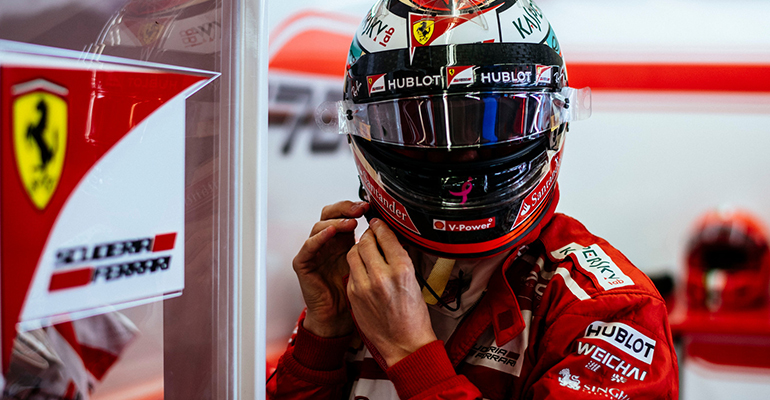 The final lap was utterly hair-raising. Storming Verstappen had closed the gap to Kimi and was already within DRS distance from the Iceman. The flying Dutchman was passionate about getting on the podium; he was ready to attack the Finn before the chequered flag. And, in the final corners, it happened! Max drove to the inside of Kimi and made it past! What a bitter-looking moment for Kimi indeed! Max had driven a sensational race; what a fairy-tale like final lap! But, as Verstappen was getting prepared for the podium ceremony, the announcement came; Max had been given a 5-second time penalty for gaining advantage by leaving the track when overtaking Kimi! This meant that Max lost his third place to Kimi! It was an awkward-looking moment in the pre-podium room, as Kimi was brought in and Max was brought out... What a drama! Finally, there were both red-suited Ferrari aces on the podium! 
Mercedes has now officially secured their fourth constructors' championship, which came as no surprise. There are already 66 points separating Hamilton and Sebastian in the drivers' championship standings. It means that winning the championship is still mathematically possible for Sebastian, yet again extremely unlikely and against all odds. However, there are three more rounds to go, first of which will take place in Mexico this week already. Championship aside, I hope to see Sebastian and Kimi having fun on track in the remaining races. I always believe in my favourite drivers! Forza Ferrari! 
With passion for racing red, 
Iina Huhmarniemi