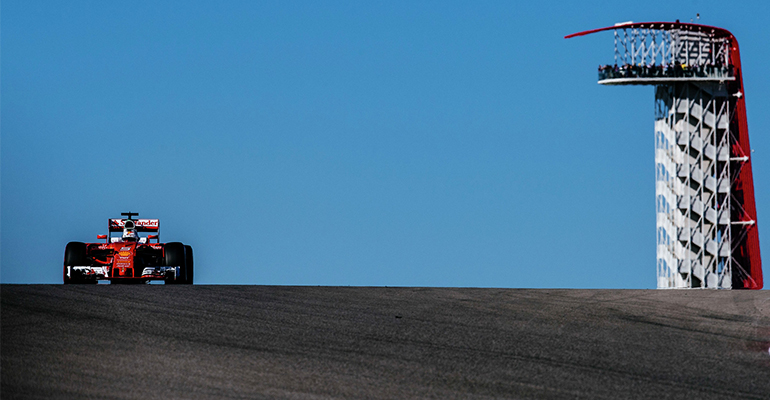 Round 18 brought Formula 1 circus to Austin, Texas for the fifth time. All drivers like Circuit of the Americas a lot – not only for its visually iconic Turn 1. Drivers climb more than 30 metres in altitude in just a few hundred metres of asphalt. It's also a perfect place for overtaking because the uphill braking zone aids late braking. In terms of braking, coming to Texas, FIA has given drivers more specific guidelines on defensive manoeuvres after the incident between Verstappen and Hamilton at Suzuka. Any change of direction under braking which results in another driver having to take evasive action will be considered abnormal and hence potentially dangerous to other drivers; any such move will be reported to the stewards. 
In terms of qualifying, nothing had changed from the previous race weekends. Mercedes were again stamping their authority all over the place. Unfortunately, Red Bull seemed to have gotten the upper hand on Ferrari again. Q2 saw different tyre strategies. Mercedes ran both their drivers on yellow-marked soft Pirellis. In spite of the tyre choice, the Silver Arrows were convincingly fast, making it 2nd and 3rd in the standings. Ricciardo at the wheel of his RB12 set the fastest lap time; but the Australian ran the red-marked super soft Pirellis. Teammate Verstappen, on the other hand, opted for the soft compound, similar to the Mercedes teammates. Ferrari ran both Kimi and Sebastian on the super softs. The tyre tactics meant that both Ricciardo and Mercedes drivers could potentially gain advantage by starting the race on the more durable rubber.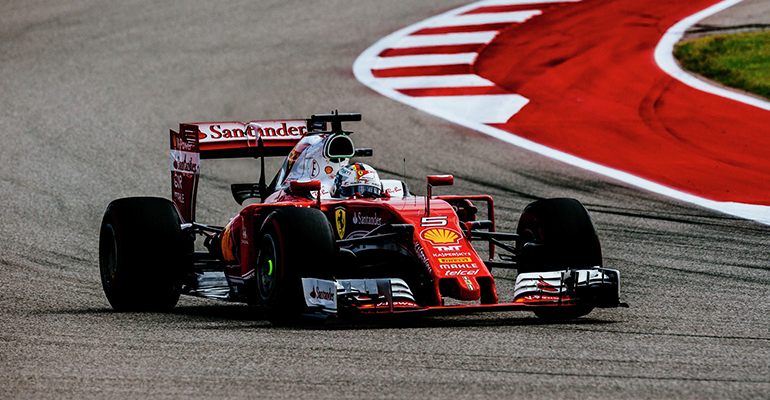 The front row was for Mercedes to conquer - this time Hamilton heading teammate Rosberg by two tenths. Red Bull locked out row two, with Ricciardo acing teammate Verstappen. To my disappointment, Ferrari were a massive second off Mercedes' pace and half a second down on their closest rival, Red Bull. Kimi led teammate Sebastian for an all-Ferrari third row. Thus, in terms of one-lap pace, the pecking order was quite straight-forward. 
What a dramatic race the US GP turned out to be! Unfortunately, not in a very positive way. Hamilton took a dream start and held on to the lead. Red Bull's Ricciardo benefitted from the super soft tyres and stormed to second, ahead of Mercedes' Rosberg. Kimi, also starting on the super soft tyres, got a stunning start from P5 and jumped fourth immediately. All top drivers, except Rosberg, pitted for a fresh set of soft tyres; he opted for a fresh set of white-marked Pirellis. Kimi had driven a fantastic first stint on the super softs, but the Iceman's pace seemed to disappear somewhere after the pit stop. Soon after Kimi was seriously in trouble with Red Bull's Verstappen who got right at the Finn's tail. Alas, there was nothing Kimi could do to prevent the "Flying Dutchman" from overtaking him; Kimi dropped down to P5.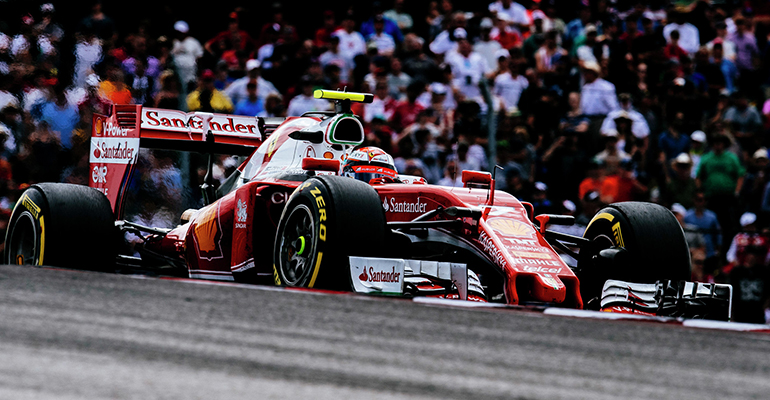 I was quite relieved when Kimi pitted for the second time for another set of super soft Pirellis. However, the tyre choice meant that there was going to be third pit stop for the Iceman. There was no way he could have made it to the chequered flag on those super soft tyres! Ricciardo, on the other hand, pitted for a fresh set of medium tyres. Meanwhile Verstappen, who was driving at a strong race, drove into the pits, but the Red Bull crew wasn't ready at all! It was a bizarre case of miscommunication, which cost the Dutchman over 10 seconds. Only a couple of laps later the Red Bull teenager's race got another dramatic turn, as an engine issue hit Max's RB12 like a lightning; Max's race was over.
Virtual safety car was deployed due to Verstappen's retirement. Both Silver Arrows pitted during the virtual safety car, getting a sort of a "free" pit stop. That was a shame for Ricciardo, who had already pitted some laps earlier. After virtual safety car had ended, Hamilton was leading the race with teammate Rosberg second. Ricciardo was third, Kimi fourth and Sebastian fifth. At this point it seemed to be a strong race for the Red team, especially because one Red Bull was out of the race already.
For a tifosi like myself, the lap 39 was the most devastating and shocking turn in the race. Kimi pitted for the third time - for another set of soft tyres. But there was a problem with attaching Kimi's rear-right tyre; nevertheless, the Iceman was released from the pits normally. But since one of the tyres wasn't properly attached, the team had no choice but to tell Kimi to stop at the pit exit! It was so very sad to see the Iceman reverse in the pit lane! Such a true moment of despair! Kimi would have brought excellent points for Ferrari. It was a bitter disappointment, but sometimes things like that happen in motorsports... Regardless, it feels unacceptable in the heat of the moment.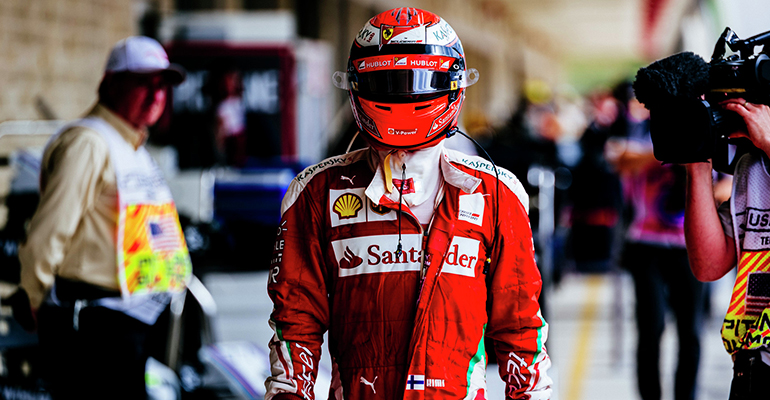 Hamilton took victory, and Rosberg made it a 1-2 for the Silver Arrows. Ricciardo completed the podium. Sebastian drove an impressive race finishing fourth. Such a pity that his pace wasn't quite enough to make it on the podium! There was an intense and thrilling fight for P5 between Toro Rosso's Sainz and McLaren's Alonso. Alonso managed to get past his compatriot on the very last lap and took P5. Both Spaniards drove an utterly stunning race. Once again it was Ricciardo who knew how to put up a hilarious show on the podium. This time the Australian made podium interviewer Gerard Butler do a shoey with Red Bull! In spite of Hamilton's victory, Rosberg still has a firm 26-point lead in the drivers' championship standings with only three more rounds to go.
Mexican GP weekend is just around the corner. I always believe in the Red team. Every new race offers a new opportunity for taking the battle to Red Bull and Mercedes!
With passion for racing red, 
Iina Huhmarniemi