Enzo Ferrari said he won world championships with farmer-mechanics. Ferrari mechanics of that time were working with just four people for each car, today they are more than a hundred. "We worked as mechanics on the whole car, today mechanics act as engineers, as technicians", Iseppi has said. They worked even for passion being payed less than their English colleagues. And they were a team, a family, they loved each other and loved Gilles, who was one of them, as a brother. Villeneuve respected their work and did not criticise it, he trusted everyone. And he was the fastest and "when he was in an accident it was mostly while overtaking as they simply didn't allow him to pass considering him a rookie", Corradini has said. "When he didn't win, there was always a reason not depending on the driver. He competed for the public, loved the speed and refused to accept the limit of the car. That was his only mistake", Scaramelli recollects.
At the Museum of Gilles Villeneuve, opened in 1988 at Berthierville, Canada, and dedicated to the memory of the driver, the CEO of the museum says: "I remember an old man who came here and spoke only Italian. He was very excited after his visit to the museum. We tried to understand why and finally I understood that he was an old mechanic retired from Ferrari who worked with Gilles. That shows how all the people around Gilles were so bound to the person". At Montreal, the Canadian GP promoter, François Dumontier says "the inscription «Salut Gilles» on the start-finishing line will never disappear. It's part of the heritage of the event now."
Antonio Tomaini, who worked for 13 years at Scuderia Ferrari F1 managing several drivers, says: "The blue-collar mechanics, who made up the racing team, were 8 in total (in addition to a Marelli technician) to manage the two cars plus the extra one. And besides Forghieri, Ghedini and me wearing yellow jackets, all others were men of Good Year in the service of all teams using their tires. In addition to their task of mechanics, some of them were also signalmen or truck drivers. The truck, when cars were unloaded and the tent pulled back, became also workshop, garage, dressing room and sometimes even cafeteria. Prosciutto, parmigiano and lambrusco were never in short supply, were arranged in a drawer next to the one of gear ratios. The slicer also had its own place. One of the mechanics most skilled with pots was performing in cooking a plate of spaghetti, even for a few guests always there".
The electronics turned Formula 1 into a futuristic video game. "Years ago, when you had to fuck somebody, you did it, today you send him an e-mail: this is the difference between the Formula 1 of the past and the modern one", Leo Turrini, a journalist and expert on Formula 1 and Ferrari, says. "Today, races are not between Formula 1 drivers anymore, but between radio-controlled cars," Iseppi says.
Ermanno Cuoghi was a legendary racing mechanic that had partnered with Niki Lauda to win two World Driver's Championships (1975, 1977) at Ferrari. Following his public firing from Ferrari for agreeing to join Lauda at Brabham in 1978, he became a part of the political intrigue that lead Lauda to walk away from Ferrari two races before the end of the 1977 season. "He was a great racing friend and a source of infinite inside information. He also was a great practical joker. In one case during 1977, he insisted that I to go inside a motorhome to give Lauda photographs from the previous year. In fact, he nearly pushed me () up the stairs," Richard Kelley, a photographer, recollects. "I entered to find Lauda, Carlos Reutemann and Mauro Forghieri in a deep de-brief; their stares were sterilizing. I nodded, dropped the photos and charged out. Cuoghi met at the bottom of the stairs. I blurted out, "How could you do that? I wasn't supposed to be in there. I never felt so much cold". Cuoghi winked, "Now you know what it's like to drive for Ferrari these days".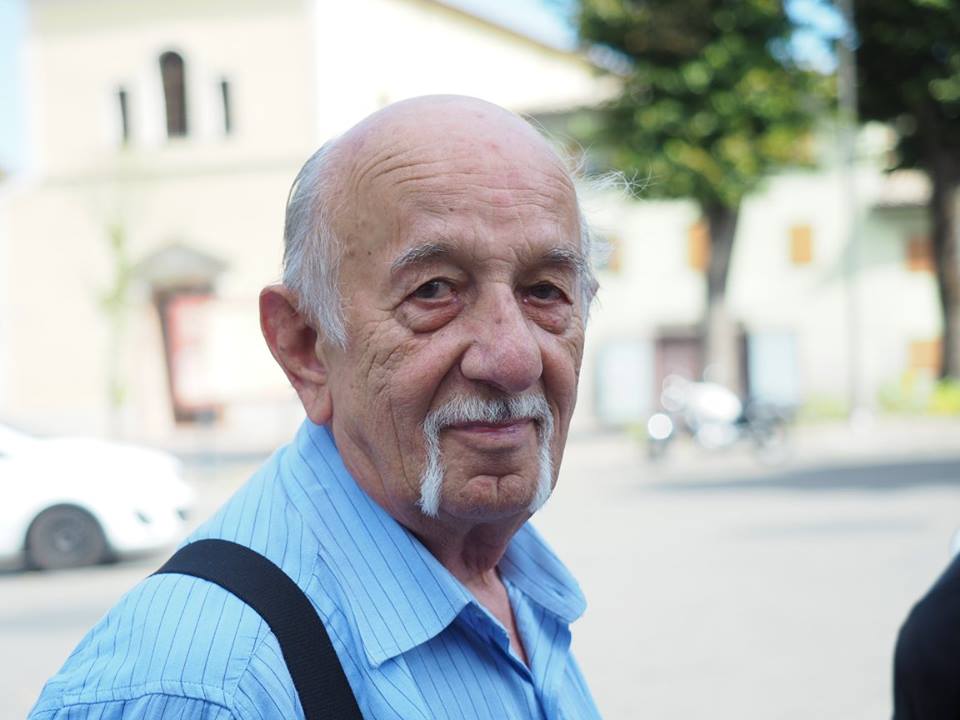 Bruno Iseppi, former Ferrari mechanic. In charge of the right anterior wheel of Villeneuve's car during the race, committed to the whole car during the tests. "My greatest wish would have been to be born with straight legs, unfortunately I was born with bow legs …".
Pietro Corradini, former Ferrari mechanic. He joined Ferrari in 1970. He's been in engines, was chassis assembler, and then responsible of the car of several drivers.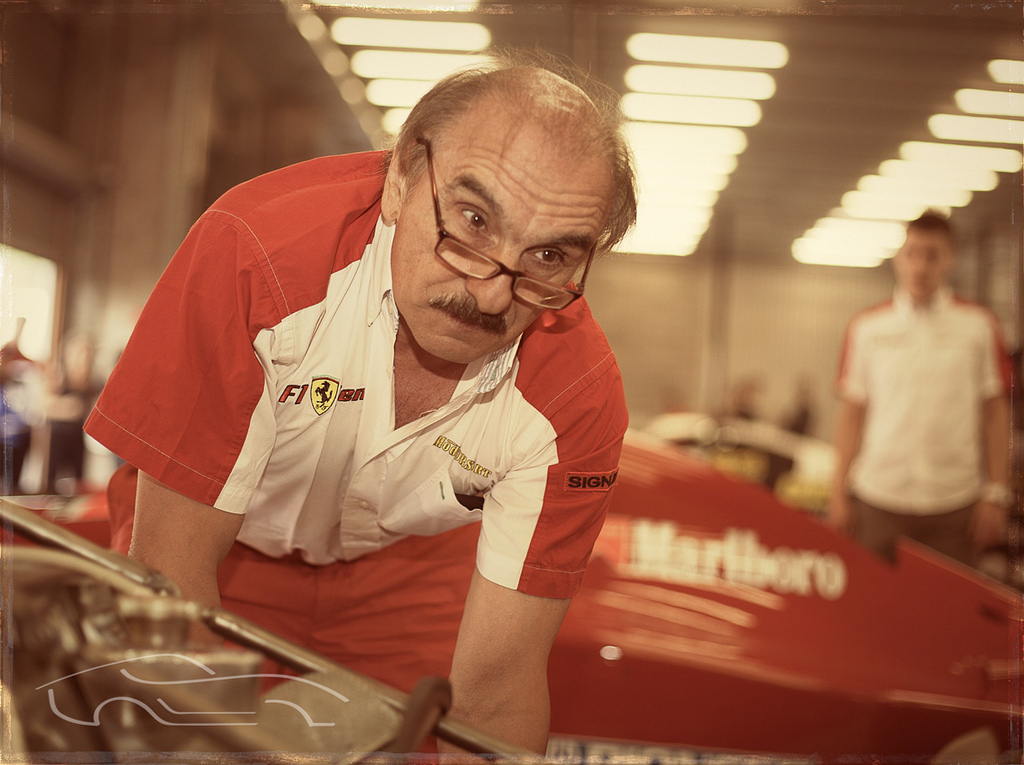 Paolo Scaramelli, former Ferrari mechanic. One of Gilles mechanics.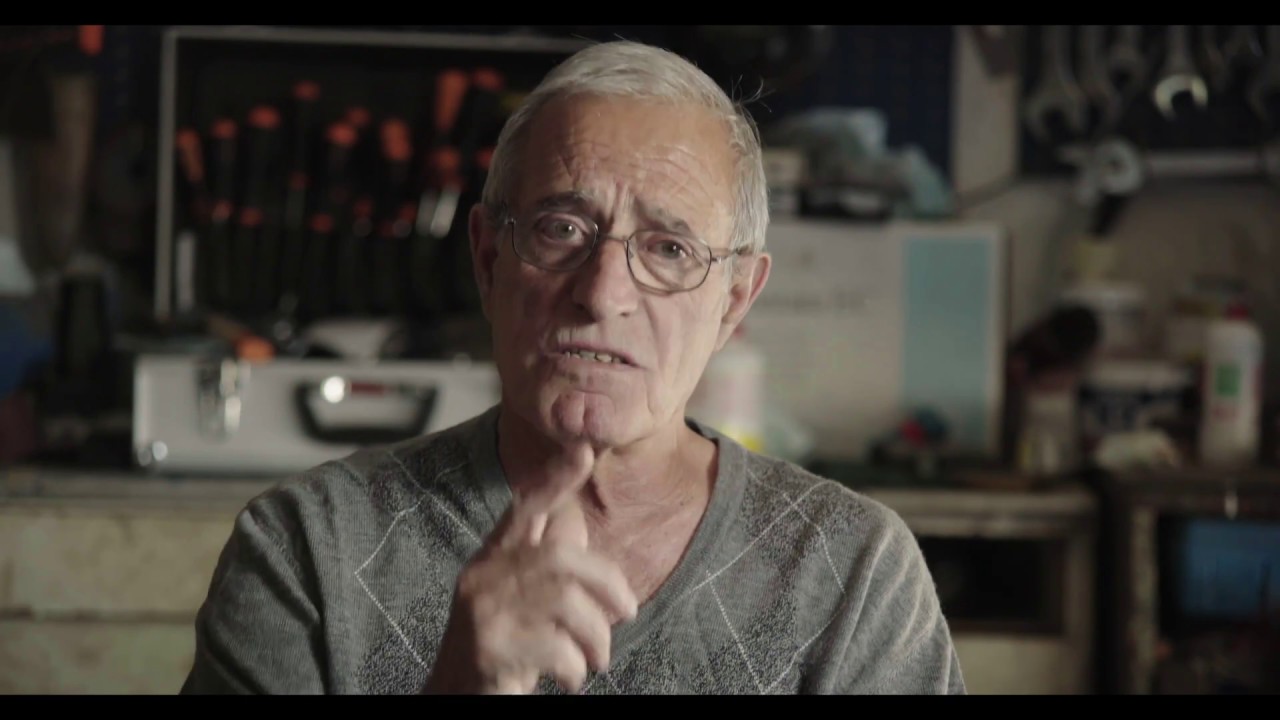 "They" are the guys of 1976, mechanics of Ferrari pit who have made that agonistic dream come true. "Il Cuoghi", "l'Iseppi", "il Corradini" and the rest of them. Mechanics with mechanic faces and the tombeur de femmes way to talk, pit lane goons aged very well up their sleeve.
Ermanno Cuoghi, mythical Niki Lauda's chief mechanic. "More of a good friend than a chief mechanic", he points out. "To follow Niki at a certain point I even went out of Ferrari". Hulk Hogan style mustache, baritone voice and a Modenese doc accent, Cuoghi tries not to be inelegant after seeing the movie Rush: "I understand it's a movie …., the thing is the story is really different from reality. Niki and Hunt didn't hate each other at all. They were not even enemies. Of course, when they closed the visor of their helmets they wanted to win, but, you know, knowing what happened for sure, no, I didn't like it".
Bruno Iseppi, another Lauda mechanic is even more disappointed: "There is this alternation between reality and exaggeration that I don't like". The list of group's grievances is done by Cuoghi. "The first problem is the accident". The accident is obviously the one of Nürburgring, where Lauda risked his life and lost his form, taken to flame of his Ferrari. "I was there when it happened, it was awful. I was expecting to see the scenes of him coming back to drive in Fiorano, or to see what really happened in Monza, his suffering, the meetings before the sessions when they cut him the cushioning of the helmet to prevent it from touching the burns. But it didn't. They even got his helmet wrong, That year Niki had a contract with Italian AGV and they let him wear an American Bell instead: and it's not simply a detail as Niki's face was engulfed in flames precisely because he lost, inexplicably, his helmet".
Actually, Howard could have tried to inquire more into Hunt's guilt, that weren't little during the rest of the season, they ensure. And the record was wiped out by the novel. "The whole Lauda was constructed differently from reality. He was a great test driver, and this is true, he "felt" things that other drivers didn't even note, but he was much less technician of how he's described and, you know, he didn't invent the suspension!" And, also, much less rude: "this middle finger that comes back … It never happened. Even his problems with the family were compounded. We lived together for seven years, I have never seen anything like it".
Even Hunt's character has some problems: "too much womanizing, too much wild. Yes, he had a bit different concept of behaviour from other drivers, but he was still a great professional". Pietro Corradini, at the time working on Clay Regazzoni's car, is a bit more merciful: "it has to be said that it was very difficult to well capture the reality of what that season was." "Yes," Cuoghi responds, "but it's one thing to emphasise things and another to betray them". This "il Cuoghi" says, and his chin goes almost unintentionally in the direction of a bunch of kids coming out of the cinema. They would be about thirty years old, maybe more. They smile. They liked the movie. "But ok," he sighs, "maybe it's a good movie in the end, for one who wasn't there".