Steve McQueen, the one everybody wanted to be. The coolest man during the coolest time. An invaluable life, to the fullest, of pure fun. He lived better than he could have wished, beauty, money, fame, women, cars, talent, fun, and a unique charm. A successful dreamer. And the love for racing.
The most elegant clothes, the most glamorous and high-class cars, and by that we mean the most beautiful Jaguar, Ferrari and Porsche, in the sixties and seventies, the top of all time. And with these kinds of cars and women any man would have been pure wallflower, no one would have noticed him. But Steve improved the visual sweep, gave that little more.
Former marine, skilled driver, passionate about cars, bikes and planes, three pretty wives, ever-changing lovers, amateur stuntman (he jumps off a cliff himself in the movie Papillon: "Jumping off that cliff was one of the most exhilarating experiences of my life", he said), martial artist, Steve McQueen ran all the way by all possible means, without fear, he got everything. The scenes that he shot had much more of true than any other movie ever made.
Steve didn't just play, was himself, he was genuine. All his movies had autobiographical traits. He didn't deceive, he had a real man charm. And that enchanting gaze. Everything he touched became unique. He was easy and he was short on false and superficial Hollywood. He, one of the greatest, didn't need it, he could live without it. He was shining by himself. He was the best product of the 1960's which chose him to be the king. He, Brigitte Bardot and few others. Gone when he was fifty, he didn't know old age, another great privilege. Those wonderful cars, the best ever, today talk about him. Breathtaking beautiful but without a soul. They are not driven by Steve McQueen anymore.
"Why do I have to work for love at home when I can get it for free outside?" He said to his first wife.
"I didn't know if I was an actor who raced or a racer who acted."
"Every time I start thinking the world is all bad, then I start seeing some people out having a good time on motorcycles … … it makes me take another look."
"Billy Graham once asked me what my religion was and I told him, "it's the desert, the grass, the sun in the sky – and my wheels."
"I live for myself and I answer to nobody."
"I would rather wake up in the middle of nowhere than in any city of earth."
"Acting is like racing, you need the same concentration. You have to reach inside you and bring forth a lot of broken glass. That's painful."
"Stardom equals freedom. It's the only equation that matters."
"If I hadn't made it as an actor I might have wound up a hood."
"Being an actor is a gas, being a movie star is a pain in the ass."
After discovering a mutual interest in racing, McQueen and "Great Escape" co-star James Garner became good friends. Garner lived downhill from McQueen, who recalled: "I could see that Jim was neat around his place. Flowers trimmed, no papers in the yard... grass always cut. So to piss him off, I'd start lobbing empty beer cans down the hill into his driveway. He'd have his drive all spic 'n' span when he left the house, then get home to find all these empty cans. Took him a long time to figure out it was me."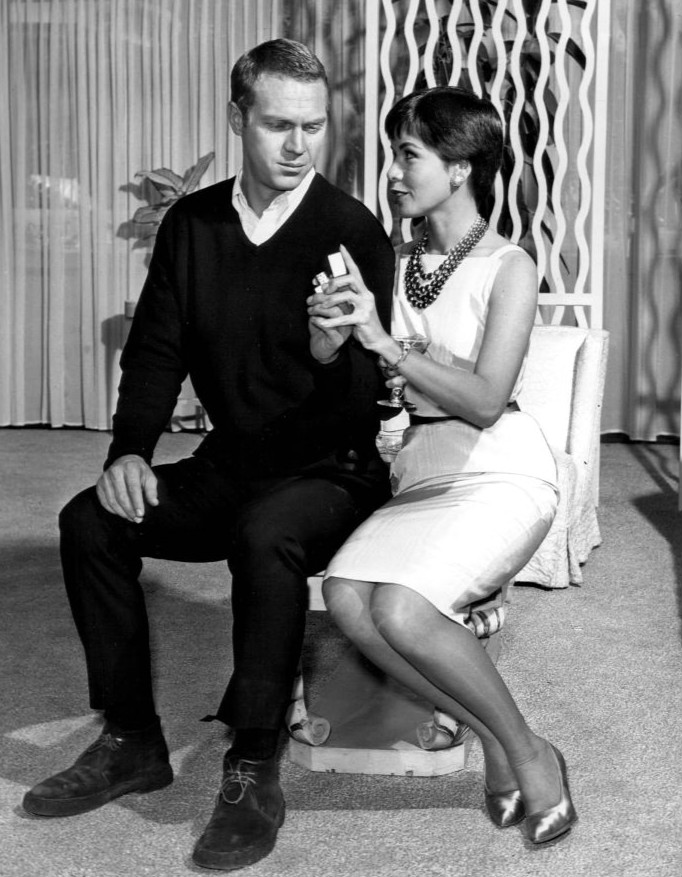 "McQueen's ideal 24 hours should have been racing, racing, racing", Mario Iscovich, McQueen's assistant / producer.
"No one wears sun glasses like Steve McQueen. No one can look as wonderful behind the wheel of a fast car as Steve McQuenn", Gary Oldman, actor.
"Every man wanted to be him, every woman I met wanted to sleep with Steve McQueen. He just had that extraordinary charismatic sexual dangerous but soft underneath bright street smarts power." Ali McGraw, former wife.
Steve McQueen, a daring life between cinema and fast cars, at maximum speed. Car and motorcycle racing in between movies, a passion which caused him also asbestos-related cancer due to race suits used over the years. Restlessness and hungry for victory, a series of women changed quickly in his bed or even in his trailer, the legend of his movies where action, charm and insouciance were classic.
McQueen was this and a lot more. They called him The King of Cool, you know, "the bomb-dot-com" and, almost 40 years after his death, he hasn't missed a teaspoon full of charm. Like Marilyn, like Audrey, he's an icon of cinema and style. World-class women-seducer without breaking into sweat ("they literally throw themselves at him", his friends at the time tell), a really big fan of races and engines on two or four wheels, successful driver in a number of competitions, an independent artist who was able to stand against the power of the majors.
The movie "The Man & Le Mans", made in 2015 with the cooperation of his son Chad, in turn actor and driver, reviews about what went into making the "The 24 hours of Le Mans", the movie played, eagerly desired and partly financed by McQueen on one of the world's most famous and toughest motor racing. Through interviews with friends, families and collaborators and repertoire materials (many of which are unedited) from the three-and-a-half hours of footage on set of 1970. A behind-the-scenes of the project (failed due to astronomical costs and fights with director and producer) which has been hidden in basements and garages in Europe and the United States for forty years, where it is told about the relationship between the actor and work, women, children, engines, races and life.
Many years after he died Steve McQueen tells his own truth about the cancer which took him away: "I think the disease was surely caused by the aluminium in the lungs, but also by the kind of pressure I've been under here at a particular time in my life, in which I even thought about giving up everything". The recorded voice of the King of Cool is one of the unedited materials of the documentary on what should have been his biggest thing, to make the definitive movie about the 24 hours of Le Mans and auto racing, and that however made him pay the ultimate price from the artistic, human and economic point of view. And that, in his belief, undermined also his health. McQueen was willing to do anything to make the movie, even risking his own career.
"The 24 hours of Le Mans" was summa and culmination of life and career of the actor from Beach Groove. The film clearly highlights his artistic value, his ideas of action applied to the direction of motors. His look on movies was state-of-the-art: the cameras for the first time on high speed cars, the footage from the roadside, the montage alternating between emotional suspensions in those blue eyes and the dangerous hurting down the circuit of racing cars. The film suddenly catapults us in those atmospheres of the seventies, when soundtracks were made by real orchestras and every scene was visual and pungent symphony. Chad tells: "I didn't fully realize how unfaithful my father was. I knew he was a liar, but all those girls … Me and my sister were protected from my parent's problems, life ran smooth for us. When my folks split up he asked me: 'who you want to be with, with me or with mom?' I told him: I'm with the shareholder, Dad, I choose you. I stayed with him until he was gone, in Mexico."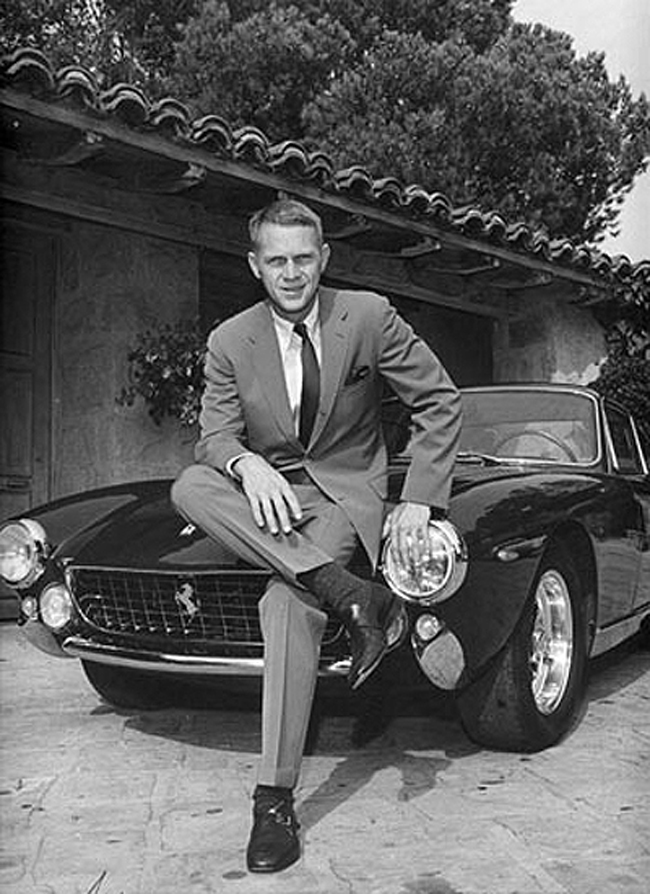 Set it in the 24 hours of Le Mans of 1970, the movie put together an extremely high budget, gigantic choices like the rent of the French circuit for three months and of a castle housing the crew, a realism on the verge of safety on film on track, an inescapable fight between John Sturges, the director of "The Magnificent seven" (then replaced by Lee H. Katzin) and McQueen: "I'm too old and too rich to tolerate this shit" (Sturges); "You stabbed me in the back, I will never speak to you again" (McQueen).
It was a disaster, in terms of spectators. And also, the critics accepted it badly. McQueen was under threat of bankruptcy. But today the movie is considered to be one of the most adrenaline films on the racing world ever and McQueen became a myth as an actor, a driver, a catastrophic producer. And, above all, as an unprecedented dreamer…
"When "Le Mans" was released," Chad says, "my father was crucified. Instead his vision was right, with that meticulous realism: he had wanted to shoot everything with speed, with cameras mounted on one of the competing Porsche. That work was a financial ruin, but his whole view of life is in there. This was what my father wanted to do, translating the feelings closer to the reality of what being in a race car means."
What that documentary also shows is Steve McQueen's ability to fight: "He wasn't the one to strike first but, if he got attacked, he was capable to defend himself, physically and not only. He was a master at martial arts. He came from the street, he was fearless. When majors were trying to impose their ideas, he was saying 'I really don't care, I don't need their money, there's nothing that I want from them. I have done everything I could before and I survived.' He was cut from the same cloth as Charles Bronson, James Coburn, John Wayne... Today everything is far too politically correct. We live in a sterilized environment. Sometimes I wonder what my father would say, if he were here now."
Some said your father had a foul temper. "Right, but under the skin there was a lot more. Sometimes he lost his patience but was loyal; the words he said to me more often were honesty and integrity. He had had a complicated childhood: he never knew his father, his mother was an alcoholic who basically abandoned him, he grew up in an institution." Great life for a young boy with a father like that.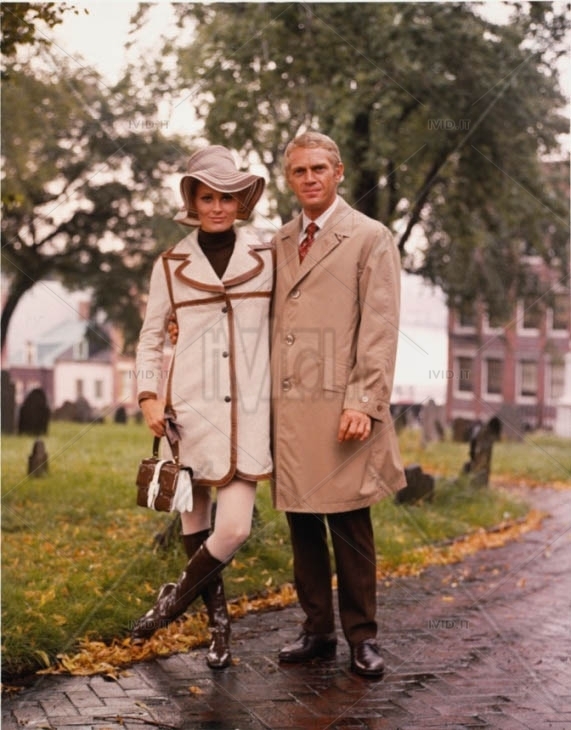 "Enough. I remember all those Ferrari in our garden at home, and James Coburn, Charles Bronson, George Harrison, Ringo Starr…" At some point your father was thinking about stopping to make films to focus full-time on racing. Did he love cars more than his job? "He loved that so much too. He was happy on the set. He seemed doing nothing in front of the camera, but the result was amazing." Do you see any actor who looks like him? "No I don't. Do you?"
Terence Steven "Steve" McQueen was called "The King of Cool", whose "anti-hero" persona developed at the height of the counterculture of the 1960s and made him a top box-office draw of the 1960s and 1970s. McQueen received an Academy Award nomination for his role in The Sand Pebbles. His other popular films include The Cincinnati Kid, The Thomas Crown Affair, Bullitt, The Getaway, and Papillon, as well as the all-star ensemble films The Magnificent Seven, The Great Escape, and The Towering Inferno. In 1974, he became the highest-paid movie star in the world.
McQueen was born on March 24 1930 in Beech Grove, Indiana, a suburb of Indianapolis. His father, William Terence McQueen, was a stunt pilot for a barnstorming flying circus who left McQueen's mother, Julia Ann, six months after meeting her. Several biographers have stated that Julia Ann was an alcoholic. Unable to cope with caring for a small child, she left him with her parents (Victor and Lillian) in Slater, Missouri, in 1933. As the Great Depression set in shortly thereafter, McQueen and his grandparents moved in with Lillian's brother Claude at his farm in Slater.
McQueen expressed having good memories of living in the farm, noting that his uncle Claude "was a very good man, very strong, very fair. I learned a lot from him." Years later he had two stepfathers who beat him to such an extent that at age nine, he left home to live on the streets. Soon he was running with a street gang and committing acts of petty crime.
At 16 McQueen returned to his mother, now living in Greenwich Village, New York. He then met two sailors from the Merchant Marine and volunteered to serve on a ship bound for the Dominican Republic. Once there he abandoned his new post, eventually being employed in a brothel. Afterwards McQueen made his way to Texas and drifted from job to job. He worked as a roughneck, a carnival barker and a lumberjack.
In 1947, he joined the United States Marine Corps and was promoted to private first class and assigned to an armoured unit. "We figured on having the fastest tank in the division", he said. He saved the lives of five other Marines during an Arctic exercise, pulling them from a tank before it broke through ice into the sea. McQueen served until 1950, when he was honorably discharged. He later said he had enjoyed his time in the Marines.
In 1952 McQueen began studying acting in New York. He began to earn money by competing in weekend motorcycle races at Long Island City Raceway and purchased the first of many motorcycles, a Harley-Davidson and Triumph. He soon became an excellent racer and went home each weekend with about $100 in winnings (equivalent to $900 in 2017).
In late 1955 McQueen left New York and headed for California, seeking acting jobs in Hollywood. He played a lead role in the next big Sturges film, 1963's The Great Escape. Insurance concerns prevented McQueen from performing the film's notable motorcycle leap, which was done by his friend and fellow cycle enthusiast Bud Ekins, who resembled McQueen from a distance. This film established McQueen's box-office clout and secured his status as a superstar.
He followed his Oscar nomination with 1968's Bullitt, one of his best-known films, which co-starred Jacqueline Bisset, Robert Vaughn, and Don Gordon. It featured an unprecedented (and endlessly imitated) auto chase, probably the coolest one in the history of car chases, through San Francisco. Although McQueen did do the driving that appeared in closeup, this was about 10% of what is seen in the film's car chase. The rest of the driving by McQueen's character was done by stunt drivers Bud Ekins and Loren Janes. The antagonist's black Dodge Charger was driven by veteran stunt driver Bill Hickman; McQueen, his stunt drivers and Hickman spent several days before the scene was shot practicing high-speed, close quarters driving.
Bullitt went so far over budget that Warner Brothers cancelled the contract on the rest of his films, seven in all. When Bullitt became a huge box-office success, Warner Brothers tried to woo him back, but he refused, and his next film was made with an independent studio and released by United Artists. For this film, McQueen went for a change of image, playing a debonair role as a wealthy executive in The Thomas Crown Affair with Faye Dunaway in 1968.
He worked for director Sam Peckinpah again with the leading role in The Getaway, where he met future wife Ali MacGraw. By the time of The Getaway McQueen all but disappeared from the public eye, to focus on motorcycle racing and traveling around the country in a motor home and on his vintage Indian motorcycles. According to director John Frankenheimer and actor James Garner in bonus interviews for the DVD of the film Grand Prix, McQueen was Frankenheimer's first choice for the lead role of American F1 race car driver Pete Aron. Frankenheimer was unable to meet with McQueen to offer him the role and sent Edward Lewis, his business partner and the producer of Grand Prix. McQueen and Lewis instantly clashed, the meeting was a disaster, and the role went to Garner.
McQueen with two forms of transportation - his horse, Doc, and his Jaguar XKSS (1960)
McQueen was an avid motorcycle and race car enthusiast. When he had the opportunity to drive in a movie, he performed many of his own stunts, including some of the car chases in Bullitt and the motorcycle chase in The Great Escape. McQueen did have considerable screen time riding his 650 cc Triumph TR6 Trophy motorcycle. It was difficult to find riders as skilled as him.
McQueen considered being a professional race car driver. He had a one-off outing in the British Touring Car Championship in 1961, driving a BMC Mini at Brands Hatch, finishing third. In the 1970 12 Hours of Sebring race, Peter Revson and McQueen (driving with a cast on his left foot from a motorcycle accident two weeks earlier) won with a Porsche 908/02 in the three-litre class and missed winning overall by 23 seconds to Mario Andretti/Ignazio Giunti/Nino Vaccarella in a five-litre Ferrari 512S. This same Porsche 908 was entered as a camera car for Le Mans in the 1970 24 Hours of Le Mans.
McQueen competed in off-road motorcycle racing, frequently running a BSA Hornet. His first off-road motorcycle was a Triumph 500 cc, purchased from Ekins. McQueen raced in many top off-road races on the West Coast, including the Baja 1000, the Mint 400, and the Elsinore Grand Prix. In 1964 McQueen and Ekins were part of a four-rider (plus one reserve) first-ever official US team-entry into the Silver Vase category of the International Six Days Trial, an Enduro-type off-road motorcycling event held that year in Erfurt, East Germany.
He was inducted in the Off-road Motorsports Hall of Fame in 1978 and into the Motorcycle Hall of Fame in November 1999. In a segment filmed for The Ed Sullivan Show, McQueen drove Sullivan around a desert area in a dune buggy at high speed. Afterward, Sullivan said, "that was a 'helluva' ride!" Steve loved the dune buggy for the sense of freedom it gave him running into the wild.
McQueen owned a number of classic motorcycles, as well as several exotics and vintage cars, including:
Porsche 917, Porsche 908, and Ferrari 512 race cars from the Le Mans film
Porsche 911S (used in the opening sequence of the Le Mans film)
1963 Ferrari 250 GT Berlinetta Lusso
1967 Ferrari 275GTB/4
1956 Jaguar XKSS (right-hand drive)
1958 Porsche 356 Speedster 1600 Super (black exterior, interior and top)
1962 Shelby Cobra 289
1968 Ford GT40 (Gulf liveried) (used in the Le Mans film)
1953 Siata 208s (McQueen replaced the Siata badges with Ferrari badges and called it his "little Ferrari")
1967 Mini Cooper-S
1951 Chevrolet Styline De Lux Convertible (used in The Hunter, McQueen bought the car in 1979 after filming ended)
1952 Chevrolet 3800 pickup camper conversion
1953 Hudson Hornet Sedan
1956 GMC Suburban
1931 Lincoln Club Sedan
1935 Chrysler Airflow Imperial Sedan
1969 Chevrolet Baja Hickey race truck
In spite of multiple attempts, McQueen was never able to purchase the Ford Mustang GT 390 he drove in Bullitt, which featured a modified drivetrain that suited his driving style. McQueen also flew and owned, among other aircraft, a 1945 Stearman, tail number N3188, (his student number in reform school), a 1946 Piper J-3 Cub, and an award-winning 1931 Pitcairn PA-8 bip, flown in the US Mail Service by famed World War I flying ace Eddie Rickenbacker. They were hangared at Santa Paula Airport an hour northwest of Hollywood, where he lived his final days.
The blue-tinted sunglasses (Persol 714), worn by McQueen in the movie The Thomas Crown Affair, sold at an auction in Los Angeles for $70,200 in 2006. One of his motorcycles, a 1937 Crocker, sold for a world-record price of $276,500 at the same auction. McQueen's 1963 metallic-brown Ferrari 250 GT Lusso Berlinetta sold for US$2.31 million at auction on August 16, 2007. Except for three motorcycles, sold with other memorabilia in 2006, most of McQueen's collection of 130 motorcycles was sold four years after his death. The 1970 Porsche 911S, purchased while making the film Le Mans and appearing in the opening sequence, was sold at auction in August 2011 for $1.375 million. The Rolex Explorer II, Reference 1655, known as Rolex Steve McQueen in the horology collectors' world, the Rolex Submariner, Reference 5512, which McQueen was often photographed wearing in private moments, sold for $234,000 at auction on June 11, 2009, a world-record price for the reference. McQueen was left-handed and wore the watch on his right wrist.
On November 2, 1956, he married actress Neile Adams, with whom he had a daughter, Terry Leslie (June 5, 1959 – March 19, 1998) and a son, Chad (born December 28, 1960). McQueen and Adams divorced in 1972. On August 31, 1973, McQueen married actress Ali MacGraw but this marriage ended in a divorce in 1978. On January 16, 1980, less than a year before his death, Steve married model Barbara Minty.
McQueen followed a daily two-hour exercise regimen, involving weightlifting and, at one point, running 5 miles seven days a week. He learned the martial art Tang Soo Do from ninth-degree black belt Pat E. Johnson. According to William Claxton, McQueen smoked marijuana almost every day; biographer Marc Eliot stated that he used a large amount of cocaine in the early 1970s. He was also a heavy cigarette smoker and sometimes drank to excess.
In late October 1980, McQueen flew to Ciudad Juárez, Chihuahua, Mexico, to have an abdominal tumor on his liver (weighing around five pounds) removed, despite warnings from his U.S. doctors that the tumor was inoperable and his heart could not withstand the surgery. He checked into a small Juárez clinic under the assumed name of "Sam Shepard", where the doctors and staff were unaware of his actual identity.
On November 7, 1980, McQueen died of cardiac arrest at 3:45 a.m., 12 hours after surgery to remove or reduce numerous metastatic tumors in his neck and abdomen. He was 50 years old. According to the El Paso Times, he died in his sleep. He was cremated and his ashes were scattered in the Pacific Ocean.