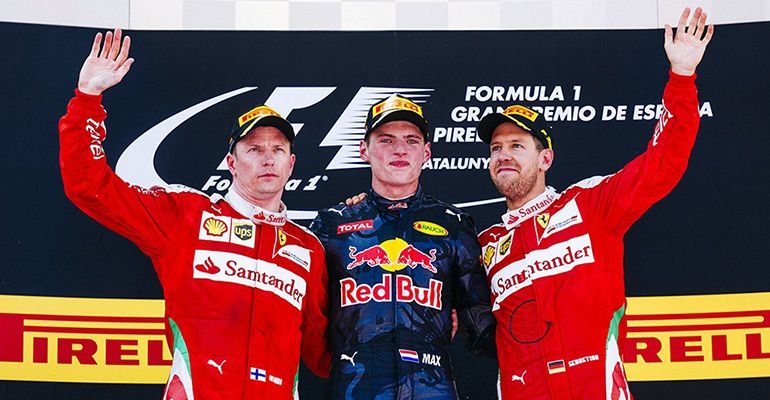 Right after the Russian GP there was breaking news: the young Dutchman Max Verstappen had been promoted from Toro Rosso to Red Bull Racing; Daniil Kvyat, on the contrary, had been demoted back to Toro Rosso due to his inconsistent performance at the wheel of the RB12.
As a result, in Spain all eyes were on Verstappen, and only one question was in everybody's mind: "How would this 18-year-old super talent perform in his Red Bull debut? Could he and his team challenge Ferrari, maybe even Mercedes?"
The answer was given already in the qualifying, which held a couple of surprises. Ferrari had seemed extremely competitive in all free practice sessions; there had been only a couple of tenths separating Mercedes and Ferrari. However, that wasn't the case in the qualifying anymore. Both Kimi and Sebastian were over a second down on pole-sitter Hamilton!
The session was kind of a disaster for Ferrari, with Kimi only fifth and Sebastian sixth. Both SF16-Hs looked a handful. Red Bull was surprisingly competitive at Circuit de Catalunya. The young Red Bull debutant Verstappen had beaten his teammate both in Q1 and Q2, but in the final session Ricciardo got everything together and beat his teammate by four-tenths. Quite frankly, seeing Ferrari in the third row was a disappointment, but I knew they were going to bounce back in the race.
What a start the race had! When lights went out, Rosberg stormed to the lead past his teammate. However, in Turn 3 Rosberg's pace was suddenly slower than his teammate's due to the wrong engine mapping, and Hamilton was absolutely determined to steal the lead from Rosberg.
The Briton made a move on the outside of Rosberg, but ended up on the grass, which caused Hamilton to spin and crash into his teammate's car! Both got stuck in the sand, and in a blink of an eye very potential 1-2 turned into zero points! Suddenly there were Ricciardo and Verstappen leading the race with Toro Rosso's Sainz third and both Ferraris right at the Spaniard's tail.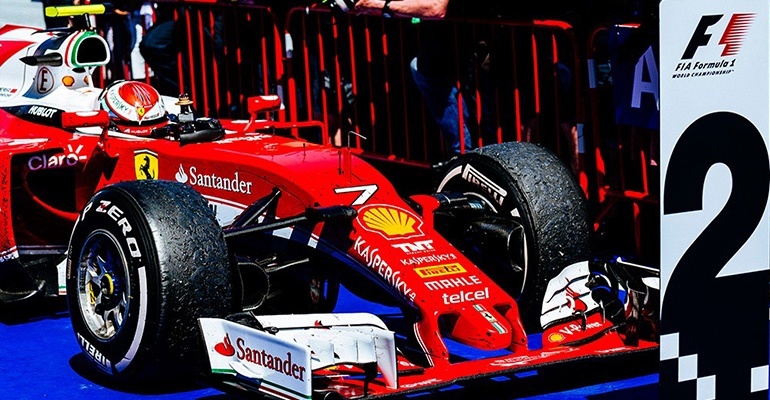 The RB12s and the SF16-Hs were quite evenly matched in terms of pace and performance; pit stop strategy, however, played a decisive role in the race. Verstappen and Kimi were on a two-stop strategy, whereas their teammates Ricciardo and Sebastian had opted for three stops. For the last 20 laps there was an intense and hair-raising battle going on for victory between Verstappen and Kimi. Although Kimi managed to get into DRS distance from Verstappen, overtaking turned out to be a mission impossible.
Red Bull was extremely strong in the last corner, and Kimi simply couldn't follow the Dutchman close enough to make a move on the finish straight. I have to admit that Verstappen's flawless driving was hugely impressive, as Kimi didn't hesitate to put pressure on the Red Bull debutant!
Sebastian and Ricciardo had a battle of their own behind their teammates. 7 laps before the chequered flag there was a heart-stopping moment in Turn 1, when Ricciardo made a bold move on Sebastian, jumping third for a moment, but ending up going wide, and Sebastian snatched his position back. At that point I was extremely worried that Ricciardo might succeed in overtaking Sebastian, sooner or later. However, on the second last lap Ricciardo suddenly suffered a puncture, and he had to pit for a fresh set of tyres. I was so relieved; now I knew there was nobody threatening Sebastian's podium finish!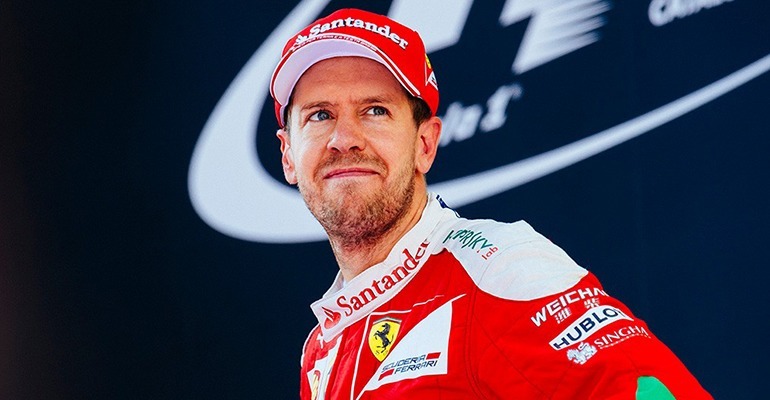 So Max Verstappen really won the Spanish GP; doing so he has rewritten F1 history! He's the youngest race leader, youngest podium scorer, youngest race winner and the first ever Dutchman to win a F1 race! Kimi was the runner-up, and Sebastian completed the podium, whereas Ricciardo had to settle for P4. It was a joy to see both Ferrari aces on the podium.
Hadn't the Mercedes drivers knocked each other out of the race, the result would have been a whole different story. But I was so happy to see a problem-free race from Ferrari with no technical worries. The Spanish GP really was the most exciting and entertaining race for a long time!
Due to the first-lap incident of the Mercedes drivers, Kimi is now second in the drivers' championship, 39 points down on Rosberg. Hamilton, on the other hand, is 4 points off Kimi. Since Mercedes got zero points in Spain, Ferrari decreased the gap to "only" 48 points in the constructors' championship standings. Red Bull is also back in the hunt; Red Bull has now 94 points to Ferrari's 109. Can't wait to see what will happen in the glamorous Monte Carlo next week!
With passion for racing red,
Iina Huhmarniemi