The Russian GP weekend was like a fairy tale for me. At a very short notice I got a chance to travel to Sochi, Russia to watch the Russian GP weekend live. The chance came up so suddenly that I barely managed to get my visa in time for the trip! Hadn't it been for my secret mission, I probably would have never ended up travelling for the Russian GP...
The weather was absolutely perfect as I walked into the paddock on Thursday morning. As the Ferrari teammates filmed a video clip for social media, I had a chance to follow closely. It was absolutely awesome to see both Kimi and Sebastian in front of my very eyes! However, I had my stomach filled with butterflies, as I knew what was going to happen next...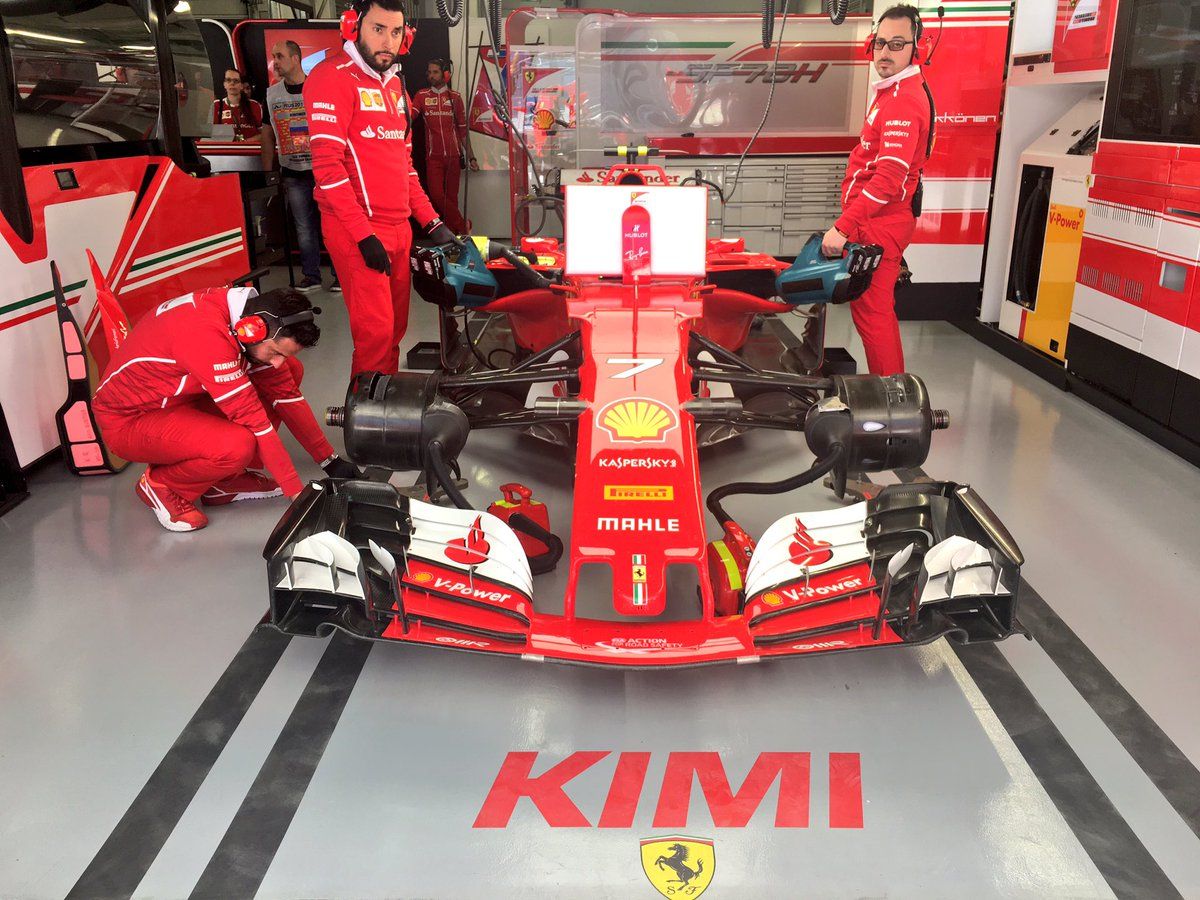 Unbelievable but true – I had a chance to interview the quadruple F1 world champion Sebastian Vettel! I had to pinch myself to believe that it was actually happening and that I wasn't only dreaming! It felt absolutely unreal to sit in front of the Ferrari motorhome and interview the man whom I've admired so deeply for eight years. There were tens of photographers behind my back, and from the corner of my eye I could see flashlights flickering, but I completely ignored it. It was all about seizing the moment. I asked Sebastian about the magical start of the 2017 season; what had changed since last year, as this year Sebastian seems to be utterly on flames behind the wheel of his car. I also asked about things that Sebastian has learned from late Dr. Aki Hintsa, who had been one of the key figures behind Sebastian's success. I was absolutely mesmerized by the deep answer Sebastian gave to that question. I also wanted to know which race Sebastian regretted more, Turkish GP 2010 (inappropriate outburst after colliding with teammate Mark Webber) or Mexican GP 2016 (the insulting team radio message in terms of Charlie Whiting). I had a question about the most difficult moment of his Formula 1 career, too. Sebastian made an unforgettable impression on me, and he was very easy to talk to. I was so honoured and touched by the chance to interview the man I look up to so very much.
Sebastian's PR manager Britta Roeske exceeded all my hopes and expectations in terms of her hospitality. On Thursday she took me to the autograph session with Sebastian. I couldn't believe my ears when she asked me to step in the car with the German Ferrari ace! It was like behind the scenes, getting a glimpse of Sebastian's typical Thursday on track. Britta also arranged a chance for me and my husband to watch two practice sessions at the Ferrari garage, which was absolutely amazing! It's true that on the TV the sounds of the modern F1 cars don't sound too impressive, but I can assure you that they are loud when you stand in the garage! For a passionate fan like myself, it was a dream come true to see the red cars so closely.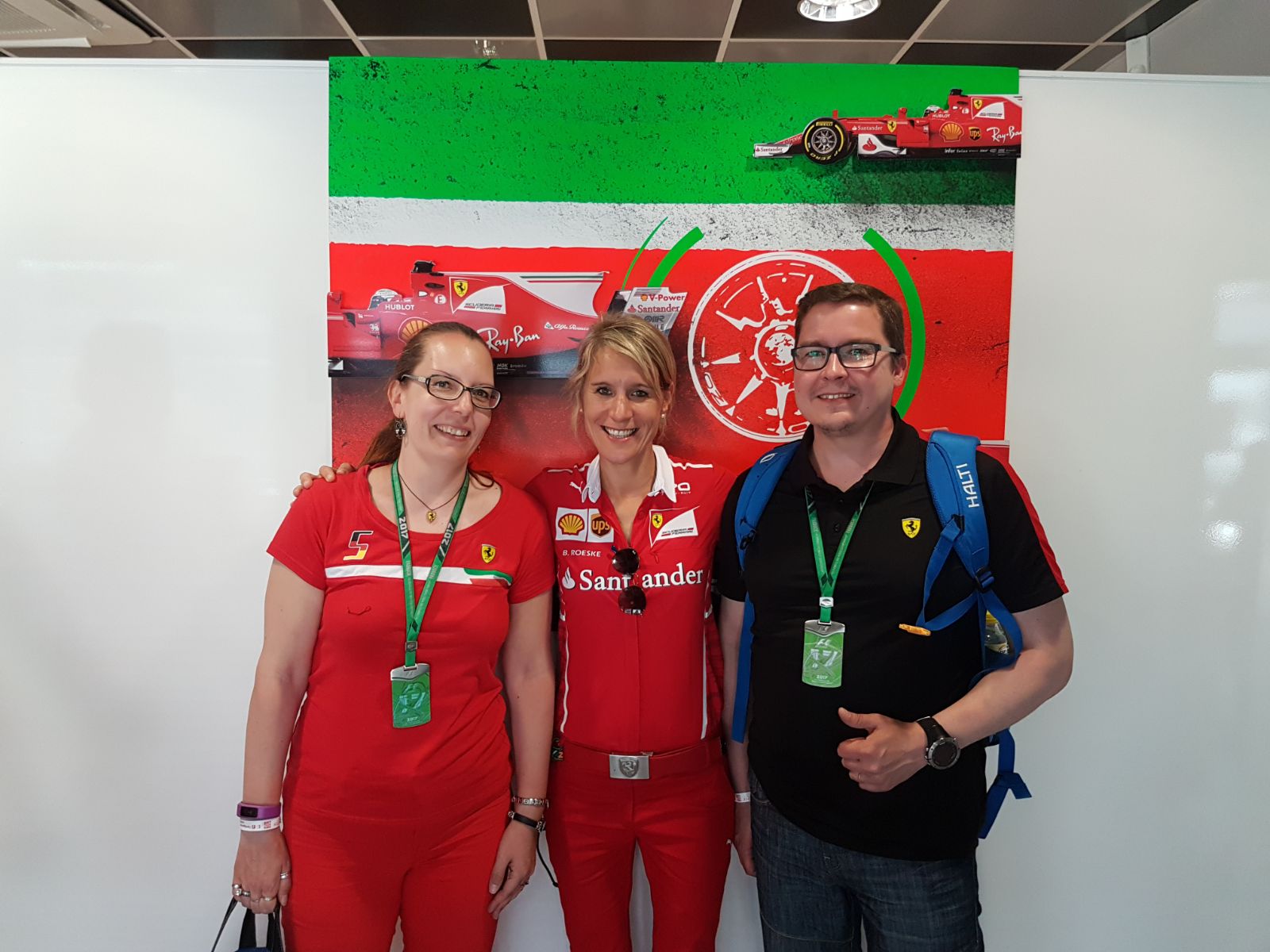 Qualifying couldn't have ended in a more perfect way, as Ferrari locked out the front row for the first time since 2008! Sebastian conquered the pole, but teammate Kimi was only 59 thousandths of a second behind his teammate. It was extremely tight between Ferrari and Mercedes, as Valtteri Bottas in P3 was only 95 thousandths of a second off pole-setter Sebastian. Hamilton was clearly struggling with his pace in Sochi, and the Briton was left in P4.
On Thursday, I had interviewed my hero Sebastian, but on Saturday it was me who got interviewed. The Finnish F1 reporter Mervi Kallio asked if she could interview me about my passion for Formula 1 and my admiration for Sebastian Vettel. Being in front of the camera felt only natural, as I was asked to talk about my favourite subject! ;)
There were blue skies and the sun was shining, as the lights went out at Sochi Autodrom. I had made a promise that if Sebastian won the race, I would go swimming in the Black Sea. Unfortunately, there was a certain Finn who was determined to prevent Sebastian from winning the race – and me from going into the sea! Valtteri Bottas, who started from P3, took a spectacular start and stormed past both red cars going into Turn 1. Once Bottas had snatched the race lead, he had absolutely no intention to give it up. Although Sebastian got within DRS distance from the Finn at the closing stages of the race, there was no chance for overtaking. Bottas took his maiden win in Formula 1. However, I was absolutely delighted to see both red-suited drivers on the podium! Although I had hoped to see Sebastian on the top step of the podium, I was kind of delighted to hear the Finnish national anthem. Britta took us right under the podium to watch the podium ceremony and the post-race interviews. And what an experience it was!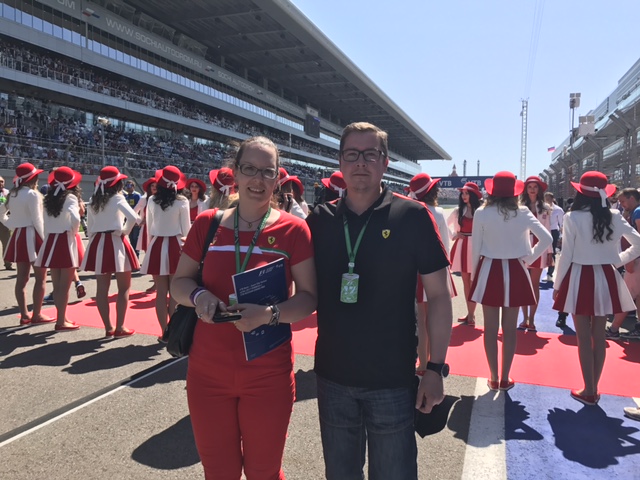 After the race, I had a chance to briefly talk to Sebastian before it was time to leave the paddock. I had tears in my eyes as I was absolutely overwhelmed with happiness and gratitude. I was deeply grateful for Britta, who had put that much more effort than I could ever have expected into making my dream come true! I was deeply touched by Sebastian's warm-hearted personality and his will to help me make my dream come true. This was definitely a once-in-a-lifetime experience! It's difficult to find words to describe how I feel deep in my heart.
The most unbelievable experience during the Russian GP weekend was to actually see all the drivers, team principals and other key figures of Formula 1 live in front of my very eyes! Even Bernie Ecclestone walked past me on one occasion! I'm so used to seeing all these people on TV that it was absolutely thrilling to see them all live. I have never been a VIP guest anywhere, so, for a shy person like myself, it was a bit confusing. I have to say it took a couple of days until I had enough courage to actually open the door of the Ferrari motorhome and ask for Britta or go in for lunch. But what an experience this has been; the most incredible and memorable four days of my life indeed!
Never forget that miracles do happen in real life! All you need is to believe in your dreams and to chase them with passion!
With passion for racing red, 
Iina Huhmarniemi