Tazio Nuvolari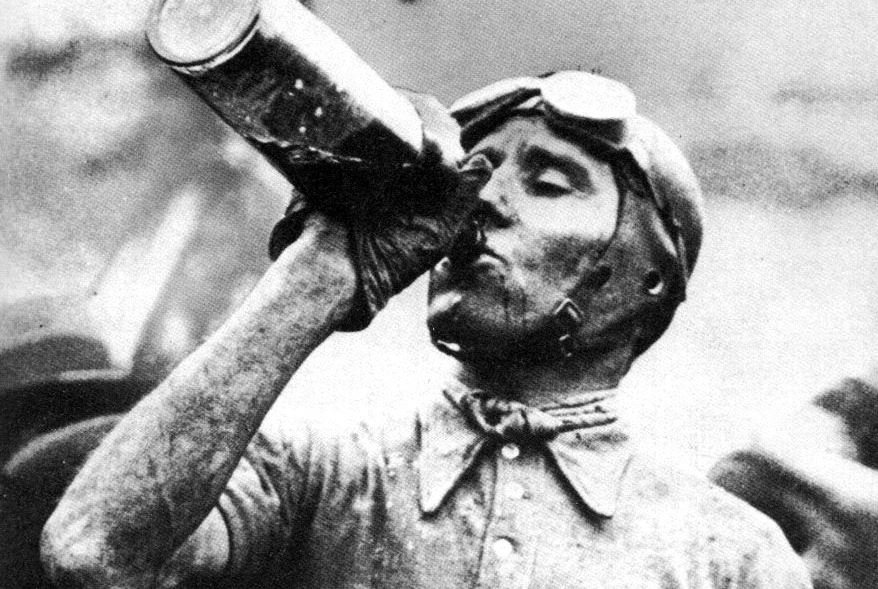 Tazio Nuvolari, the legend of legends, the ace of the thrill, lies among his trophies with the pilot's helmet.
55.000 people attended his funeral, in a mile-long procession. The coffin, placed on a car chassis, was pushed by Alberto Ascari, Luigi Villoresi and Juan Manuel Fangio.
Ferdinand Porsche called him "the greatest driver of the past, the present and the future".
Enzo Ferrari called him "the inventor of the four-wheel drift" and said that "nobody like Tazio Nuvolari combined such high sensitivity of the machine to an almost inhuman courage".
Born on the 16th of November in Castel d'Ario, near Mantua, Italy, he died on 11th of August 1953, aged 60, in Mantua. First he raced motorcycles and then he concentrated on sports cars and single-seaters (first victory was in Rome 1927, with a Bugatti, last win in 1946 with a Maserati). Resident of Mantua, he was known as 'Il Mantovano volante' (The Flying Mantuan) and nicknamed 'Nivola'. His victories—72 major races, 150 in all — included 24 Grands Prix, five Coppa Cianos, two Mille Miglias, two Targa Florios, two RAC Tourist Trophies, a Le Mans 24-hour race, and a European Championship in Grand Prix racing. His teams were Bugatti, Alfa Romeo, Ferrari, Maserati, Auto Union.
A man with incredible qualities, one able to accomplish really impossible feats. On July 16, 1935, when he achieved the 'Impossible Victory', which many regard as the greatest win in all of motor racing history, driving an outclassed Alfa Romeo P3 (3167 cc, supercharged, 265 hp) in the German Grand Prix at the Nürburgring, he beat all the dominant German cars—five Mercedes-Benz W25s (3990 cm³, 8C, supercharged, 375 hp (280 kW) driven by Caracciola, Fagioli, Lang, von Brauchitsch, and Geyer), and four Auto Union Bs (4950 cc, 16C, supercharged, 375 hp (280 kW) driven by Rosemeyer, Varzi, Stuck, and Pietsch). The crowd of 300,000 applauded Nuvolari, but the representatives of the Third Reich were enraged. Nuvolari mocked, on the final lap, the Mercedes of von Brauchitsch. The organizers, sure of the success of one of their own, did not even have the music with the Italian anthem; Nuvolari, however, had brought in his suitcase, convinced as usual not to be beaten. From that day, for the Germans, Mantuan champion became "der Teufel", the Devil.
Tazio Nuvolari was not simply a racing driver. To Italy, he became an idol, a demi-god, a legend, epitomising all that young of Italy aspired to be; the man who 'did the impossible' - not once, but habitually; the David who slew the Goliaths in the great sport of motor racing. He was "Il Maestro".
Tazio Nuvolari never gave up, to the inferiority of the car or mechanical failures. In Brno, 1935, he finished second on the left rear rim without tire, while in Turin, 1946, crossed the finish line with the steering wheel in one hand, showing it to the crowd, and driving with the other that moved a wrench applied to the steering head. The numerous accidents of which he was victim also contributed to the myth, creating around him the indestructible man's fame. Those who knew him closely argued that Nuvolari had only one fear, that of dying in his bed, which happened in 1953, after a painful lung disease.
Nuvolari's driving style was unmistakable and impossible to imitate. In fact, he invented what was then called the "controlled derapage", the art of making a turn skidding with the rear wheels in oversteer. He called turns
"resources". He was racing with a yellow T-shirt, black leather jacket and blue pants - his uniform. He wore a tricolor ribbon around the neck, with a gold brooch shaped like a turtle, which was gifted to him by Gabriele D'Annunzio.
The first legendary victory was the Mille Miglia in 1930. Tazio Nuvolari and Achille Varzi competed with two Alfa Romeo 1750, almost identical: the story tells that the Mantuan overtook in the dark, in the end of the race his teammate's car, approaching it with headlights off, to avoid being identified. Whether it was true or not, the particular story contributed to increase the already considerable popularity of the Mantuan and that of Achille Varzi. The two were involved in a rivalry that divided Italy in two, raising a dualism that only Coppi and Bartali much later would be able to reproduce. Nuvolari was the emblem of the maximum boldness and of the attacking drive, intended to inflame the crowd. Varzi was given an innate class, tremendous efficiency, but gave little to the show.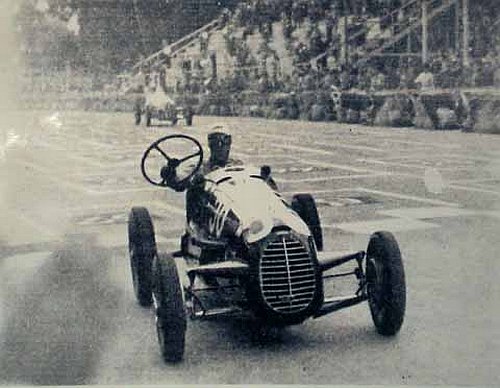 Nuvolari's career was studded with victories, which could have been many more if the wars had not taken away precious years of racing and if he had not often had to fight against better cars.
In private life Tazio Nuvolari was anything but lucky. In 1937 he lost his son Giorgio, showing his suffering also on the race track. Unfortunately for him, the cruel destiny was to take away even the second son, Alberto, a few years later. It is no coincidence that many photos of Nuvolari often portray a man with eyes veiled by sadness. Outside the car, the Mantuan champion had to overcome terrible trials, and certainly was not helped in this by his great fame. The races were the refuge to hardly bearable pains by a man.
Even because of this, when Nuvolari was racing, the crowd went wild, touched in the heart by a deep emotion. In the history of motor racing, no driver managed to strike the imagination of the people as the "Flying Mantuan".
FANGIO
Juan Manuel Fangio Déramo, born on 24 June 1911 in Balcarce, Argentina, died on 17 July 1995, aged 84, in Buenos Aires. Nicknamed El Chueco ("the bowlegged one", also commonly translated as "bandy legged") or El Maestro ("The Master"), was a racing car driver. He dominated the first decade of Formula One racing, winning the World Drivers' Championship five times with four different teams: Alfa Romeo, Ferrari, Mercedes and Maserati; a feat that has not been repeated.
A member of the Formula 1 Hall of Fame, he is regarded by many as one of the greatest F1 drivers of all time and holds the highest winning percentage in Formula One – 46.15% – winning 24 of 52 Formula One races he entered. From childhood, he abandoned his studies to pursue auto mechanics. He raced from 1938 to 1958, participating in 200 races and winning 78 of them.
Fangio, unlike later Formula One drivers, started his racing career at a mature age and was the oldest driver in many of his races. Fangio had no compunction about leaving a team, even after a successful year or even during a season, if he thought he would have had a better chance with a better car. As was then common, several of his race results were shared with team mates, after he took over their car during races when his own had technical problems.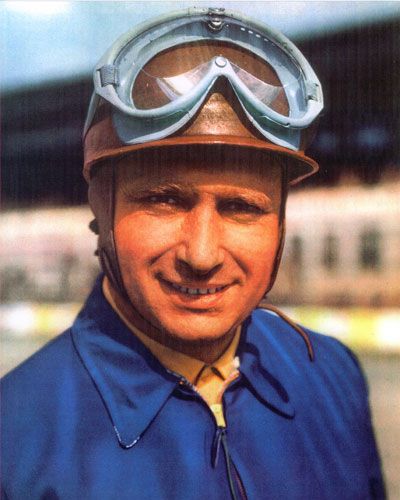 In 1956 Fangio moved to Ferrari to win his fourth title. Enzo Ferrari and Fangio did not have a very warm relationship, despite their shared success. A silent and enigmatic man, Fangio, convinced everyone but Enzo Ferrari.
About him Ferrari said he was a top driver on the car but was plagued by persecution mania. "I saw him for the first time in the spring of 1949, Autodromo di Modena. There were other pilots, other machines. I watched him for a few laps, I came to hold my eyes on him. He had an unusual style: he was, perhaps, the only one to get out of curves without shaving the outside straw bales. This Argentinean, I said to myself, is seriously good: he gets out of curves very fast and remains in the middle of the track". The Argentinean, a difficult temperament and a shady character. "Manuel Fangio, remained for me an indecipherable character. His racing stature was, instead, indisputable....", Ferrari wrote.
Ferrari always had a wavering relationship with his drivers, except the three he really cared about: Nuvolari, Ascari and Gilles Villeneuve (but according to the journalist Nestore Morosini, was unlikely to renew the contract to the Canadian and then it happened the fatal accident at Zolder in May '82). Even with Niki Lauda great rushes and the Austrian who swore eternal fidelity and then leave to the Brabham-Alfa Romeo: he canceled him. "If he would have stayed with us he could have matched Fangio's 5 world championships". The measure of affections was dictated by the rule: the pilot must never obscure the machine.
"I have never driven that quickly before in my life and I don't think I will ever be able to do it again."— Fangio, after the 1957 German Grand Prix. At the Nürburgring circuit Fangio came into his own, setting one fastest lap after another, culminating in a record-breaking time on lap 20, a full eleven seconds faster than the best the Ferraris could do. On the penultimate lap Fangio passed both Collins and Hawthorn, and held on to take the win by just over three seconds. With Musso finishing down in fourth place, Fangio claimed his fifth title. This performance is often regarded as the greatest drive in Formula One history, and it was to be Fangio's last win. His record of five World Championship titles stood for 45 years before German driver Michael Schumacher surpassed it in 2003. Schumacher said, "Fangio is on a level much higher than I see myself. What he did stands alone and what we have achieved is also unique. I have such respect for what he achieved. You can't take a personality like Fangio and compare him with what has happened today. There is not even the slightest comparison."
Ayrton Senna said: "What he did in his time is something that was an example of professionalism, courage, style and, as a man, of human being. Every year there is a winner of the championship, but not necessarily a world champion. I think Fangio is the example of a true world champion".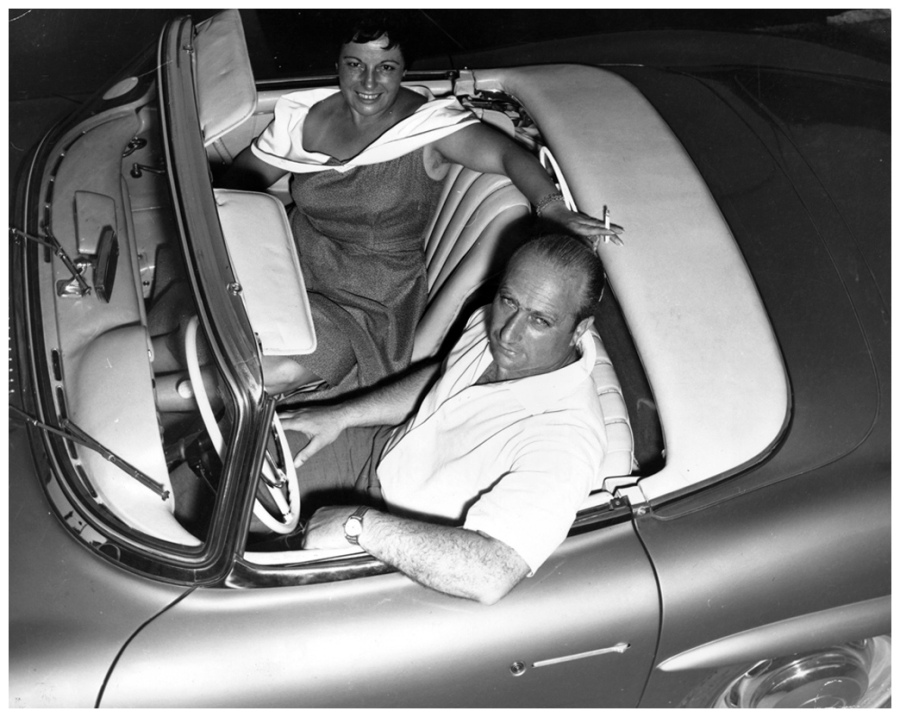 Before knowing the triumphs of F1, Fangio was a mechanic and prepared his cars to participate to real road marathons, the "Carreteras", from Buenos Aires to Lima and back, passing twice for the Andes. A long apprenticeship, therefore, the smell of the workshop, the roar of engines. It is said that all the mechanics of the great European teams adored him as it was no longer the case with no pilot. The legend told that he divided with them the prizes. He was a champion because then pilots were dying one after another. In the years of his triumphs, 30 dead were counted. He basically was only touched by tragedies: it was said that he understood before any other dangerous situations. In 1952 in Monza he broke his back and neck in the Lesmo curve. But he came from a night spent driving a car because there were no more planes from Paris to Milan due to the bad weather. Narrowly escaped the disaster of Le Mans, the 24 Hours of 1955. He avoided the Mercedes that fell on the audience: the victims were 84, hundreds injured. When he began racing in Europe and in Formula One had already 38 years. He retired in 1958, after the death of Luigi Musso.
About women, he said, "when you run on the track, cannot go around making love. Less difficult it was the thing at the beginning, when I was running the races "Turismo de Carretera".
"You must always strive to be the best, but you must never believe that you are."
—Juan Manuel Fangio