Niki Lauda saw the grass on the side of roots, a box of memories. The courage to get back on track within a few days from an accident like the one of the Nurburgring, with his face still wrecked and bloody.
One of the greatest F1 drivers of all time, the most intelligent, easy-going, direct, meticulous. And personality and charisma of a man who defied death for his passion, and you can see the mark on him. One of the few still alive of that nice and bloody Formula One. He met Senna, Hunt, Prost, Schumacher, what more do you want in life? To tell about it.
World champion with Ferrari, a piece of history. The Austrian was racing for money and this, which has always influenced his choices, is his real limit, a partially polluted passion. Great even as a human being, he knew how to endear himself to all, because he always told the truth. He admitted candidly his inferiority when he was beaten. However, they were single battles as most of the time he won war. When he knew that in qualifying he was less good than his team mate he didn't insist in trying to beat him but he focused on the race.
If Prost was the champion of strategies and Senna the one of perfectionism, Lauda was the best in calculations. A real computer in race decisions. But also in life, when his coldness and intelligence saved him in the hospital after the accident in Germany, when he managed to remain vigilant without succumbing to the drowsiness that would have killed him.
But Niki had a heart also. He became a close friend of his chief mechanic Ermanno Cuoghi, often inviting him home with his wife, and of his opposite James Hunt. Even with Prost he always had a good relationship. One of the fullest lives, lucky, adventurous and satisfactory a man could imagine.
"God gave me an ok mind, but a really good ass which can feel everything in a car." Niki Lauda
"I have a reason to look ugly, most people don't." Niki Lauda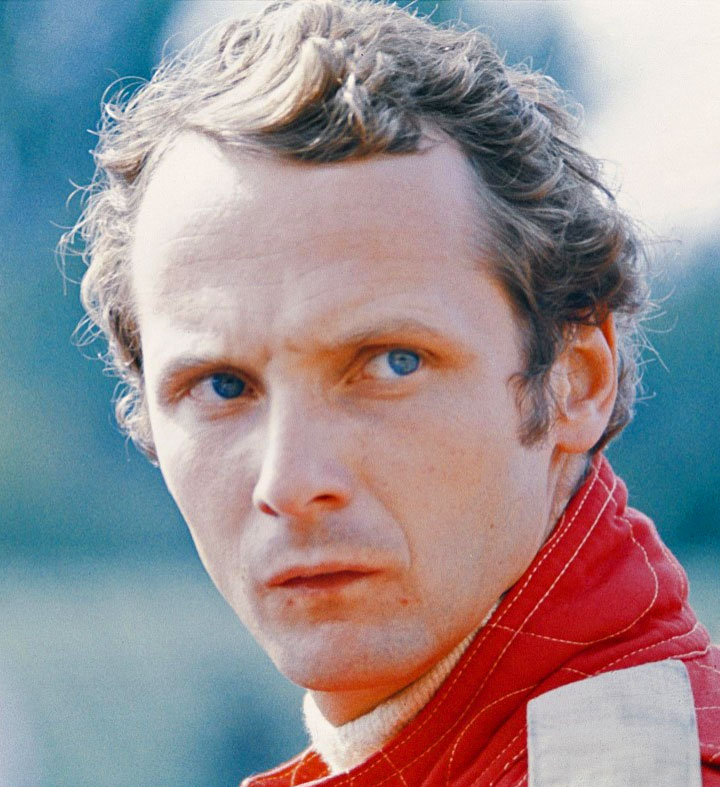 About James Hunt, Lauda said: "I went to the Pit Stop Bar on the Kings road and there I met James. He was drinking, and he said "Niki you wanna be a real racing driver? Let's have a drink". He was direct and very honest. James was somebody you could rely on. When you race, he left a little space, just a few inches, for me and for him not to crash, so he was a guy you can trust. He was quick. After my accident James told: "You look better now than you looked before." It was his typical joke. And I said: "You are right".
And concerning the 1976 season, the Austrian added: "In the last couple of races the McLaren was quicker than the Ferrari and the combination of James… I don't feel bad to have lost the championship by one point because James was absolutely the best man in that part of the season with or without my accident."
Niki, after James retirement: "I remember one day I went to England, we got in touch and he came on the Kings Road completely finished and I gave him some money, which I had to do with no discussion, and I told him: "Listen, if you continue like this you gonna kill yourself". Aggressive, pure talent, I would say Villeneuve type, Hamilton type. Outstanding driver, winning a world championship, an outstanding life style which nobody had the time to do, and with this life style to win a world championship was unbelievable. I miss him very much, I wish that he would be here today."
"When I heard he'd died age 45 of a heart attack I wasn't surprised, I was just sad. Hunt was one of the very few I liked, a smaller number of people I respected and the only person I had envied."
"The first time I saw myself in the mirror after the accident, my head was enormous due to fluid retention, and then I thought: what would I do if I'll remain like this all my life?"
"A wise man can learn more from his enemies than a fool from his friends."
"The closer you are to death, the more alive you feel. It's a wonderful way to live, it's the only way to drive."
"Happiness is an enemy. It weakens you. Suddenly, you have something to lose."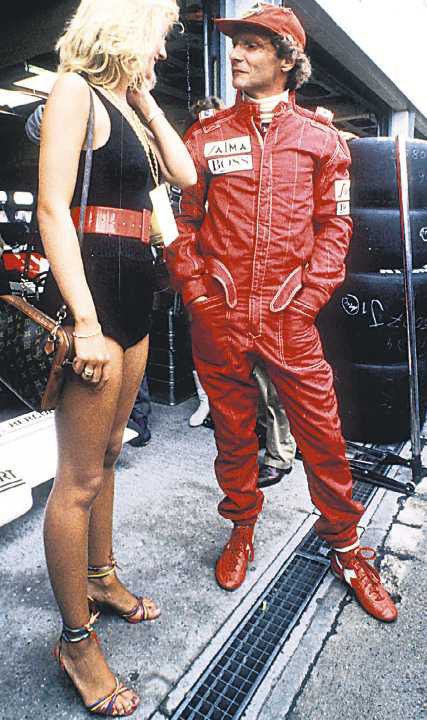 Speaking to Austrian newspaper Der Standard about the abolition of grid girls, Lauda said: "This is a decision against women. Men have made the decision over the heads of women. This is not doing any favors to F1 and especially not for women. How dumb can someone be? Women have emancipated themselves and do very well at it. So this is a decision against women. Grid girls have always belonged in F1, and they should continue to belong in F1," the Austrian continued. "Formula 1 is stereotypically viewed as a man's world. With women like Claire Williams, Susie Wolff and Monisha Kaltenborn reaching the top of their professions, this statement itself may be in ... Women are stepping up (into senior team roles), and they are doing it very well - it is moving in the right direction. But one does not exclude the other. I don't want to hold back women, I want to encourage them. If you continue on this path, there will be no cheerleaders left in America."
Lauda's comments come after former Formula 1 boss Bernie Ecclestone said: "You should be allowed to have grid girls because the drivers like them, the audience like them and no one cares. These girls were part of the show, part of the spectacle. I can't see how a good-looking girl standing with a driver and a number in front of a Formula 1 car can be offensive to anybody."
"Too much focus on today's Formula One. F1 has to go back to being 26 drivers who drive around in circles for pleasure and the same for builders and the other elements of the circus." Niki Lauda
"Don't continue trying to make Formula 1 completely safe because people will lose interest in the end," Lauda has expressed. "These Formula 1 drivers should be the best drivers in the world. This is what people aim for. People do sometimes like to see accidents to see where the limits are. But as long they're able to get out safe, I think this is what we have to achieve. If you go too far, I think Formula 1 destroys itself. The drivers of today, they come with their wife and kids, with the dog, and watch the race because there is no more danger. We were always alone, we didn't want our wife to come to the race and bring us home in a coffin. This was a different era and thank god Formula 1 got much safer that this problem is reduced to nothing and I think it's good for the sport."
Lauda believes Lewis Hamilton should be considered as the top dog. "Lewis. Fast. Focused. No mistakes. Brilliant in the wet. Nobody better," he told the Daily Mail in 2018.
"I think the Halo is a fake remedy. Some drivers have voiced their perplexity about the visibility, particularly in curves like the Eau Rouge, others instead have talked about a sensation of claustrophobia and then it's aesthetically horrible! And let's not forget that it destroys DNA of F1. I believe that FIA has taken the necessary measures to secure our sport so far, therefore in my opinion there'd be no need to do something. Now also the danger of being hit by a "flying" wheel decreased, since today they are very well screwed. In short, the current risks for who's behind a wheel are, thank God, usually small."
"The key is the difficulty of driving. Take Verstappen: in 2015 he was a debutante, and yet in same races he was as quick as the most expert. This didn't happen long ago. We need to go back to ensure that driving in F1 is difficult."
Andreas Nikolaus "Niki" Lauda, a three-time F1 World Drivers' Champion, acts as non-executive chairman of the Mercedes F1 Team and owns 10% of the team. He was born on 22 February 1949 in Vienna, Austria, in a wealthy family. His paternal grandfather was the Viennese-born businessman Hans Lauda.
After starting out with a Mini, Lauda moved on into Formula Vee but rapidly moved up to drive in private Porsche and Chevron sports cars. With his career stalled, he took out a £30,000 bank loan, secured by a life insurance policy, to buy his way into the fledgling March team as a F2 driver in 1971. Because of his family's disapproval (his grandfather went to the bank to block the payment of a loan granted to Niki. The bank called him saying: "Mr. Lauda we have a problem, we have your grandfather here …." He had an ongoing feud with them over his racing ambitions and abandoned further contact.
He was quickly promoted to the F1 team, but drove for March in F1 and F2 in 1972. In 1973 Niki took out another bank loan to buy his way into the BRM team. His big break came when his BRM teammate Clay Regazzoni left to rejoin Ferrari in 1974 and Enzo Ferrari asked him what he thought of Lauda. Regazzoni spoke so favourably of Lauda that Ferrari promptly signed him, paying him enough to clear his debts.
After an unsuccessful start to the 1970s, Ferrari regrouped completely under Luca di Montezemolo and were resurgent in 1974. Lauda's first GP victory was in Spain. Although the Austrian achieved six consecutive pole positions, a mixture of inexperience and mechanical unreliability meant him won only one more race that year, the Dutch GP. He demonstrated immense commitment to testing and improving the car.
The 1975 F1 season, driving the new Ferrari 312T, gave Lauda his first World Championship and Ferrari clinched their first Constructors' Championship in 11 years. The Austrian famously gave away any trophies he won to his local garage in exchange for his car to be washed and serviced. Despite tensions with Montezemolo's successor, Daniele Audetto, Lauda dominated the start of the 1976 F1 season, winning four of the first six races and finishing second in the other two.
A week before the GP at the Nürburgring, even though he was the fastest driver on that circuit at the time, Lauda urged his fellow drivers to boycott the race, largely because of the 23-kilometre circuit's safety arrangements. Most of the other drivers voted against the boycott and the race went ahead.
On 1 August 1976, during the second lap at the very fast left kink before Bergwerk, Lauda was involved in an accident after which he suffered extensive scarring from the burns to his head, losing most of his right ear as well as the hair on the right side of his head, his eyebrows and his eyelids. He chose to limit reconstructive surgery to replacing the eyelids and getting them to work properly. What a difference with today's football players who shave their legs and chest!
Since the accident he has always worn a red baseball cap to cover the scars on his head. He has arranged for sponsors to use the cap for advertising. The cap has become part of the man. It is one of the best-known sights in the F1 paddock, a beacon for straight-talking and it is difficult to imagine him without it.
With Lauda out of the contest, Carlos Reutemann was taken on as his replacement. Lauda returned to race only six weeks (three races) later, appearing at the Monza press conference with his fresh burns still bandaged. He finished fourth in the Italian GP, despite being, by his own admission, absolutely petrified. F1 journalist Nigel Roebuck recalls seeing Lauda in the pits, peeling the blood-soaked bandages off his scarred scalp. He also had to wear a specially adapted AGV crash helmet so as to not be in too much discomfort.
At the Grand Prix of Japan Lauda qualified third, one place behind Hunt, but on race day there was torrential rain and he retired after two laps. Hunt led much of the race before his tires blistered and an inevitable pit stop dropped him down the order. He recovered to third, thus winning the title by a single point.
Lauda endured a difficult 1977 season, despite easily winning the championship through consistency rather than outright pace. Niki disliked his new teammate Carlos and was not comfortable with this move and felt he had been let down by Ferrari. "We never could stand each other, and instead of taking pressure off me, they put on even more by bringing Carlos Reutemann into the team." Having announced his decision to quit Ferrari at season's end, Lauda left earlier after he won the Drivers' Championship at the United States GP, because of the team's decision to run the unknown Gilles Villeneuve in a third car at the Canadian GP.
Having joined Brabham-Alfa Romeo in 1978 for a $1 million salary, Lauda endured two unsuccessful seasons, notable mainly for his one race in the Brabham BT46B, a radical design known as the Fan Car: it won its first and only race at the Swedish GP, but Brabham did not use the car in F1 again. In late September, during practice for the 1979 Canadian GP, Lauda informed Brabham that he wished to retire immediately, as he had no more desire to "drive around in circles".
In 1982 Lauda returned to racing. After a successful test with McLaren, in his third race back, he won the Long Beach GP. In 1983 Niki did not win a race. Some political maneuvering by the Austrian forced a furious chief designer John Barnard to design an interim car earlier than expected to get the TAG-Porsche engine some much needed race testing.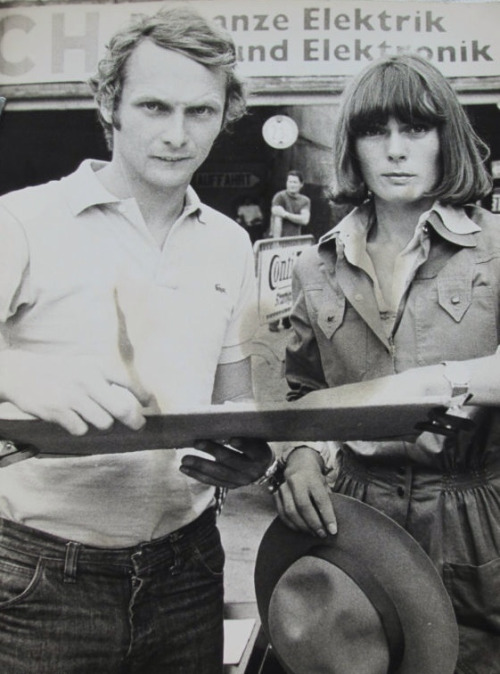 Lauda won a third world championship in 1984 by half a point over teammate Alain Prost. Initially, Niki did not want Prost to become his teammate, as he presented a much faster rival. However, during the two seasons together, they had a good relationship and Lauda later admitted that beating the talented Frenchman was a big motivator for him. Lauda, who set a record for the most pole positions in a season during the 1975 season, rarely matched his teammate in qualifying.
Journalist Giorgio Terruzzi says in his 2014 article: "When racing, not a sympathy. Concentrated, quiet, mentally busy to keep his eye on everything. Opponents, technicians, data, every leaf moving around him. That was really his strength, this strength he has maintained, improving character, releasing an irony as strong as his cynicism. Niki Lauda: super smart, always ready to take and to act accordingly. With a determination extremely rare and formidable, something that he raised as a kid, when he antagonized his rich, very powerful paternal grandfather. His first enemy, his key to do what great things he did.
A man used to fight still and always, against death, in 1976, after that accident and that burning at the Nurburgring, against Enzo Ferrari who resented a driver capable of obscure the Prancing Horse, champion and great champion in the first really televised era of Formula One; against James Hunt, more like his friend, beaten on track and pardoned by the flood which stopped Niki at Fuji in '76; against Alain Prost, skewered by half a point right in '84. And then against a number of physical damages which forced him to a double kidney transplant, organs donated by his brother and his girlfriend.
He has always striven, with that way of thinking and of talking very directly - newspaper-headlines style, which never gives you a discount, never concedes to conventions. That cap which resists and masks the burns gotten on track, never cancelled by any surgery, with pride which borders on tenderness. He talks with an original punctuation, especially in Italian, he cuts all judgment avoiding complacency, he always keeps center stage a quick pragmatism. In some ways implacable. Seeing him around, always a pleasure. That he reciprocates with willingness and, also by dint of working as television commentator, efficiently.
His long human and sporting history is a container full of faces, adventures, historical and memorable events. He's very busy right now, less time to stand there to remember and tell in his own way which always amuses and impresses.
"Quando detto a Enzo Ferrari che io via da Ferrari a fine stagione, lui molto arrabbiato. Poi io andare dormire albergo vicino Maranello con macchina data da Ferrari, una Fiat 131. Mattino dopo io sveglio e macchina non c'è più. Chiamo Ghedini per dire: rubato mia macchina. Lui dire: no rubato. Macchina presa Ferrari nella notte". (When I told Enzo Ferrari I would have left Ferrari in the end of the season, he was really upset. Then I went to sleep in a hotel close to Maranello with a car given by Ferrari, a Fiat 131. The next morning I woke up and the car was gone. I call Ghedini to say: somebody stole my car. And he said: it was not stolen, the car was taken by Ferrari in the night). Amazing. Lauda from his point of view. But also Enzo Ferrari."
The driver who saved Niki and Luca di Montezemolo talk about the accident in Germany. Of the burning of the Nurburgring you know now almost everything: on the facts of that 1 August 1976 books have been written, produced documentaries, investigations; Ron Howard even made a movie, Rush, a big comic book a little controversial but all in all truthful. And yet, many years after, a mystery, a little mystery, still exists.
Arturo Merzario, the driver who that day was following Lauda on the German track and who got first at the crash site, talks about it in this way: "I still don't get what pushed me, that day, to stop the car. I mean: it was not the first dramatic accident that I used to see on track, and every other time I acted differently, I continued my race, as indeed to date drivers did and do. But that day there was something, and I still have no idea what, which suggested me, indeed forced me to do otherwise, to stop me, to get out of the car and run to Niki. What? The million-dollar question. It was a flash, a lightning. I didn't think anything, I came at the exit of the corner and I found that stuff, metal sheets and flames.
Inside it could have been anyone, Niki, Clay Regazzoni, Jackie Stewart. I see the car on the track, I get out and run towards the cockpit. After me Guy Edwards and Harald Ertl stopped: with fire extinguishers they cleared me a path in this enormous fire, Niki tries to get out but forces the belt and I can't flip the switch, then he collapses, passes out, so I unlock, I pull him out. Magnesium emissions were killing him. Fortunately, in '65, to achieve a 7-days military licence, I took a first aid course: I pumped his chest and did artificial respiration. He stayed alive like that, until rescue came."
The rest of the story comes from Luca di Montezemolo, then young Ferrari sporting director: "The doctor told me: "we can't do anything: the problem are not burns but emissions, gases which he breathed that burned him inside. If he wants to live, he has to do it. He must try to stay awake and fight." While the doctor was saying that, Niki, who told it himself later, was conscious and heard them. That's when he started his personal fight to survive and get back on track.
"After I visited him at home. He got very thin. Right then and there we didn't think he was going to be able to come back, so we signed Reutemann. Instead Niki came back. And we were forced to race three cars. I still remember today blood stains which widened slowly in the white balaclava, before departure at Monza…"
Actually, another small mystery, in this story of many years ago, exists. And it is related to a Rolex watch. "Three weeks after the burning, Niki came to Monza", tells again Merzario, "but he didn't say anything to me, neither hello, or thanks or fuck you. I was pretty upset and I told it. Two months later I was racing in Austria, near his home. He came to visit me and made the gesture of taking off his watch to give it to me. I took it and threw it away. Mechanics of Alfa picked it up, came to me and offered me plenty of lectures, maybe I was wrong, but I was upset. Fortunately, then with Niki we remained very close friends, I talk to him all the time." And the watch? Who took it in the end? "We promised not to tell anyone."
It is Lauda's misfortune to be defined not by the three F1 world championships he won but by the extraordinary events of the 1976 season. Not that Fuji created many shadows on 24 October 1976. Mario Andretti, who won that day, said: "They were the worst conditions I'd ever seen at the start of a motor race." Hunt won the world championship. Lauda did not hang around to watch the race.
"I went to the airport. I told this Japanese taxi driver to listen to the radio and tell me who had won the title. And exactly when the end of the race came on the radio he drove through the tunnel of the airport and the radio stopped. And when we came out, it was over. Who won? I asked. 'I don't know,' he said. But then, as we came up the ramp to the airport, there was a Ferrari man who wanted to say goodbye. And I looked at his face and I knew straight away. 'Fuck,' I thought. And he said, yes, Hunt was world champion. So I went home."
Hunt and Lauda, the yin and yang of F1, the handsome, womanising, extrovert Hunt, and the diligent paddock swot Lauda, who was nicknamed "The Rat" because of his prominent front teeth. The great rivalry is featured again in an insightful book on James Hunt by Maurice Hamilton. In it, Hunt describes the warmup to the race in Fuji. "It was ridiculous. Approaching the first corner, there was a huge puddle and you had to brake for the braking area. But the main concern was the spray. This, combined with the mist, meant you couldn't see a thing. It was madness."
At the end of the race, Hunt added: "I wanted to win the championship and I felt I deserved it. But I also felt Niki deserved to win the championship – and I just wish we could have shared it." Looking back, Lauda says: "I remember James saying that. And it was the nicest comment I have ever heard. We had a respectful, nice relationship, going back to our days in Formula Three. We trusted each other. He would not push you off the road, which in those days was important. So that film, Rush, is good. It's 80% correct, with a bit of Hollywood."
Lauda's decision to return to F1 only six weeks after the crash that almost took his life, and then finish fourth in the Italian GP at Monza, is considered to be one of the bravest in the sport's history. "On the Friday I could not drive. I got out of the car because I was frightened," he says in the book. "I went to the hotel and thought about it, took it easy on Saturday and then finally got going again."
Hamilton's book describes Hunt as a complex character who at the start of his life used to cry at night and have tantrums by day. James, when he wasn't being charming, was often capable of causing considerable offence, such as the time he had a call of nature on a flight and urinated on a curtain separating the aircraft's cabins. Hunt and Lauda represented a completely different generation of drivers; in the anodyne, hyper-commercialised era of Formula One today, for all his undoubtable skills and charisma, there is not a chance of James Hunt getting into a team.