One of the heroes of the Formula 1 of '80s, famous for courage in competition, for as fast as a car will go driving and for the great character. They called him "mansueto" (docile) but he was a wild fighter, workhorse and refined one touch man. He was all about the race. A Gilles Villeneuve in English sauce. The Lord of overtaking. The most exciting driver, maybe the only heir of Gilles. Nigel Mansell is definitely the driver who, more than anyone, has shown in his career to race from the heart. Because he never gives up, till pushing on foot the car at the finish line, till fainting. He fought with the giants of his time fearlessly, an example to all of us. To remember today all his endeavours is too hard but the memory of them is so sweet and gives you an idea about what this Englishman has given to Formula 1 and all of us.
So much thrill, tremendous Nigel. The true driver spirit. "Mansell is the only driver who, when he attacks, you see on both rear-view mirrors", Ayrton Senna said. Some of Nigel's reversing pivot overtaking were really truly phenomenal. Not nearly as successful as other drivers were, several times he exaggerated and threw away points. He's remembered in history for the singular sensations ha was capable to give. He was able to endear himself to the Ferrari-loving tifosi, who idolised 'Il Leone' almost as much as his adoring British fans. Nicknamed by his detractors "pazzo Manseao" (crazy Manseao) and "the Nakajima of '80s", he was bold, determined, spectacular, expression of lucid madness. When names like that are pulled over Formula 1's world, the only driver that comes to mind is Nigel Mansell, one of the most beloved drivers ever. Pure spectacle, for better or worse. One world championship title is really too little for a champion on this level. A real driver on cars drivable by real men. "I've tried everything other than jumping out of a plane, but nothing gives you an adrenaline rush like racing a car", Nigel said.
31 wins and 32 pole positions in F1 with Ferrari; the championship title won on board the Williams Renault that in 1992 dominated high and low. That's when the lion became king. After having risked to end up paralyzed as a result of an accident, he was the most successful F1 English driver, before the advent of Lewis Hamilton.
These are, most likely, the greatest victories of Nigel Mansell, an explosively talented driver:
5th place: 1989 Brazilian Grand Prix at Rio de Janeiro. His first win with a Ferrari.
4th place: 1987 British Grand Prix at Silverstone. An emotional and hugely popular victory in which he came back from 28 seconds behind in 30 laps to beat teammate Piquet, with his car running out of fuel on the slowing down lap. His overtaking him, four laps to go, at over 300 km/h was on the verge of science-fiction, a wheel to wheel audacious move. Exceptional, the outside-inside reversing pivot of the Briton into Stowe turn at the expense of the Brazilian, what you might call a "footballing" gesture and that made the crowd in the stands jump. What a race!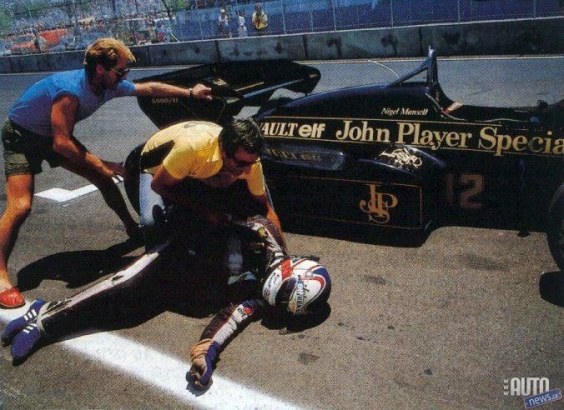 3rd place: 1986 British Grand Prix at Brands Hatch. On lap 23, Nigel passes his team mate Piquet and takes the lead to win for the first time in Great Britain.
2nd place: 1991 Spanish Grand Prix at Montmeló. Most memorably, he went wheel-to-wheel with Ayrton Senna, with only centimetres to spare, at over 320 km/h (199 mph) on the main straight.
1st place: 1989 Hungarian Grand Prix at Hungaroring. On a circuit where overtaking was previously near to impossible, after qualifying 12th and not even being considered a chance for the race, he charged his way through the field until he pulled off a sensational passing manoeuvre on the McLaren-Honda of World Champion Ayrton Senna on lap 58 to take a lead he would not lose.
Furthermore, his first victory in 1985, at Brands Hatch, in a Williams Honda has to be remembered.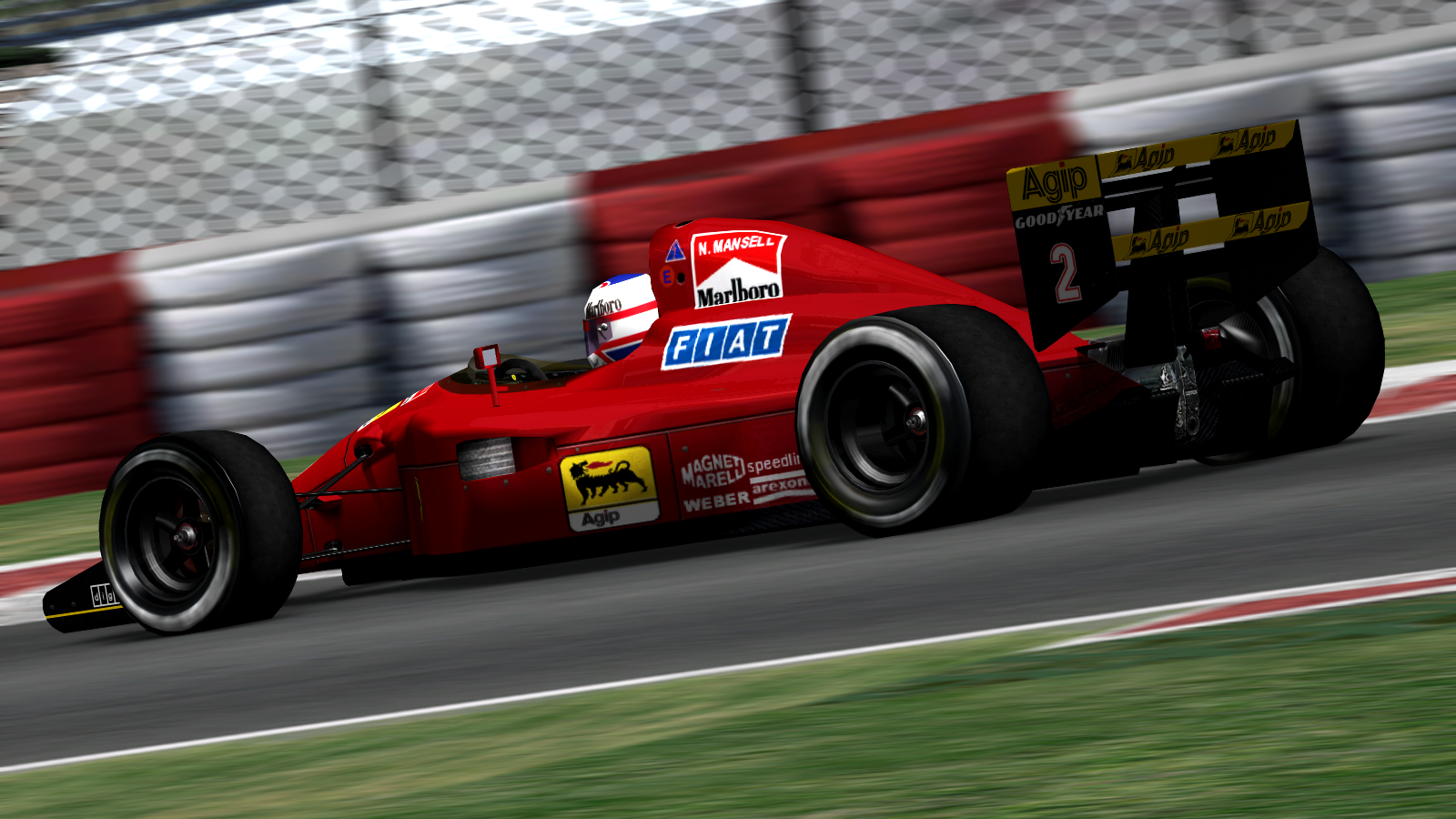 In Dallas in 1984 he famously collapsed after pushing his car over the finish line in scorching temperatures, while at the 1987 Austrian Grand Prix at the Osterreichring he banged his head on a low-bridge during the post-race celebrations. In 1987, he has a violent accident at Suzuka, cracks two vertebrae and Japanese doctors have to bind him to the bed to keep him from racing. In 1990 in Mexico a daring pass on Gerhard Berger around the daunting high speed Peraltada corner that was later renamed in his honour. Approaching the corner for the penultimate time Mansell was bobbing from side to side in Berger's mirrors. Heading into one of the quickest corners on the calendar at the time, where the Ferraris had registered forces of 4.7g during practice, Mansell launched to the outside of Berger and flashed past to take second place. Quite a different spectacle was offered following Mansell's victory in the 1991 British Grand Prix at Silverstone. Senna's car had stopped on the final lap, but, rather than leave his rival stranded out on the circuit (the two had actually come to blows in the pits following their first lap tangle during the 1987 Belgian Grand Prix and were hardly close friends), Mansell pulled over on his victory lap and allowed Senna to ride on the Williams sidepod back to the pits. At the sixth round of the 1992 season in Monaco, he took pole and dominated much of the race. However, with seven laps remaining, Mansell suffered a loose wheel nut and was forced into the pits, emerging behind Ayrton Senna's McLaren-Honda. Mansell, on fresh tyres, set a lap record almost two seconds quicker than Senna's and closed from 5.2 to 1.9 seconds in only two laps. The pair duelled around Monaco for the final four laps but Mansell could find no way past, finishing just 0.2 seconds behind the Brazilian.
"Who do you think you are, Nigel Mansell?" Bob Varsha and David Hobbs tell a funny story that reportedly happened after Ayrton Senna was caught speeding in London, during the 1992 Belgian Grand Prix race broadcast. To which Senna responded to the officer with, "No, I'm Ayrton Senna".
A similar thing happened to the late Sir Jack Brabham. The policeman asked him "Who do you think you are, Stirling Moss?" He replied "No, but I like beating him".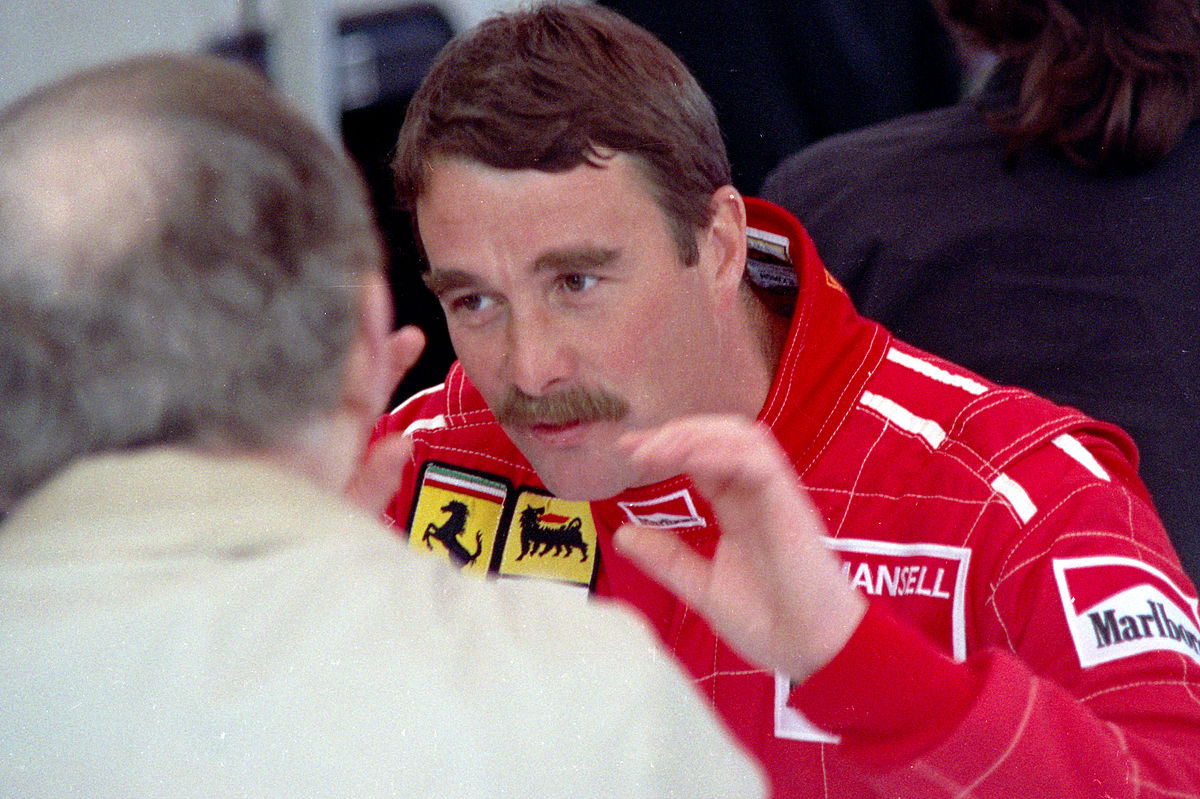 Some denigrated Mansell like Peter Warr (Lotus team manager), who, at the beginning of his career, went around the paddock saying: "As long as I have a hole between my cheeks, Mansell will never win a Grand Prix." He'll have to find other ways to fulfil his physical needs. Someone fears him and always needs to criticize like Alboreto: "the only intelligent things on board Mansell's Williams are suspension." Or Piquet: "Mansell is so great that he's the only F1 driver to have an intelligent wife!" Mario Andretti has remarked "I guess if Ronnie Peterson was the best team-mate I ever had, Nigel Mansell was the worst" and "I had a lot of respect for him as a driver, but not as a man".
At Silverstone in 1990 he dominates qualification testing and the first part of the race before knocking himself out into the Stowe; when Italian journalist Ezio Zermiani asked him about the mistake he answered: "next time you go to turn and I make you such a silly question."
In addition to Lotus and Williams, Mansell drove Ferrari, but memories aren't good. Arrived with the best possible omens, last driver chosen by Enzo Ferrari himself, he was leaving after two seasons and plenty of polemics inside the team. Nigel brought at the front of his Williams the famous "5 red", letting it become a trade mark, a kind of symbol of his deeds. To be clear the "five red" is for Williams what 27 is for Ferrari. Basically, on less of two numbers and more of captain's armbands in football. At the end that was Nigel Mansell: a symbol, the last bastion of the knights of risk of '80s. To the devil Prost's strategies, Lauda's calculations or Senna's perfectionism. Mansell attacks, always, wherever and whenever. If the opponent is in front you have to absolutely pass him, anyway, trying on all the corners, in every braking spot. If he's behind you have to "kill" him psychologically with abyssal gaps. Nigel Mansell, a man who was lion and gazelle at the same time.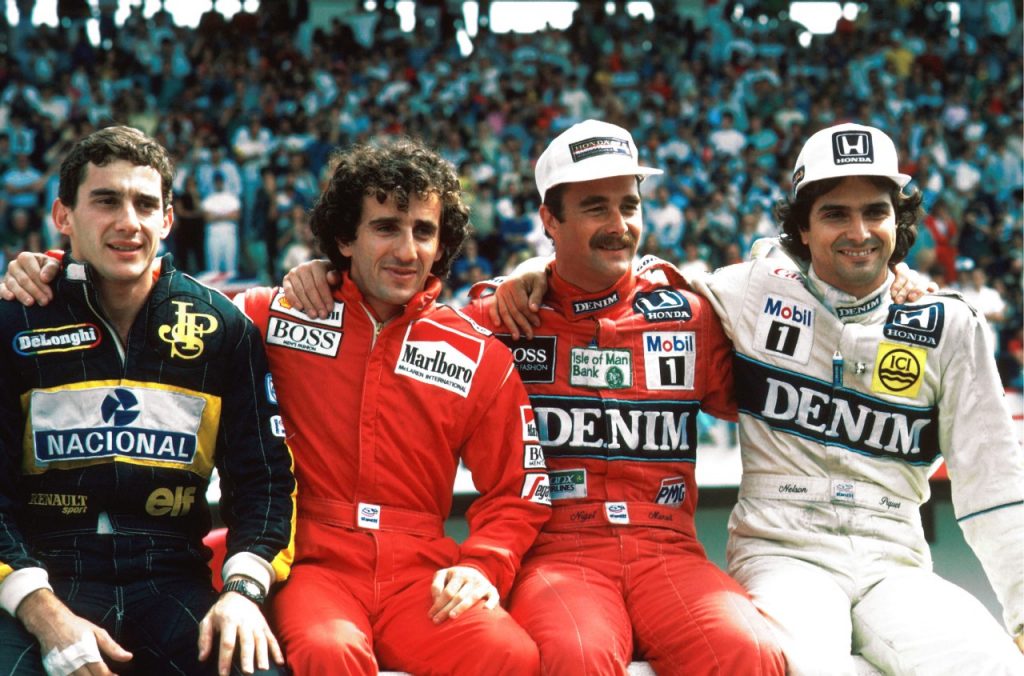 He said: "Current F1 is without risk, with ordinary tracks and easy cars. Rules have to be changed, today the pit commands and things like DRS are absurd. Verstappen is talented but drives safe cars. If I had the time to get back in the swing of races and if I start a serious and prolonged workout, I could go up on a podium myself if I should drive a Mercedes. I wouldn't be so presumptuous, but I could even get Lewis Hamilton's lap times and, why not, even beat him."
"Current cars are much less physics than the ones I drove, and this is mainly due to a good number of driver aids that didn't exist in the past. Ferrari is one of the few teams that can always surprise. A Ferrari closer to Mercedes would be needed and overall more competition, like in my era, when Senna, Prost, Piquet and me were always fighting. In my time, you were lucky if you had three engineers, today into the pits there're thirty of them. Cars had fatter tyres and with more grip, but were slipping through the turns and drivers could bring up their style. Today they are docile to drive, the pit tells you what to do at all times and drivers don't have the chance to comment anymore. If you drive aggressively, ruin tyres, so you have to go slower. It's not about drivers. The truth is that today they are affected and limited. They learn circuits on a simulator, go on the track for races only and don't have time to really visit the countries and get richer as men, knowing different cultures."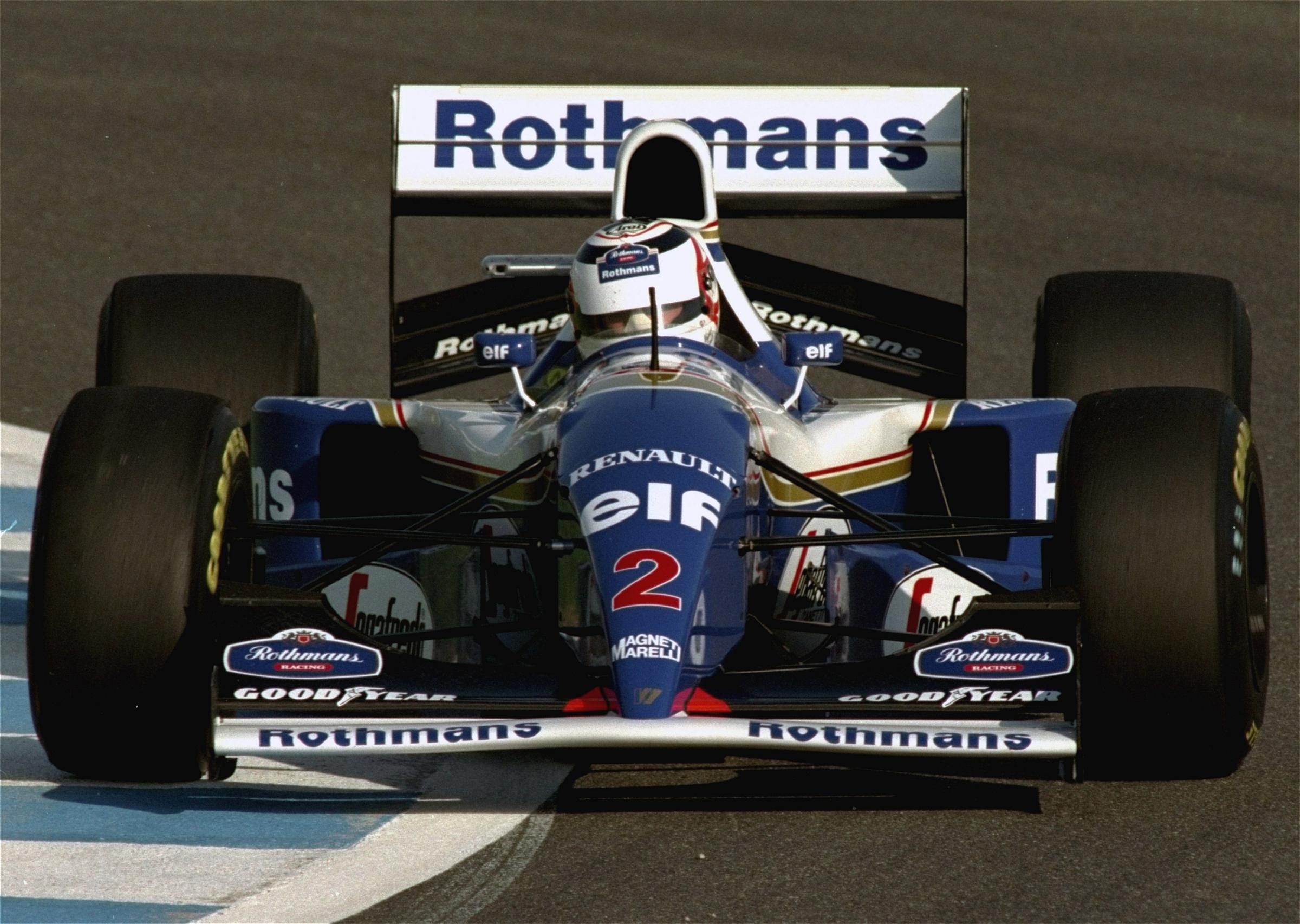 "It's clear that Verstappen, competitive at 18, is talented, but is the perfect example of the evolution of the current pilot. It's surprising that he goes fast on a track without having ever driven around it, thanks to the simulator, and he doesn't have to investigate mechanics, engineers think about it. Guys now have less cause to fear, as cars are real safe. Verstappen's crash in Monte Carlo could get very expensive in the past. So many stopped racing after similar accidents. Modern-day drivers haven't been given time to develop as men."
"Too many circuits became anonymous. I wish there still were risky turns where a mistake is charged, but not through the life. Enough ways out are only needed. The main character in Formula 1 is still Bernie Ecclestone. Miles away above the rest."
When wild Silverstone celebrations pointed Nigel Mansell to the F1 title. Mansell's car was mobbed by fans after his victory in the 1992 British Grand Prix at Silverstone – but the main emotion he recalls was one of relief. Nigel Mansell was unable to return to the pits. He was beloved by the fans and they had descended en masse on to the track in such numbers that his car could go no further. The British driver was mobbed and marshals had to ferry him back to the podium. There was exultant celebration, of course, but looking back on the year he finally secured a world championship, Mansell believes it was actually underpinned by a sense of relief.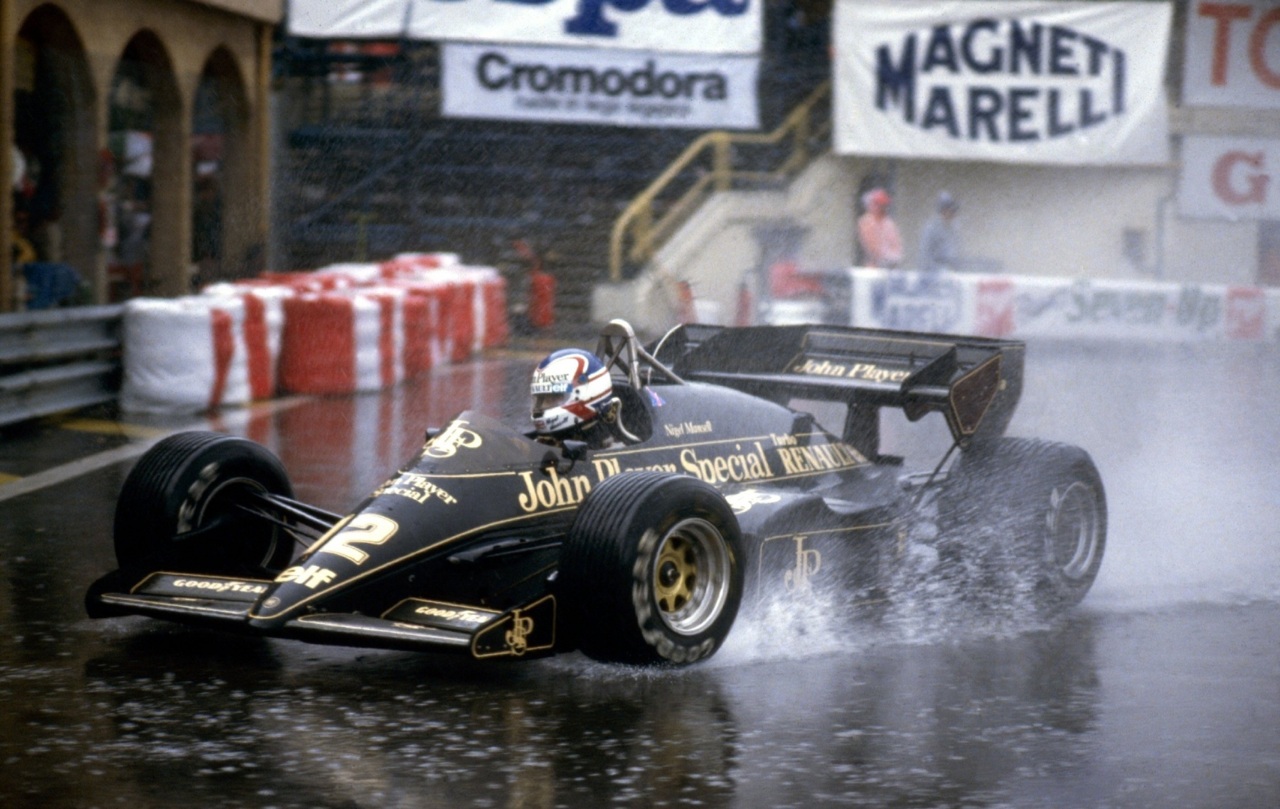 After two years at Ferrari, where the tifosi also took Il Leone to their hearts, he returned for his second stint with Williams in 1991 and a year later was behind the wheel of the FW14B designed by Adrian Newey. Mansell had been championship runner-up for the team in 1985, 1986 and 1991, and at that point had competed in the most number of races before becoming world champion – 180, a record that stood until Nico Rosberg took the title last year after 206 Grands Prix. That Renault-powered Williams of 1992 was magnificent and Mansell finally put the opposition – including his team-mate Riccardo Patrese – to the sword. He won nine of the 16 rounds and had the title sealed by the 11th race, in Hungary in mid-August. That Williams was just on a different level and suited Mansell perfectly. Such was the effectiveness of the active ride it pretty much had a different set up for every corner. Mansell's upper body strength meant he could throw the thing in and hold on. Some races he was two seconds up on his team mate.
"I had been the bridesmaid three times before", Mansell recalls. "Sir Stirling Moss was a fantastic driver but never won a world championship … he was a world champion in everyone's eyes. I had that accolade as well until I won it in with Williams in 1992."
"There was a sense of relief from fans worldwide that I had achieved it. It was a huge relief that it wasn't for nothing."
"The fans had seen the rollercoaster ride. I was team-mates with three different world champions, in three different teams, and the politics involved and the ducking and diving that happened was so immense. I just related to the fans which I have embraced my whole life and it was fantastic to do something for them."
Everything had come together to finally ensure that Mansell shook the monkey off his back. "Patrick Head was at the height of his engineering skills, he was such a brilliant robust person who ran the engineering department like a general", he says. "It was absolutely fantastic. You knew exactly where you stood with Patrick. I found that refreshing, also with Adrian Newey on board on the aerodynamic side, it was very, very exciting times to be part of the team."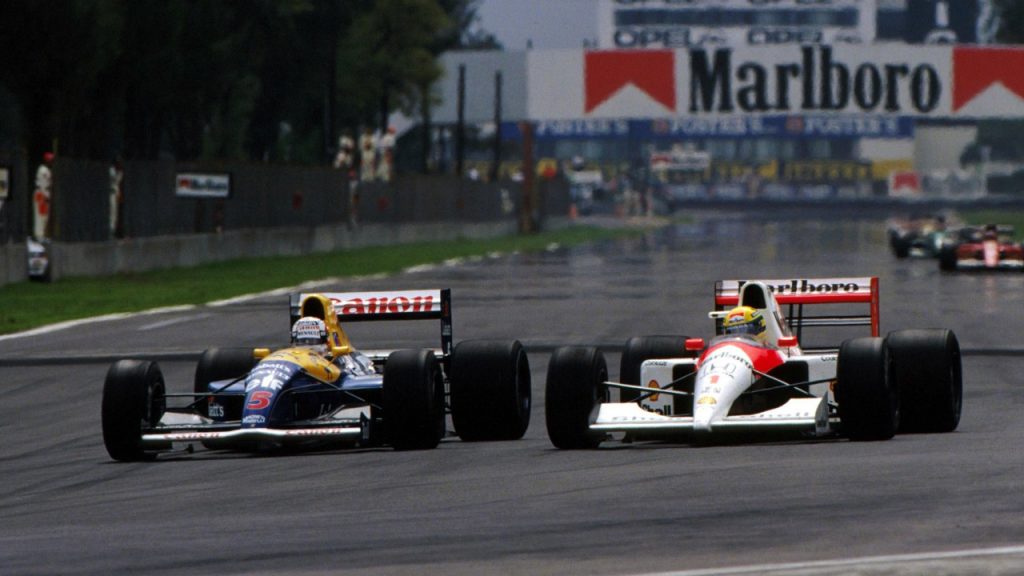 Sir Frank Williams has described Mansell as "magic behind the wheel but a handful to deal with out of the car". His support from the fans, however, was unqualified and reflected their admiration for a career in which he went wheel to wheel with Alain Prost, Keke Rosberg, Ayrton Senna and Nelson Piquet. "The intensity of the battle and the pressure just to qualify for the race was huge", says Mansell. "Then in the race you had world champions racing together. The breadth of competition was wide. I will never forget some of the circuits we used to race on. The overall commitment you needed when going into some of those corners, where the barriers were right on the edge of the circuit and you were exiting the corner at 200 mph – if something goes wrong there is going to be huge accident."
Mansell's commitment was never questioned and after he had led from pole to flag at Silverstone the crowd were in the mood to ensure it was recognised; today he acknowledges just what that meant. "There were some fantastic highs, some great achievements and great disappointments", he says. "In between everything the overall memory is what a fantastic opportunity it was, how grateful I was to the sponsors, engineers, mechanics and tea ladies – everybody who put the effort in to get those cars to the race and be as competitive as they were. Thanks to the Chapman family and having the great opportunity to join the Williams team with Ginny Williams, Frank Williams and Patrick Head and everybody who gave me the opportunity to drive for a great team, I have incredible memories."
Briton voted greatest one-time F1 champion by BBC Sport readers. He's seventh on the all-time list of grand prix winners, enjoyed a stellar 15-year career and was rated by many as the strongest and bravest driver in an era of megastars - and now Nigel Mansell has been named Formula 1's greatest one-time world champion by BBC Sport readers. His 32% share was almost double that of fellow Briton James Hunt, the 1976 champion, who got 17%. Recently retired Jenson Button, title-winner in 2009, completed the top three with 14%. The BBC's chief F1 writer Andrew Benson is among those who rank Mansell as the best in this particular field. "It's a close call with John Surtees and Jochen Rindt", he said. "But it has to be Nigel Mansell, all that muscular bravery and speed allowing him to race toe-to-toe with Ayrton Senna and Alain Prost and hold his head high."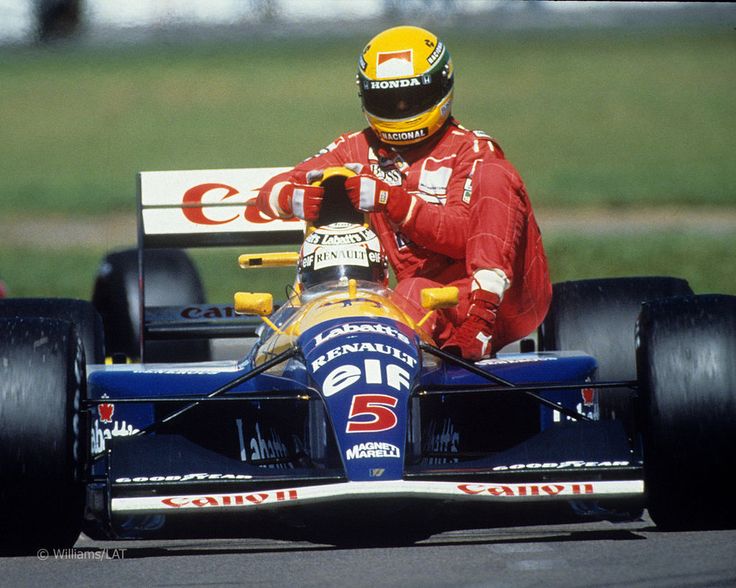 Record crowds turned out to support Nigel Mansell at Silverstone as 'Mansell mania' reached its peak in the late 1980s and early 1990s. But among the pain and frustration there were major successes, most memorably on home soil at the British Grand Prix, which he won on four occasions, in 1986, 1987 - a race famous for Mansell's stunning overtake on Nelson Piquet into Stowe - 1991 and 1992. Writing in 2013, the BBC's chief F1 writer Andrew Benson described that 1987 Silverstone win as the "consummation of a love affair that lasted until Mansell's retirement in 1992". The written media gave it another description: 'Mansell mania'. "In that period, Mansell became synonymous with Silverstone", added Benson. "He set the fastest lap in every one of those races between 1987 and 1992. It is little wonder, then, that more than 200,000 people crammed into Silverstone to watch his final, dominant, victory before his home crowd".
Nigel Mansell was a raw, aggressive racer who divided opinion like few others during his decade and a half at the top. His daring brilliance in overtaking team-mate Nelson Piquet to win the 1987 British Grand Prix and the pass around the outside of Gerhard Berger three years later in Mexico are the stuff of legend. From the heart-breaking puncture that denied title success in 1986 to the "Mansell Mania" that greeted his ultimately successful 1992 campaign, Mansell captivated the British general public like few before him or since. In contrast, the perceived need for constant drama and heroic deeds at every juncture and an at-times grating personality engendered antipathy from the specialist press and his peers alike. That said, his was a story of bravery, resilience and eventual triumph.
Born in Upton-upon-Severn, Worcestershire, 8 August 1953, Nigel Ernest James Mansell, the son of Eric, an engineer and Joyce Mansell, spent 11 years of his life as a Special Constable on the Isle of Man during his driving career, and in Devon after he retired from racing. He had a fairly slow start to his racing career, using his own money to help work his way up the ranks. After considerable success in kart racing, he moved to the Formula Ford series to the disapproval of his father.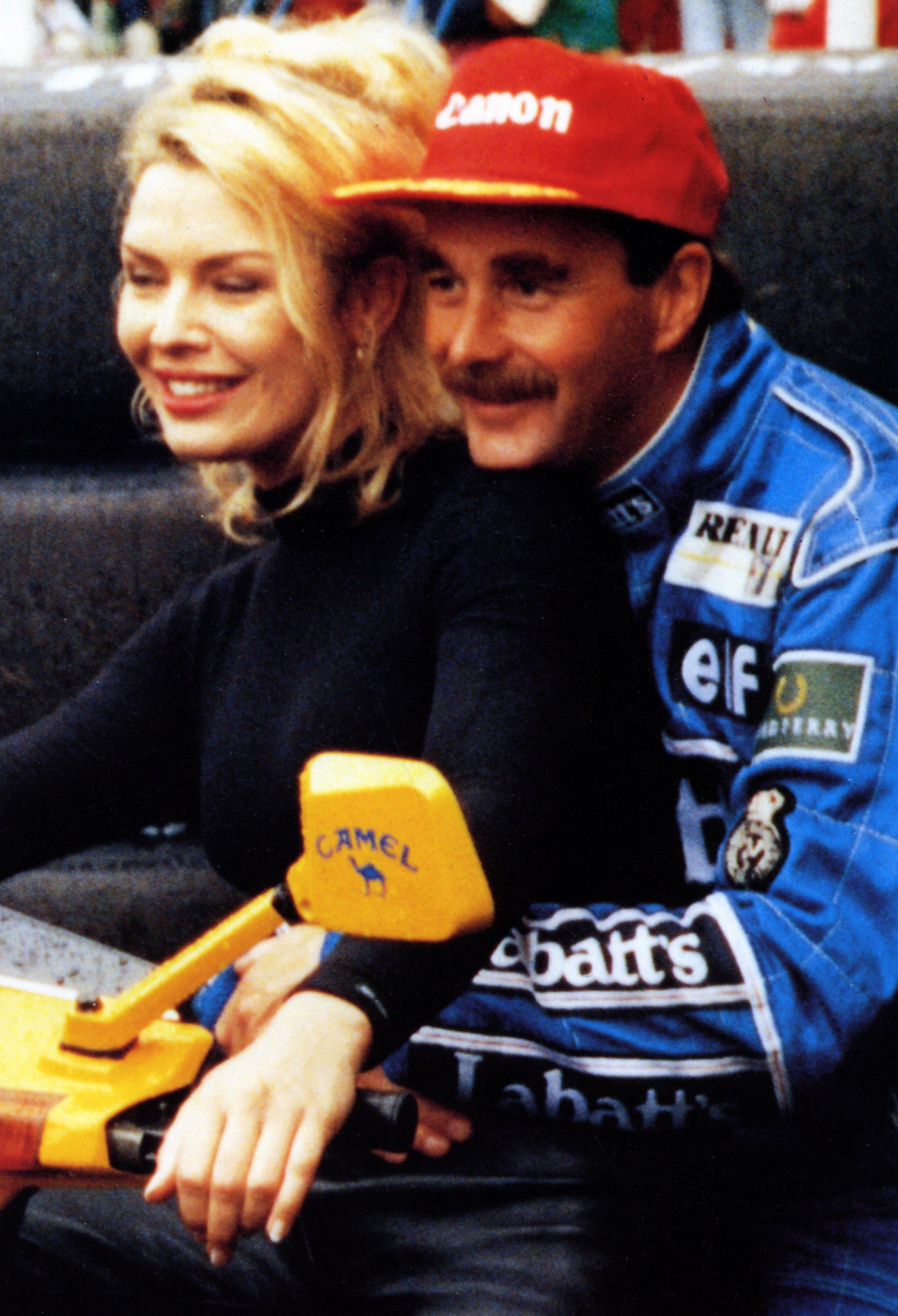 In 1976, Mansell won six of the nine races he took part in, including his debut event at Mallory Park. He entered 42 races the following year and won 33 to become the 1977 British Formula Ford champion, despite suffering a broken neck in a qualifying session at Brands Hatch. Doctors told him he had been perilously close to quadriplegia, that he would be confined for six months and would never drive again. Mansell discharged himself from the hospital and returned to racing. Three weeks before the accident he had resigned from his job as an aerospace engineer, having previously sold most of his personal belongings to finance his foray into Formula Ford. Later that year he was given the chance to race a Lola T570 Formula 3 car at Silverstone. He finished fourth and decided that he was ready to move into the higher formula.
Mansell raced in Formula Three in 1978–1980. Mansell's first season in Formula Three started with a pole position and a second-place finish. However, the car was not competitive, as a commercial deal with Unipart required his team to use Triumph Dolomite engines that were vastly inferior to the Toyota engines used by the leading teams. After three seventh-place finishes and a fourth in his last race, he parted from the team. The next season saw him take a paid drive with Dave Price Racing. Following a first win in the series at Silverstone in March, he went on to finish eighth in the championship. His racing was consistent, but a collision with Andrea de Cesaris resulted in a huge cartwheeling crash which he was lucky to survive. Again, he was hospitalised, this time with broken vertebrae.
The road to F1 was a rocky one for Mansell, marred by serious injury and financial difficulty, and it remained turbulent after he finally clawed his way into the elite with Lotus in 1980. Just five weeks after that Oulton Park accident and still in pain from his injuries, Mansell tested an F1 Lotus 79-Ford at Paul Ricard in October 1979. He impressed sufficiently for Colin Chapman to sign him as test driver for the 1980 season. That programme included Mansell's first three GP opportunities driving a third Lotus 81B-Ford. Inevitably perhaps, his debut in the Austrian GP came complete with stories of the discomfort suffered during a race spent sitting in petrol that had leaked into the cockpit: he severely burned his backside. He retired there and in Holland but failed to qualify in Italy. In addition to his F1 duties, Mansell helped develop the new F2 Ralt-Honda that year and four races included qualifying and finishing second in the season finale at Hockenheim.
Mansell joined Lotus as full-time replacement for Mario Andretti in 1981 although Chapman and the team were distracted by the controversial dual-chassis type 88 that year. The young Englishman impressed nonetheless – finishing an impressive third in Belgium to score his first championship points and qualifying the new Lotus 87 in that position at Monaco. He ended the season by finishing fourth in Las Vegas and completed his first full F1 campaign 14th in the points.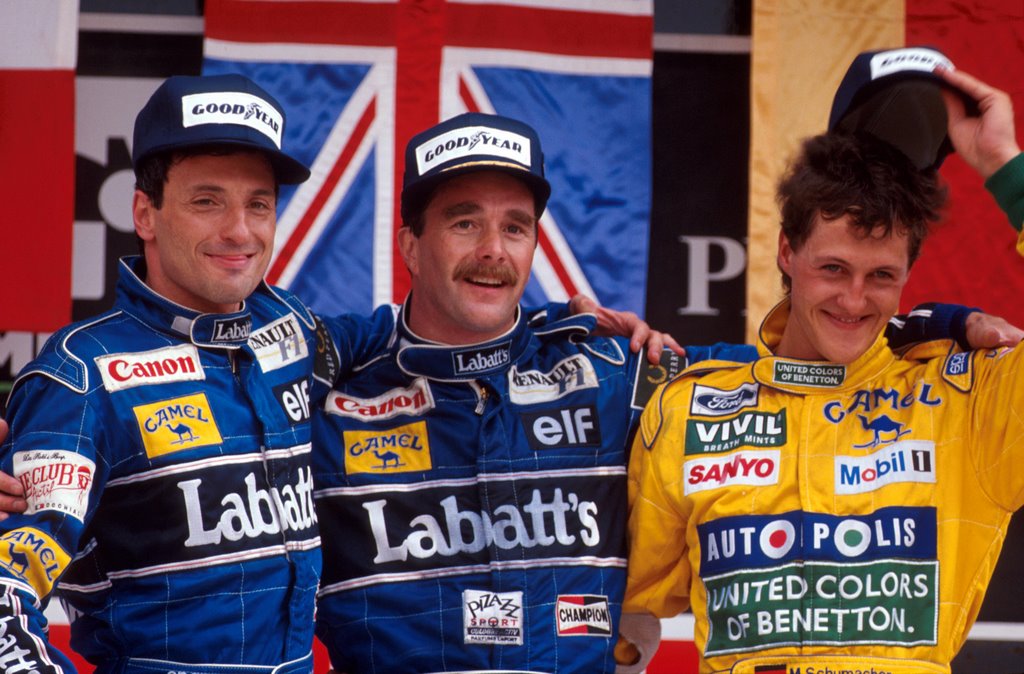 The first half of Mansell's 1982 campaign included inheriting third place in Brazil after the top two had been disqualified and finishing fourth in the chaotic Monaco GP. He then broke his left wrist when his Lotus 91-Ford collided with Bruno Giacomelli's Alfa Romeo in Canada. That forced him to miss the Dutch GP and left him managing the pain thereafter. He did not score a point for the rest of the season and that must have been made even more frustrating when team-mate Elio de Angelis scored a surprise victory in Austria. The Lotus team was dealt a tragic blow in December 1982 for Chapman suffered a fatal heart attack and Mansell had lost his mentor. Nigel became very close to Chapman, who made him equal number one in the team with de Angelis, and was devastated by Chapman's sudden death. In his autobiography, Mansell stated that when Chapman died, "The bottom dropped out of my world. Part of me died with him. I had lost a member of my family".
There was good news on the engine front, for Renault agreed to supply its turbocharged engines to the team from 1983. However, with only enough units for one car initially, Mansell began the year manhandling the cumbersome Lotus 92-Ford with little reward. That said, his never-give-up attitude endeared him to his mechanics, especially when contrasted to de Angelis' apparent lack of motivation in the equally recalcitrant Renault-powered car.
The team hired designer Gérard Ducarouge to rejuvenate its fortunes and his hastily built Lotus 94T-Renault was ready for the British GP, Mansell enjoying turbo power for the first time. Fourth that day, Mansell was fifth in Austria and third in the European GP at Brands Hatch to salvage something from 1983. With the new Lotus 95T-Renault impressive in pre-season testing, much was expected of Mansell in 1984 but his campaign began with four DNFs in-a-row. Third in the French GP at Dijon-Prenois immediately after the death of his mother, Mansell then qualified on the front row in Monaco – his best F1 grid position to date. The race was run in torrential rain and gave Mansell his best chance of victory to date. He took the lead on lap 11 and had the race in his grasp when he crashed out five laps later. Mansell qualified on pole position for the first time in Dallas and led the opening exchanges. Run in searing Texan heat, he was running fifth when his gearbox broke in the closing laps – Mansell pushing his car across the finishing line before collapsing in exhaustion. Typical Mansell drama. Third in the Dutch GP, Mansell was ninth in the overall standings in what was his fourth and final full season with Lotus.
With his career at a critical stage, Mansell joined Williams-Honda for 1985 in a move that turned a promising, if unproven, driver into a title contender. Unfazed by the renowned qualifying prowess of team-mate Keke Rosberg (only "losing" that battle 7-9) ("Keke was probably one of the best team-mates I've had in my career", Nigel said), Mansell was on pole position for the final European race of the year at Brands Hatch. With confidence already buoyed by finishing second at Spa-Francorchamps, the Englishman scored back-to-back victories at Brands and in South Africa – a winner at last after 71 unsuccessful attempts and sixth in the final standings. 1986 proved to be a tough year for both Mansell and the Williams team, off the track at least.
After a pre-season test session at the Paul Ricard Circuit in the south of France, team owner Frank Williams was involved in a horrific road accident which left him a tetraplegic. Williams would not return to the scene until making a surprise appearance at the British Grand Prix at Brands Hatch where Mansell and Piquet finished 1–2. Rosberg moved on at the end of the season and Mansell had double world champion Nelson Piquet for a team-mate in 1986. The Brazilian publicly described Mansell as "an uneducated blockhead" and had also criticised his wife, Roseanne. Williams-Honda had won the last three races of 1985 and so the Brazilian entered the new season as title favourite with Mansell not expected to mount a season-long challenge. Those predictions proved wide of the mark as "Red Five" won four races in five during a mid-season flurry and added the Portuguese GP to establish a commanding lead in the points with just two races to go. However, a poor start in Mexico and spectacular puncture when poised to clinch the title in Adelaide left Mansell as a frustrated runner-up behind McLaren's Alain Prost. Those performances resonated with the British public, however, for he was named as the BBC Sports Personality of the Year for 1986. Mansell continued to eclipse Piquet during 1987 although it would be his team-mate (and now bitter rival) who eventually prevailed in the standings. That was not due to outright speed, though, for Mansell won six times (to Piquet's three) and out qualified his rival 10-6.
The highlight came at Silverstone where Mansell fought back from a late pitstop to pass Piquet with a brilliant move into Stowe. Eight pole positions confirmed his outright pace but Mansell crashed into Ayrton Senna's Lotus-Honda when the class-of-the-field at Spa-Francorchamps and lost crucial races to Piquet in Germany and Hungary through mechanical failures. In need of victory in the Japanese GP to maintain his title challenge, Mansell crashed heavily during qualifying and was forced to miss the last two races through injury. The more consistent Piquet was world champion for a third time with Mansell runner-up for a successive season. Piquet called his win over Mansell "a win of luck over stupidity". The Brazilian also added that he won because he was more consistent than his teammate, racking up points and podiums where Mansell often ran into trouble. Piquet's was a percentage driving policy which worked well in the ultra-competitive Williams-Honda, whereas Mansell was a hard charger who many felt often pushed his luck too far.
In 1988, for the first time in his career, Mansell was a team's undisputed #1 driver, having won more races in the previous two seasons than any other driver. Honda decided not to supply engines to Williams despite having spent the previous two seasons as the fastest combination in F1. Mansell's normally aspirated Williams FW12-Judd was no match for its turbocharged rivals that year, most notably McLaren-Honda who won all-but one race during a dominant campaign. The Englishman started the Brazilian and Hungarian GPs from the front row and finished second at Silverstone (in the rain) and Jerez on the only two occasions his car made the chequered flag. In need of competitive machinery and rewarded with a handsome salary, Mansell joined Ferrari in 1989 to drive the innovative John Barnard-designed Ferrari 640.
Mansell became the last Ferrari driver to be personally selected by Enzo Ferrari before his death in August 1988, an honour Mansell described as "one of the greatest in my entire career". Enzo Ferrari presented a 1989 Ferrari F40 as a gift to Mansell. In Italy he became known as "il leone" ("the lion") by the tifosi because of his fearless driving style. The season was one of change in the sport, with the banning of turbo engines by the FIA and the introduction of the electronically controlled semi-automatic transmission by Ferrari. Mansell scored a famous win on debut in Brazil and his victory in Hungary was perhaps the finest of his career – coming from 12th on the grid on a circuit where overtaking was previously near to impossible. In contrast to those successes, the car suffered initial teething problems and Mansell earned a one-race ban for crashing into Senna during the Portuguese GP after ignoring black flags for reversing in the pitlane. That said, he finished a promising first season with Ferrari in fourth overall.
Loved by the Tifosi and Italian press alike for his heroics behind the wheel and unwavering commitment, Mansell failed to deliver the title challenge he had expected in 1990. He was overshadowed by new team-mate Alain Prost and mechanical failures further soured his mood. When he suffered gearbox failure while leading the British GP, Mansell threw his gloves into "his" adoring crowd and emotionally announced that he would retire at the end of the season. He qualified on pole position in Portugal – his third of the season – and nearly collided with Prost at the start as he refused to help the Frenchman's title challenge. Mansell eventually won that day and their post-race expressions reflected the strain within the team. Little more than a week later, Mansell reversed his decision to quit and announced that he was returning to Williams for 1991.
The Williams FW14-Renault was the fastest car on the F1 grid car in 1991 but early points were lost while sorting its electronics and gearbox. Mansell lost the Canadian GP when his engine mysteriously lost power as he exited the final corner before dominating in France, Britain and Germany. Further victories in Italy and Spain (having gone wheel-to-wheel with Senna) were not enough to close the gap and he was championship runner-up for a third time. With its systems now fully sorted, the Williams FW14B-Renault proved unbeatable in 1992, especially in Mansell's hands. He set new season records for largest championship winning margin (52 points ahead of team-mate Riccardo Patrese), most wins (nine), most wins at the start of a season (five), most points (108), most pole positions (14) and fastest laps (eight) as he clinched the title with five races to spare.
Even at the point of his greatest triumph, the Mansell story refused to be straightforward. Rather than accept Prost as his team-mate in 1993, Mansell sensationally quit F1 for the Champ Car World Series at the end of the season. If Mansell thought that his achievements were underappreciated by the specialist press then the British public had their say. He was voted BBC Sports Personality of the Year for the second time – a feat only previously achieved by boxer Henry Cooper.
In 1994, with the team still reeling from the death of Ayrton Senna earlier that year, Mansell rejoined Williams-Renault for what was meant to be a one-off at Magny-Cours. He then started the last three GPs of 1994 and converted pole position into a 31st F1 victory in the Australian finale. Despite that, Williams opted for the youthful promise of David Coulthard so Mansell joined McLaren-Mercedes for the 1995 World Championship. It proved to be an unsatisfactory final chapter in his long and largely successful F1 career however. He struggled to fit into the McLaren MP4/10-Mercedes and walked away from both team and sport after two underwhelming races.
He won the BBC Sports Personality of the Year award in both 1986 and 1992, one of only four people to have won the award twice. He was rated in the top 10 Formula One drivers of all time by long time Formula One commentator Murray Walker and was inducted to the International Motorsports Hall of Fame in 2005. In 2015 turn 17 of the Autodromo Hermanos Rodríguez was renamed in honour of Mansell, twice winner of the Mexican Grand Prix (1987 and 1992).
Nigel currently lives in Jersey, Channel Islands. He lived in Port Erin on the Isle of Man during most of his F1 career until 1995. So associated with the red 5 is Mansell that, in 2004, he purchased a yacht which he named Red 5.