Round 6 brought the F1 circus to the legendary streets of sunny Monaco. Monaco GP is the crown jewel of all F1 races – the most desired victory of the entire F1 calendar. Monte Carlo street circuit differs a lot from any other modern F1 track, and it is known for having no room for mistakes.
Qualifying held a few surprises. Against all odds, Mercedes turned out to be in difficulties in the narrow streets of Monte Carlo. Hamilton had problems with overheating rear tyres and no grip. On his last run in Q2 the Briton was setting competitive lap times on sectors one and two, but arriving at the Swimming Pool he found Vandoorne's McLaren parked in the wall. Yellow flags were out, which meant shocking news for Hamilton – he was out of the decisive Q3!
The shootout for pole was as thrilling and hair-raising as it possibly could have gotten. Kimi seemed to be utterly on flames in the streets of the Principality, and the Iceman was stamping his authority by taking provisional pole. Hadn't that been enough, Kimi even improved his lap time by a tenth of a second on his second run. Teammate Sebastian was putting all in to challenge his teammate, which meant the German was a bit too greedy. But there were only 43 thousandths of a second separating the teammates in favour of Kimi! Although Mercedes seemed to struggle with getting their tyres up to temperature, Bottas put up a staggering show. His last run was absolutely impressive, making him third, only two thousandths of a second slower than Sebastian in P2! It was Kimi's first pole since France 2008. By this phenomenal drive, Kimi put an end to all talks about questioning his motivation and driving skills. The Red Bull drivers Verstappen and Ricciardo qualified 4th and 5th, Ricciardo being surprisingly half a second off his teammate's pace. Sainz was impressive 6th for Toro Rosso and the ever-present Perez qualified 7th for Force India.
I'm happy to say, that the red team didn't let me down, as both red-suited warriors absolutely nailed the start. Kimi was cool as ice and held on to the lead, followed closely by his teammate Sebastian. The order of the top six remained unchanged, as Bottas was third, Verstappen fourth, Ricciardo fifth and Sainz sixth. Hamilton in his Mercedes faced a difficult start to the race, as he was able to gain one position only on the opening lap; the Briton was in P12.
The gap between the Ferrari teammates varied from DRS distance to two seconds, but Kimi seemed to be in control of the race. All top drivers had a similar tyre strategy for the second stint. Red Bull's Verstappen, Mercedes' Bottas and Kimi in his SF70-H were the first drivers to pit for a fresh set of super soft Pirellis. Ricciardo and Sebastian, on the other hand, decided to stay out. Sebastian especially was banging really impressive lap times in spite of his very worn tyres. Kimi re-joined the track behind backmarkers Button (who was replacing Alonso at McLaren) and Sauber's Wehrlein, which cost Kimi a lot of valuable time.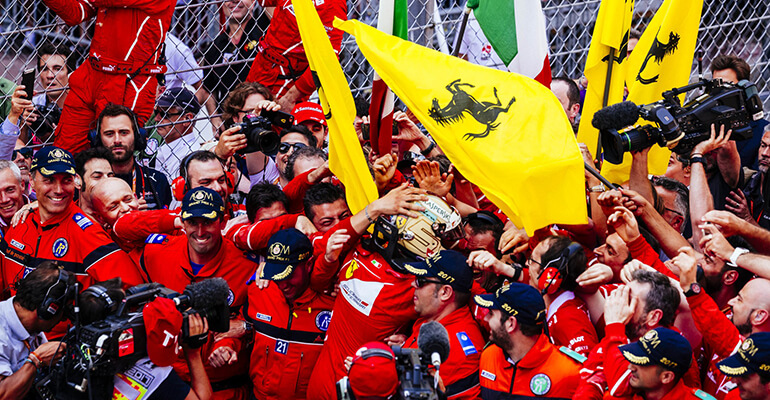 After Ricciardo had pitted on lap 39, the Australian re-joined the track in P3; he had jumped both Bottas and Verstappen with his superb pit stop strategy! Sebastian pitted a lap later, and what a turn the race had! Although Sebastian's pit stop wasn't perfect, the German managed to snatch the lead from teammate Kimi! And, after taking the lead, Sebastian quickly started to build a gap to Kimi, which had increased as much as into 10 seconds by lap 50. I couldn't help wondering where had Kimi's fantastic pace suddenly disappeared.
On lap 61 there was a nasty-looking incident at Portier, involving McLaren's Button and Sauber's Wehrlein. Button had made a crazy overtaking move on Wehrlein, although there was no room or chance for overtaking. The Briton crashed into Wehrlein's Sauber, which ended up on its side against the wall! Luckily, Wehrlein got away unharmed, but it took a while for the medical staff to get the German out of his car. Safety car was deployed.
Safety car came in with 11 laps to go, and the race was back on. Once again overtaking turned out to be a mission impossible in Monaco, and the order remained unchanged till the chequered flag. Sebastian won the race, and Kimi made it a glorious 1-2 for Ferrari! Eye-catching was the fact that there was no Mercedes driver on the podium, as Ricciardo finished third. Bottas had to settle for P4, and, in spite of opting for a fresh set of ultra-soft tyres at the end of the race, Verstappen couldn't make it higher than P5. Sainz made a great job by finishing 6th. P7 was the maximum that the disappointed Hamilton could do due to his catastrophic qualifying.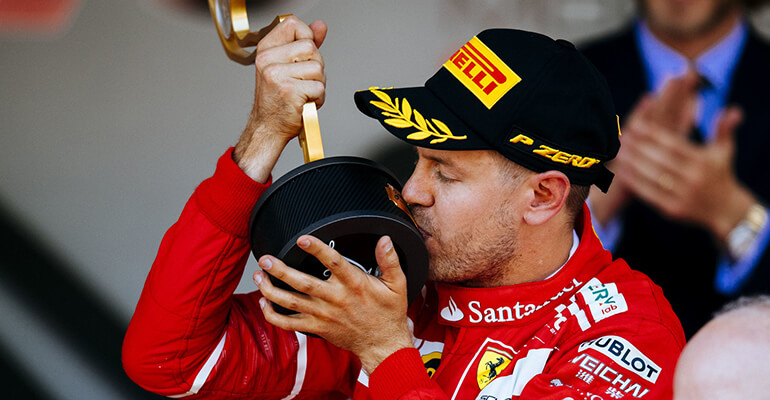 1-2 is an absolutely glamorous result for the Prancing Horse, but there have been mixed emotions for both red-suited drivers during the weekend. Sebastian looked overwhelmingly disappointed on Saturday after losing pole to his teammate. Kimi, on the other hand, looked absolutely devastated on the podium after losing the victory due to his pit stop strategy. There have been a lot of talks already about "conspiracy theories" how Ferrari arranged Sebastian to win. I have to say I don't believe in these theories. Usually the first driver to pit benefits from the undercut, but Kimi was unlucky to get stuck in the traffic. Sebastian was in the right place at the right time, banging those fastest lap times. Kimi's reaction after the race definitely proved that his desire and passion to win hasn't gone anywhere!
Sebastian now has a promising 25-point lead in the championship standings. I'm keeping my fingers crossed that he'll carry on this momentum to Canada in a fortnight. To me it really seems that the pecking order might have turned around with Ferrari having the upper hand on Mercedes in terms of pace and performance! Ferrari has taken the lead in the constructors' standings as well, with 196 points to Mercedes' 179.
I was so very happy to see both Ferrari drivers on the podium! Sebastian, you make me so overwhelmingly delighted every time you make it on the top step of the podium! It's almost crazy how happy you can make me just by driving your car as fast as you do!
With passion for racing red,