Glamorous Monaco is known for its narrow and unforgiving streets. If you lose your concentration for as little as a fraction of a second, you will most likely end up colliding with the wall. Such was the case for the youngest-ever GP winner Max Verstappen in Q1. The Dutchman had made only a slight contact with the wall in Turn 15, but it was enough to break his track rod and make him hit the wall.
Sebastian in the red car, however, drove an excellent qualifying and was topping the time sheets in the first segment. In terms of Q2, Red Bull's Ricciardo set his fastest lap time on red-marked super soft tyres, whereas all others set their times on new, purple-marked ultra soft tyres, although this fact didn't quite mean anything.
Unbelievable but true, Hamilton got technical gremlins once again when Q3 got underway - this time fuel pressure related. Ricciardo, on the other hand, put together an incredible lap and took provisional pole with a one-second gap to the Ferraris! Rosberg in his Mercedes was unable to match Ricciardo's time and had to settle for being the runner-up. This was Ricciardo's maiden pole and the first pole for Red Bull Racing since the 2013 Brazilian GP! Hamilton finally made it out from the pits and managed to jump third. Sebastian made it fourth, nine-tenths behind Ricciardo! Kimi qualified 6th, but was given a 5-place grid penalty for a gearbox change, dropping the Iceman down to P11. However, the weather forecast predicted rain for Sunday's race, and I was confident that everything could turn out just fine during the race...
When the race was about to go underway, it was raining quite heavily and the track was dangerously wet; the stewards made the decision that the race was to be started behind a safety car. It must have been a relief for Ricciardo, whose lead wasn't compromised with the decision. Everyone started the race on full-wet tyres. Safety car came in on lap 8, and the race was finally on. Ricciardo started pulling away immediately, but there was an intense battle between the Mercedes teammates as Hamilton seemed to be significantly faster than his teammate.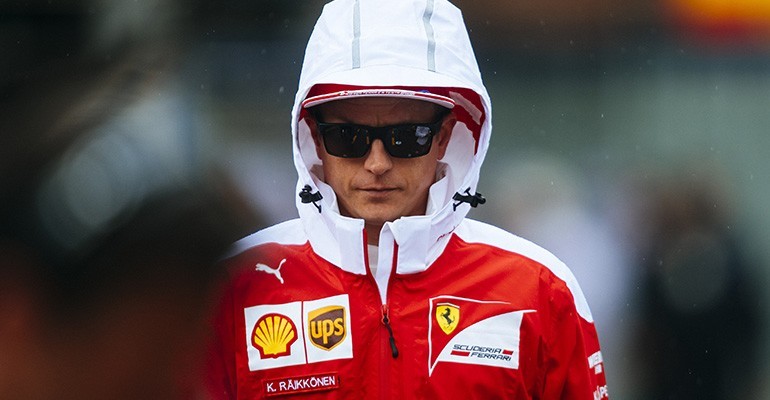 One of the most devastating turns took place on lap 11; going through the hair pin in almost walking speed, Kimi had a lock-up and ended up in the wall! He didn't touch the wall heavily, but the impact was enough to damage the Iceman's front wing. Unfortunately, the front wing then got stuck under the front-left tyre of Kimi's SF16-H, and the Iceman had no choice but to retire! What an utterly disappointing moment! I would have wanted to see Kimi's performance in the changing conditions.
On lap 16 it finally happened - Hamilton made his way past Rosberg, who, for some reason, seemed to be struggling with his pace. After last race's collision between the teammates, Rosberg now decided to work as a team player and give way for his teammate. Sebastian was the first top driver to pit for intermediate tyres. Alas, the timing for Sebastian's pit stop wasn't perfect; the German got stuck behind Williams' Massa as he rejoined the track. Sebastian seemed to be clearly faster than Massa, but in the narrow streets of the Principality overtaking seemed to be Mission Impossible, costing Sebastian much valuable time.
Hamilton made a brilliant decision to stay out, although everyone else pitted for the intermediate tyres. The Briton went in not until lap 32 and opted for a fresh set of ultra soft tyres! Ricciardo pitted for the second time on the very same lap, but what a catastrophe the Australian's pit stop turned out to be! Tyres weren't ready for him when he came in, and it took over 10 extra seconds to get the super soft tyres on Ricciardo's RB12!
The team had made a very late call to opt for super soft tyres instead of the yellow-marked soft ones, which caused the pit stop delay. As a result, the delayed pit stop caused Ricciardo to lose his lead to Hamilton, who had absolutely no intention to give up on it anymore. Now it was Hamilton leading the race, with Ricciardo second and Force India's Perez third.
Towards the halfway point of the race Red Bull's Verstappen had shown phenomenal overtaking, and the Dutch teenager had already made his way through the pack to P10, but then something unexpected happened; Verstappen had a small lock-up, which made him go on a damp line, and he ended up in the wall! So it has definitely been going from hero to zero in just two races.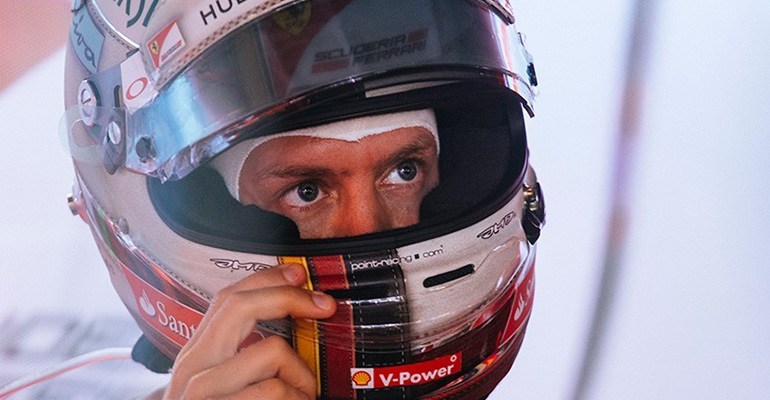 There was an exciting battle for the victory between Hamilton and Ricciardo, but there wasn't much Ricciardo could do since Hamilton drove an absolutely flawless race. A tight battle for the third place followed between Perez and Sebastian. Although Sebastian managed to get into DRS distance from the Mexican, overtaking was not a real option. Tyre strategy varied from driver to driver; Hamilton had ultra softs, Ricciardo super softs, whereas both Perez and Sebastian had soft tyres on.
What caught me by huge surprise was the fact that Hamilton could actually drive over 40 laps on the ultra soft tyres! Beforehand they had been referred to as "qualifying tyres", which wouldn't last longer than a few time laps! At the end of the day it didn't matter whether you had opted for ultra softs, super softs or softs; you could still drive till the end on each of these compounds!
Hamilton won the race, and Ricciardo had every right to be absolutely devastated and overwhelmed with disappointment, as he himself drove a flawless race and would have deserved to win, too. Perez was extremely happy to make it on the podium, and Sebastian had to settle for P4 this time. McLaren's Alonso drove a stunning race and finished 5th. Hulkenberg completed Force India's successful day by overtaking Rosberg on the very final lap and making it P6. Once again, at least one of the Mercedes was beatable.
Hamilton has now decreased Rosberg's lead into just 24 points in the drivers' championship standings. Ricciardo has jumped third ahead of the Ferrari teammates Kimi and Sebastian. Red Bull seems to be seriously challenging the Italian-based team in the constructors' standings, as Red Bull is now only 9 points off Ferrari! I'm really looking forward to the Canadian GP and the new upgrades that Ferrari will be bringing. I strongly believe we still haven't seen the best of the red cars yet!
With passion for racing red,
Iina Huhmarniemi