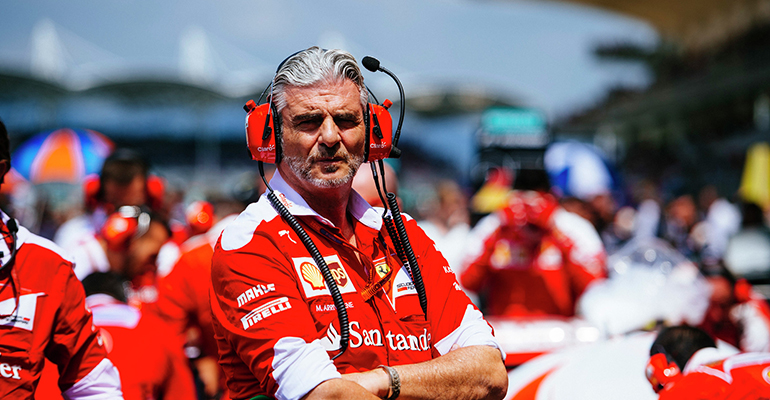 Sepang International Circuit was a bit unknown for the teams due to some significant track changes since last year. The entire track had been resurfaced, and nine corners had been changed. The most challenging one turned out to be Turn 15; the inside of this corner had been raised by a metre. New asphalt meant slippery conditions and hotter track temperature.
Qualifying held no surprises. Of the Mercedes teammates, Hamilton got the upper hand; the Briton headed qualifying by four-tenths of a second. The pecking order in terms of Red Bull and Ferrari was, unfortunately, not in favour for the Italian-based team. Red Bull's Verstappen and Ricciardo filled out the second row, and Ferrari teammates had to settle for playing the second fiddle to Red Bull. This time Sebastian was the faster one of the red-suited drivers; the Ferrari duo locked out the third row.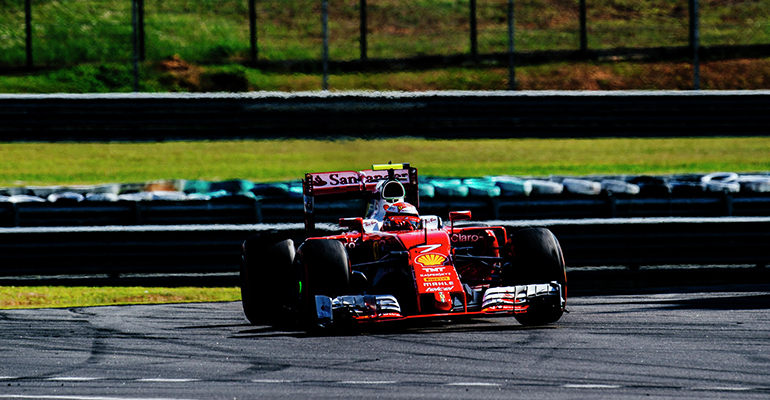 The opening lap has shown a tendency to be quite eventful in the past, and the same pattern was maintained in today's race as well. Hamilton got an excellent start and held on to the lead. Behind the Briton an intense battle for positions took place between teammate Rosberg, Ferrari's Vettel and Red Bull's Verstappen. Sebastian was so concentrated on his battle with Verstappen, that he completely ignored Rosberg, who was in the outside going into Turn 1. Sebastian braked very late - too late. His move was way too optimistic, considering the circumstances. He couldn't avoid hitting Rosberg, who ended up spinning, but was able to continue the race. Sebastian himself ended up with a failed front suspension, which meant that his race was over. Even before it had started! It was such a frustrating and disappointing moment! Unfortunately, this wasn't the first mistake Sebastian has made this season; Sebastian was also taken into investigation by the stewards for causing a collision.
Hamilton was leading the race, followed by the Red Bull duo of Ricciardo and Verstappen. Kimi had taken the fourth place back from Force India's Perez and was driving a fantastic race. Rosberg, on the other hand, was making his way through the field position by position. The tyre strategies were certainly interesting. The top three teams - Mercedes, Red Bull and Ferrari - had an identical tyre strategy, except for Red Bull's Verstappen. "The flying Dutchman" and Mercedes' Rosberg were the first top drivers to pit already on lap 9; Verstappen opted for a fresh set of yellow-marked soft tyres, whereas Rosberg's choice was the orange-marked hard compound. The rest of the top five -Räikkönen, Ricciardo and Hamilton - pitted some ten laps later, all for a fresh set of hard Pirellis. Now there was one particular question in the air; would it be possible to make the race on a one-stop strategy?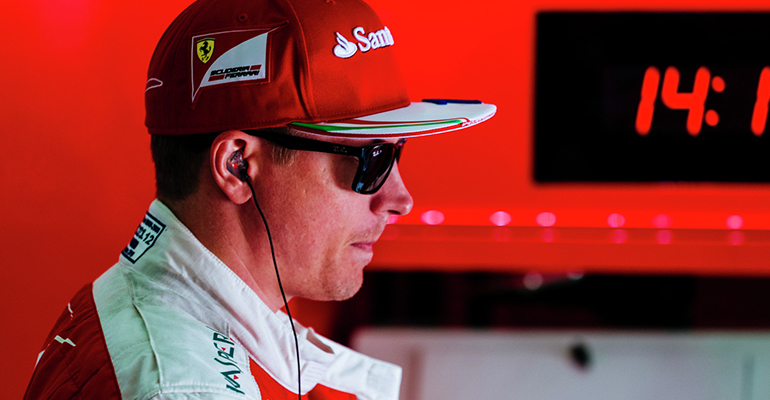 After second pit stops the battle was on for P4 between Kimi and Rosberg. The German seemed absolutely determined to get past the Iceman. Kimi was driving absolutely flat out, but Ferrari seemed to lack pure speed. Rosberg put serious pressure on the Finn, and the German was absolutely stubborn to get past. It led to a questionable overtaking move, which caused Rosberg to hit Kimi's SF16-H. The impact caused some damage to Kimi's Ferrari floor, but Kimi continued doing the best he could. Rosberg was taken into investigation by the stewards for causing the collision, and the German was given a 10-second time penalty for his infringement. This was a start for Kimi's race against the clock; Kimi's mission was to prevent Rosberg increasing his gap into ten seconds. It turned out to be no easy task!
Hamilton in the lead had over a 10-second gap to Ricciardo, and it seemed certain that the Briton was cruising for the victory. Things changed dramatically on lap 41 - 15 laps before the chequered flag - as Hamilton suddenly faced an engine failure with huge flames coming from the back of his car! Hamilton's victory together with 25 valuable points vanished in a heartbeat. Now Red Bull had a double lead in the race; who could have thought that would happen?! During the virtual safety car (caused by Hamilton's retirement), all top four drivers pitted for the third time - for a fresh set of soft tyres. So an expected one-stop strategy turned into a three-stopper after all.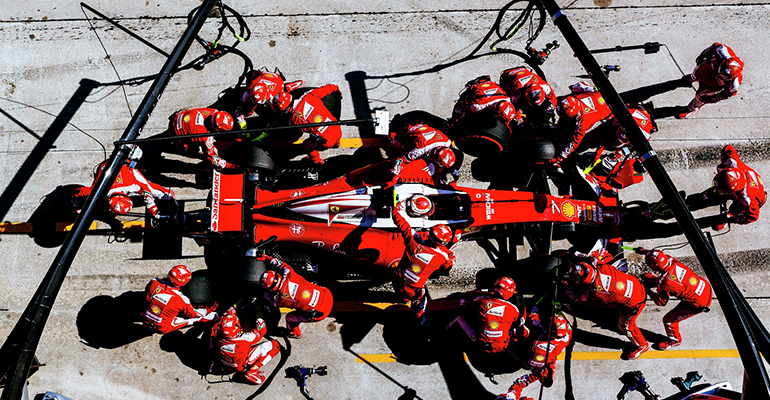 Verstappen was right at his teammate's tail, but this time there were no risky or "crazy" moves by the Dutch teenager; he seems to have learned his lesson from the previous races. Unfortunately, Rosberg got some extra power for a couple of laps and there was nothing Kimi could do to keep the gap within 10 seconds. Although Rosberg was punished for causing the collision, there was no actual penalty at all, as the German was still able to make it on the podium, leaving Kimi in a bittersweet P4 after such a strong race. Williams' Bottas, who came in impressively 5th, showed that a one-stop strategy was possible in the heat of Malaysia.
The podium ceremony was absolutely hilarious; Ricciardo knows how to put up a good show. Not only he did another "shoey", the Australian also got teammate Verstappen, Team Principal Horner and even Rosberg involved in it! At the end of the day, Rosberg has now a 23-point lead in the drivers' championship standings, with five more rounds to go.
To be honest, Sebastian Vettel has been in my thoughts a lot lately. He was handed two penalty points and a 3-place grid penalty for Japan next week. So there's no ambiguity about who was at fault in the collision. It seems to me that Sebastian has under-performed this season and hasn't been at the level he belongs to. Of course, every driver faces difficult times at some point of his career. I hope Sebastian knows that fans are still there for him - in spite of all the mistakes. I always support Sebastian from all my heart, same as I support Kimi and Ferrari as a team. Ferrari, too, is facing difficult times, as Red Bull has clearly taken the upper hand in the battle for the second place in the constructors' standings. But there are still a lot of people who believe in the team - me included. All the best for the Japanese GP weekend next week! 
With passion for racing red, 
Iina Huhmarniemi