Lewis Hamilton. Nicknamed "the Hammer", he is the all-time record holder for most pole positions. Not the gentleman driver of bygone days, nor a prodigy of elegance and finesse. Covered in tattoos, plenty of earrings, dubious look, heavy and continued presence on all the social media sites, world traveller of parties and entertainment. Faithful reflection of our desecrating time, a link between the old Formula 1 and the current one. The first of the "other than the standard" drivers, a tragic example for the young pilots who approach F1. Lived more as a visibility instrument than a passion of which to live and die.
But when Lewis sits behind the wheel, he is not afraid, he doesn't envy nothing to nobody, he doesn't care about safety (he doesn't like safety cars), he doesn't tremble if it rains, he doesn't make excuses. He puts in the first gear and does the fastest lap. He has done it more than all the drivers of all time. This is so because he, Lewis Hamilton, in a F1 cockpit is one of the greatest, he's rightfully one of them, a super-fast pilot. When there's going fast, he eats everybody's breakfast.
When he gets out of the car, however, it's not impossible to understand why Formula One of old was more charming. In the politically correct framework of today, he is the reference playboy. He knows the limit for not transgressing with women, he does what he is allowed to. He won't have the grid girls anymore, but maybe he will have avoided "grid guys". We wish him well.
We have memories from another time, another culture. We remember what it was like when James got out of the car. His look was electrifying - he could have all the girls panting for him even without a penny. A time when kissing was for passion. James Hunt didn't care of everything, he was enjoying the moment, unfailingly with a beer and cigarettes, with the racing suit folded around his waist. It's far too easy to blame our time, the natural evolution and so on. Today, in motor sports competitions, money has surpassed the pleasure. Or better, the pleasure of money has passed the one for races. It's not just melancholy for the days gone by, charm of the high and far off times, but objective beauty and purity of a noble sport. More than a matter of appeal depending on more dangerous cars or on the non-existence of political correctness, anti-smoking legislation or formalities. Greatest respect for any driver, always, unless he chooses his clothes at a fashion show.
Lewis Carl Davidson Hamilton, born 7 January, 1985, in Stevenage, Hertfordshire, England, is one of the sport's most recognisable characters and is well on his way to becoming a bonafide F1 legend. He has won four World Drivers' Championships already. Known as much for his off-track exploits as his ones on it. The first mixed-race background driver in Formula One, Hamilton was named after American sprinter Carl Lewis. He has a British mother while his father's parents emigrated from Grenada to the United Kingdom in the 1950s.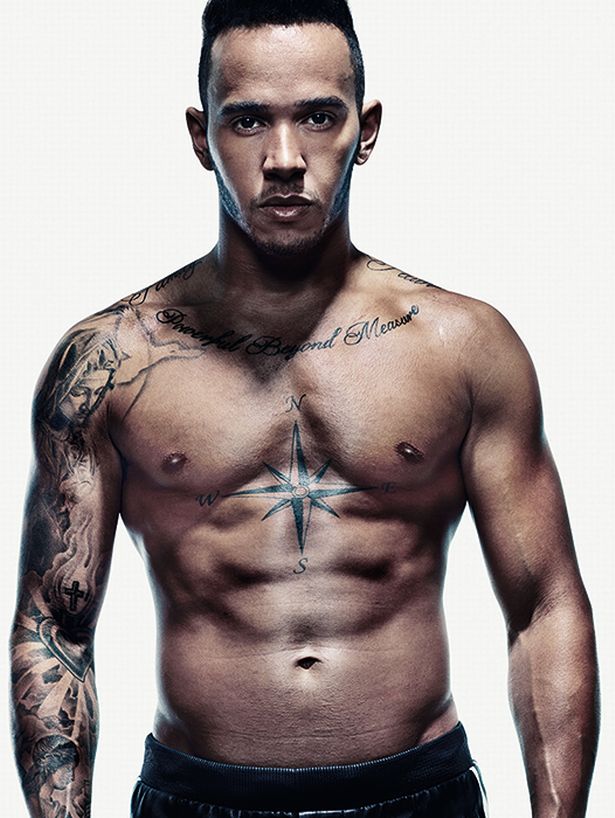 Lewis started kart racing when he was six. At the age of ten, he approached McLaren F1 team boss Ron Dennis for an autograph and told him: "Hi. I'm Lewis Hamilton. I won the British Championship and one day I want to be racing your cars." Dennis wrote in his autograph book, replying: "Phone me in nine years, we'll sort something out then."
"He's a quality driver, very strong and only 16. If he keeps this up I'm sure he will reach F1. It's something special to see a kid of his age out on the circuit. He's clearly got the right racing mentality." Michael Schumacher, speaking about Hamilton in 2001.
 Hamilton was awarded an MBE by the Queen in the 2009 New Year Honours.
In 2007 Canadian Grand Prix, driving a McLaren, Hamilton took both his first pole position and first victory of his F1 career. In the Hungarian Grand Prix, during qualifying, Alonso held Hamilton up in the pits. This caused the brit to miss one last lap to try and earn the pole position. Alonso was moved back to the sixth starting position and Hamilton said he thought Alonso's penalty was "quite light if anything".
In January 2008, Hamilton signed a new five-year contract with McLaren-Mercedes. At the last GP of the year in Brazil, in the closing laps, it started to rain. Massa in a Ferrari had already won the race and, with Hamilton in sixth place, it looked like he would win the title. During the final lap Hamilton passed Timo Glock who was using dry-weather tyres while he was using wet-weather ones. This put him back into fifth place giving him one point more than Massa. He became the youngest driver to win the title, as well as the first black one.
In 2013 Lewis joined the Mercedes team signing a three-year contract and, at the Hungarian Grand Prix, he secured his first win.
From the 2014 season on, a new rule allowed the drivers to pick a unique car number for their entire career; Lewis picked n°44, the one he used during his karting days. He became the World Champion after winning the Abu Dhabi Grand Prix, saying in the podium interview "This is the greatest day of my life".
In 2015, by winning the United States GP with the W06 Hybrid Mercedes, Hamilton secured his third Drivers' title with three races left to run.
In 2016 in Abu Dhabi, Hamilton led Nico Rosberg for most of the race. In the final laps, he defied team-orders and deliberately slowed to back his team mate into the chasing pack in a bid to encourage rivals to overtake him, which would have allowed him to win the title. However, Rosberg was able to hold his second position winning the title. After the race, Hamilton said: "I don't think I did anything dangerous, I was in the lead, so I control the pace. Those are the rules."
Just five days after being the world champion, Nico Rosberg announced his shock retirement from F1 and, on 16 January 2017, Valtteri Bottas was announced as Hamilton's new team mate. In Canada Lewis took his 65th pole position to equal his hero Ayrton and, after the session, he was presented with one of Senna's old helmets, a gift from the late Brazilian's family. Upon receiving the gift, Hamilton said: "I'm shaking. I know that Ayrton for many of you, as well las for me, was the favourite driver. He inspired me to be where I am today so to receive this is the greatest honour."
At the following GP in Baku, which was full of incidents, when the second Safety Car was about to leave, Sebastian Vettel collided into the rear of the race leader Lewis Hamilton, and then pulled alongside and swerved into his Mercedes. For which the german, accusing the brit of brake testing him despite the FIA telemetry data showing that his competitor had not used his brakes, received a ten-second stop-go penalty. At the Italian GP, Hamilton secured his 69th pole position surpassing Michael Schumacher and, at the United States GP, claimed his 72nd one. In Mexico, with two races remaining, Lewis clinched the drivers' title.
Lewis Hamilton, one of the most complete, fastest qualifiers and best wet-weather drivers, has an aggressive driving style, with a tendency to sometimes lock up the front wheels. He explained: "I think it's partly because I watched Ayrton Senna when I was young and I thought 'this is how I want to drive when I get the opportunity' and I went out there and tried it on the kart track. My whole approach the racing has developed from there."
Hamilton is capable to adapt to variances in the car set-up and changing circuit conditions and has used less fuel than his teammates carrying momentum through corners despite instability in the car. Lewis has been accused of being hot-headed at times. "As a driver he is absolutely outstanding – as good as there's ever been. Apart from the talent, he's a good guy, he gets out on the street and supports and promotes Formula One. He is box office, 100 per cent,"  Bernie Ecclestone is known to have said of Hamilton in 2015.
One of the greatest F1 drivers ever and the most successful British F1 driver, Lewis has received criticism for his jet-set lifestyle and interests off the track. Despite this, since his debut in 2007, F1's annual global revenue as of 31 July 2016 has risen by 53%. "He was able to win with a dominant car, with a good car like 2010 or 2012, or with bad cars like 2009 and 2011. Not all the champions can say that," Fernando Alonso comments in 2017. Years later, David Coulthard called Hamilton "the Ayrton Senna of his era".
In 2013, when Lewis joined Mercedes, he was paired alongside an old karting team mate, Nico Rosberg. Over their four seasons on the German team, the pair's relationship became strained on and off the track. Nico, an only child, son of the former F1 world champion Keke Rosberg, was born in Germany but grew up in Monaco whereas Lewis, born on a council estate in Stevenage, has a father who had to work hard to support him racing. At the Monaco Grand Prix, at the end of Q3, Nico and Lewis started a lap; Rosberg first, Hamilton second. The German, on provisional pole, forced his team mate to abort his final lap running deep at Mirabeau and driving into a sliproad, prompting yellow flags. Hamilton said that Nico did it on purpose and after the race announced that he and Rosberg were no longer friends. When Nico Rosberg announced his retirement from F1, Hamilton said: "The sport will miss him, but I wish him all the best. This is the first time he's won in 18 years, hence why it was not a surprise that he decided to stop. But he's also got a family to focus on and probably wants to have more children. Formula 1 takes up so much of your time." He added: "In terms of missing the rivalry, of course, because we started karting when we were 13 and we would always talk about being champions. When I joined this team, Nico was there, which was something we spoke about when we were kids. So it's going to be very, very strange, and, for sure, it will be sad to not have him in the team next year."
In 2013 he bought a red and black Bombardier Challenger 605 private jet, registered G-LCDH, and in 2015 he was ranked as the richest British sportsperson.