Kimi, the last of romantics, the last Ferrari world champion, the steaming ice. Pure talent and you can see it at Eau Rouge, you can see it when it rains. The last hero of a Formula 1 that doesn't exist anymore. The last of the greatest, the Flying Finn. The Finnish fire.
Kimi-Matias Räikkönen, born 17 October 1979, is a Finnish racing driver currently driving for Ferrari in Formula One. He won the F1 Driver's championship with Ferrari in 2007, with victory in the Brazilian Grand Prix at Interlagos, and till date remains the last Ferrari Champion. After nine seasons racing in Formula One, he competed in the World Rally Championship in 2010 and 2011. In 2012, he returned to Formula One, driving for Lotus and continued to drive for Lotus in 2013. On 11 September 2013, Ferrari announced their signing of Kimi on a two-year contract, beginning in the 2014 season. His current contract with the team has been extended since and expires at the end of 2017.
Australian GP 2001. A young blond man calmly discusses with the security guards in front of the turnstiles of Melbourne's paddock: "I'm sorry, I have no pass, but I'm a F1 driver". Kimi Räikkönen's career in the F1 circus starts in a clearly not triumphal way. The security won't go down. No exceptions: go away or pay the ticket as everyone else. Kimi Räikkönen? We've never heard of him. Then, half an hour later on again – off again, the future Iceman finally gets to come in paddock.
Räikkönen entered Formula One as a regular driver for Sauber-Petronas in 2001. He joined McLaren Mercedes in 2002, and became a title contender by finishing runner-up in the 2003 and 2005 championships to Michael Schumacher and Fernando Alonso, respectively. Räikkönen's move to Ferrari in 2007 saw him secure his first Formula One World Drivers' Championship, beating McLaren drivers Lewis Hamilton and Fernando Alonso by one point, as well as becoming one of the very few drivers to win in their first season with Ferrari. In 2008, he equalled the record for fastest laps in a season, for the second time. Räikkönen left Scuderia Ferrari and the sport in 2009. He made his return to F1 when he signed a 2-year deal with Lotus starting with the 2012 Formula One season. In his comeback season, he won the 2012 Abu Dhabi Grand Prix. His consistent performances allowed him to end the season 3rd in the Drivers' Championship.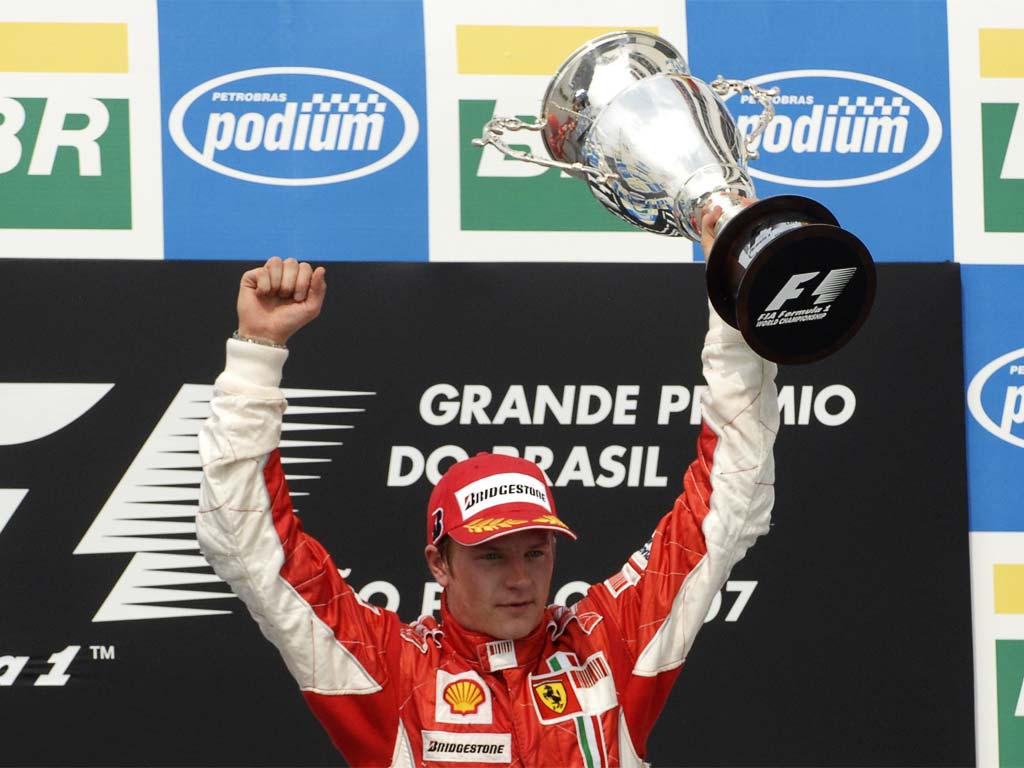 Kimi was born in Espoo. He had a long line of success in karting from the age of 10. His first race outside Finland was in Monaco when he was 15 years old. During the race, the steering wheel broke, but he continued, informing his mechanic by frantically waving the steering wheel in the air on the home straight. Räikkönen's next Monaco race was also memorable; he was thrown on the wrong side of the safety fence in a first lap collision but continued driving until running out of road. Undeterred, he lifted his kart back onto the track and continued to race. His mechanic thought Räikkönen had retired, but he eventually caught up with the other competitors and finished third.
Räikkönen met Finnish model and former Miss Scandinavia 2001, Jenni Dahlman in 2002. The couple married on 31 July 2004, living between Switzerland and Finland. They separated in February 2013, and divorced in 2014. Räikkönen became engaged to fitness and underwear model Minna-Mari "Minttu" Virtanen. On 7 August 2016, Räikkönen married Virtanen in a ceremony in Siena, Italy.
Räikkönen's hobbies include snowboarding and ice hockey. He has also competed in several different kinds of motorsport events. In March 2007 he competed in a snowmobile race in Finland under the pseudonym "James Hunt", referring to the 1976 world champion whose "playboy" lifestyle has been compared with his own. Later he and two friends entered a powerboat race in the Finnish harbour city of Hanko while wearing gorilla suits. Again, he raced under the name "James Hunt". They then won a prize for the best-dressed crew. Everywhere, and also in the Far East, there're always plenty of Finnish flags. Unlikely that his fellow citizens only would wave them… They are fans of all around the world.
Räikkönen is known for his dislike of giving media interviews, and frequently answers questions in a blunt and monosyllabic manner. He has a self-appointed moniker, "Iceman", with several layers of meaning; apart from its association with famously-cold Finland, he is widely considered to have a cool temperament under pressure and also an 'icy' person with most other drivers, team members and the media. He appears to be aware of the perception, making no apologies for it stating that he is "not here to try to please people". Apart from his on-track driving, off-track instances demonstrating this calm demeanour include being asleep 30 minutes before his first Formula One race and eating an ice cream during the temporarily-suspended 2009 Malaysian Grand Prix. Known to be frustrated by anything that prevents him from simply racing, he is relatively outspoken in his criticism of politics and off-circuit drama in sport.
In an article, Lotus team principal Éric Boullier described Räikkönen as someone "doing pretty much whatever he wants". This has been best displayed during the 2006 Monaco Grand Prix when, after his McLaren-Mercedes broke down as the heat shield had exploded and he was forced to retire, he promptly went from his car straight to his yacht fully dressed in his racing suit and immediately relaxed in his Jacuzzi.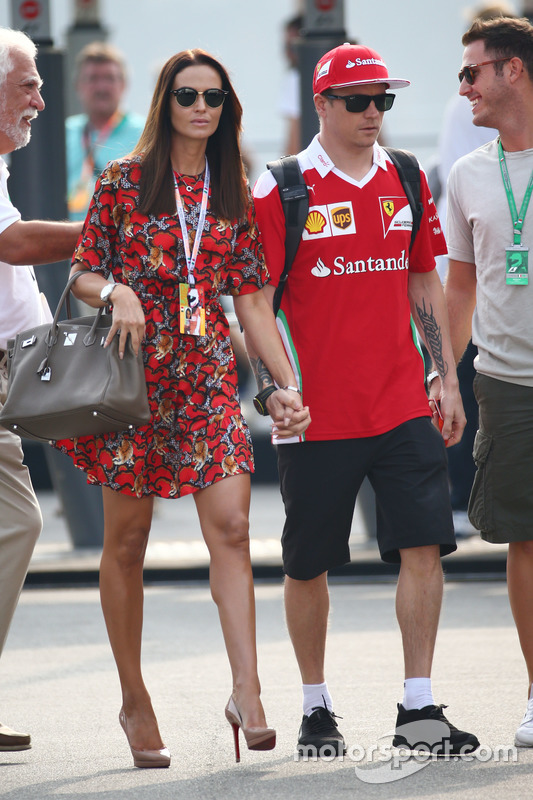 Although his terse one-liners are well known, he is also known for having a dark sense of humour. On the 20th lap of the 2012 Abu Dhabi Grand Prix, Räikkönen had just taken the lead from Lewis Hamilton and his race engineer Simon Rennie advised that Fernando Alonso was five seconds behind and that he would be kept informed of Alonso's pace; Räikkönen replied, "Just leave me alone, I know what I'm doing!" Later in the same race, he admonished his team again, when being told to manage the tyre temperature: "Yes, yes, yes, yes, I'm doing that all the time. You don't have to remind me every ten seconds!" The first quote attracted significant press coverage, and Räikkönen made no attempt to apologise in the post-race interview.
He's a sensitive and emotional guy, contrary to what he wants us to think and to popular belief. Not an Iceman at all: emotional and warped, so much for an apparent impermeability. For a far too ostentatious not caring, for a kind of an aridity also in respect of who admires him. In a position of excessive loneliness but, in some respects, looked for. Nothing, of course, that might mistake a real champion.
It's impossible not to be close to Kimi Räikkönen. Despite the character of the Finnish driver would be particularly cold you can't not to appreciate, in addition to his driving style, his naturalness and his search for privacy in a world like the one of Formula 1, fake and based much on public relations. Last exponent in a long line of winning Finnish drivers, Kimi was a whiz kid of the Circus, he didn't lose his way and indeed was capable to win a world title, he left F1 for two years and came back, managing to step onto the winner's podium again. Ferrari Formula One driver, and person who people call "Ice Man" for some very strange reason, Kimi Räikkönen is one of the most animated and articulate drivers. Ever. There is absolutely nothing that can kill Kimi Räikkönen's chill. I've never seen a man deal with a car fire so calmly. Räikkönen's Formula One car is literally on fire and he just steps out of it like he's going to go take a nap.
To Räikkönen's fans - and he has perhaps more than any other F1 driver - the Finn is the fastest man on four wheels, and he just needs a car that suits him to prove it. Television pictures showed him blasting over the top of Raidillon (the left-hander over a crest at the top of Eau Rouge) into a cloud of smoke totally unsighted, but with his foot hard in it. So how to account for Räikkönen's enduring appeal, other than as a historical throwback? His personality has a lot to do with it. It's the core of his appeal.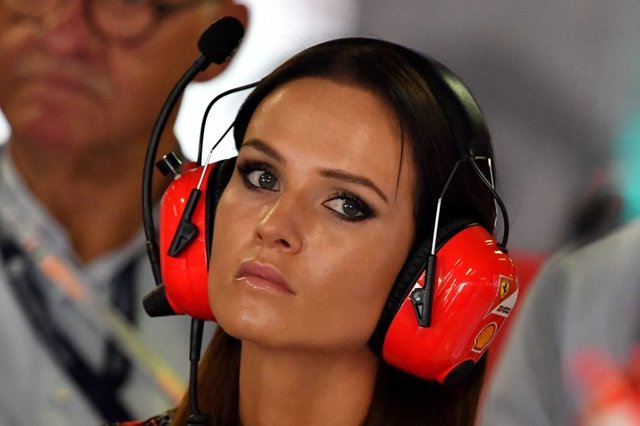 Leo Turrini: "Kimi laughs like a child. Honestly, I have seen many drivers, but one in a state of ecstasy like him I have not seen. You see that Kimi is really happy and feels to be back home." "I owe to Kimi a heart attack (real) post-Interlagos 2007. But I talked to him twice in my life. Mystical experience, however. So, nothing personal. Zero private interests. I just think Räikkönen is a great driver. I use the present, not the past tense".
In a day where too many drivers of all disciplines are little more than a bunch of crybabies, Kimi is the ultimate throwback. He loves to drive and he loves to party, and when he opens his mouth, he is the most honest driver on the grid because he just says it like he sees it. The infield parties there are the stuff of legend, and I think James Hunt 2.0 would love it there. No yachts per se, but the girls are just as pretty.
Räikkönen is not comparable to any great driver of the past, he's so great by himself. The best Kimi is probably the one of 2005 and 2007. The fact he's still competitive in 2017 gives you an idea of his talent. However, having to think of Kimi's best year, I choose 2007. His was an extraordinary thing. One who's 17 points behind with just 20 points still up for grabs, for sure has to benefit from rival's mistakes. But he had to be perfect in an extreme circumstance. And the Finnish was, confirming his pure talent. He could also win the title in 2005 and 2008 but in both circumstances, it didn't depend on him. However, I believe world titles have to be "weighed", not only counted. Kimi and Mansell have won one each. They weren't and aren't less good than people who won more.
Jacques Villeneuve said: "Räikkönen is exceptional. Much more than a number two. I wonder that someone still won't accept it. Between him and Vettel the difference is one tenth a lap at most. And Kimi is a perfect mate: he stimulates you, because if you don't drive hard he's in front of you. And he never stocks tension within the team".
For journalists, he is, frankly, often a bit of a nightmare. He can, it has to be said, sometimes give long, informative answers, even a hint of a smile. This is "chatty Kimi", although the mumbling never goes away and it is often really quite hard to catch what he's saying. But, usually, his general disdain for anything other than driving shines through, and there is a succession of non-committal answers and clichés. Frustration with this has, for many, turned into a kind of resigned amusement. One journalist has even invented a game he calls "Räikkönen bingo". He goes into news conferences with a list of Räikkönen's most-used phrases and ticks them off as they come up: "It is what it is". "I don't know". "It's the same for everyone". "We do our own thing". And everyone's favourite: "Bwoah" - with which Räikkönen starts every answer to a potentially difficult question. But it is this refusal to conform that appeals to people about Räikkönen. Never mind that answering questions is part of his job, that giving rubbish answers short-changes his fans as well as the media. People like that he is different, and seems not to care. And his brusque team radio utterances only burnish his reputation.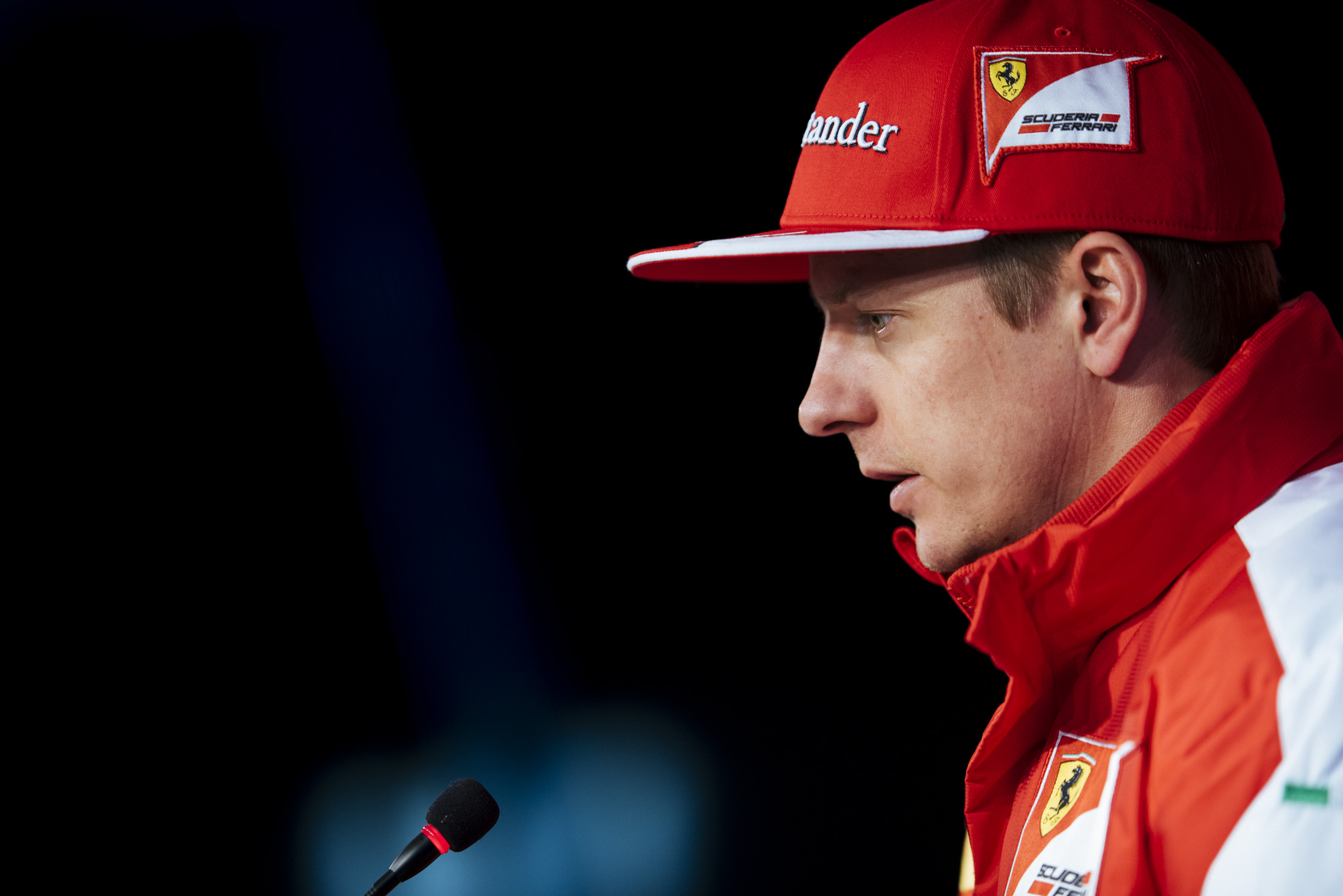 Sebastian Vettel describes Räikkönen as "the least complicated" team-mate he has had in F1. "In general I got along with all the team-mates I had", the German says. "Here and there we had some difficulties but with Kimi there are no politics. That is good. It keeps everything quiet. We put our own egos aside. They are not so big. I would say Kimi and I have the least ego problems of the whole paddock, which is good for the team. We race hard but outside the car there is no problem". And his driving skills? "He is a world champion for a reason", Vettel says. "He could have been a multiple world champion if the early years of McLaren gave him a better car. He is one of the best drivers we have on the grid, no doubt".
The fact that many who have worked with him say the "Iceman" image is an inaccurate construct is irrelevant. An image - and a successful one - it is. He is described as quiet, taciturn or cold, just like professional, focused, fast and cool. In addition to driving skills Räikkönen proves in the rugged world of Formula 1 also strength of character. He drives boat races in a gorilla suit, he answered reporters' questions freezing cold and he wins Formula 1 races. This Finn cannot be bended and says what he thinks – if he says something. Many people – including Formula 1 fans and experts – think it's even still a rumour, but it is true: Kimi Räikkönen is an entertaining man! If you did not know better, you might almost think, the Finn let out his dry patters with the intention to test, which of the journalists understands his humour and which not. The hardest statements you can read here.
Kimi's top quotes 
-          "Just leave me alone, I know what I'm doing" - in response to his team updating him on his position, Abu Dhabi 2012.
-          "Do you want me to keep doing laps and laps, because I get nothing out of this" - on repeated lap testing in free practice two, Spain 2015.
-          "Where are the blue flags? I have been following him the whole ******* lap" - following a back-marker, European GP 2016.
-          "That guy keeps pushing me off every time when I'm next to him. So if that's legal, then I will do the same" - frustrated at Max Verstappen's driving style, Texas 2015.
-          "Driving is the only thing I love about F1".
-          "Others can sit in the simulators if they want. I´m here to drive".
-          "It's all the same if it rains or not".
-          "Ferrari's own parties are the nicest. There are all the crew and their children. I don't know exactly what I will do there. Maybe I will be Santa. Other parties are official and boring".
-          "My life would be much easier had I been a F1-driver in the 70's with the guys. I was definitely born in the wrong era".
-          "I'm not going to a language school to learn Italian, that's not what I came to do at Ferrari".
-          Q: The most favourite turn?
KR: "Eau Rouge".
-          Q: My career in a memory?
KR: "2007 F1 World Championship victory".
-          Q: If you could choose the only food to eat for the rest of your life?
KR: "Salmon? Very Scandinavian …. ".
-          Q: If you could choose one circuit to run …
KR: "Spa".
-          Q: If you could choose one road car …
KR: "Ferrari, no doubt. Any kind of Ferrari".
-          Q: If you could choose one location for your vacations ….
KR: "Home. Who needs a location for vacations?"
-          Q: If you could choose one racing car …
KR: "The Ferrari, the one I won the 2007 World Championship".
-          Q: If you could choose one city to live ….
KR: "The place where I spend the summer. It has a name but I only say it's in Finland".
-          Q: If you could choose one person to live with …
KR: "My family. I can't choose one person".
-          Q: If you could choose one mean of transport …
KR: "The car, what else?".
-          Q: If you could choose one age to live …
KR: "Any. I'm very happy of my whole life".
-          Q: If you could choose one band or singer to listen to …
KR: "When I was a boy I liked Guns N' Roses, but it was long time ago".
-          Q: If you could choose one dessert …
-          KR: "Finnish candy".
-          Q: The most exciting moment during the race weekend?
KR: "I think so it's the race start, always."
Q: "The most boring?"
KR: "Now".
-          Q: "How does it feels to drive at 300 km/h?"
KR: "It feels normal".
-          Q: What do you do in the night before the race?
KR:: "I sleep!"
-          "Formula 1 would be a paradise without the media".
-          Q: Would you go to any other team than Ferrari?
KR: "Probably not".
Q: Definitely not?
KR: "I said probably not".
-          Q: why Kimi became a race-driver and not an icehockey-player?
KR: "I have decided to do motorsports because I don´t have to get up there so early in the morning".
-          Kimi seems to have a new strategy to get rid of the journalists: "Ah, go and interview Mikko Leppilampi. He likes to talk".
-          Q: Kimi, what's the 5th grid place like?
KR: "It's the 5th grid place".
-          Q: What is on your I-Pod?
KR: "Mostly Finnish music, all sorts. You wouldn't know, so it doesn't matter what I say".
-          Q: Kimi, how is the cooperation in the Team. Do you get along with everyone?
KR: "Yeah it´s fine. But they have a much harder time with me than I with anyone else".
Q: What do you mean?
KR: "I am a bit lazy sometimes".
-          Lewis Hamilton said that winning his first race felt better than having sex. Kimi´s reply to that was: "Maybe he never had sex".
-          Q: Kimi, have you ever got angry about anything, and jumped up and down and shouted?
KR: "Yeah, many times but of course you're not happy if you retire or something but I guess it mostly happens more in normal life than in racing."
Q: Can you give us examples?
KR: "No, not really".
Q: What are the kind of things that make you angry in normal life, as you say?
KR: "If you keep asking questions like those".
-          Kimi Räikkönen on the question whether he likes it when his wife accompanied him to the races: "Yes, without her the evening in the hotel room is so boring".
-          Kimi on Finnish Independence-Day Party at the President's castle: "I think I will skip the dancing part. Maybe someone else dances with Jenni if she wants".
-          Q: Do you have any special rituals when the helmet is concerned like many other drivers have?
KR: "I wipe it, so that I can see better".
-          Q: Gossip Media asks how have you prepared for the Saison?
KR: "I usually get to read from your magazines what I have done".
-          Kimi answered a question about his lack of emotion after winning a Grand Prix.
KR: "It's not my style. Yeah, winning feels good, but I'm not the type of guy who jumps up and down and rubs it in everyone's face".
-          Q: What can be done in Finland?
KR: "Well, in summer there's fishing and shagging. And in winter the fishing is bad".