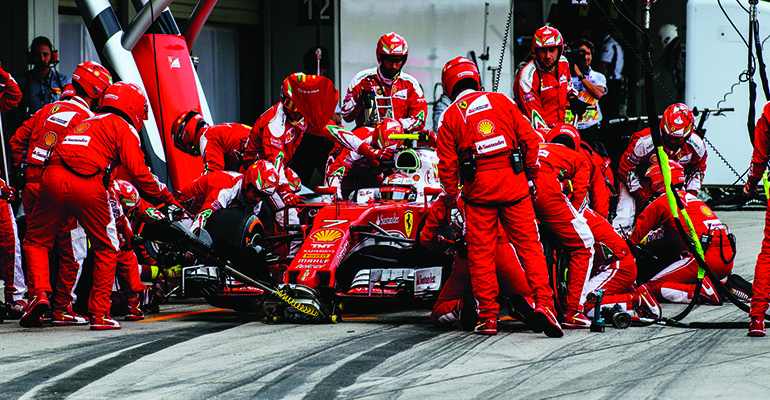 Coming to Suzuka, one question gave no rest – did the Red Bull still had the upper hand on Ferrari in terms of the pecking order? The Italian-based team gave their answer in the qualifying. Sebastian and Kimi were topping the timesheets in Q1, split by only fifteen-thousandths of a second. But where the red cars had used the soft Pirelli tyres, the silver ones had done their times on mediums. So was the case in terms of the Red Bull drivers. In the decisive Q3, things got extremely interesting. After the first attempts there were only six hundredths of a second separating the Ferrari and Red Bull drivers! Both teams were seriously breathing down Mercedes' necks. Rosberg grabbed pole by thirteen-thousandths of a second, and teammate Hamilton had to settle for P2. Kimi put together a fantastic lap and made it to stunning P3! Sebastian had a strong qualifying, finishing 4th. Verstappen out-qualified teammate Ricciardo in fifth and sixth, with Perez next up for Force India. Haas were the surprise of the hour, with Grosjean and Gutierrez coming in eighth and tenth.
I knew Sebastian was carrying a three-place grid penalty for his first-corner collision in Malaysia, but, unfortunately, it wasn't the only penalty for the red team this weekend. Early in the morning of the GP I switched my TV on to hear disappointing news from Suzuka; Ferrari had been forced to change Kimi's gearbox, which automatically meant a 5-place grid penalty! I felt so frustrated, as Kimi had driven such a sensational qualifying; I had developed high hopes for seeing the Iceman on the podium today! Once again I got reminded about the fact that Formula 1 isn't only about the performance of the driver, but also very much about the technical details as well. So it was P6 for Sebastian and P8 for Kimi on the grid.
The start was quite surprising indeed. Rosberg on pole got a great start and held on to the lead. Teammate Hamilton, on the contrary, got a catastrophically poor start, with his Mercedes almost getting into the anti-stall mode. The Briton immediately dropped down to P8. Sebastian took a wise start this time. The German's first few laps were utterly impressive, as Sebastian made his way both past Red Bull's Ricciardo and Force India's Perez. In no time Sebastian had already jumped to being 3rd in the race! Kimi was having a battle of his own for P6. On lap 6 he made a move on Force India's Hulkenberg in Turn 1 -and stole the 6th place from the German! Ferrari's race pace seemed very impressive, and both drivers were doing an excellent job.
Red Bull opened the pit stop roulette, as Ricciardo and Verstappen pitted on the very same lap. Ferrari did the same a couple of laps later. All top drivers opted for a fresh set of hard Pirelli tyres. However, Ferrari's pit stop strategy left a little to hope for, as both Ricciardo and Perez got ahead of Kimi as the Iceman re-joined the track. But it was only a matter of time before Kimi made a stunning overtaking move on Perez.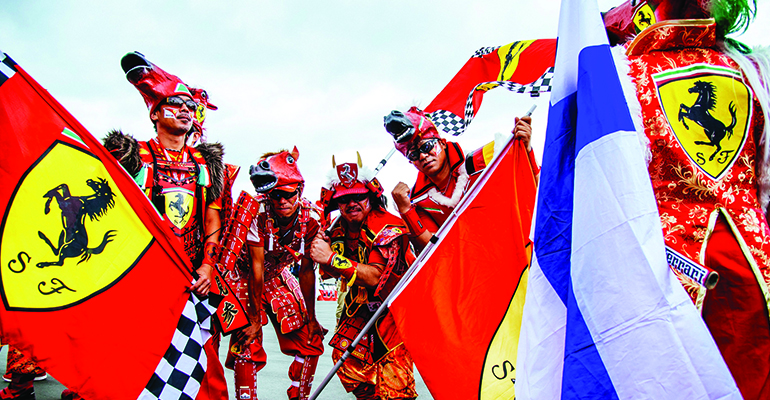 Ferrari made a genius move on lap 27, as they called Kimi in for the second time. The tyre choice was another set of orange-marked hard tyres. Ferrari benefitted from the undercut, and Kimi managed to get ahead of Ricciardo, who pitted some six laps later. Red Bull and Mercedes opted for a similar tyre choice in their second pit stops. However, Ferrari decided to try a different tyre strategy with Sebastian. The German pitted for a fresh set of soft tyres, which meant an aggressive last stint. Sebastian re-joined the track behind Hamilton. There was a significant difference between the two tyre compounds, in favour of the option tyres, and Sebastian started to chase Hamilton down. However, to my disappointment, there wasn't a chance for Sebastian to challenge Hamilton for the podium place.
With 10 laps to go, Rosberg had a safe 5-second gap to Verstappen. However, towards the end of the race, Hamilton had decreased the gap to the Flying Dutchman and in no time the Briton was within DRS distance from the Dutch Red Bull driver. Hamilton tried a move on Verstappen on the second last lap, but ended up cutting the corner after Max had changed his line at the braking (once again, a move in "the grey area"). So Rosberg took his first win in Japan and increased his lead to 33 points in the drivers' championship standings. Verstappen held on to his 2nd place and Hamilton completed the podium. With this result, Mercedes clinched their third consecutive constructors' championship. Ferrari teammates both drove a strong race; Sebastian finished 4th and Kimi 5th. Without the penalties they would have both been up there fighting for the podium places...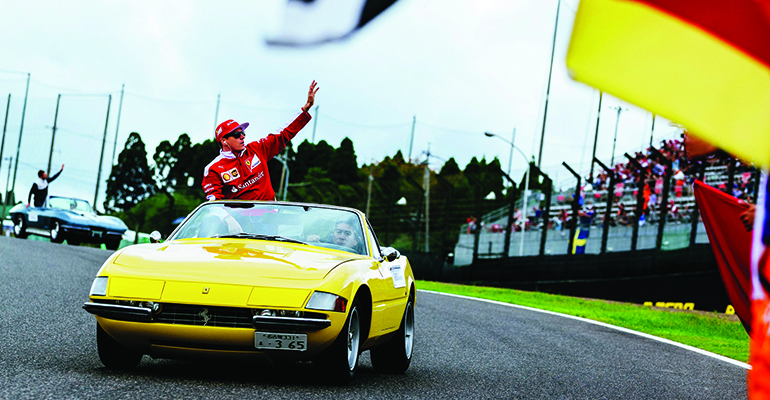 There are only four more rounds to go. I'm still patiently looking forward to a red victory! Forza Ferrari! Forza Sebastian! Forza Kimi! 
With passion for racing red, 
Iina Huhmarniemi