Grid girls, the Formula 1 frame forever. A sign of social change. Hit and down by globalisation, they are currently almost the same everywhere in the world. Class and appeal of the 1960s compared to a flattened identity that has passed geography. All completely exposed and generously offered compared to the see-no-see charm of years ago. However, a number of pockets of resistance still remain and the folk costumes still give out colour and sobriety in some of the tracks of the world. A retro aura with an aftertaste of melancholy. Coloured spots out-of-date. At the time of James Hunt, grid girls were eagerly waiting for a passionate kiss from the winner, today they caress his credit card.
Vettel rejects the experiment of Monaco GP, where the grid guys debut in Formula 1 instead of the "umbrella" girls: "There are traditions that have to be kept like that of grid girls. I personally prefer a pretty girl in front of my car before departure than a man …. And then girls have fun, do their job happily, nobody forces them. I don't see it like a sexist thing".
Austin – U.S.A.
The style and substance behind the glamour. Cowboy style hats are very appropriate headwear for the grid girls to wear in the paddock at the United States Grand Prix in Texas. It's tough being a grid girl in Austin as they get up before the crack of dawn to get the "big Texas hair" in time for the U.S. Grand Prix. Texan style footwear is the order of the day for the girls. They line up with strict precision as they add their own touch of style and glamor to proceedings in Austin. Renowned Austin make-up artist Rochelle Rae styles Krystal Malloy with an image she describes as "sexy, Texas girls with a dewy, natural look".
Grid girls share the tarmac with the stars of F1. They work long hours and have to abide by strict rules. Over 250 applicants for the job from all over the world. They have been a part of F1 since the 1960s. "I've been waking up at about four o'clock in the morning," explains Amanda Bingman, a first-time grid girl and the troop's only redhead. "The drivers probably get to sleep in and wait for their crew to get their stuff together. "But it's worth it -- beauty is pain!".
"What's it like being a grid girl?" 24-year-old Krystal Malloy, who is a photographer by trade, ponders. "Get ready for an almost paparazzi style feel to it! You walk out and you instantly have cameras taking pictures of you and video cameras filming you. "You're just 'wow, this is amazing!' You feel the energy of the people, the crowd and how excited they are. It's a wonderful feeling to be part of this."
The grid girls arrived in Formula One following the advent of sponsorship and advertising in the late 1960s and soon became a popular promotional asset for the sport. Their duties include displaying the race number placards on the grid, clapping the drivers onto the podium, making appearances in VIP suites and taking part in photo sessions with the fans. Each girl is assigned a position on the grid. Depending on where the drivers place in qualifying, the grid girl will mark the driver's position by holding a pole displaying the driver's name. The women remain on the track marking the positions while the drivers arrive in their cars and set up and leave the grid just moments before the race starts.
There are as many grid girls as there are drivers. The girls are not allowed to talk to the drivers unless they are spoken to first and there's an even stricter rule imposed by the manager Kristen Ditto, a former Dallas Cowboys cheerleader. "One of my very, very strict policies is that in a non-working situation the girls may not interact with the race car drivers," Ditto explained to CNN. "However, in a working situation they have to be cordial and that's it." Grace Kim illuminates further: "Last year I was the grid girl for Michael Schumacher. I think he said hello - but he was getting in the zone".
Kristen Ditto, an attractive blond, is looking for well-rounded young women who can represent the modern American sweetheart in F1's global community. "We have the cross section of the American woman," she explains. "I'm not looking for a stereotypical, 5'10" blonde model. We have Asian, Latino, African-American girls. We're not looking for a maximum age, we actually have one girl who is 38. The experience of being a grid girl may well be empowering but that does not stop everyone from viewing them as eye candy. It may be less than sweet but for now being an American sweetheart is not a job for the boys. Grid boys have made rare appearances in F1, for example at the European Grand Prix in Valencia, but there are no plans for cowboys to giddy up on the Texan grid."
"I haven't had any [men] apply," says Ditto. "I don't think it's sexist but I have to be really, really careful because that's a good question. I would say in different parts of the world that would be totally acceptable, I just can't see that being welcomed here because we are so used to seeing beautiful Texas women. I think it's cultural for sure".
Barcelona - Spain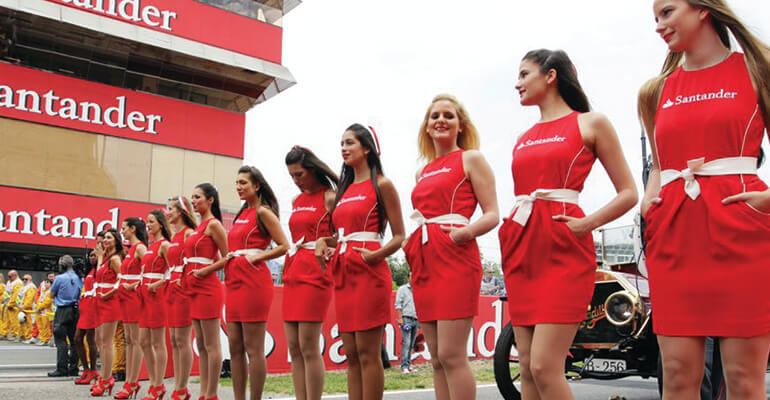 Buddh International Circuit - India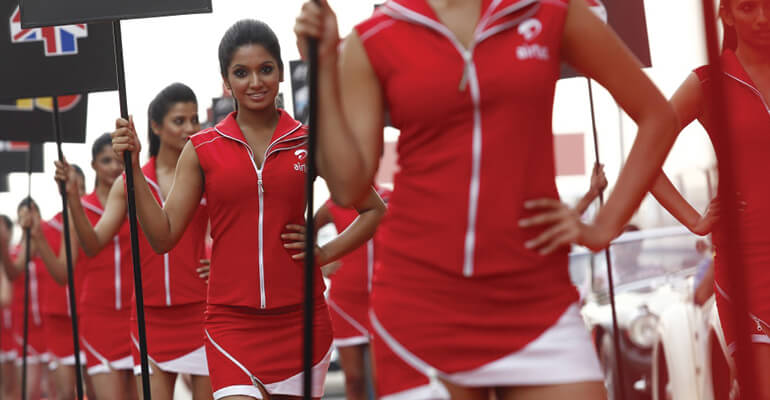 Fuji - Japan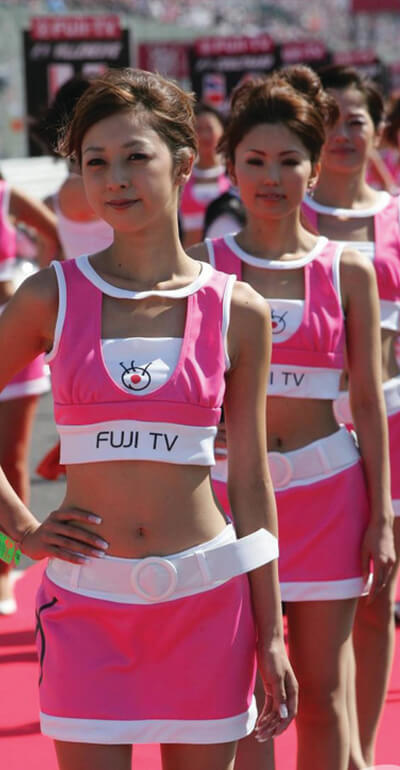 Hockenheim - Germany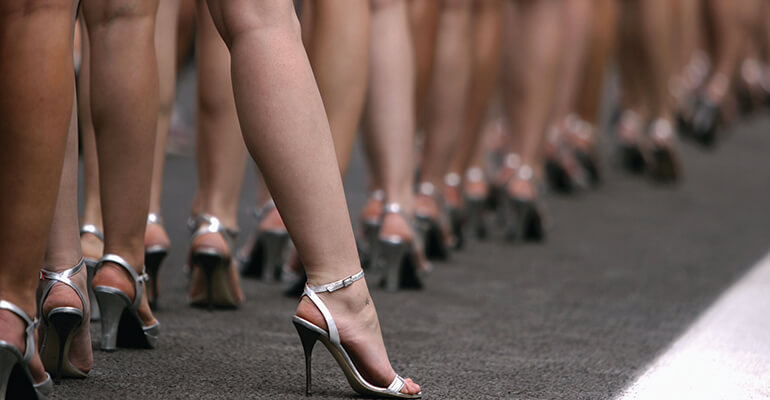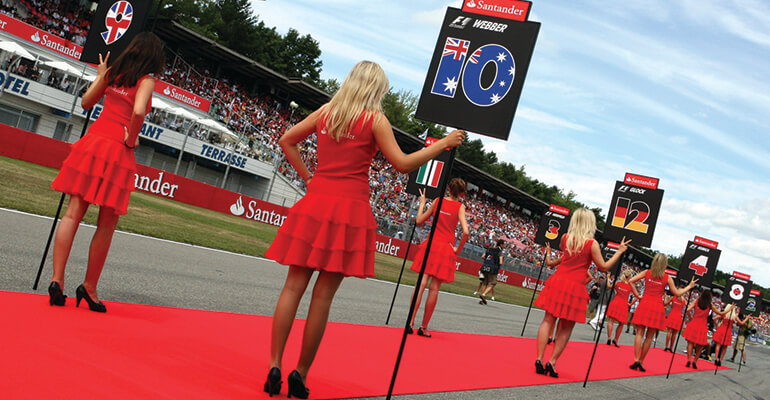 Hungaroring - Hungary
Interlagos - Brazil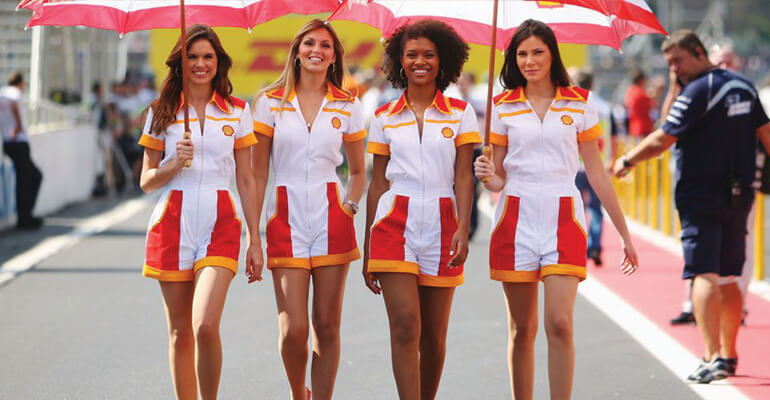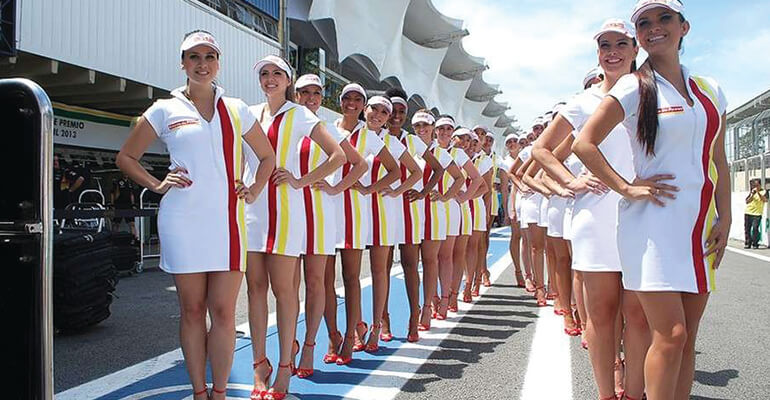 Istanbul - Turkey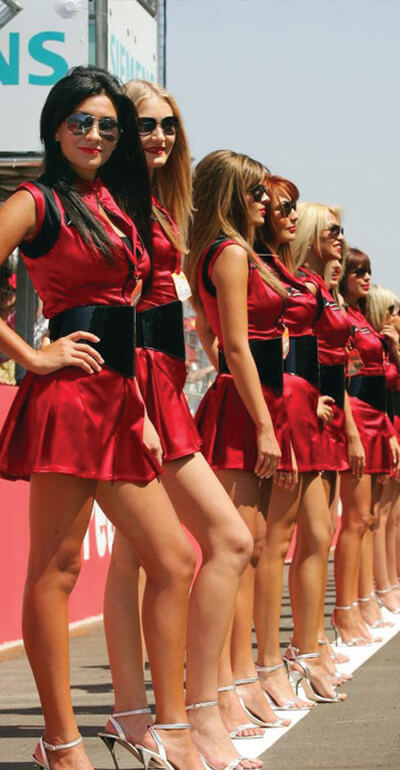 Mexico City - Mexico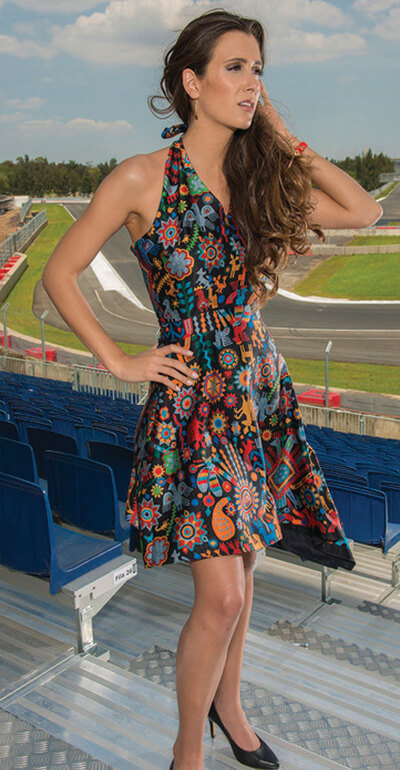 Monte Carlo - Monaco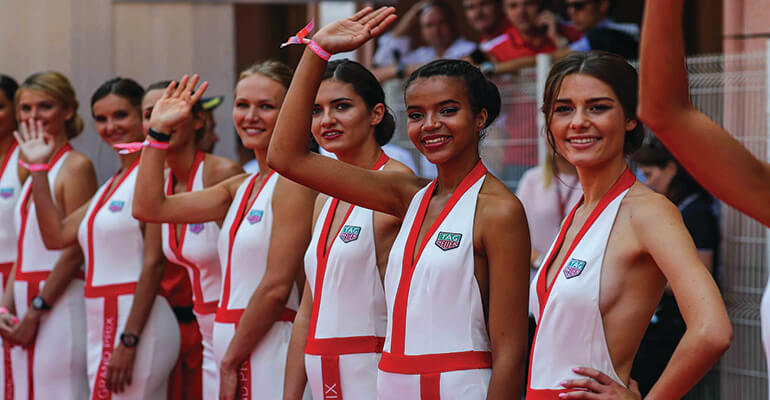 Montreal - Canada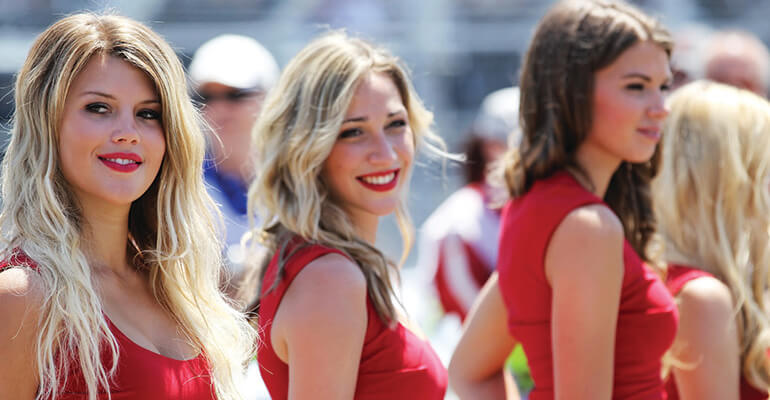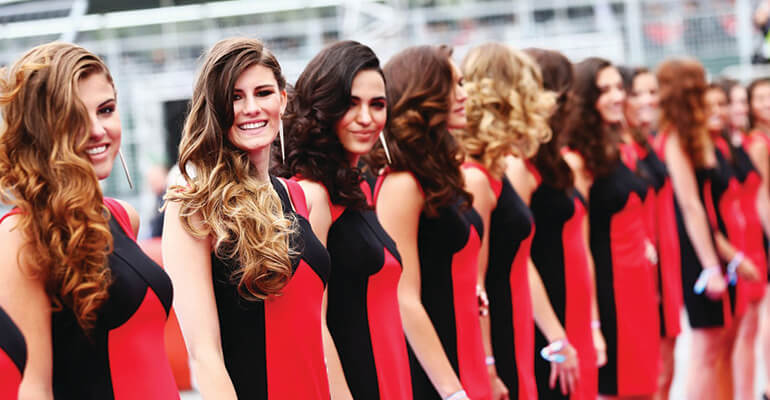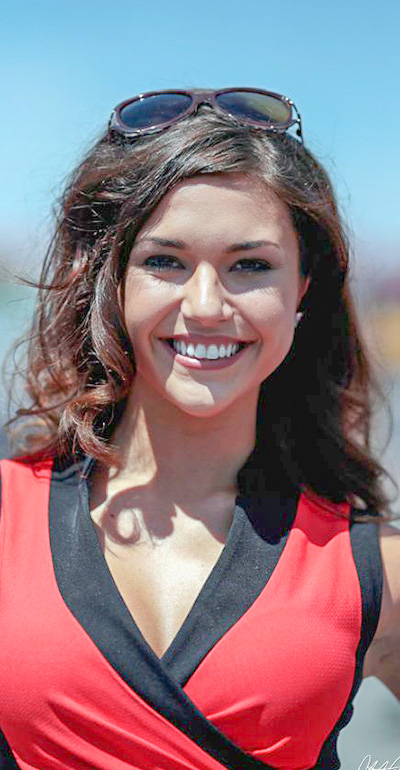 Monza - Italy
Mostly girls from Brianza.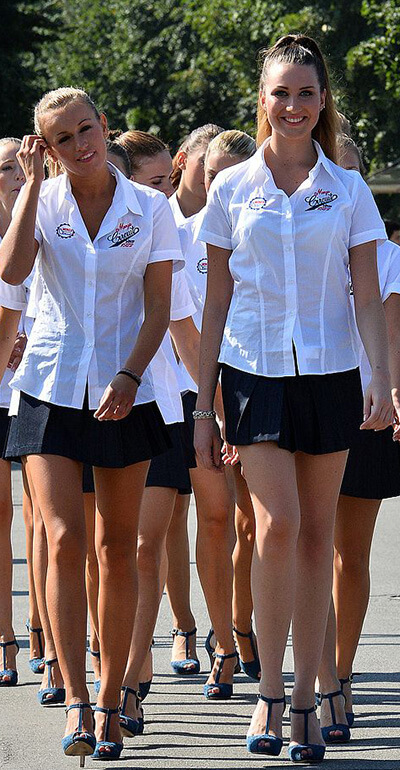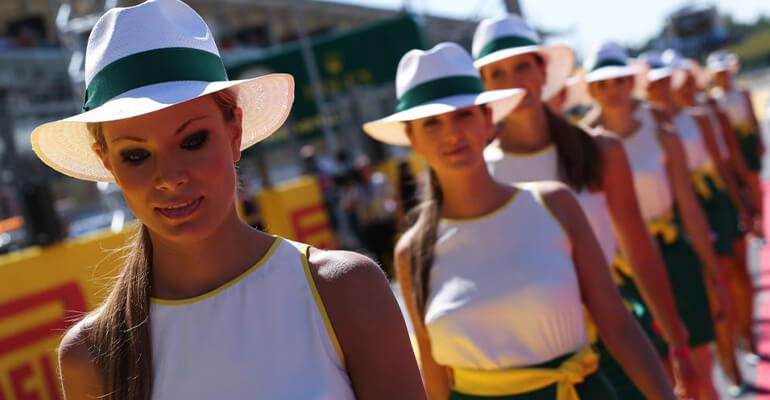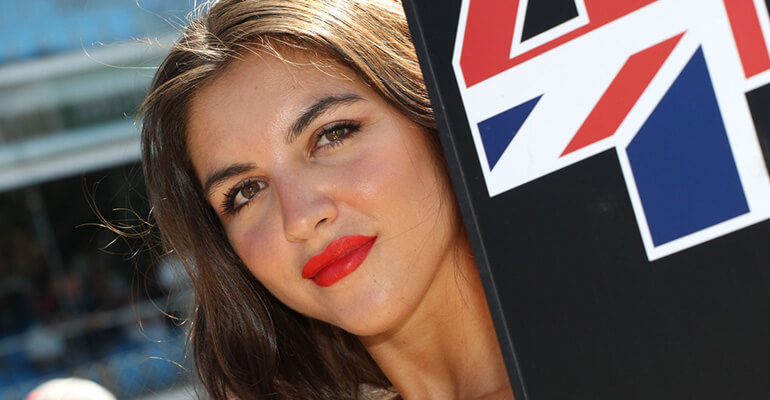 Sakhir - Bahrain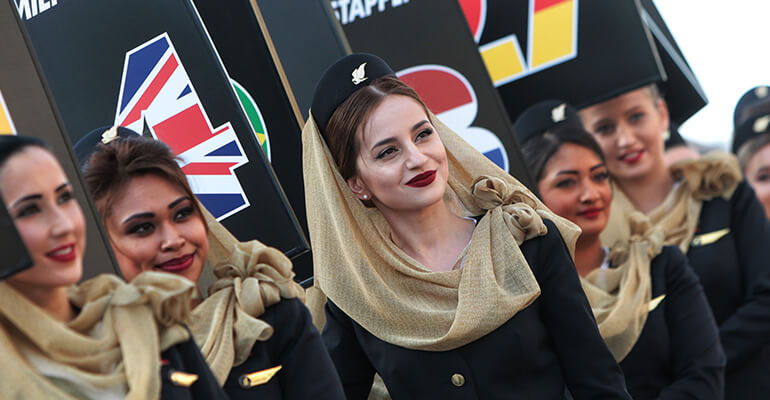 Sepang - Malaysia
Formula 1 grid girls at the 2009 Malaysian GP at Sepang wear batik sarongs. Since the 1970's, batik making in Malaysia has become less a craft and more an art. Batik is a generic term referring to a process of decorating and dyeing fabric by making use of a wax-resist technique.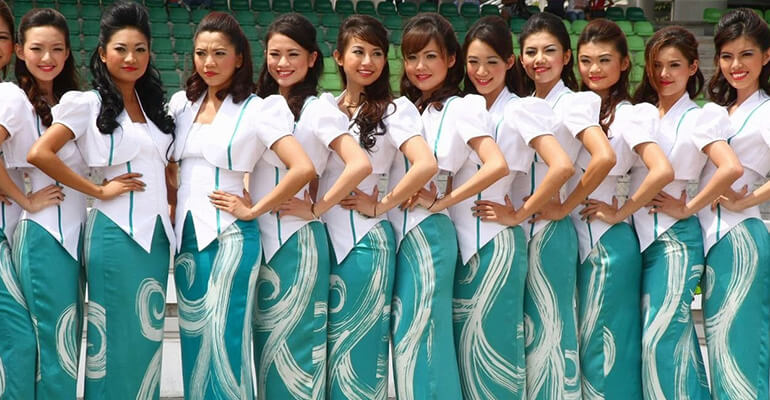 Silverstone - England
Skirts and dresses flatter the female form.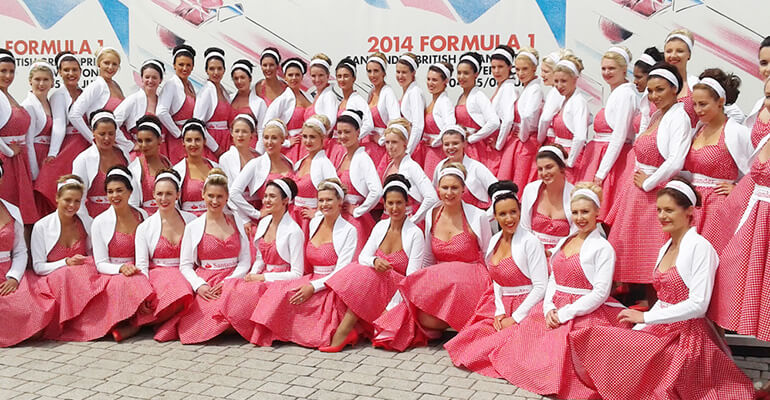 Spa - Belgium
Grid girl, a "jaune" tradition. Catholic-schoolgirl-uniform kind of look, long hair and colour of sunlight uniforms for sexy girls of Spa starting grid. Lolitas in yellow. With the skirt in-between college and tennis court, flat shoes, hair down and minimal make-up, they have been for years synonym of freshness, interpreters of a less aggressive sex appeal than Formula 1 standards.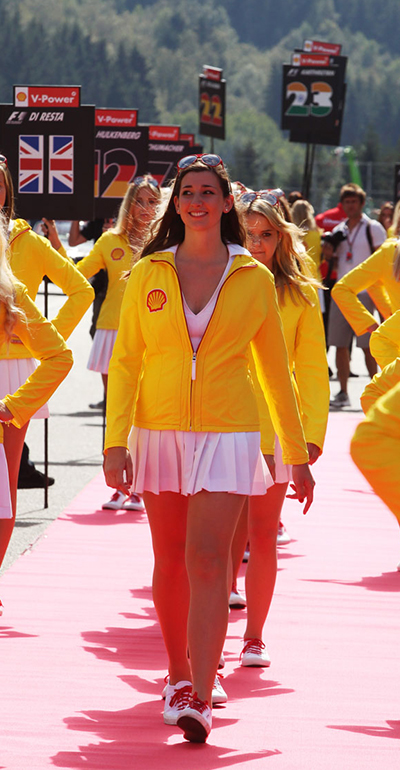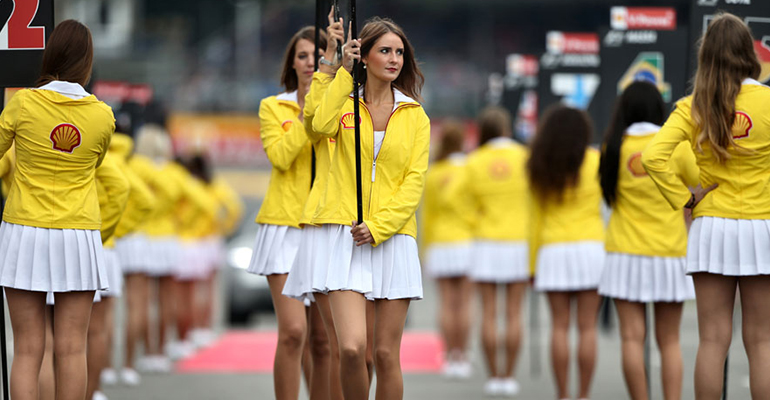 Yas Marina - Abu Dhabi
Members of Etihad Airways' cabin crew will add style and glamour to Formula 1 Abu Dhabi Grand Prix, when they walk out in front of a worldwide audience of motor-racing enthusiasts at the Yas Marina Circuit. Etihad Airways handpicked 56 cabin crew members as 'grid girls' who will wear the airline's sleek and elegant uniforms at the starting grid on race day. The grid girls will be flag bearers for the race car drivers, and help at the prize ceremony of the final race of the 2015 season. The UAE flag carrier has been the title sponsor of the Formula 1 Abu Dhabi Grand Prix, the Middle East's biggest sporting event, since the inaugural race in 2009, and has extended its deal until 2021.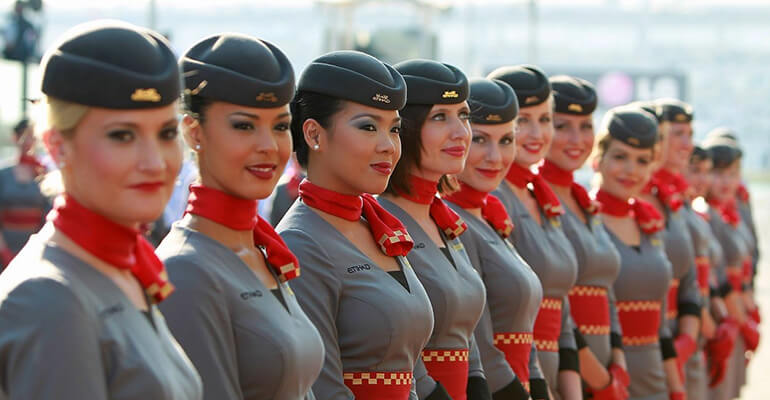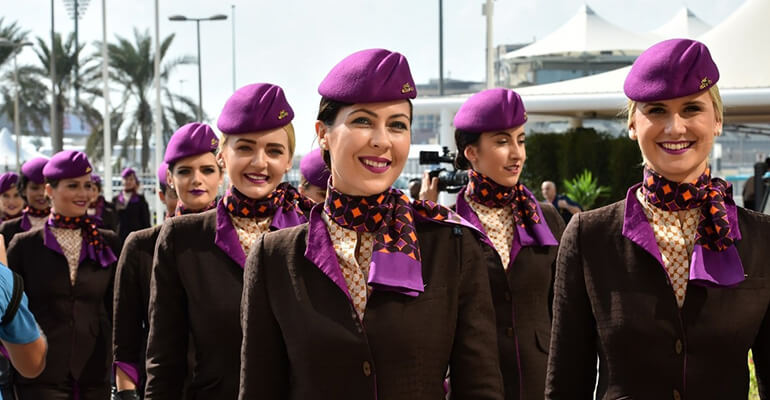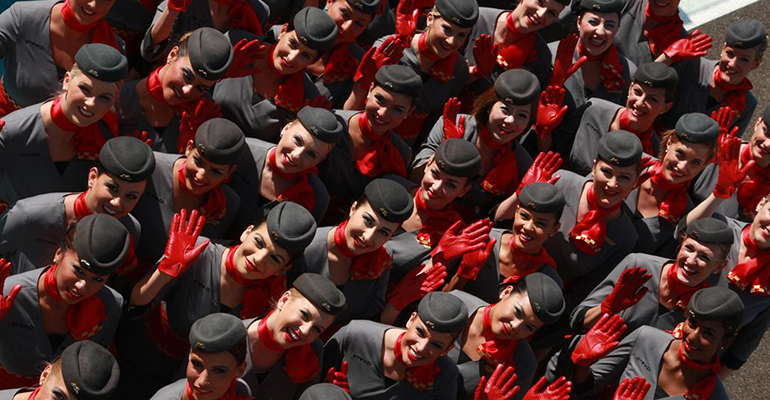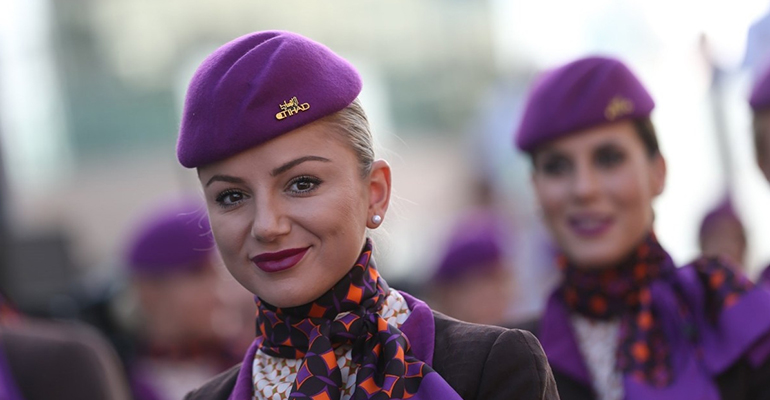 Yeongam - Corea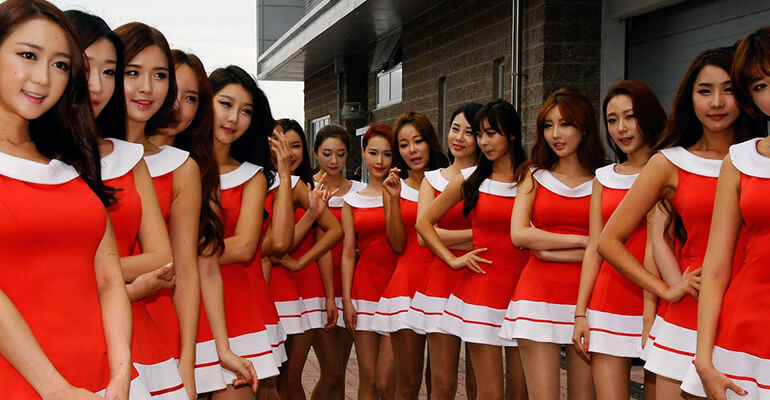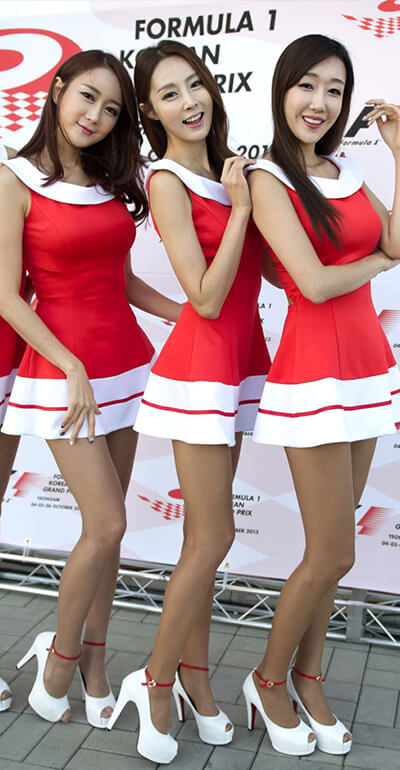 Zeltweg - Austria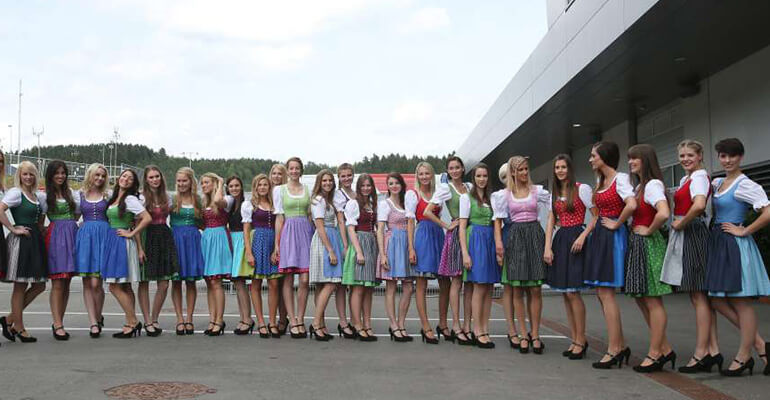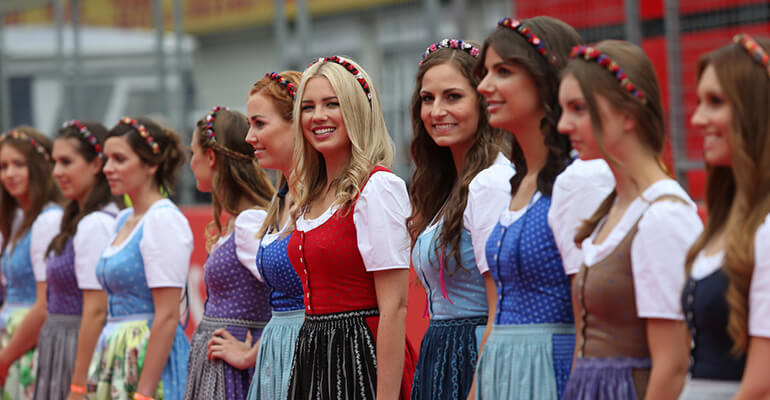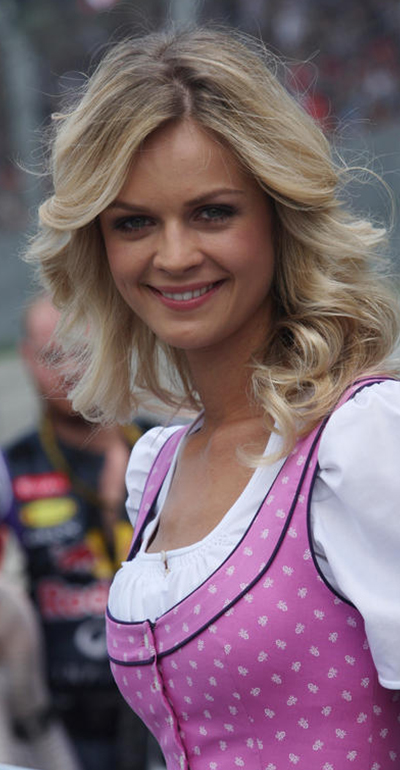 Melbourne - Australia
Grid girls are the gorgeous girls who identify the drivers before a race. They look great on the grid. The race queens are three girls – often in different uniforms from the grid girls – who stand on the podium with the top three drivers after the race. "Since 2007 there has been a major shift in the role of the Formula One grid girls. We are no longer seen as eye candy but are instead representing the sport, the major sponsor and Melbourne. The revealing outfits are no longer there and are now created by Australian fashion designers", one of the girls say.
Femail takes a look at how Formula One Grand Prix grid girls have changed over the years. They have debuted their brand new look ahead of 2017 Sunday's event in Melbourne. Instead of plunging necklines and black leather as seen in years gone by, the women will this year don green and white playsuits. The promotional girls will pair their jumpsuits with a white cropped jacket, sophisticated white heels and a hat - each designed to incorporate the colours of the event's sponsor.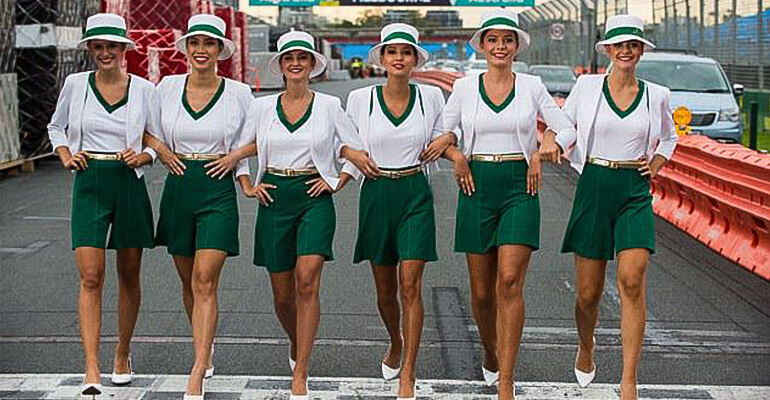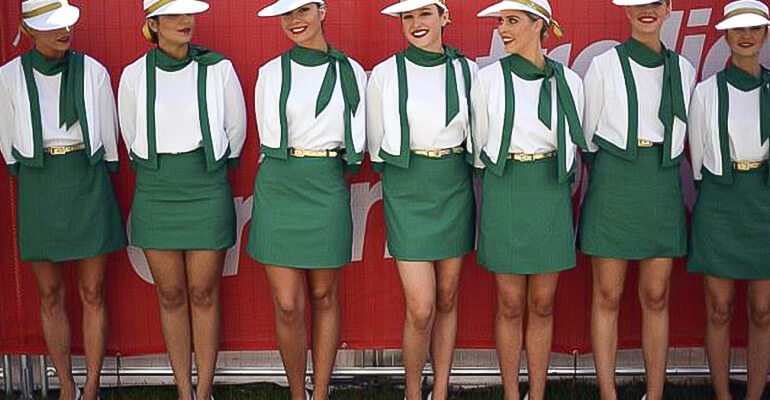 2016: The look is not dissimilar to the outfit from 2016, where the women wore neckties, skirts and visor-inspired white and gold hats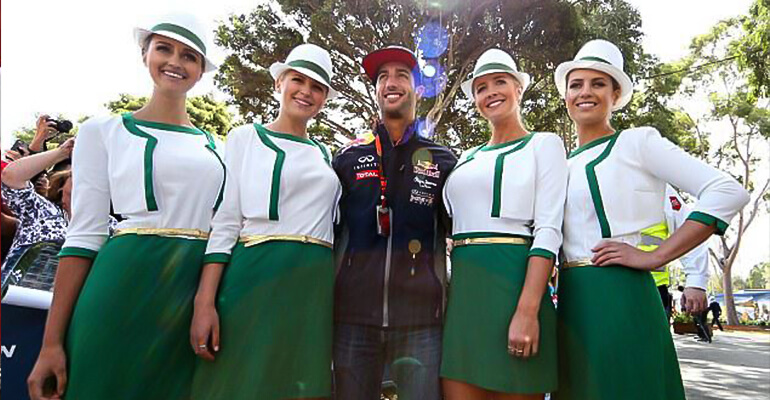 2015: The grid girls in 2015 also rocked a similar look, though wore hats more similar to the 2017 look
Speaking to the Herald Sun, grid girl Millie Fayman said she liked the new look. 'The eyes of the world are on Melbourne for the Australian Grand Prix, so to be in a fashion-forward outfit that is comfortable and classy is a relief', she said.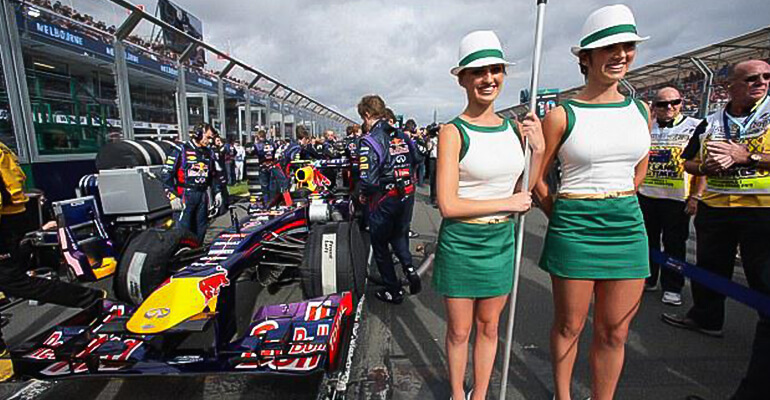 2013: The women in 2013 wore a similar look also, though did not have jackets and wore tanks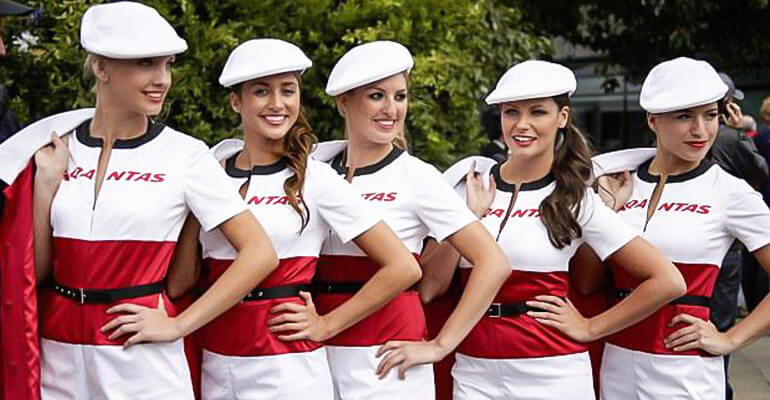 2011: The grid girls in 2011 wore white and red playsuits with white berets and fiery red jackets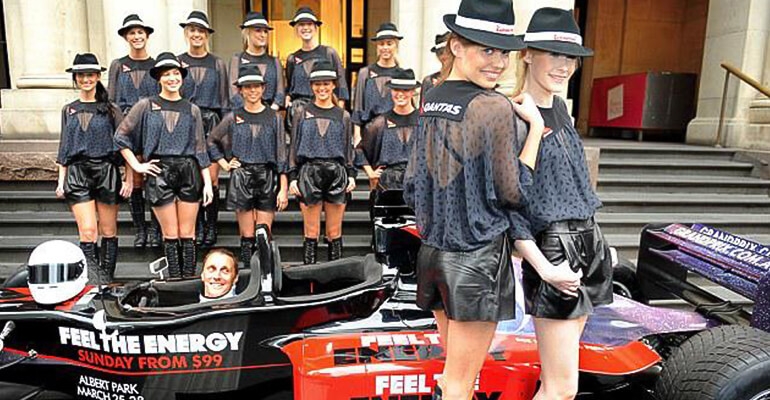 2010: The 2010 outfit was a little more controversial with the women wearing black leather shorts, navy sheer blouses and knee high boots.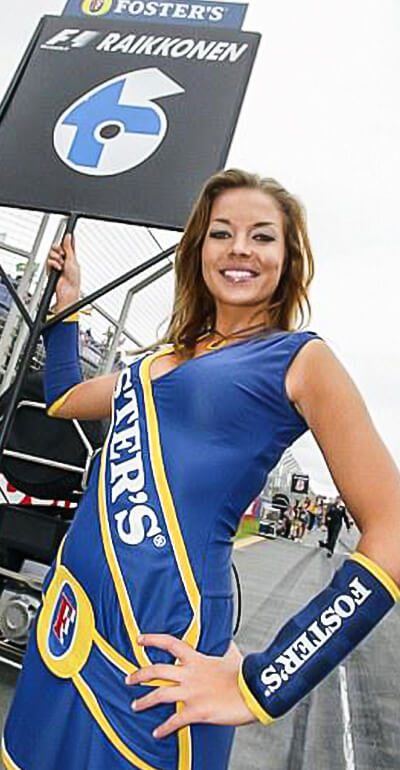 2006: This look was a little more traditional, with the grid girls wearing form-fitting blue and yellow mini dresses stamped with the Foster's logo and matching blue and yellow necklaces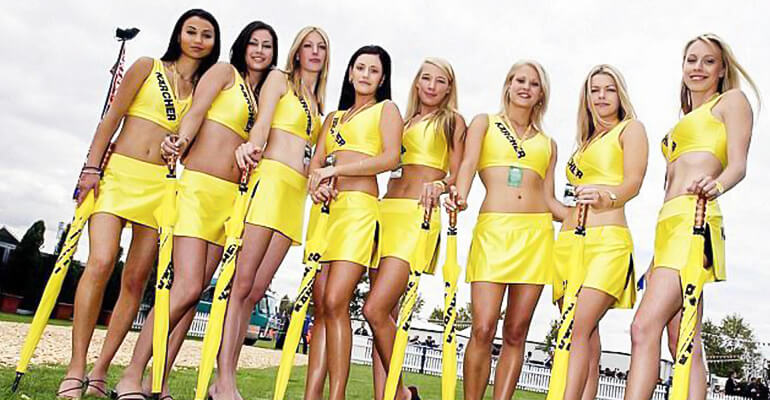 Baring skin: A group of promotional girls are pictured at the 2002 Australian Formula One Grand Prix in Melbourne
Racy in red: In 2006, the Formula 1 Paddock had their own grid girls dressed in a more traditional get-up.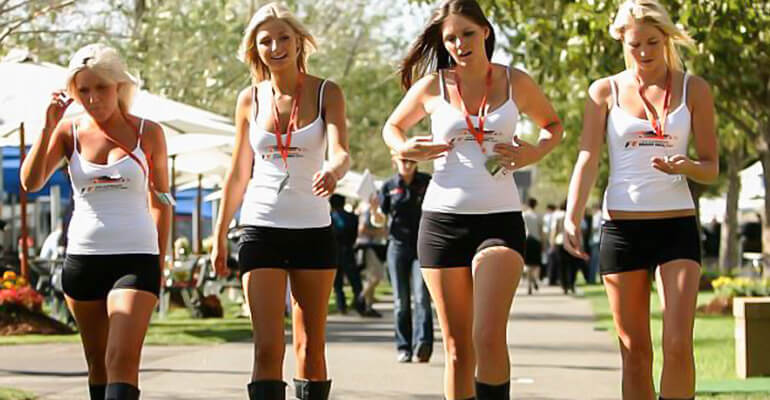 Figure-hugging: Tank tops and shorts have also been a popular look over the years (pictured is a group of pit girls in 2007).
Posing it up: Promo girls are pictured in 2004 with Christian Klien of the Jaguar Racing F1 team.
The 1989 edition, when the Aussie GP was hosted by Adelaide.
Not sure why we still have 'dolly birds' on parade at sporting events. Time to move on from this objectification.
It sends the message that it's OK for women to be decorative and have sideline positions with no power and no input.
I'm actually not sure why they're there. They're completely outdated. We should be moving away from a sexist society.
It's a throwback to an earlier time when women weren't taken seriously in sport.
Western Sydney University cultural research Professor David Rowe said grid girls were from a "bygone era" where women were "decorative additions to the sport spectacle".
Swinburne University sociology Professor Karen Farquharson said the more conservative outfits did not address the "problematic" concept of women posing as "decoration" at the event.
Formula One Grand Prix organisers are being urged to ditch the controversial, "highly sexualised" grid girls.
The South Australian government announced it had withdrawn its support for podium girls which have attracted similar criticism at cycling events. The models will be replaced by junior cyclists this year.
Victorian Minister for Women Fiona Richardson told Fairfax she wanted to see "highly sexualised grid girls" become a thing of the past.
The Grand Prix failed to confirm or deny whether it was considering the removal of grid girls from future events, despite The New Daily making multiple attempts to obtain a statement from the organisers.
It would appear that feminism has infiltrated F1 just like it has in so many other areas, especially traditionally male areas of interest. They seem to take great pleasure in spoiling anything that men like. Modern feminism is toxic. To those who want to suppress the grid girls you can only say with a smile: just forget Formula 1, it's not for you. But, however, a veil of deep melancholy still remains. Don't mind them James, keep sleeping.