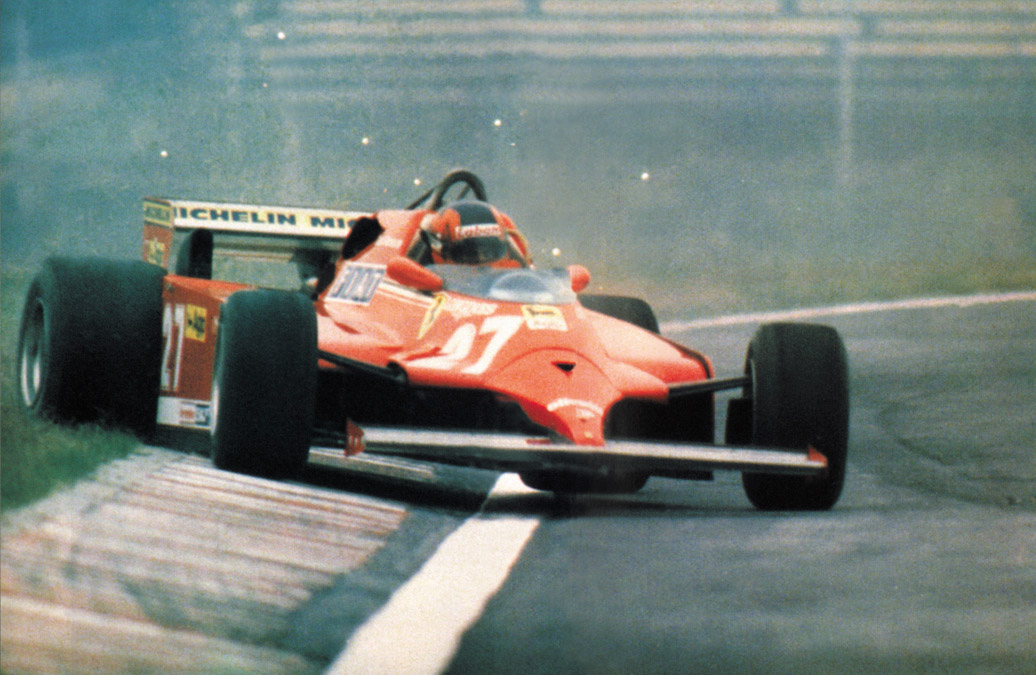 When Jean Alesi, in a Ferrari bearing the fabled number 27, took the flag on his birthday at the circuit named after his hem, Gilles Villeneuve, the symbolism was very powerful; just as it had been at Imola in 1983 when Patrick Tambay — also in 27— triumphed, a year after Villeneuve's death.
Montreal will be forever imbued with the spirit of Gilles, and many of those who cheered Alesi would have been there for the first race in October 1978. At the original circuit, the average speed was barely over 100mph, but 80,000 spectators came in to see Canada's new hero. Villeneuve, a Ferrari driver in his first full F1 season, had yet to win a race, but was acknowledged as the most exciting rookie in a generation.
In itself, it was hardly a memorable race, but satisfactory, for after the Lotus and the Williams had problems, the Ferrari came through to win. While the most extrovert driver ever seen out of the cockpit, Gilles was usually the calmest of men. Later he is known to have said that he could remember nothing of it, that it was all a blur. "It might sound crazy, but I felt embarrassed, in away. Everyone was on top of me, laughing and crying and slapping me on the back, but somehow l didn't feel part of it, it was like someone else had won. Pierre Trudeau [then Canada's Prime Minister] came up to the podium, waving a Ferrari flag, and it just seemed unreal this was all for me."
"It seemed to me" James Hunt said, "that Gilles did everything possible not to win the title that year. There was no doubt he had massive natural talent, and he was the out-and-out quickest driver in the world but surely the main reason anyone goes racing is to win the world championship, isn't it?"
Well, no, not in Villeneuve's mind. "For me, the thing is to win races," he once said, "and the way I figure it is that if you do that enough, the title will follow automatically. But cruising sometimes, looking for points no way! Winning the championship like that would mean nothing to me. Hey, remember, Stirling Moss and Ronnie Peterson never won it, but look at some of the guys who did."
In 1979 only Scheckter and Villeneuve could win the championship and the position was that if Jody won the Italian Grand Prix, the title was his. Traditional Ferrari team orders were that if and when the Scuderia's cars became 1-2, the driver in front at the time should win the race. By lap 13, that was the situation, with Scheckter just ahead of Villeneuve.
Gilles was asked afterwards if he could have passed Jody. He smiled. "I hoped like hell he'd break! But if I'd passed him, it would have been like breaking my word."
All right, but had there not been the temptation at least to lead for a few laps?
"Well, it would have been false, wouldn't it? And not a particularly nice thing to do, either, because this was Jody's day."
In the last two races, at Montreal and Watkins Glen, it was obvious that the two front runners would be Villeneuve and Jones. At the lle Notre-Dame, there was enthusiasm for the circuit changes, for the tight right and left after the pits (then situated immediately beyond the hairpin) had become flat-out sweepers, and lap times were eight seconds quicker than the year before.
Gilles took an immediate lead. Alan was well aware it would take much work to get by him: "Frank and I had agreed that if he beat me away at the start which was always on the cards with Gilles I wouldn't try any kamikaze moves to get past, but instead keep with him, and let the race settle down". At the end of lap 51, Jones made his move, shooting down the inside, and leaning the Williams up against the Ferrari. It was hard but fair, and typified the way these two would always fight.
"I always loved racing against Gilles," Alan said, "because if he knew you'd won the corner, he'd always give you mom okay, maybe only a foot more than you needed, but you knew the gap wouldn't close once you were into it. And because of that, I'd do exactly the same for him".
"Once I'd got by, I thought, 'I've done it,' and I built up a bit of a cushion, three seconds or so. But as soon as I backed off a fraction, there was that shit box, up with me again. I tell you, it got to the stage that year when I thought the mechanics had painted my bloody mirrors red".
"Villeneuve was unbelievable like that; I mean, he never gave up. I never felt bad about a win in my life, you know, but I couldn't help feeling a bit sorry for Gilles that day. It was his home race, and he just drove the wheels off that thing."
When they got to the podium, Gilles looked happier by far than a year earlier, when he had stood on the top step.
"Sure, I won in '78," he said, "but only because Jarier retired. Inheriting a victory even my first one, even in Montreal never gave me much pleasure. Today I had to fight, and that's what I love. That's why I'm a racing driver."