A few reasons to explain why in those thirty years F1's world was unique and unrepeatable:
- Formula 1's Grand Prix was the most rich, famous, glamorous, dangerous event (not just sport) in the world;
- Car's boom: the best designers, engineers and architects of all times committed to the construction of road and Formula 1 cars, the most beautiful and fastest on the planet. Made to last and be fixed, not rebought. Cool masterpieces, not means of transport;
- 50' - 70' were the years of post-war economic boom, low value of human life, will to have fun;
- Sexual revolution, so liberal and safe sex;
- Feminism not popular yet;
- Fashion in the 60s', the most elegant ever;
- The most charming and feminine women of all times. No cosmetic surgery, pure beauty;
- Romantic pilots, running for passion, not money;
- Security measures not existing yet, so epic drivers and circuits.
This magic mix of circumstances made it to be the best time ever. If you have not experienced it, it's worth having it told. In those years, some F1 drivers became old-school playboys and were overwhelmed by the attentions of legions of beautiful and free-spirited women, driving wonderful machines earning millions. If a men's heaven exists, that was very close to it. And they were also great friends, as leaving home in the morning they did not know if they would return in the evening.
When Niki Lauda was winning his three world championships, it was a darker time, when death could be waiting at the next corner. 'Our pressure at the time was that we did not know if we would wake up the next day,' Lauda says.
The days of 'real' Formula 1 racing. Each race literally got you at your edge of your seat. In those days it was dangerous without the gizmos of today. Those drivers will be truly remembered as heroes of the fight between man and machine!
Formula One is the original playboy's sport. An adrenalin-fuelled pursuit built on speed, innovation, technology, luxury. But back in the 50', safety was about as big a consideration as condoms or not having a mistress, with 13 drivers killed by 1960. A fair few spectators, too. And it was about then, post-World War II, that massive advances in nuclear weapons technology and space research allowed Formula 1 cars to become more than just race cars. A Formula 1 car quickly became a symbol of futuristic technology, sex, luxury and money. The drivers were literally using the technology to make love and not war. Enter Jackie Stewart, Formula 1 racing's first international sex symbol and playboy.
With sponsors flying in despite more deaths and orgies, Formula 1 became the first sport to feature advertising on their cars. And with that came a commercial boom, cigarette and liquor companies throwing cash and product at teams and drivers alike. All the ingredients for mayhem and fortune.
The 1970s were a time during which a handful of handsome, wealthy, daring young playboys tried their hand at Formula One. Some of them were well out of their league, wasting daddy's hard-earned money on a dangerous hobby which often, if they were lucky, led to nothing more than slightly tarnishing the family name. Some, however, had the speed and the talent to make it but just never got the right opportunity to prove that they deserved a spot at the top. The '70s were also the time one Bernie Ecclestone got involved as a team owner, and by the turn of the 1980s he'd helped transform the sport into a worldwide money-printing phenomenon. Then came drivers like Alain Prost, Ayrton Senna, Nigel Mansell, Michael Schumacher and with them, deadly quick cars, frighteningly hot women and exorbitant pay checks and parties on a Hollywood scale. To this day, Formula One remains the richest and most affluent sport on the planet, with celebrities and rich people alike scrambling to get invites to their six-star functions, races and legendary parties held in the world's most glamorous locations – Monaco, Italy, Melbourne. This list goes on. They're the fastest cars on the planet, at the forefront of technology on all platforms and let us not forget girls.
James Hunt: Formula One womaniser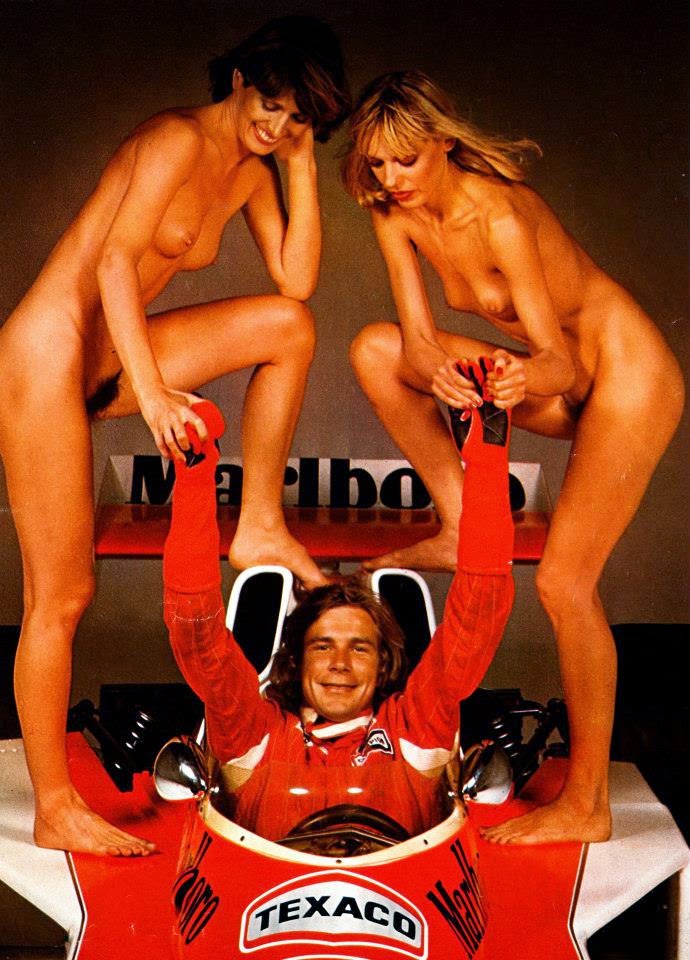 "If you think my girlfriend can fight– you should see her box." – James Hunt's epic t-shirt.
He was motor racing's first poster boy ruggedly handsome, golden-haired and as unconventional on the track as he was colourful off it. At the peak of his fame in the 1970s, James Hunt's death-defying antics on the racing circuit and party lifestyle won him rock-star status and legions of devoted fans.
Famous for his dishevelled, almost hippy style, his good looks, extrovert personality and unconventional behaviour made the 'Golden Boy' hugely popular with a wide public. He had a commanding presence and spoke impressively in a deep voice with a cultivated accent, saying exactly what he thought. He never dressed up in designer clothes or wore huge sunglasses. He never tried to look cool but he was naturally cool in the same way Steve McQueen was. He was cool in a way celebrities in today's era are not. James always looked like he had just got out of bed, Lauda recalls with a smile. His public school charm, dry humour and unflinching honesty (he would routinely berate drivers for being 'spectacularly stupid') earned him millions of loyal fans.
Playboy: Hunt had a reputation as a party animal off the track.
He could spend hours in the aviary talking to his budgies, his greatest love. He was an extremely loyal friend and a wonderful father. James, the seemingly insatiable ladies' man, was not known for behaving appropriately. But never was he more outrageous than in the last two weeks of October 1976, when he was in Tokyo battling Niki Lauda for the title of Formula One world motor racing champion. His preparations were unconventional, to say the least. He had spent the two weeks leading up to the race on a round-the-clock alcohol, cannabis and cocaine binge with his friend Barry Sheene, who was world motorcycle champion that year. While Jackie Stewart famously abstained from sex a week before a motor race, Hunt would often have sex minutes before climbing into the cockpit.
He had a gigantic appetite for sex. Physically, he was unequalled even if, emotionally, he was, -perhaps, an amateur. In Japan, his playground of choice was the Tokyo Hilton, where every morning British Airways stewardesses were dropped off at reception for a 24-hour stopover.
Hunt unfailingly met them as they checked in and invited them to his suite for a party — they always said yes. It wasn't unusual for him and Sheene to have sex with all of the women, often together.
But, as Stirling Moss, who used to carouse with Hunt in Monte Carlo before he was married, said: 'If you looked like James Hunt, what would you have done?' No one watching Hunt that week in 1976 would have believed he was preparing for the race of his life. At the circuit, he had been behaving bizarrely - at one point dropping his overalls and urinating in full view of the crowds in the grandstand. The spectators, many of whom had powerful binoculars trained on him, applauded once he had finished. He waved back. Even on race day, his mind was on other things and he didn't care who knew it. Nothing could have prepared Patrick Head, now co-owner of the Williams F1 team but then a young car designer, for the morning when he inadvertently walked into the wrong pit garage.
He found Hunt inside, with his racing overalls around his ankles, cavorting with a Japanese girl. Hunt laughed when he saw the interloper, who left, not quite believing what he had seen.
A few minutes later, Hunt left the garage and went around the side to carry out his pre-race ritual of vomiting — the result of extreme nerves combined with overindulgence.
Finally ready for action, Hunt went out to drive the race of his life... and won the 1976 world championship, beating his nearest rival by one point. The televised action was seen by more than 30 million people around the world and his victory signalled a huge celebration.
It was 24 hours before he was due to return to Britain and, in the interim, Hunt drank himself silly.
At a British Embassy reception in his honour, Hunt was so drunk that the ambassador hesitated to let him in. The return flight on Japan Airlines had been block-booked by F1 boss Bernie Ecclestone's travel company and was the scene for a riotous 12-hour party that drained the plane of alcohol.
When Hunt arrived back at Heathrow airport, 2,000 fans were waiting to greet him. He staggered down the steps of the aircraft, drunk, into the arms of his mother Sue and his beautiful, long-suffering girlfriend Jane Birbeck. She had been seeing Hunt for nearly a year, but had no idea he'd bedded 33 British Airways hostesses and countless young Japanese fans during his two-week stay in Tokyo.
But 'bedded' is probably the wrong word — there was rarely time to get them into bed, such were Hunt's demands. He took his women ¬whenever and wherever he could and slept with more than 5,000 in his lifetime. The world championship win capped an extraordinary year for Hunt, during which his personal life had gathered as many newspaper column inches as his race successes.
At the beginning of 1976, he had been married to the ex-model Suzy Miller. But after Hunt's antics they split up and — as I'll explain — she went on to swap one hard-drinking, womanising husband for another in the form of actor Richard Burton.
Hunt and Suzy, affectionately nicknamed 'Beast', had met in Spain in 1974. She was a striking woman a willowy, small-breasted blonde — not classically beautiful, but her looks, presence and effect on people were similar to the late Princess Diana's. She captivated everyone she met.
Drifting apart: Hunt expressed his regret at proposing to Miller soon after.
Barely 24, a year younger than Hunt, she had spent much of her childhood in southern Rhodesia with her expat parents, her twin sister, Vivienne, and brother, John. Hunt and Miller fell into easy conversation and, a few extraordinary weeks later, he proposed.
Immediately after the proposal, he expressed regret to his friends, saying he was not sure what he was doing. He wanted Miller as his girlfriend, but was sexually attracted to other women.
Miller, however, was perfect for parading as his partner. She added a great deal of value to him and he knew it. So he resolved to try to make the relationship work. The engagement party was held at his brother Peter's apartment in London and many of the guests were surprised James Hunt was getting married. His ex-girlfriend, Taormina Rieck, had married in the intervening years since their break up and was also there. Hunt was still close to Rieck and had attended her wedding the year before. Now, Hunt stood before her confessing that he didn't want to marry Suzy.
He said: 'I don't know why I'm doing this.' To which she retorted: 'Well, why the hell are you, you silly clot?' He allegedly told her it had gone too far and he couldn't get out of it. She remembers him appearing weak and confused, at odds with the confident Hunt everyone knew. There was also the problem of being faithful. Hunt loved having sex with his new fiancée but it was over too quickly for his tastes. He was a sex addict before the term came into common usage and unfaithful to her almost from the start. Yet, for a time, he enjoyed home life and was in love with her, or so he thought, and undeniably proud of having landed her. As his friend, the journalist Gerald Donaldson, astutely observed: 'The emotional component of a relationship for James was still virgin territory.'
The prospect of marriage had been haunting Hunt but, seeing no way out, he turned to drinking.
For the full four days leading up to the wedding, held at the Brompton Oratory in Kensington and undoubtedly the society wedding of the year, he was never once sober. The day of the wedding was a farce. At six o'clock that morning, Hunt poured himself the first of many beers. Before leaving for the church, he knocked back a couple of Bloody Marys. By the time he walked up the aisle, he was hopelessly intoxicated. As Hunt said later: 'I just couldn't handle the whole scene, so I went out and got blind, roaring drunk.' Suzy smiled her way through it all, convinced it would be different now he was a married man — even though the portents were not auspicious. The following day, they left for their honeymoon in Antigua and, once more, the occasion proved to be anything but straightforward.
He had invited his newly-married best friend, the Hesketh - Formula One team manager Anthony 'Bubbles' Horsley, to come along with his new bride. While Suzy Miller and Bubbles' wife had undoubtedly envisaged honeymooning alone with their husbands, the two men clearly preferred each other's company. It was an entirely selfish gesture. When the Hunts returned to Spain, things did not improve: Hunt was absent most of the time. Suzy simply wanted a settled family life, but by 1975 admitted to friends: 'I literally felt like a spare part. I was just there for the show.'
Within a few months, Suzy realised the marriage was not going to work. Still, she was prepared to give it time in the unlikely event that she was wrong. Hunt's mother was on her daughter-in-law's side, saying: 'Suzy is gorgeous, but I can see that for James to be married is impossible. I love him, but I'd hate to have him for a husband.' Relaxing: the Formula One driver was more than happy to embrace the glamorous temptations of the sport. Hunt soon began planning how to ditch her. He tried to explain what had gone wrong: 'I thought that marriage was what I wanted and needed to give me a nice, stable and quiet home life, but, in fact, it wasn't. And the mistake was mine.' Facing up to the possibility that she, too, had made a mistake, Suzy also wanted out.
Yet she remained supportive and sympathetic to Hunt, which only heightened his sense of responsibility towards her. He said: 'I was very anxious not to hurt her. There are nice and nasty ways to do things and I hope I can never be a hurtful person.' The marriage dragged on for another eight months as Suzy looked for a new partner. Hunt knew he had to get out and prayed for a miracle. That miracle arrived in the shape of Richard Burton, who was then Britain's most famous actor.
At the end of December 1975, with their 14-month marriage in pieces, Hunt and Suzy Miller went to Gstaad in Switzerland for Christmas with friends. Gstaad was the place to be that year, a festive playground for the rich and famous. Coincidentally, Richard Burton and Elizabeth Taylor were also staying there, at a villa called Chalet Arial. Burton and Taylor had married in 1964. They divorced in 1974, but almost immediately got back together and, a year later in October 1975, they remarried.
Just as Hunt and Suzy Miller's marriage had been a fiasco, so, too, was Burton and Taylor's, both couples found themselves looking for an exit almost immediately. In Gstaad, Burton first set eyes on Suzy Miller as they were travelling in opposite directions on a ski lift. Burton turned to his assistant, Brook Williams, and asked who was the 'vision that had just passed by'. He was struck down by Suzy's sheer presence, as he would say later: 'I turned around and there was this gorgeous creature, about nine feet tall. She could stop a stampede.' By then, Hunt had flown to São Paulo to compete in the Brazilian Grand Prix in the opening race of the 1976 season. Williams sought out Suzy and invited her to a party in Gstaad a few days later and there Burton was captivated. Williams invited her to come to the house the following day and, after that, Suzy started visiting Chalet Arial regularly. The affair, which began almost immediately, was Suzy's first dalliance since her marriage to Hunt.
He was 50 and she was 26 but, as Burton said: 'She was mature far beyond her years.' At the end of January, Burton told Elizabeth Taylor that their marriage was over. Suzy had kept Hunt fully informed by telephone of the developing affair and to say that he was delighted would have been an understatement. In fact, when she told him Burton had invited her to join him in New York, he replied: 'Fine, off you go.' After he told Taylor it was over, Burton summoned Suzy to New York and their relationship developed so quickly into a proposal of marriage that a request for a quickie divorce was made to Hunt, while he was in South Africa. Hunt was delighted his wife had found Richard Burton. The two men immediately spoke on the telephone to arrange what they called the 'transfer' of Suzy.
Burton offered to pay Hunt's divorce settlement to Suzy: $1 million. Burton couldn't believe that Hunt was so casual about letting go of his beautiful wife. Hunt simply said: 'Relax, Richard. You've done me a wonderful turn by taking on the most alarming expense account in the country.'
Miller, effectively, had been sold to Burton by Hunt for $1 million and both were satisfied with the transaction. For Hunt, it couldn't have worked out better; he had got rid of the wife he never wanted and saved himself the divorce costs. In June 1976, the divorces of Taylor and Burton and Hunt and Miller were formalised in Port Au Prince, the capital of Haiti, in the Caribbean. There, foreigners could get divorced in a day. On August 21, Suzy and Burton were married in Virginia.
Meanwhile, Hunt's mother, Sue, told journalists: 'I'm quite convinced that whomever my son had married, the same situation would have arisen. 'Suzy was a delight, but James is just not the marrying kind.'
Hunt made today's drivers seem a little dull. James raced in a time when motor racing was dangerous and sex was safe. Not the other way around as it is today. Amazing man, a true British adventurer. They don't make them like that anymore. Who else would it be?
James Hunt may not have been Formula One's first womaniser, lover of drink or cigarette connoisseur, but he certainly knew how to do it better than anyone else. He earned legendary status while racing alongside the likes of Niki Lauda, Emerson Fittipaldi and Jody Scheckter.
He was as charismatic off the track as he was fast on it, a real charmer whose personality, ability and good looks made him a mighty attractive package — and the ladies loved it.
The English public schoolboy-turned-F1 legend, who wore the "Sex. Breakfast of Champions" badge like it was a way of life, not just a humorous overall addition. He often shunned "black-tie" event etiquette by turning up in a t-shirt and jeans, once even without shoes or socks. An aggressive temperament showed when he was not afraid to get physical with people he felt had wronged him.
All this added up to Hunt being F1's definitive playboy. And this guy definitely had the talent to go with it. Sheene and his mate, James Hunt, set new standards in bad behaviour, with today's prissy, sanitised world of sport, where besuited Nike chaps, going round reeking of Perrier water, rule the roost. As Sir Stirling Moss told the programme: "After a race, instead of chasing girls, now they go and say thanks to Vodafone." Nonetheless, in 1976 Hunt and Sheene also found time to dominate their sport, the only time Britain could boast both the Formula One drivers' champion and 500cc motorcycle champ.
Hunt and Lauda were also close friends away from racing. So highly did Lauda think of his rival, he once said: 'He is the only man whose life I really envied. Even towards the end, when I saw him in scruffy trainers, you knew there was a man who had lived life to the full.'
James Hunt, flamboyant lover & racer to the end. The glory days of F1, where men were men.
Gerhard Berger
Although not a wild boy, he is known for his wicked sense of humour and a love of practical jokes, which led to an unlikely alliance when he was paired with consummate professional Ayrton Senna. "He taught me how to be a professional and I like to think I taught him how to laugh," Berger said. Senna needed the ability to laugh when faced with Berger's stunts, which included replacing his passport photo with a picture of a nude male bottom, thus causing his team-mate untold embarrassment when he presented the document to Argentinean border officials.
Stirling Moss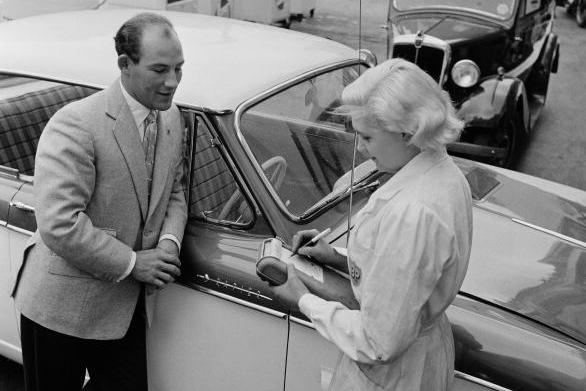 You might assume that, heralding from the late '50s and early '60s, Sir Stirling was a gentleman racer. But far from it, by his own admission, he lived life to the full as he fast earned a reputation as one of the world's greatest racing drivers. And the best driver never to win the world championship enjoyed celebrating race wins no less than when he was chasing women. On the track he was a consummate professional. His own website states: "Out of hours, he was your original 1950s playboy, ever ready to 'meet the crumpet and have fun,' he recalls. The life of a racing driver then was, he reckons, 'as good a life as anyone could ask for.' He's since proven rather outspoken in retirement, not least his comments about homosexuals. As the Daily Mail reported him as saying: "I personally am very grateful to homosexuals because the more of them there are around, the more women are free for me."
No discussion with Moss about his former racing days can be complete without the mention of crumpet, and not the sort you have for tea. "If I dated a beautiful girl it made the front page of the newspapers, if I won a race it got buried in the middle somewhere," he joked. He was open about the fact that he did not consider modern day F1 as exciting because it lacked danger and was not short of an analogy between this and women: "It's rather like if you flirt with a girl. It's more exciting than paying for a prostitute, because with one you know you're going to get it, the other one you don't". Despite the fact that he never won a world championship and has now been retired from the sport for much longer than he competed in it, he can still attract a crowd of autograph hunters wherever he goes.
Eddie Irvine
Despite his own statements to the contrary, Eddie Irvine was F1's first real playboy since James Hunt.
He was charismatic, outspoken, dated models and owned houses in Miami and Milan. He was well known for being a fantastic host of parties. Signing for Ferrari reined him in somewhat, but nothing really tamed him properly. He made a fortune in stocks prior to F1, and his shrewd eye for business earned him £21m over three years with Jaguar post-Ferrari. His retirement led to mixed emotions from the sport. Some say his lifestyle got in the way of his job, others say he was a rare, colourful character than F1 would miss dearly. He was a good driver, not great. Had he won the '99 title, he'd have joined an exclusive club. But that's no matter to Irvine, who has plenty of clubs he'd be welcome to join. In fact, he probably owns them.
Juan Manuel Fangio: the playboy racer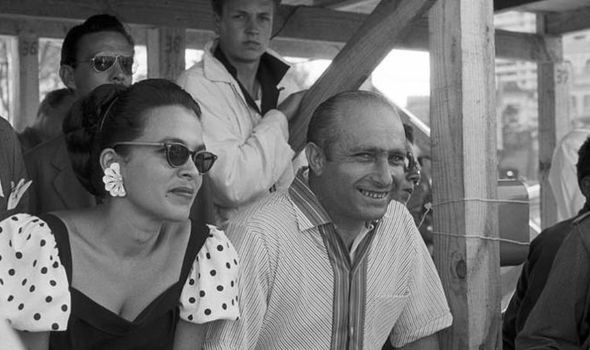 More than 10,000 people lined the streets, clapping in unison as Juan Manuel Fangio's coffin was carried into the tiny church. Fangio had a way with women. The slow, rhythmic tribute to the greatest motor racing driver to have graced the circuit was the only sound that filled the air. For a peerless five times world champion there was reverence. Soldiers in dress uniforms had stood guard as he lay in state and the eulogies have continued for the last 20 years since his death, aged 84, on July 17, 1995. But his resting place at the cemetery at Balcarce will witness another incredible chapter in the Argentinean driver's legend as his body is exhumed on court orders to solve two paternity cases.
There will no crowds on August 7, just legal officers with sheaths of documents giving access to the Familia Loreto Fangio crypt, 285 miles south of Buenos Aires. The burnished marble structure positioned in an avenue of mausoleums at the cemetery, is a point of pilgrimage for fans. But when its door, dominated by a huge bronze cross, swings open it will appear more like a crime scene as DNA tests are taken to rule if two septuagenarians have a legitimate claim to be "the master's" son.
For Fangio, although he never married and had no official children, was a womaniser with a string of girlfriends, one rumoured to be Eva Peron. Short and balding, Fangio still had a charm that guaranteed him lovers during his career and wherever he went as an urbane ambassador for Mercedes after his retirement in 1957. The Fangio legend has been engulfed by the controversy sparked by Oscar Espinosa's claim and a rival bid by a 71-year-old called Ruben Vazquez, who believes his mother had a brief fling with the driver in his 20s when he was making a name in lethal road races across South America. Both have anecdotal evidence, physical resemblance and Espinosa a clutch of letters from Fangio, who had a 20-year relationship with his mother Andrea Berruet. "He was extremely popular with the ladies," said respected motorsport writer Gerald Donaldson, who wrote the definitive biography Fangio, The Life Behind The Legend. "He wasn't particularly handsome. He had the nickname El Chuecho which means bow legged but he had a winning way with women." Gerald Donaldson, motorsport writer. At age 80, Fangio was invited to a select gathering in London to celebrate a book that was being launched in tribute to his career. "There were at least four of his old girlfriends there," adds Donaldson. "He was a ladies man but he was a gentleman. The exhumation is an astonishing story but it does feel a bit like sacrilege." But his Romeo tendencies fermented a legal tussle that has been bubbling through attorneys' offices and district courts in Argentina for almost a decade until Judge Rodrigo Cataldo supercharged the dispute by calling for the exhumation.
The forensic lights are now trained on Fangio's personal rather than professional life. The son of a tenant farmer, who moved from the rugged Abruzzi region, east of Rome, in Italy to start a farm near Balcarce, Fangio exhibited a natural understanding of mechanics from an early age and cut his school studies short to work for a blacksmith. At the age of 12, he transferred to a garage, fixing tractors and farm machinery while developing a fascination with motor cars that would propel him to international stardom and five F1 titles, scoring an unprecedented 24 Grand Prix victories during the 1950s.
He started a repair shop outside his family home as a teenager and was drawn into South America's daring and dangerous racing championships around closed roads and his fame stretched beyond his home province. Fangio would have been 27-years old when Espinosa was born and, although he never spoke of the child as his own, he had an acknowledged long and tempestuous relationship with his vivacious mother, known as Beba, who was a constant presence with his race team.
"He was in a relationship with Beba and it's true that Espinosa looks like him and that Fangio played a bit of a role in his life after he was born but it was not something he spoke about," says Donaldson. Espinosa, who has letters from Fangio to his mother, once raced in Formula 3 in Europe and said the great man helped him with tactical advice. The other claim comes from 71-year-old Vasquez who says his married mother, Catherine Basili, had a brief affair with Fangio who became his godfather as a smokescreen for the attention he paid the little boy. The connection remained a secret until his mother revealed the "truth" and signed a legal document to reinforce the paternity case before she died. "All my life I worked on the railroad, in the office part, without contact with the public. When I retired I started working as a janitor and at hotels and, not surprisingly, in those places you have contact with people from everywhere. Every day someone asked me if I had any relationship with Fangio because of my resemblance," he stated. "I know that I am the son of Fangio but I'm hoping that the courts will recognise it". At 71, I need to know my true identity. It's something I want for myself and for my children and grandchildren." His claim is strengthened by a DNA test that has ruled out the man who brought him up as his natural father. It is not clear if either claimant wants money or notoriety. Fangio was wealthy but had nowhere near the riches of modern F1 drivers.
"The case is distasteful but will not diminish Fangio's reputation and I think most people will frown upon what is happening," adds Donaldson. "Many consider him to be the greatest ever and his only rival, statistically, is Michael Schumacher who told me that Fangio was in a league of his own.
"His great rival and sometime team-mate Stirling Moss says Fangio was his hero and was always a gentleman." Fangio is folklore. Plaques and statues to his racing prowess – in open sided machines wearing rudimentary goggles and helmet – are strewn across the sport's geography.
The Fangio Foundation, which controls his legacy, has requested that the DNA testing is done at the crypt in private rather than by transporting his body to the regional capital of Mar Del Plata.
They want dignity for a local hero, an international icon but can do little to stop next month's exhumation. Fangio's last race, it seems, will be decided by a laboratory test rather than a chequered flag.
Nelson Piquet
Piquet was always an eccentric driver who lived a playboy's life. He had a house in Monaco with a boat that was always ready with a crew and he got married for fun, fathering seven children with several different women. "Through F1, I bought my own boat. I learned to fly my own plane and helicopter". He won three world titles and always took motor racing very seriously. However, Nelson Piquet is perhaps better known as a practical joker, always pulling funny faces and always game for a laugh. Next to racing, Nelson Piquet was known for his flamboyant lifestyle. Expensive yachts, women and partying were a big part of his lifestyle. He wasn't happy being a celebrity but still he lived live like a real playboy!
Alain Prost: 'last night I caught Stephanie of Monaco'
Niki Lauda has given Sebastian Vettel an entertaining insight into the "wild" behaviour of Formula One's past champions. In a joint interview, new reigning world champion Vettel asked triple title winner Lauda if the reputations of some of the sport's legendary drivers as "wild dogs" off the track were deserved. "I will tell you the truth," Lauda answered Vettel in the Red Bulletin feature. "The best example is 1984 at the Portuguese Grand Prix, which was crucial for the world championship for myself and [Alain] Prost. My fitness guy Willi Dungl told me there was a blonde Italian woman constantly asking about me. I went to see her immediately. "As I'm a polite person, we went out for dinner on Friday and she asked if we could eat together again on Saturday. I told her we couldn't eat together but she could come between 8 and 10 o'clock to my room. "I told her I need to sleep at ten because the next day I needed to be world champion," Lauda smiled. "She said okay and was gone at ten minutes before ten. I slept like a god." "My dear team-mate Prost was in the garage in the morning and was grinning to himself. I asked what he was smiling about. He said: 'Can you believe it, last night I caught Stephanie of Monaco.' I was relieved," said Lauda, "now it's 1-1 before God and it's time to race "A few hours later I was world champion for the third time."
Bernie Ecclestone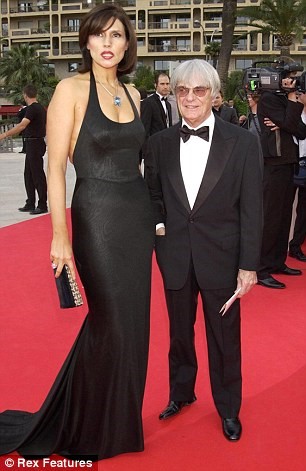 In September 1982, Bernie Ecclestone, the undisputed king of Formula 1, spotted a striking, six-foot Croatian model standing with world champion Nelson Piquet in the pits at Italy's Monza race circuit. Her name was Slavica Malic and she was employed by Fila fashions, one of the race's sponsors. 'Get out of here,' Ecclestone ordered the 23-year-old. 'I'm staying here,' she replied brusquely in pidgin English, unaware who she was talking to. 'It's my duty.' 'I don't care. No girls in the pits. Out!' insisted Ecclestone, then 51. 'If you come any nearer, I'll kick you,' she retorted in her thick accent. Impressed by her feisty response, Ecclestone introduced himself, then invited her for lunch. Slavica later asked a photographer: 'I met this guy who was trying to break my b***s and he said he's in charge of Formula 1. Do you think it's true?' For a man who adored the unpredictability of work, his domestic routine never changed. Arriving home, he first cleaned his shoes, then straightened the curtains. Next, he moved any ornaments that were not properly squared, and finally he sat down, content that every part of his world was perfect. Slavica was the opposite: fiery, fun and a challenge. The 28-year age gap and the 12in height difference was to be no barrier to a relationship. It was the start of a turbulent relationship that would last 25 years. Her innate anger was one of her attractions. Fiery relationship: Bernie told a newspaper that Slavica 'shouts' and 'throws plates' during their volatile marriage.
Modern Formula 1
Bigoted modern F1. Give us back the Surtees's Durex and Hunt who posed for Playboy. Hamilton's champagne is Oratory.
We return on a recent fact to underline how stupid is the 'narrative' - as we say today - of motor racing, undisputed panorama in which the vital spirit of sensuality is mixed with the dark one of the potential death, summed up in the well-known saying "motorsport is dangerous'. But the current rhetoric is more dangerous...
On the podium of the Chinese Grand Prix Lewis Hamilton sprayed champagne on one of the hostesses. A traditional harmless gesture. All normal? Not at all. In the following days a barrage of criticism has rained on the English driver of the Mercedes, who had to apologize.
Not enough, is now emerging the intention to eliminate the 'Grid Girls' from the starting grid. The FIA seems to assume the idea that the 'Grid Girl' gives an image of the woman subservient to man.
It seems they do not catch anymore the strange marriage life / death of motor racing. Life represented by feminine beauty - often Florida, performed with impudent nonchalance, blatant and complacent - and death, represented by the mechanical construction that we call cars or race cars, where it's mixed chemistry and physics, material's science, courage and recklessness, often mischievous luck, sometimes, unfortunately, the wall of reality. The mantra becomes "motorsport is dangerous": a sign that death has sublimated itself into a new evanescent existence. They cover the car with towels as well as the tits, archiving smiles. Once, instead, F1 was really progressive, anticipating the times, was ahead of the technical roads as well as those of communication and advertising: it was the time of the courage to bring on the grid a car with condoms 'Durex' as a sponsor. Blessed 70s, when British televisions did not transmit the Grand Prix and James Hunt's notoriety was left to the tam-tam of passion, not to the TV's increasing fame.
Please do not touch the Formula 1, it will never be as mediocre as you are.