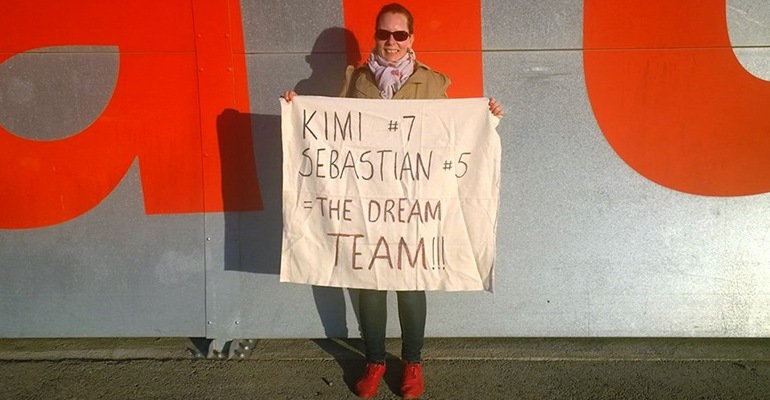 Her passion about Ferrari in combination with passion for journalism has resulted in a blog that has gained a lot of popularity, attention and devoted following. With the recent establishment of the Finnish branch of Scuderia Ferrari Club Riga, and Ms. Huhmarniemi already having joined the Club membership, we decided to talk to her and see what it really means to be a true fan of the Prancing Horse.
When did you discover your passion for the Prancing Horse?
The first Formula 1 GP I ever watched was the fatal Imola GP in 1994. What a GP I picked! The Formula 1 legend Ayrton Senna got killed in that race, but since that GP I've watched almost every F1 race up until this day. So now I've followed the F1 world closely for over 20 years. I've had a few favourite drivers along the way, but what's in common with all of them is the legendary Ferrari team. My very first favourite driver was Michael Schumacher, who caught my eye right at the beginning of the 1994 season. And what a career he had in the Red Team before his first retirement from F1 in 2006!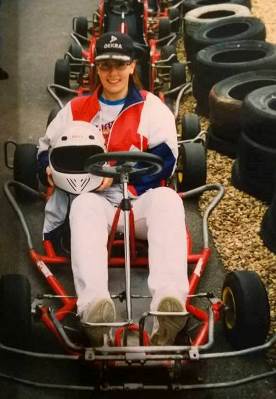 After Schumacher it was all about the Finnish Iceman Kimi Räikkönen, who moved to Ferrari after Schumi's retirement. I've supported Kimi ever since, but in 2009 I also secretly started admiring the young and highly talented German Red Bull driver Sebastian Vettel. My dream came true last year when Ferrari announced their driver line-up for this season: Kimi was to continue with Ferrari, and Sebastian Vettel was to replace Alonso as Kimi's teammate! This was really the ultimate dream line-up, the best Ferrari could ever have! And I was absolutely thrilled that Ferrari decided to use their option on Kimi for next year as well.
What does "Ferrari" mean to you?
What a deep question indeed! Although I've supported both Kimi and Sebastian also during their years in other teams (Kimi's years at Lotus and Sebastian's years at Red Bull), there's something absolutely magical and legendary about the Prancing Horse. Ferrari stands for passion for motor racing! Ferrari is the ultimate dream for any racing driver.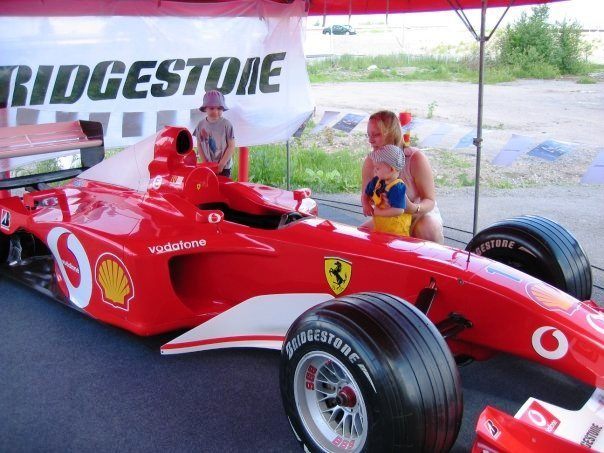 It's as high as you can get in the F1 world. There's hard work involved, but there's shining glory in addition to that. You have to be more than a very talented driver to become a part of the Ferrari family. There're only a few who get the honour to represent Ferrari... I don't think it's a coincidence that I tend to fall for drivers who end up in the Red Team at some stage of their career. They're simply the best drivers!
Which Ferrari happening is your personal highlight?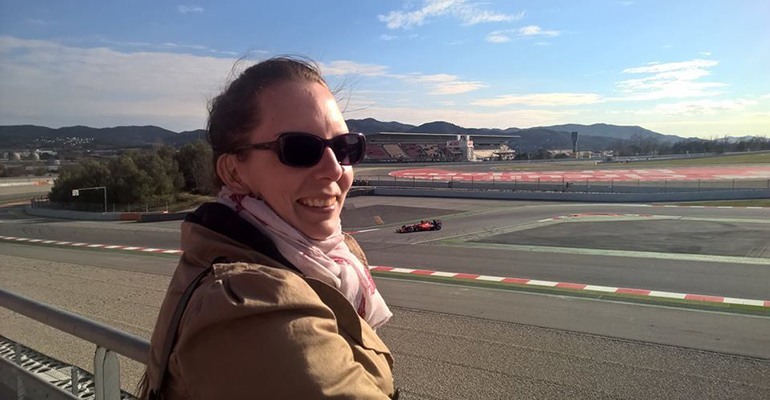 Unfortunately I have been able to watch Formula 1 live only on very rare occasions. I travelled to Silverstone in the summer 1995 since I had a friend who lived in the suburbs of London in exile. It was a dream come true to see all the F1 cars live, although the British weather left a lot to hope for. Schumacher drove for Benetton at that time, and the German ended up colliding with his rival Damon Hill in the race, so I couldn't witness the glory of Schumacher winning the race. After that many years passed and I didn't have a chance to go and watch a F1 race live.
In 2011 I flew to Barcelona to watch the F1 winter tests. I admired Sebastian Vettel from the bottom of my heart; it was absolutely thrilling and utterly memorable to see him drive live in front of my very eyes! Unfortunately Kimi was involved with the WRC series at that time, so I couldn't see him behind the wheel of an F1 car. But when I heard about Ferrari's ultimate dream line-up for season 2015, I knew I had to see these two red-suited drivers live. Last winter I flew to Barcelona again and spent three absolutely magical days at Circuit de Catalunya. If I had a chance, I would go to few GPs every year! My personal highlight has been the winter tests this year when Kimi and Sebastian were both driving for Ferrari.
How did you start writing about Ferrari?
Well, I guess it all started with updating my status on Facebook. After a GP weekend I used to write a long status about what had happened in the race and all the turns that had had an emotional effect on me. I don't remember who, but somebody commented that I should start writing a blog on Formula 1, since I seemed so passionate about it. At first I hesitated, not being able to decide if I should write in Finnish or English. Suffering from a low self-esteem I thought I wouldn't be good enough to write in English, but on the other hand I thought that it would be an excellent way to keep my English skills up to date. So I decided to write in English, although English isn't my native language. I started my blog in February 2011 after I had been to Barcelona for the first time. I write on GP weekends on both qualifying laps and on the race. I also write occasionally on other F1 related things such as latest rumours or books written about the F1 world. I love writing about F1!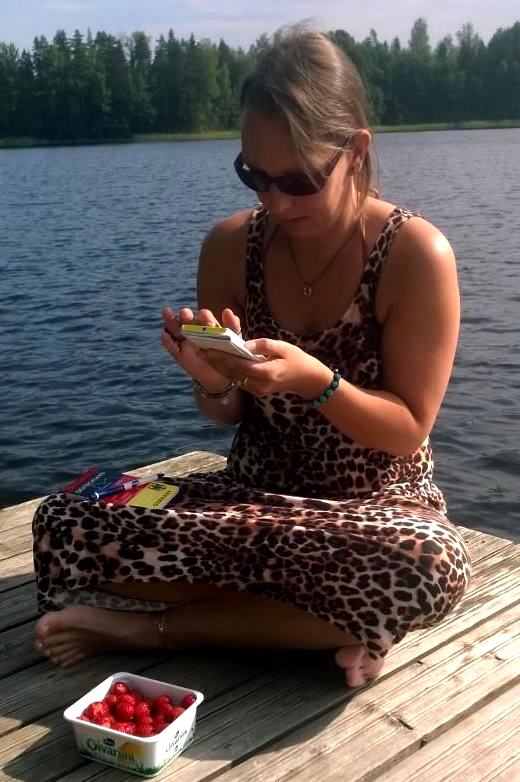 During these years I've learned that there aren't that many F1 blogs in Finland. I have only ten subscribed readers but I don't write to get as many readers as possible. Mostly I write for myself, as silly as it sounds! I love writing about F1 because doing that I can be who I really am and I can forget what other people may think of me. I love Formula 1 racing because it makes me feel strong emotions, both positive and negative. Sometimes I feel like a teenager because I look up to those certain drivers so much. Usually mothers in their 30's don't fly around Europe to see some F1 driver on track live! But this is something that is very deep in my persona: when I'm into something, I'm very passionate about it!
It may sound childish but when Sebastian Vettel clinched his world title in 2010 I was unable to sleep for the entire night, I was so overwhelmed with all the emotions! My passion for F1 was noticed also at my previous work place in a private kindergarten. My ex boss used to call it a "Vettel pedagogic" kindergarten, since all the children knew who Sebastian Vettel was. Sometimes parents started wondering how come their child kept asking how Sebastian was doing when watching an F1 race at home. Also, when playing a F1 board game, there was always an argument about who got to be Vettel in the game! Another detail, which tells a lot about my passion for F1 – when I got married in 1999 there were two F1 cars made of sugar on top of our wedding cake: Schumacher's Ferrari and Häkkinen's McLaren (my husband used to be a Häkkinen fan). All in all, I don't know how many people regularly read my blog but I hope it's an inspiration for those who do read it.
Why did you decide to support Vettel over a Finnish driver?
That is a very difficult and interesting question indeed. All I can say I really didn't DECIDE to support Sebastian. He just caught my eye and I fell for him completely! There's something so unique about him, both on and off track – something that doesn't have anything to do with his nationality. I seem to have a weakness for German drivers (laughs), as first there was Schumacher and then – Vettel... 2010 was a year with huge drama and setbacks but also huge glory at the end.
After the crisis of colliding with his teammate in Turkey, and making some other costly mistakes along the way, Sebastian managed to turn those difficulties into success and won his first world championship title. That made a huge impression on me and I knew this man had skills that made him stand out in the crowd. His humble and down-to-Earth attitude is absolutely heart-warming, and I love when he speaks Finnish! Sebastian has a unique ability to learn new languages as he pronounces Finnish perfectly and already after his first year at Ferrari he speaks fluent Italian.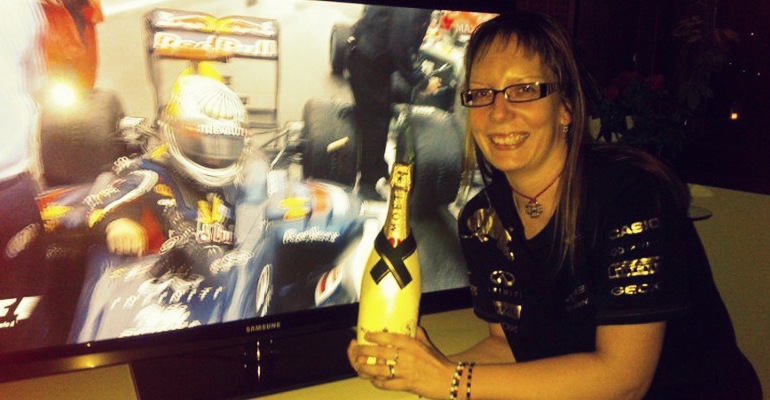 But I do support a Finnish driver as well: Kimi Räikkönen. I love his personality and the attitude he has. He does all the talking on track and has exceptional, raw speed. I love the way he doesn't care about what other people say or think about him; he's very straight-forward and easy to come along with. His team radio messages are absolutely legendary. Kimi and Sebastian bring the perfect balance into the Italian-based team and Ferrari has really an all-time dream team in these two! Since speaking of favourite drivers... There's a young man, who we're also going to hear a lot about in the future, and that's Toro Rosso's Max Verstappen, who has the record of making most overtaking moves during this season. I wouldn't be surprised if this young Dutchman was a part of Ferrari one day...
Do you see Vettel winning the 2016 World Champion title?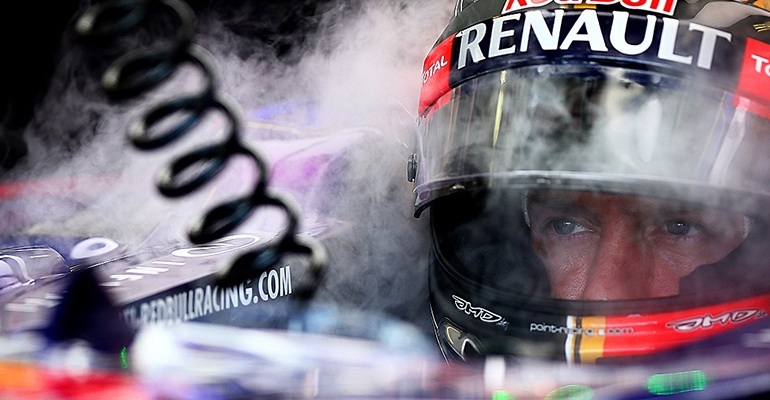 In my opinion Sebastian has a strong chance to challenge the Mercedes drivers for the world championship next year! Sebastian has definitely convinced everybody at the wheel of the Prancing Horse and Ferrari have taken significant steps forward already during this season. I have strong faith in the team that they will be able to keep up the great momentum into next season.
A Finnish branch of Scuderia Ferrari Club Riga was recently established. What was your reaction finding out about it, and how do you see the future of the club?
I found it definitely a good thing as there're many passionate Formula 1 and Ferrari fans in Finland. I don't know exactly how I see the future of the club... I hope the club could bring a Ferrari event into Finland! An event with Sebastian Vettel and Kimi Räikkönen driving their Ferraris on the streets of Helsinki, with a chance for the fans to meet Kimi and Sebastian... Or maybe get a ride in a Ferrari with them, haha! I know I'm hoping for a lot, but my greatest dream is to meet these two drivers one day!
What would you like to wish to the Finnish branch of Scuderia Ferrari Club Riga in the New Year?
I hope the Finnish branch of Scuderia Ferrari Club Riga will be a success and that it will bring a lot of Ferrari-minded fans together. I hope there will be courage and passion to chase dreams and make them come true. A newly-founded branch always has teething problem (like a new F1 car always has at the beginning of a new season), but difficulties are meant to be overcome! Per aspera ad astra I´d wish in Latin!