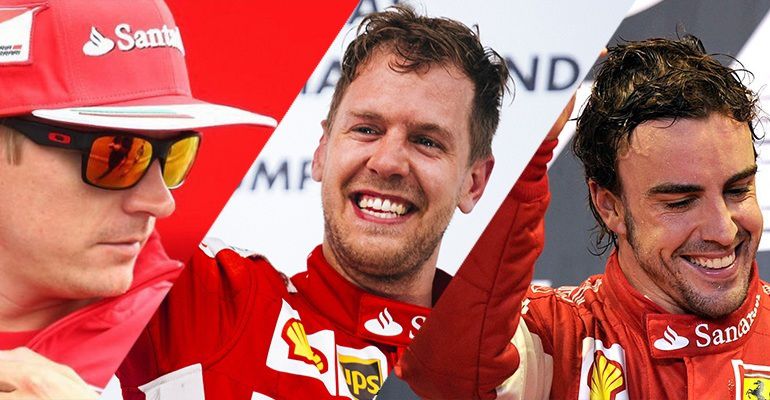 Most teams hire a driver and nothing more. One is paid to arrive at the finish line as fast as possible. The driver, the chronometer and the talent is the package; all you must do is simply be the fastest. And that is where it ends.
At Ferrari one enters into a dream, and it has to be a perfect match. The car is a part of the team – it is not a separate entity. Without that certain kind of magic it does not work. When Ferrari wins, Ferrari wins as one – as a whole. A foot on the pedal is not enough. That is the secret that makes the Prancing Horse unstoppable. Ferrari is a legend with a rich history to support it – it has had epic adventures, and it still has an everlasting charm of the impossible. If you are a racer and you have not driven a Ferrari, you have never raced at all.
In order to win with Ferrari, you must become an idol of the team, be one with the team. We learned this valuable lesson from Michael Schumacher.
Fernando Alonso was the best racer, but that was not enough. He won with Benetton, but he could not win with Ferrari – there was no magic between the two.
Kimi Räikkönen won with Ferrari; Kimi, who was the last of romantics, the steaming ice. Kimi won because he is pure – he lives well within the dreams. He did not win often, but he won with Ferrari. When he is inspired, when he is light, he drives like an angel, and one can see it at Eau Rouge; one can see it when it rains.
Fernando drives on the ground – extremely fast, but on the ground. Kimi won by a fortunate chance – because he is like a child. He would pay to drive a Ferrari.
Now there is Sebastian Vettel who arrived on his tiptoes with a sign "Michael sends me". Sebastian, the incomprehensible racer, who was it that won – you or the car? And what will we do without Fernando?
Sebastian entered the car and started to drive – without protesting, without shouting; because all he wanted to do was to drive a Ferrari; and he was happy when he did. He was light, and he had the touch of a champion. He reminded us of Michael, he even resembled him. The emotions return, the thrill returns; and Ferrari wins again. Thank you, Seb! We are sorry we doubted you. Let us dream again, let us dream for a while longer! We want to hear the roaring sound of Ferrari. 
Valerio Palmigiano,
The President of the Club.