After Ferrari had been dominating in the heat of Bahrain, I was expecting Mercedes to bounce back in the cooler conditions of Shanghai. I was amazed to see that it wasn't the case! Mercedes were struggling with their pace, especially on the ultrasoft compound. Both Ferrari and Mercedes opted for the yellow-marked soft Pirellis in Q2, which meant a different tyre strategy for the race as well. In Q2 it seemed as if Mercedes had found their "party mode" again, as Hamilton went fastest on the more durable rubber, with teammate Bottas second. But there was no stopping the red-suited warriors, as the final segment got underway! Kimi was absolutely on flames and took provisional pole. At this point it really seemed Kimi would become the oldest pole sitter in 25 years! Teammate Sebastian was a tenth off the Iceman's pace. The Mercedes drivers were four tenths down after the first runs, so it was down to the Ferraris to battle it out for pole. Kimi had mesmerising pace in the first two sectors, but Sebastian was only 0.098s adrift! However, Sebastian had a magical last sector, and the German made it on pole by 0.087s to the Iceman! This was the second successive front row lock-out for the Italian-based team. Kimi's top form was proved by the fact, that the Iceman had made it on the front row in all three races of the season! Again, Bottas was the leading Mercedes in third, leaving teammate Hamilton 4th. What really caught my eye was the fact that Mercedes were half-a-second down on the red team! Red Bull locked down the third row, Verstappen having the upper hand on teammate Ricciardo.
In terms of the race, everything wasn't so shiny and smooth. Drama started to unravel already at the start. Kimi in P2 got a better start than his teammate on pole. Sebastian noticed that and didn't make it comfortable for the Iceman, going into Turn 1. Due to Sebastian's blocking move, Kimi lost positions both to Mercedes' Bottas and to Red Bull's Verstappen, who had started to the race on the ultrasoft compound. Sebastian admitted that he had made it difficult for Kimi but, in the heat of the start, you can't think about your teammate's best interest. Sebastian had hoped for a double lead for Ferrari in the race, but his good intention didn't materialise this time. Sebastian held on to his lead, Bottas was second, Ricciardo third, Kimi fourth and Hamilton fifth.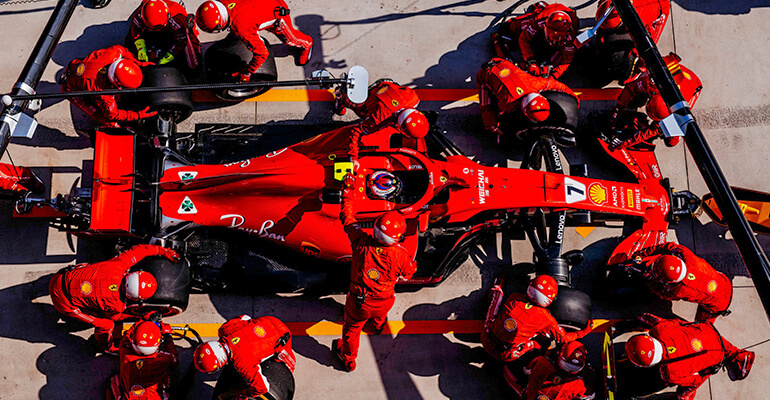 Red Bull opened the pit stop roulette by making an amazing double pit stop, as both Verstappen and Ricciardo came in on the very same lap, both opting for the white-marked medium rubber. Mercedes called their drivers in as well, which forced Ferrari to react right away. However, Bottas benefitted from the undercut and snatched the lead, as Sebastian re-joined the track on a fresh set of medium Pirellis. Kimi, on the other hand, wasn't called in, but the Iceman stayed out on his worn tyres. He was leading the race ahead of Bottas and Sebastian. To me it seemed that the team was going to "sacrifice" Kimi's race to increase Sebastian's chances to win the race! And it felt so unfair at this point of the season!
However, there wasn't much Kimi could do to prevent his compatriot to pass him, as his tyres were done. Kimi pitted right after the pass. The pit stop dropped him down to P6, 10 seconds behind Ricciardo in his RB14. At this point it seemed that the Iceman's race was ruined! To be honest, I was sad for Kimi, who had lost two positions due to his teammate's move and whose race was now "sacrificed" to make his teammate win. F1 isn't always very fair!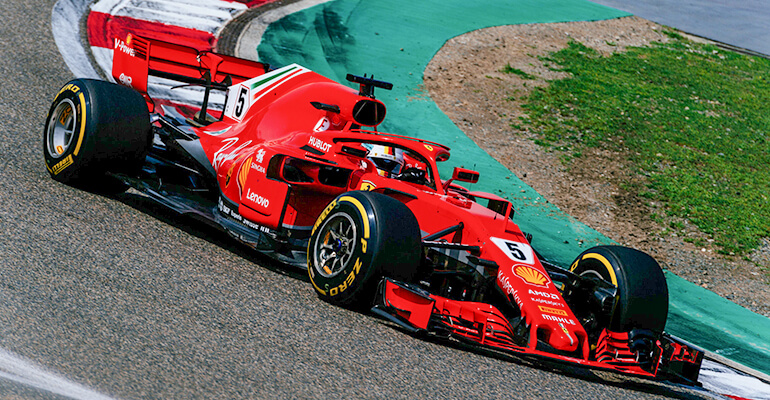 Lap 30 was the turning point in the race. There was a weird-looking incident, where the Toro Rosso teammates collided with each other due to a miscommunication issue. There was so much debris on the track that a safety car was deployed. However, race leader Bottas and Sebastian had already passed the pit entry, so they had no choice but to stay out. On the other hand, Red Bull reacted right away and they made another superb double stop, as both Verstappen and Ricciardo switched to the soft Pirellis. This turned out to be a genius strategy. Due to the pit stops, Hamilton moved third and Kimi fifth.
After the re-start the Red Bull drivers were absolutely flying around the track due to their much better grip. Kimi had no chance to hold back Ricciardo, who claimed back his fifth place. And it was only the start for the Honey Badger. Meanwhile, teammate Verstappen was having a battle of his own with Hamilton. However, Verstappen was lacking patience and made a move in an undoable place, ending up off- track and dropping down to 5th! Unfortunately, this wasn't the only questionable move in the race by Verstappen...
Sebastian's nightmare materialised on lap 42, as the storming Australian passed the German and claimed P2 already. It was obvious that Ricciardo was to challenge Bottas for the victory! With 13 laps to go, Verstappen made his second mistake, which had dramatic consequences. He made a silly overtaking move on Sebastian in Turn 6, ending up crashing into Sebastian's SF71-H! The crash cost both drivers dearly. However, due to the collision, Kimi's race was saved, and the Iceman jumped third. Verstappen was given a 10-second time penalty for causing the collision but, in the end, the penalty didn't turn out to be very costly for the hot-headed Dutchman.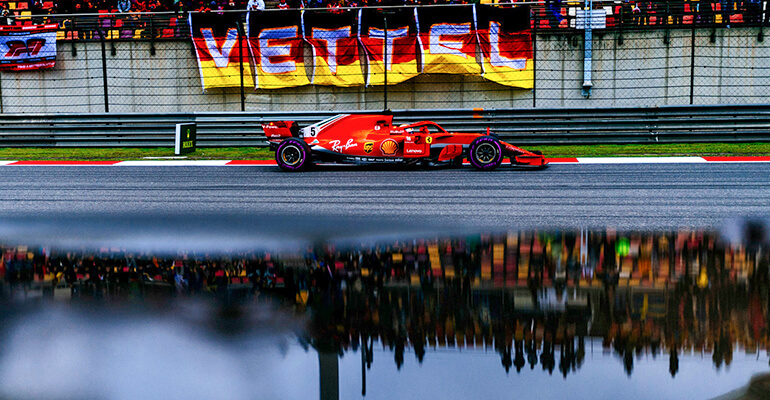 With some ten laps to go, Ricciardo had hunted down Bottas, who proved unable to defend his lead on his worn medium tyres. Ricciardo crossed the finish line as the race winner, and Bottas finished the runner-up. Kimi had challenged his fellow countryman for the second place, but nevertheless, hadn't managed to make a move. However, it was absolutely heart-warming to see Kimi on the podium, as he definitely deserved it! Verstappen dropped one position only due to his penalty, finishing 5th behind Hamilton. Poor Sebastian had severe damage to his car due to the collision, and the German got passed by McLaren's Alonso on the second last lap! This meant a very modest P8 for Sebastian. What a huge injustice that, in spite of the penalty, Verstappen finished the race ahead of Sebastian!
It was great to see that after the race Max admitted his mistake and had apologised to Sebastian right away. I was also very proud of Sebastian, who said that he had no need to call Max any names. Sebastian has had outbursts of his own in the past, so he was wise enough to know, that sometimes these things happen in Formula 1.
In spite of the fact that Mercedes haven't won any race this season so far, they are having a one-point lead in the constructors' championship standings. Sebastian now has 54 points to Hamilton's 45. Bottas has 40 points, Ricciardo 37 and Kimi 30 points. The battle continues in Baku, Azerbaijan already next week!
With passion for racing red, 
Iina Huhmarniemi