Luckily, qualifying turned out dry, as almost two entire practice sessions had been missed on Friday due to dense fog, which prevented the medical helicopter to operate in the circuit area. Tyre-wise Q1 was interesting. Where everyone else opted for supersoft tyres, the Ferrari teammates used softs. In spite of the tyre choice, Sebastian stamped his authority on the first session, topping the timesheets. The highest profile casualty in Q1 was Red Bull's Verstappen who suffered from an engine software problem and was unable to make it higher than P19. Once again, the silver cars and the Scuderia were quite evenly matched in terms of pace, but Verstappen's Red Bull teammate Ricciardo was already a second off the top two teams' pace. It was Kimi's turn to shine in Q2, as the Iceman went fastest at the end of the session.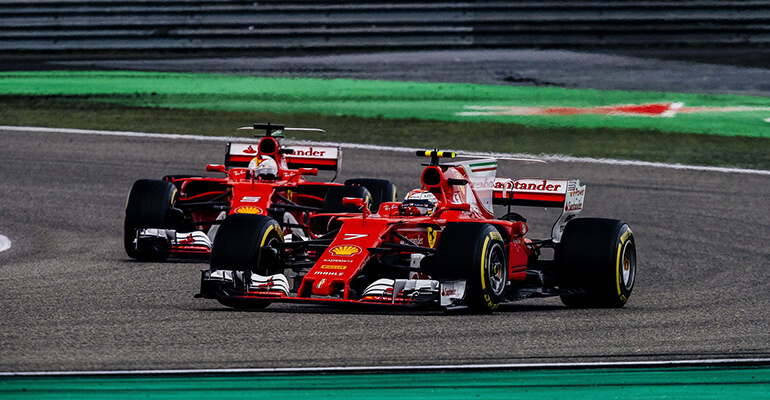 The shootout for pole was thrilling indeed. Hamilton took provisional pole in spite of a big slide in the second sector. Kimi, too, made a mistake on his first run and was seven tenths off Hamilton's pace. The Briton managed to improve his lap time by two tenths on his final run. Sebastian extracted the maximum out of his Gina, but the lap time wasn't quite fast enough to conquer pole. However, it was hair-raisingly tight between Sebastian and Mercedes' Bottas, being separated only by one thousandth of a second in favour of the Ferrari ace! That's the smallest margin possible, equalling 5,9 cm on track... But it was enough to get Sebastian to the front row! Teammate Kimi had to be content with P4, similar to the season-opening Australian GP. Ricciardo in his RB13 was fifth, already 1,3 seconds off pole-setter Hamilton. Massa pushed his Williams into sixth. Hulkenberg (Renault), Perez (Force India), Kvyat (Toro Rosso) and Stroll (Williams) rounded out the top ten.
Everyone predicted that it was going to be a wet race. There had been some light rain in the morning, making the track at the time of the start partly dry, partly damp. The key question was: slicks or intermediates - which would be the right call? Everyone else, except for Toro Rosso's Sainz, decided to start on the green-marked intermediate tyres. Sainz, starting on the supersoft Pirellis, lost many positions at the start and ended up spinning on the opening lap. Hamilton firmly held on to his lead, with Sebastian second and Bottas third. Unfortunately, Kimi lost a position to Red Bull's Ricciardo, who jumped fourth. I couldn't help but notice Ricciardo's teammate Verstappen who had an absolutely magical opening lap. Having started from P16, the flying Dutchman had gained 7 positions on the very first lap!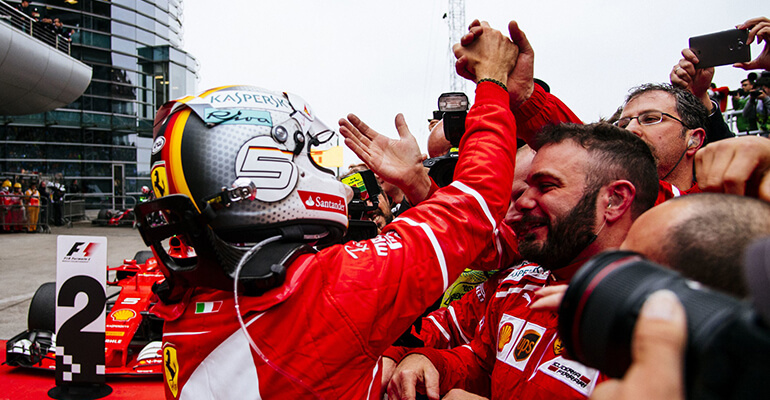 The opening lap didn't lack in drama; Williams rookie Stroll span and got stuck in the gravel after Perez's pink Force India had hit the Canadian's rear tyre. Virtual safety car was deployed, and Sebastian drove into the pits already on lap 3. The German opted for a fresh set of yellow-marked soft tyres. The other top drivers stayed out instead. But, as soon as virtual safety car had ended, Pascal Wehrlein stand-in Antonio Giovinazzi lost control of his Sauber on the finish straight and ended up in the wall. There was so much debris on track that a safety car was deployed. In addition to the Mercedes drivers, Kimi also pitted for a fresh set of soft tyres. The Red Bull duo opted for a different tyre choice as they decided to run the red-marked supersoft compound.
Driving behind safety car, we saw an amateurish mistake from Bottas. The Finn was warming up his tyres as he suddenly lost the rear of his car and spun. As if one spin hadn't been enough, he spun again when trying to re-join the track. Due to his mistake, Bottas dropped down to P12.
After season-opening Australian GP there was a lot of talk about the lack of overtaking. Well, that wasn't the case today! On lap 22 we saw an absolutely breath-taking overtaking move from Sebastian, who was determined to get past his ex-teammate Ricciardo. Sebastian braked very late and then moved into the outside of the "Smiling Avenger". Their wheels banged, but Sebastian managed to move ahead of the Australian! My heart definitely skipped a couple of beats when I watched that move! That was some proper racing! Unfortunately, Kimi got stuck behind Ricciardo and was unable to repeat his teammate's move. The Iceman really seemed to struggle with the performance of his car, no matter how hard he pushed. Sebastian, on the other hand, was utterly on flames at Shanghai International Circuit. Soon the German Ferrari ace had chased down Verstappen, who is known to be a tough driver to overtake. This time the Dutchman locked his wheels and ended up going wide, which made it easy for Sebastian to get past and snatch the second place.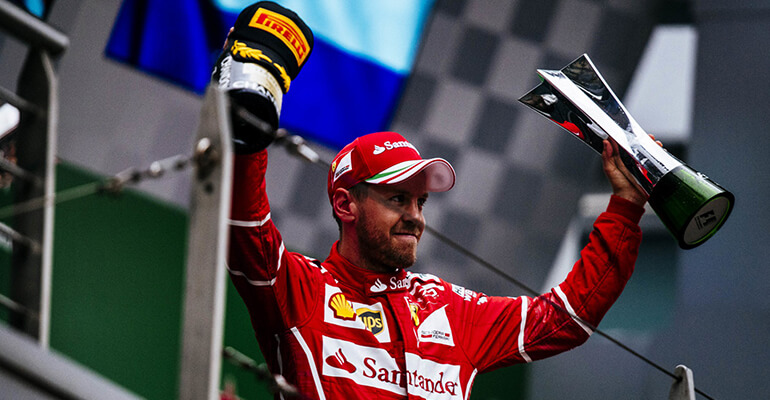 Towards the end of the race, Hamilton had been able to build an 8-second gap between Sebastian. However, there was an intense fight for the last podium place between the Red Bull teammates. After a close fight, Verstappen crossed the finish line in P3, leaving Ricciardo fourth. Verstappen's performance was outstanding, making it from P16 to P3. Verstappen seems to know something about overtaking that others don't! No wonder the Dutchman was once again voted as the Driver of the Day. Unfortunately, Kimi was out of that fight due to the long second stint on the extremely worn tyres, which turned out to be a wrong strategic call. Bottas had to be content with P6 after making that bit of embarrassing mistake. Toro Rosso's Sainz drove a strong race after the challenging opening lap. The Spaniard finished 7th, followed by Haas' Magnussen. The eye-catching pink Force Indias of Perez and Ocon rounded out the top ten.
The battle for both the drivers' and the constructors' championship couldn't be more interesting. Both Hamilton and Sebastian now have 43 points, and Mercedes has a one-point lead in the constructors' standings! Luckily round three will be already next week in Bahrain! 
With passion for racing red, 
Iina Huhmarniemi