After the legendary Monaco GP, the Formula 1 circus moved out of Europe for round 7. Montreal, Canada hosted their 50th GP weekend at Gilles Villeneuve Circuit. Everyone expected it to be extremely tight between Ferrari and Mercedes; many people referred to Ferrari as the leading team in terms of the current pecking order. However, qualifying turned out to be quite surprising! Hamilton had suddenly found his missing pace, and the Briton was absolutely unstoppable in Q3. Hamilton's first run was already extremely impressive. Sebastian was hungry to challenge his title rival for pole, but Sebastian's first run left him four thousandths of a second short of the provisional pole. However, there was more to come from Hamilton at the end of the decisive final session. Hamilton had a magical first sector, and he improved his lap time by over two tenths, leaving his rivals utterly toothless. It was a historical pole for Hamilton, as it was his 65th career pole; this meant he equalled the pole record of his legendary idol Ayrton Senna. This time Sebastian had to settle for P2. Row two was locked down by the Finns; Bottas in P3 and Kimi in P4. Red Bull drivers Verstappen and Ricciardo qualified 5th and 6th.
What an eventful start the race had! Hamilton held on to the lead, but a lot of drama took place behind the Briton. Red Bull's Verstappen took a magical start from P5, taking a brave line into Turn 1. The Dutchman flew past Sebastian; by doing so, he hit Sebastian's front wing, causing an end plate damage. Due to his risky move, Verstappen had jumped second. However, there was another first-lap incident. Grosjean in his Haas crashed into Sainz's Toro Rosso, which made the Spaniard slide sideways on the track. Sainz ended up crashing into the unfortunate Massa, and they were all out of the race. There was so much debris on the track that a safety car was deployed. Behind Hamilton, Verstappen, Bottas and Sebastian, Kimi had lost two positions and dropped down to sixth.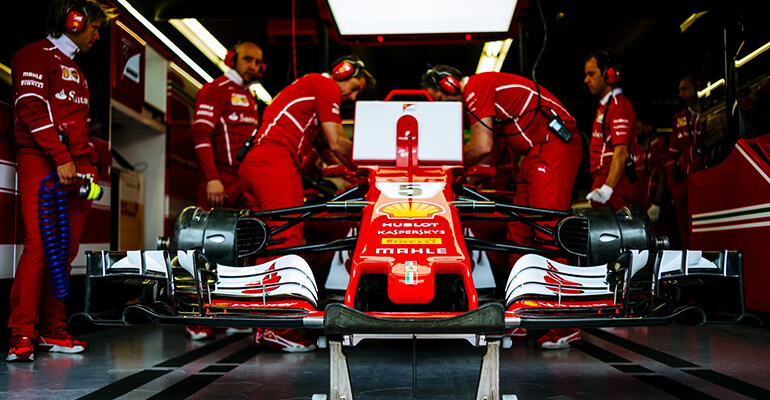 After safety car had come in a few laps later, the race took an unwanted turn for Sebastian. His front wing had taken such severe damage that the German had no choice but to pit for a new front wing. This made Sebastian drop down to the back of the pack. However, Sebastian had no intention to give up! And he wasn't the only top driver to face drama. On lap 11 Verstappen was suddenly hit with loss of power, and the Dutchman's race was over; it was such a shame after such a phenomenal start.
First pit stops saw different tyre strategies. Kimi pitted for a fresh set of red-marked super soft Pirellis, whereas both Ricciardo and Bottas opted for a fresh set of yellow-marked soft tyres. It was interesting to see that the Mercedes teammates had differing tyre strategies, as Hamilton opted for super soft tyres. By the halfway point of the race fighting Sebastian had already made it in P7.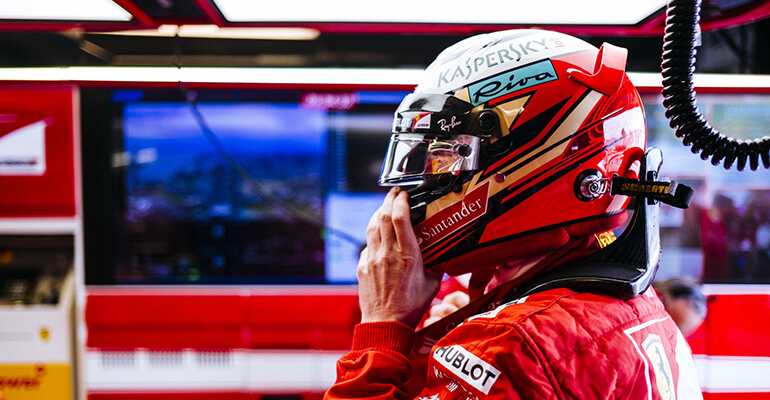 Against all odds, Ferrari opted for a two-stop strategy. Kimi was the first of the Ferrari teammates to pit on lap 42 for a fresh set of ultra-soft tyres. Sebastian pitted some eight laps later for a similar tyre choice. This meant that both Ferrari aces were utterly flying on the track on their fresh set of tyres. However, with less than ten laps to go, Kimi suddenly suffered a brake issue, which had a significant effect on the Finn's pace. The Iceman ended up off track, and Sebastian easily made it past his teammate. The team gave Kimi instructions on the team radio on how to fix the problem, and, after cursing in Finnish, Kimi finally managed to get rid of the problem.
The pink Force Indias seemed to be stuck behind Ricciardo's Red Bull, and Sebastian rapidly closed the gap to the trio. Ocon seemed to be the faster one of the Force Indias, and the Frenchman was asking on the team radio for a chance to get past his teammate. However, Perez was not willing to let his teammate through; even though the team promised to give Perez the position back, if Ocon hadn't been able to overtake Ricciardo by the end of the race.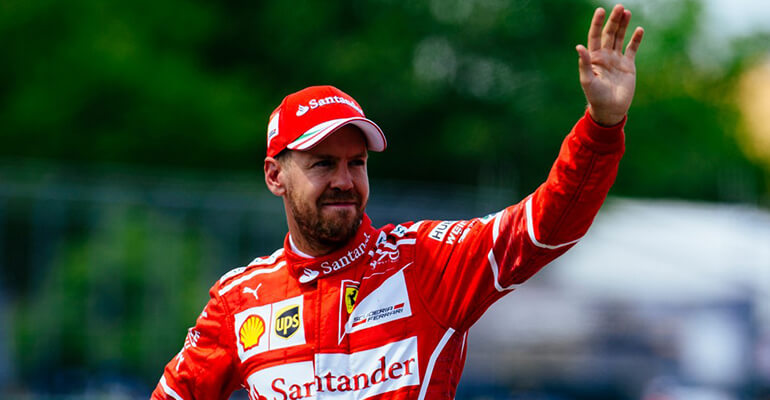 Sebastian was absolutely determined to score as many points as he possibly could after the very unfortunate start of the race. He made a risky-looking and venturesome overtaking move on Ocon on lap 66 – and jumped fifth! Sebastian's next target was Perez's pink-liveried Force India. On the second to last lap Sebastian made a confident move on the Mexican, and he was already fourth in the race. I absolutely loved the way Sebastian fought like a lion throughout the race! He definitely showed everyone what a true racer is like. The seventh race of the season was the first time that Sebastian didn't make it on the podium this year, and I didn't feel too disappointed. Sebastian had driven a fantastic race with true passion!
Unbelievable but true, this was the first 1-2 for Mercedes this year! Hamilton took a dominant victory ahead of teammate Bottas. Ricciardo was just barely out of Sebastian's reach, and the Australian completed the podium. Kimi's P7 behind the Force Indias left little to hope for. To be honest, it seemed that in Montreal Mercedes once again had the upper hand on Ferrari in terms of pace and performance. By this dominant victory, Hamilton cut Sebastian's championship lead into just 12 points. Mercedes moved ahead of Ferrari in the constructors' standings by eight points. The battle for the championship couldn't be any more electrifying! 
With passion for racing red,