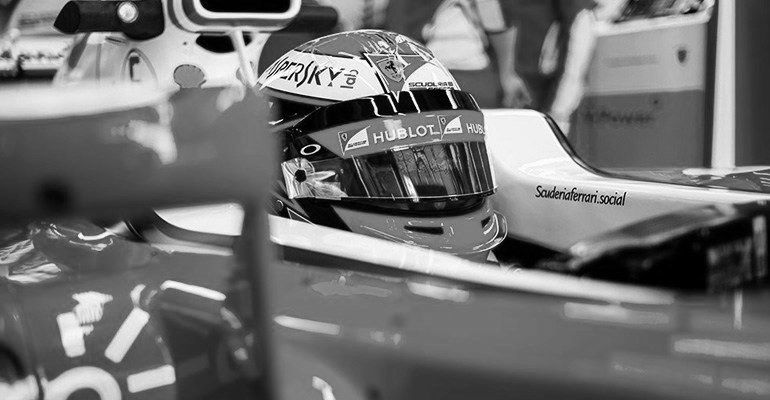 Coming to Canada, there was a little ambiguity about the current pecking order; had Red Bull become Mercedes' opponent number one, or was Ferrari still Mercedes' biggest threat?
Qualifying turned out to be an intense battle between these three top teams; it also proved that Ferrari had taken a step forward with the new turbo charger. Those new purple-marked ultra soft tyres kept surprising me in Montreal. It seemed to be difficult for the drivers to get the ultra softs up to temperature, but once it was reached, it was possible to drive several time-laps on the same set of ultra softs.
Toro Rosso's Sainz was the first casualty claimed by the wall of champions in Q2; in the final session we saw more contacts with this same infamous wall. Sebastian in his Ferrari had a scare when he brushed the wall of champions, "taking the lacquer off the rims" in his own words, but, luckily, he avoided damage.
Red Bull's Ricciardo had "a kiss" with the very same wall on his last flyer, too. Pole was Hamilton's, making it his fourth of the season, fifth in Canada, and by the closest margin so far in 2016. There were only 62 thousandths of a second separating Hamilton the runner-up Rosberg. Sebastian made it 3rd, being only less than two-tenths down on pole-setter Hamilton. Ricciardo beat Red Bull's teammate Verstappen to fourth place. Kimi in the second Ferrari had to settle for P6; my eye caught the fact that Kimi was almost six-tenths down on his teammate. Williams had also found more performance, as the fourth row was conquered by the Williams' duo (Bottas 7th and Massa 8th).
On the day of the race the weather was cold and windy, but no rain in spite of the weather forecast. What a spectacular start Sebastian got from P3! The German Ferrari ace stormed to the lead past both Mercedes drivers. Not so surprisingly, there was contact between the Silver Arrows going into Turn 1, which caused Rosberg to go wide and lose many positions.
Red Bull's Verstappen had taken a stunning start as well, and managed to get past his teammate. Lap 11 was a turning point in the race; McLaren's Button suffered a sudden loss of power and had to retire from the race, which caused virtual safety car. Ferrari reacted immediately and called both drivers into the pits for a fresh set of super soft tyres. I found this call rather surprising, considering there was no way the Ferrari duo could drive till the very end with those tyres! Sebastian rejoined the track in P4, whereas Kimi dropped down to P14 due to his early pit stop.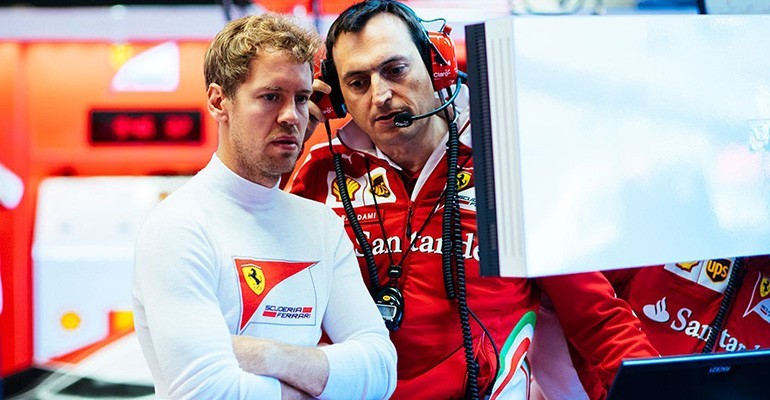 After the pit stop Sebastian was absolutely flying on the track! He chased down the Red Bull drivers quite rapidly; first there was a superb overtaking move on Ricciardo and another move on Verstappen a few laps later. At this point it really seemed that Sebastian was seriously fighting for victory in Montreal.
Both Red Bull drivers pitted around lap 20 for fresh soft tyres. The yellow-marked soft compound was also Rosberg's and Bottas' choice. Ferrari was the only team to opt for super soft tyres for the second stint. At this point I started to wonder whether Ferrari had made the right call in terms of the tyre compound. It also seemed that Ferrari was the only top team on a two-stop strategy! Hamilton, who was on one-stop strategy, was leading the race after Sebastian's second pit stop.
Sebastian started a consistent and determined chase after his pit stop. The intense chase wasn't entirely problem-free, as Sebastian ended up going wide at the chicane more than twice. We even witnessed a hilarious moment, as there were two seagulls sitting in the middle of the chicane, which caused a lock-up for Sebastian!
Williams' Bottas had also pitted only once, and the Finn was third in the race. Red Bull's Verstappen was fourth on the two-stop strategy, but the Dutchman got chased down by Rosberg towards the end of the race. Rosberg seemed absolutely determined to overtake the Red Bull teenager, but it turned out to be more difficult than Rosberg might have thought in the first place.
Verstappen drove in a genius way, making it impossible for Rosberg to get past. At the very end Rosberg even ended up spinning when he made a move on Verstappen at the chicane, and Max managed to keep his fourth place.
At the end of the day Hamilton took his fifth win in Montreal, as Sebastian couldn't quite challenge the reigning world champion for victory. It was close, but still too far away! Bottas was extremely happy about his third place, which was the first podium finish for Williams and Bottas this season. Verstappen defended his fourth place outstandingly, forcing Rosberg to settle for P5. Kimi finished the race as 6th. To me it seemed as if Kimi had driven a whole different car compared to his teammate, since Kimi kept struggling with his pace a lot during the race. Kimi's performance left a little to hope for, but I'm sure the Iceman will bounce back in the next race!
Hamilton is now closing the gap with his teammate in the drivers' championship standings. The Briton is now only 9 points down on Rosberg. Sebastian has jumped third, but is already 38 points down on Hamilton. The next chance to collect points will be already next weekend, as the F1 circus moves to the brand new Baku street circuit in Azerbaijan. I simply love these back-to-back races! Can't wait to see what highly entertaining racing the inaugural venue will offer this weekend!
…and the answer to the question asked in the headline, I definitely think Sebastian would have won the race if only he had been on one-stop strategy!
With passion for racing red,
Iina Huhmarniemi