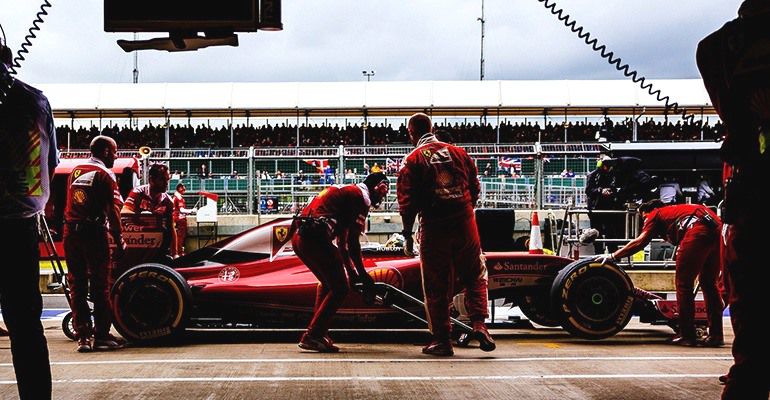 The pecking order at Silverstone was quite straight forward. First of all, Mercedes was totally in a class of their own, which Hamilton proved in Q2 by setting the fastest-ever lap time in the history of modern Silverstone. Ferrari was struggling with their qualifying pace. Kimi had difficulties to put together a competitive lap; the Iceman went off track on his first run in Q2, and everything was dependent on his final attempt. As highly experienced driver, Kimi, however, made it in the final session with style.
There was zero tolerance policy for exceeding the track limits in turns 9, 15 and 18. In Q3 Hamilton's time was deleted due to not respecting the track limits in Turn 9. Nevertheless, Hamilton, who was driving on his home soil, had no difficulties to snatch pole in front of his home crowd. Teammate Rosberg didn't succeed in challenging the Briton for pole; Nico was 3/10 down on his teammate. It was eye-catching that both Red Bull drivers qualified higher than the red-suited drivers.
Young Verstappen managed to out-qualify his teammate for the first time in his Red Bull career, making it 3rd. This time Kimi (P5) was the faster one of the Ferrari teammates; I was surprised to see as much as six tenths separating them. Sebastian (P6) faced an extra setback, having received a 5-place grid penalty due to a gearbox change - again! This caused the German being dropped down to P11 on the grid.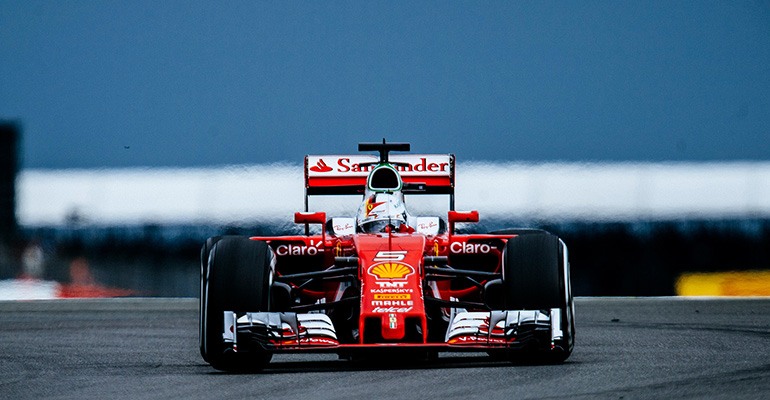 The start of the British GP was a bit of an anti-climax, as the start took place behind safety car. Showery rain had made the track extremely wet right before the start, and there was a considerable amount of standing water on the track. As a result, everyone started to the race on the blue-marked full-wet tyres. However, after the start of the race there was no more rain; a dry line started to form rapidly after the first few laps.
Luckily safety car came in already on lap 5, and the race was finally on. Hamilton was leading, with his teammate being second. They were followed by the Red Bull duo of Verstappen and Ricciardo. Many others - Kimi included - pitted for a fresh set of intermediate tyres. There were still some patches on the track; Manor's Wehrlein ended up aquaplaning, spinning off track and getting stuck in the gravel. Virtual safety car was deployed, and both Silver Arrows pitted for intermediate tyres as well.
Sebastian, at the wheel of his Margherita, was the first driver to pit for slicks - a fresh set of medium tyres. Simultaneously, Verstappen in his RB12 had closed the gap to Rosberg, and they were having a thrilling battle for P2. It was quite surprising to witness how well the young Dutchman was able to match Mercedes' pace. Rosberg made a small mistake and Verstappen stroke immediately. What an utterly outstanding and cool-headed overtaking move by Verstappen! Rosberg had no option but to surrender. Sebastian, on the other hand, was struggling massively with his pace. He had a 360-degree spin, which cost him positions. P12 definitely wasn't what I had had in mind for my German hero in terms of the British GP!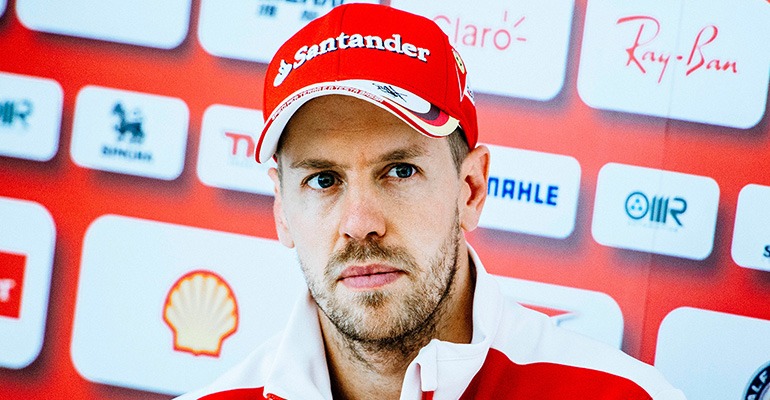 Most top drivers had their moment of scare on the slicks; especially Turn 1 seemed extremely slippery, and both Verstappen and Hamilton also went wide in that corner. Around the halfway point of the race Rosberg had chased down Verstappen and in no time the German was within DRS distance from the Red Bull ace. My heart was pounding as I watched how Verstappen did absolutely everything the rules allowed him to do to defend his 2nd place. In the end, though, there was nothing Verstappen could do to prevent Rosberg from getting past. Once again the Mercedes duo had a double lead in the race.
Further back Sebastian was fighting with Williams' Massa for the modest P9. Making a move on Massa, Sebastian ended up going wide, which also forced the Brazilian Williams pilot off track. Massa complained about the incident loudly on team radio, and Sebastian was handed a 5-second time penalty for forcing Massa off track. I found the penalty quite unfair, as Sebastian had absolutely no intension to make Massa go off; it happened only because Sebastian himself went wide when passing Massa. It clearly wasn't Sebastian's day! In addition to the penalty, Ferrari seemed to lack pace rather badly in the mixed conditions.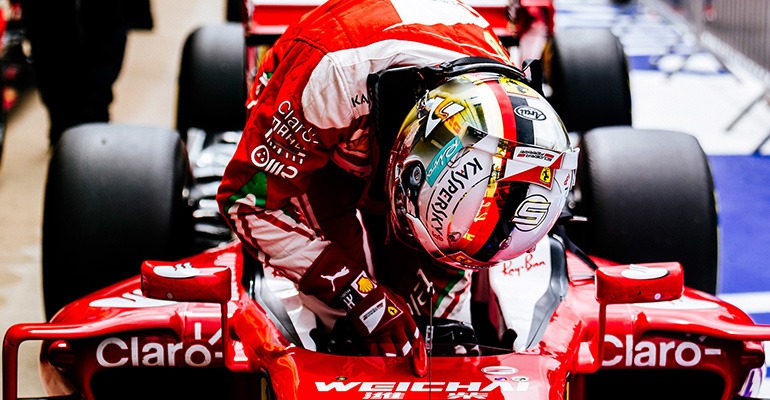 With 10 laps to go, Kimi had closed the gap to Perez. The Mexican kept looking at his mirrors, seeing the "red danger" coming closer and closer. Five laps before the chequered flag it finally happened - Kimi made a classy overtaking move on the Force India pilot and moved to 5th! Kimi was driving a consistent and strong race, but, unfortunately, there was nothing Ferrari could do to challenge the Red Bull drivers, not to mention the Mercedes duo.
On the closing laps Rosberg reported on the team radio about a gearbox problem - the 7th gear had failed. Rosberg asked for help from his team; I was quite amazed to hear, how the team gave Rosberg specific instructions on how to deal with the problem. Was that really allowed? I mean, previously the team hadn't been allowed to tell Hamilton how to change his engine setting, and Force India hadn't been allowed to warn Perez about a probable brake failure. How come Rosberg's gearbox was an exception to the rule?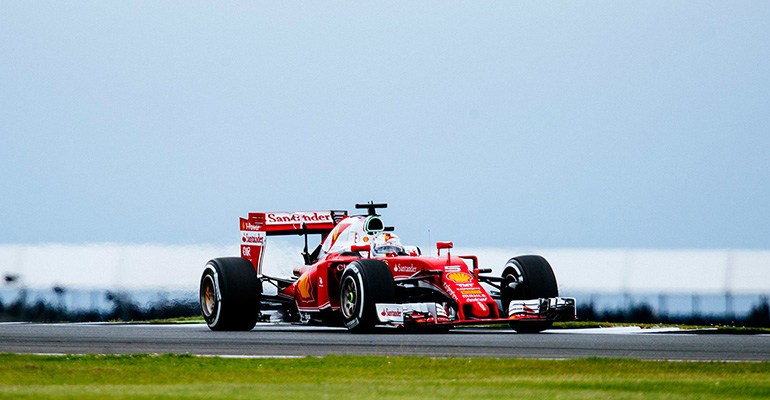 There was no stopping Hamilton. The Briton took his 3rd consecutive win at Silverstone. With the help from his team, Rosberg was the runner-up right ahead of Red Bull's Verstappen. Teammate Ricciardo finished 4th, and Kimi came 5th. Sebastian had no choice but to settle for the P9 this time. It seems Red Bull has taken the battle to Ferrari for real. Ferrari's second place in the constructors' standings is definitely threatened.
Rosberg's case was to be investigated after the race, and it turned out that the German's gearbox situation was no different than Hamilton's engine setting or Perez's brake issue! Rosberg was handed a 10-second time penalty for the team radio breach, which dropped him to P3 behind Verstappen. Now there's only one point separating the Mercedes drivers in the drivers' standings in favour of Rosberg! Kimi is now third in the standings, Ricciardo 4th and Sebastian - 5th.
British GP was a tough race for Ferrari, but I believe the Italian-based team will bounce back sooner or later. They definitely have some homework to do, but the team has the passion, desire and motivation required to turn the setbacks into success! So - onwards and upwards! Forza Ferrari!
With passion for racing red, 
Iina Huhmarniemi