Bernie Ecclestone has reigned for 40 years in Formula 1 community, the highest concentration of millionaires per square meter in the world. The inventor and ex-owner of Formula 1 is a genial business magnate. A handshake is as important as a signature to him. He's got a great sense of humour.
He started to work in an environment where people had passion and did not care about money; so he said, leave all the organization to me, and he made Formula 1 in a global business, with himself being the manipulator of it. Despite of being the best negotiator ever, he loved his toys, loved cars. He owned plenty of vintage cars and had no time to enjoy them. He sold his beautiful car collection without having driven most of his masterpieces.
He started working in 1947 selling second-hand motorbikes and cars in South London, and would still be doing it without the boom in F1. He would have liked to retire and travel the world after having bought the Brabham team, but he got involved in the business.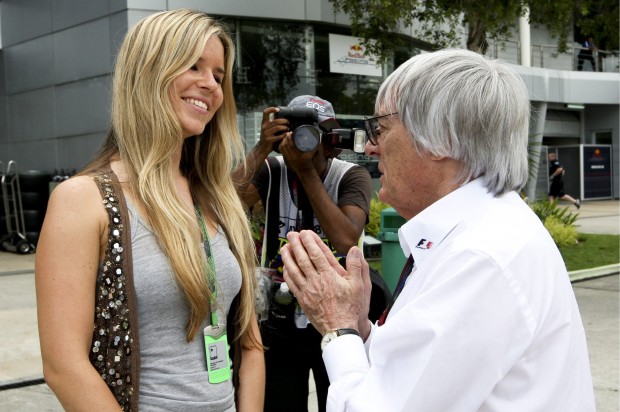 In motor racing he started as a competitor (he entered two Grand Prix races as a driver, during the 1958 season, but failed to qualify for either of them) and then as a manager of drivers. He is now one of the richest men in the UK.
Bernard Charles "Bernie" Ecclestone was born 28 October 1930 in St Peter, South Elmham, a hamlet three miles south of Bungay, Suffolk. The son of a fisherman, he pursued his hobby of motorcycles. Immediately after the end of World War II, Ecclestone went into business trading in spare parts for motorcycles. He drove only a limited number of races, mainly at his local circuit, Brands Hatch, but achieved a number of good placings and an occasional win. He initially retired from racing following several accidents at Brands Hatch, intending to focus on his business interests.
Ecclestone even attempted, unsuccessfully, to qualify a car himself at Monaco in 1958 (although this has since been described as "not a serious attempt"). Later on, he once again retired from racing. Having bought the Brabham team for approximately $120,000 at the end of 1971, Ecclestone eventually sold it for over US $5 million. He was the chief executive of the Formula One Group, which managed Formula One and controlled the commercial rights to the sport. As such, he was generally considered the primary authority in Formula One racing.
Leaving school at 16, he assumed control of F1CA in 1978 and turned it from a 'club' into a business, renaming it the Formula One Constructors' Association, or FOCA, and taking over the worldwide broadcast rights to Formula 1 in more than 100 countries. A banker looking at a possible flotation of Formula 1 in the 90s - when it was valued at £2.5 billion and Ecclestone earned £1 million a week - was surprised to find it owned just one building and a few vehicles. The normal corporate organization didn't exist: there was just Ecclestone, with his ever-present briefcase, controlling everything. He insisted contracts were written in English, no matter what nationalities were involved. 'If they can't speak English,' he once said, 'they aren't worth knowing.'
Despite heart surgery and triple coronary bypass in 1999, Ecclestone has remained as energetic as always. The Forbes World's Billionaires List of 2011 ranked Ecclestone as the 4th richest person in the United Kingdom, with an estimated fortune of $4.2 billion. In early 2004, he sold one of his London residences in Kensington Palace Gardens, never having lived in it, to steel magnate Lakshmi Mittal for £57.1 million. At Grand Prix venues, Ecclestone used a grey mobile home, known as "Bernie's bus", as his headquarters. In 2005, Ecclestone sold his £9 million yacht Va Bene to his friend Eric Clapton.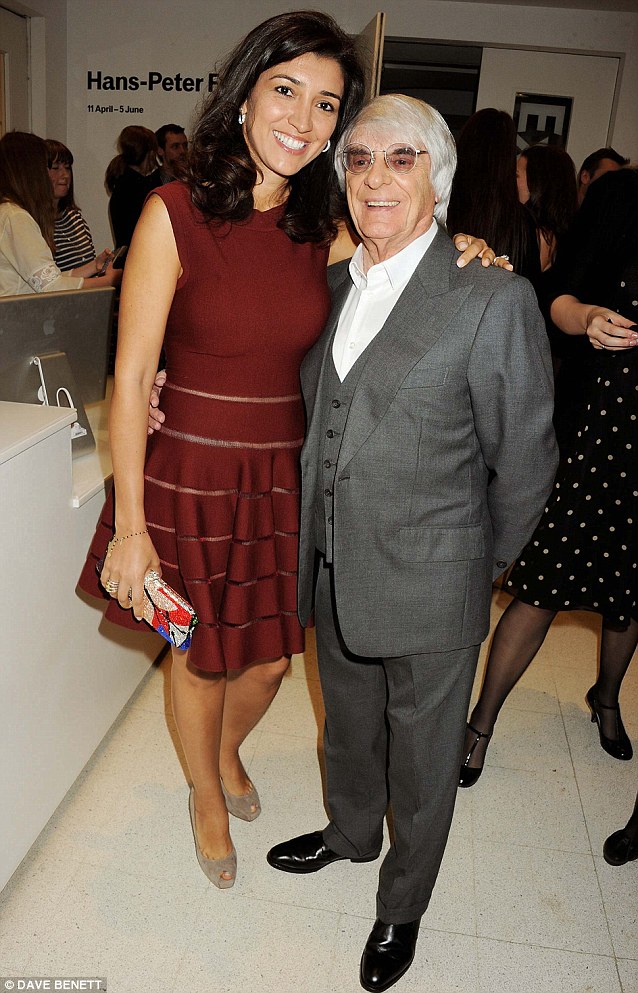 And he loves tall women… Ecclestone has been married three times. He has a daughter, Deborah, with first wife Ivy. He has five grandchildren. He also had a 17-year-long relationship with Tuana Tan, which ended in 1984 when Slavica (later his second wife) became pregnant. He was then married to Slavica Radić for 23 years. Radić was born in the town of Rijeka in Croatia in 1958. The couple has two daughters, Tamara (born 1984) and Petra (born 1988). On 20 November 2008 Slavica filed for divorce that she settled amicably with her receiving a reported $1 to 1.5 billion settlement. In April 2012, Ecclestone announced his engagement to 35-year-old Fabiana Flosi who was the Vice-President of Marketing for the Brazilian Grand Prix. She is 47 years his junior.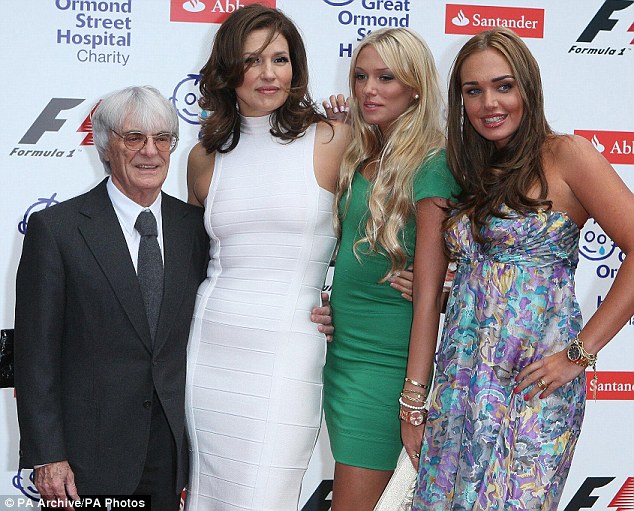 Bernie Ecclestone is a foot shorter than his ex-wife Slavica (1.88 m.), whom he married in 1985. In September 1982, the undisputed king of Formula 1 spotted a striking, six-foot model standing with Nelson Piquet in the pits at Monza race circuit. Her name was Slavica. 'Get out of here,' Ecclestone ordered the 23-year-old. 'I'm staying here,' she replied brusquely in pidgin English, unaware who she was talking to. 'It's my duty.' 'I don't care. No girls in the pits. Out!' insisted Ecclestone, then 51. 'If you come any nearer, I'll kick you,' she retorted in her thick accent. Impressed by her feisty response, Ecclestone introduced himself, then invited her for lunch. Slavica later asked a photographer: 'I met this guy who was trying to break my b***s and he said he's in charge of Formula 1. Do you think it's true?'
Ecclestone already had a girlfriend at the time he met Slavica. Tuana Tan had been his lover for 17 years. Without fuss she cooked his meals, laid out his clothes and even squeezed the toothpaste on to the brush in the morning. For a man who adored the unpredictability of work, his domestic routine never changed. Arriving home, he first cleaned his shoes, then straightened the curtains. Next, he moved any ornaments that were not properly squared, and finally he sat down, content that every part of his world was perfect.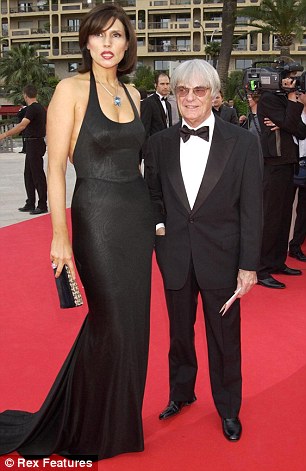 Slavica was the opposite: fiery, fun and a challenge. The 28-year age gap and the 12in height difference was no barrier to the relationship. She felt conscious of 'dirty looks' thrown in her direction for being with a man old enough to be her father. It was the start of a turbulent relationship that would last 25 years.
Her innate anger was one of her attractions. Nelson Piquet, who drove for Ecclestone's Brabham team, told his girlfriend one night: 'Bernie and Slavica are fighting like hell.' He added: 'Bernie takes no s*** from anyone but he takes it from that woman.' Piquet thought Slavica was difficult, cold, loud and even inelegant. Bernie was attracted to the challenge of the strong, opinionated Slavica, remembering his mother's strict control over their home and his father.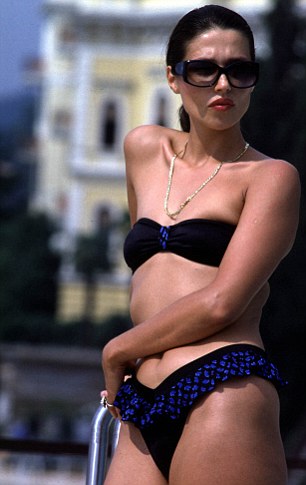 'Marriage,' Ecclestone frequently told friends, 'is like going to the nick. Not very exciting.' About the wedding: 'we should have lunch to celebrate,' said the bride, dressed in perilously high heels and skimpy miniskirt. 'OK,' agreed Ecclestone morosely, 'we'll try Langan's.' Jumping out of his car as they reached the Piccadilly restaurant, Ecclestone was told no tables were available. 'Right, I'm off to the office,' he told his new wife. 'See you later. Take a cab home.' The wedding was not a treasured moment.
At home on her own, the new Mrs. Ecclestone cursed her husband's work ethic - and his simple tastes. There were no fine wines in the fridge, just beer. There were no delicacies in the kitchen because her husband was happiest with egg and toast covered with brown sauce. Ecclestone tolerated the cynics who quipped that he and Slavica were the same height once Bernie was standing on his wallet.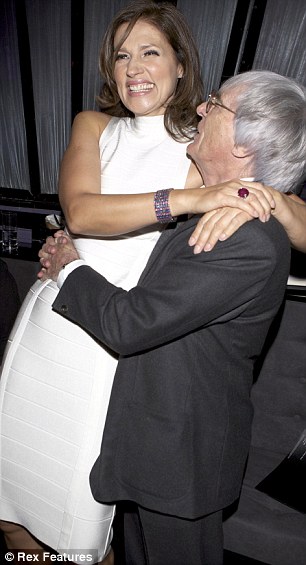 There was no end to his devotion to Slavica. In 1996 he set about transferring all his wealth to an offshore trust in Jersey, owned by her. 'No one in the world believes I would have given all that I had to my wife,' said Ecclestone, 'but that is actually what I did. I wanted to make sure that she and the children were well looked after if anything happened to me.'
Slavica was keen on couture clothes and a life of glamour, which was at odds with Bernie's simple tastes. She shouts a lot,' he told a newspaper, 'and sometimes she throws plates. I go and hide in the next room because she seems to love terrorising me.' As a joke, he fixed a sign on the kitchen door: 'Never mind the dog, beware of the wife.' 'I just love being taller because I can cuddle him. He's so sweet.' His contribution was earthier: 'I realised Slavica was special the third time I slept with her.'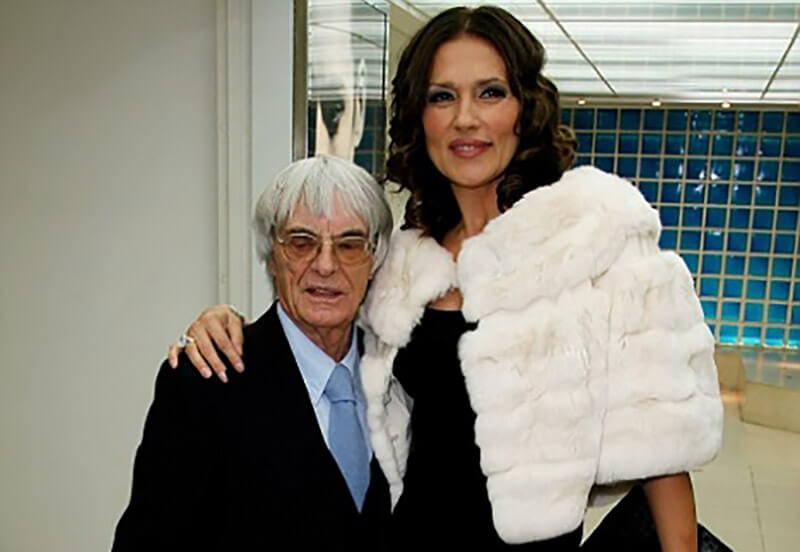 Years later Niki Lauda saw Ecclestone walking miserably through the paddock at Silverstone. 'Bernie, what's wrong?' he asked. 'Is she breaking your b***s? Bernie, you've fixed so many things, so you're going to have to fix this too.' Ecclestone was silent. At the end, he received a lawyer's letter saying Slavica was filing for divorce. Naturally the outstanding issue was the fate of about £2 billion in the family trusts. He wanted to avoid arguments. 'Tell her I'll agree to anything she thinks is fair,' he instructed, 'That leaves me with enough at my age.' How the Ecclestone 's money was controlled and divided up, remains confidential. But the man once hailed as Britain's highest earner had probably become the victim of the biggest divorce settlement in British history.
The smartest business man, the unbeatable shark, was just an old, rich man who married a model - same old story. Nothing new under the sun. He is a traditional, genuine, family oriented, generous, simple and frugal man. The money, success, power didn't change him. He was playing his personal game, seriously, with passion. He can still proudly say: I'm a gentleman.
QUOTES
-          'You can have anything you like, as long as you pay too much for it,' but we can't pay too much for something...
-          He said that women would never excel in Formula One, stating "she would have to be a woman who was blowing away the boys…..". He also declared that teams wouldn't select a woman driver if they could find a competent male.
-          In an interview published on 4 July 2009, he said: "Terrible to say this I suppose, but apart from the fact that Hitler got taken away and persuaded to do things that I have no idea whether he wanted to do or not, he was – in the way that he could command a lot of people – able to get things done" According to Ecclestone: "If you have a look at a democracy it hasn't done a lot of good for many countries — including this one", in reference to the United Kingdom
-          Tom Bower's No Angel: The Secret Life of Bernie Ecclestone, a biography purportedly written with Ecclestone's co-operation, recounts an episode at the 1979 Argentine Grand Prix in which Colin Chapman offered Mario Andretti $1000 to push Ecclestone into a hotel swimming pool in Buenos Aires. A nervous Andretti approached Ecclestone and confessed the plot, to which Ecclestone replied: "Pay me half and you can."
-          in 1974, Bernie was hanging around a hotel pool with some Formula 1 staff. Watching a German driver swim two lengths underwater, Ecclestone belittled his efforts. Challenged that he could not do the same, he said: 'Right, what's the bet?' 'One hundred dollars,' came the reply. 'Let's get the bet exactly,' said Ecclestone. 'You're saying I can't swim two lengths underwater?' Heads nodded.
'Right,' said Ecclestone. 'Go and get me a snorkel.' The incident gave an insight into Ecclestone's moneymaking skills and his ruthless attitude. His Formula 1 deals and contracts depended not only on the agreed terms, but equally on what was omitted - in this case, a snorkel.
"I was deposed today. I've gone. That's official. I am not running the company anymore. My position has been taken over by Chase Carey." "My days in the office will be somewhat quieter. Maybe I'll come to a Grand Prix. I still have lots of friends in Formula One," "I have enough money to be able to afford to visit a race."
Bernie Ecclestone is not the chief anymore. It's hard to believe it. Formula 1 will never have somebody like him. Chapeau Bernie, an era of motor racing ends with you.