Date of publication August 2, 2017
by Piero Savazzi for The Paddock Magazine
There are no doubts. A highly competitive Ferrari has reignited interest and attention for Formula One. We have witnessed it for what concerns the races, with the wonderful results obtained in this first half of the 2017 F1 World Championship, but also for what the presence of Ferrari, as a high competitor, has generated in the Circus. We know very well that Formula 1 is much more than an open-wheel car race on track. it's a global platform for the marketing of brands and production; it's a stage for the showcase of new technologies in the automotive field; it's a training field for communication and organization.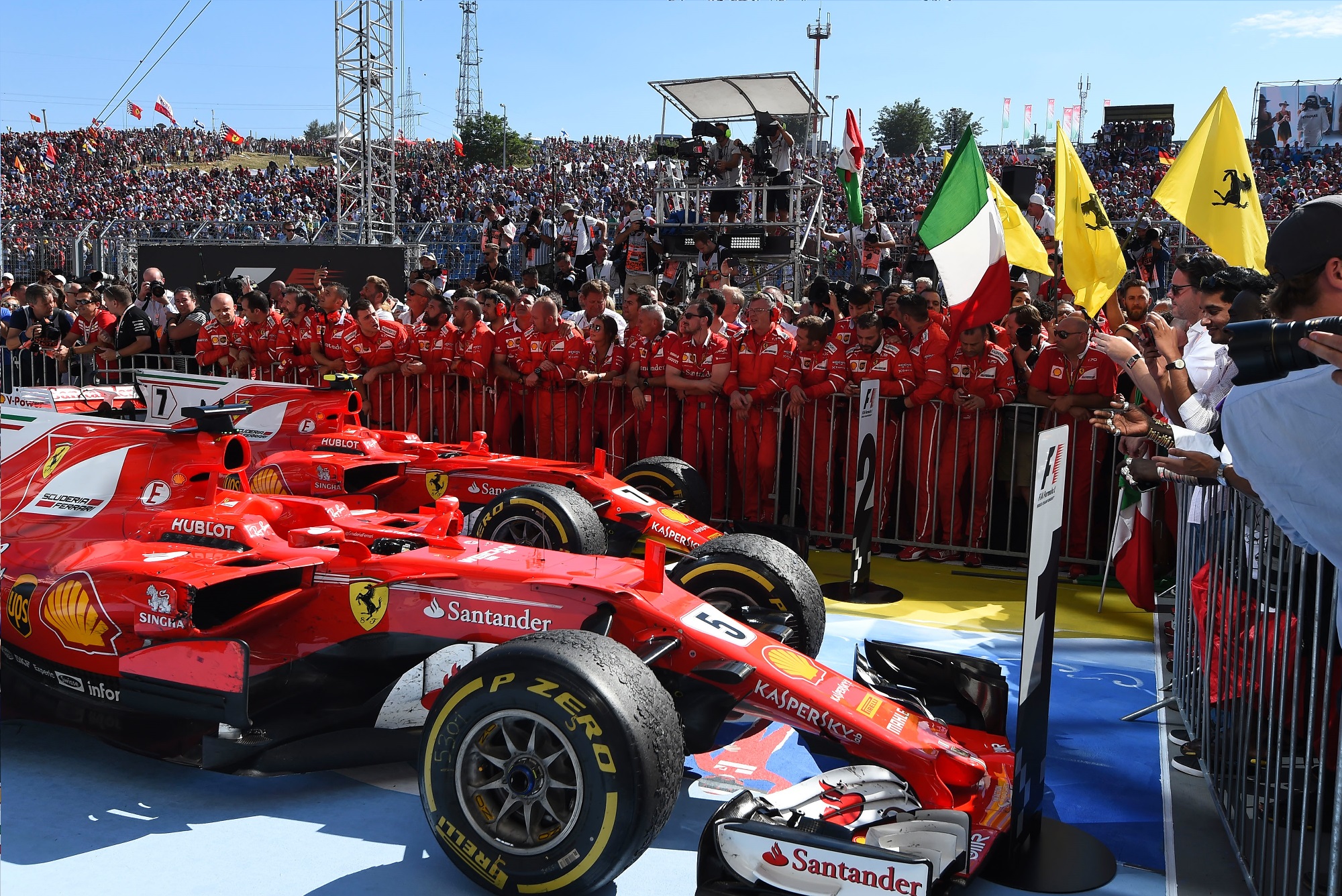 Anything that is able to increase or renew interest in this sport can only generate positive effects; even if we refer to profits, for those who actively participate at any level and those who organize and manage the Circus.
The recipe of this new successful Ferrari, chosen and used by the Company's Management, was massively drawn to the attention of the World of Media. Amongst the ingredients of this recipe there's a new organizational model in the technical area of the (Ge.S. - Gestione Sportiva) Sports Management Area. This drastic change follows the abrupt end of collaboration with Engineer James Allison (July 2016), who is now working as Technical Director in Mercedes' F1 team.
From a "Vertical Model" with intermediate executive and decision-making levels, the "Prancing Horse" has moved toward a more "flat" structure. The Company has designated Engineer Mattia Binotto, former Head of Ferrari F1 Power Unit, to be the coordinator of this operation. Binotto became a part of the Ferrari family in 1995 and over the years, aside from his technical expertise, he has been able to let his skills as organizer and HR Manager shine.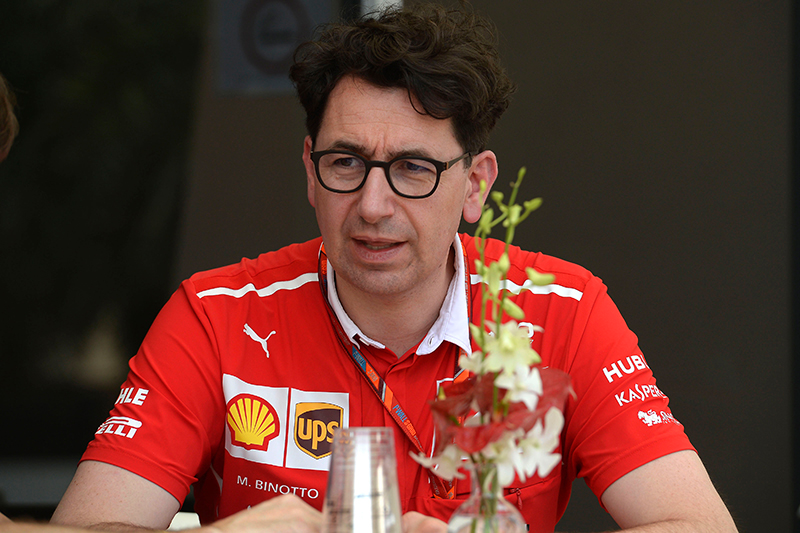 Mattia Binotto - Chief Technical Officier Scuderia Ferrari F1
Leaving aside my long-lasting passion for car racing, as a professional in the Organization and Communication Industry, I could not resist to observe with interest the new organization choice of the F1 Team, which both competes at high technological levels and has a significant emotional component.
A flat organization
By definition an organization is considered "flat" when a wide number of people is coordinated by a single supervisor, and the number of intermediate decision-making levels is limited. Staff involvement in the decision-making process becomes more immediate. With this well-defined, clear, shared vision and mission, characterized by key words such as "growing, competing and winning" Ferrari managed to implement a significant improvement in its staff performances, no one excluded.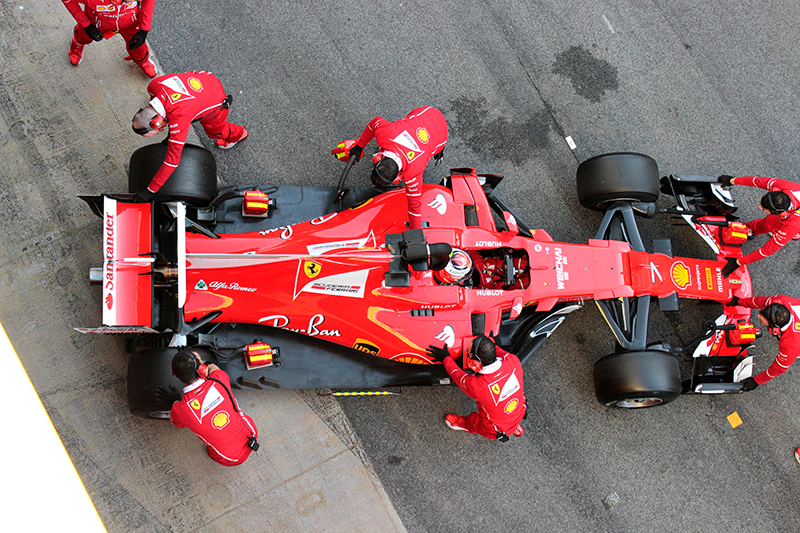 And, seen that the level of expertise is generally extremely high, sharing ideas, experiences and abilities all contributes in creating a winning product. This is a Win-Win philosophy in which everything improves: relationship between the staff, business atmosphere, awareness of working for a higher result. Everyone is stimulated to always be at its best and win, in everything they do.
Time to market
"Time to Market", which is a very dear term to those who work in Marketing, for the F1 world represents the time in which innovations and changes are introduced and tested on a car. The almost total lack of track tests, as opposed to a few years ago, required a deep reorganization of the design process, production and development on the various components for a single-seater. This is even more necessary now that the new regulations require for F1 cars to be more green and close to the road, and that the major brands involved in the Championship push toward a continuous research for better aerodynamics, a good balance between the drivers' experience and people's show, innovation and improvement of the "Time to Market", more efficient and consistent models with a Winning Vision.
The right men
Transferring this kind of change from paper to reality takes the right men: Mr Marchionne, CEO of Ferrari, Mattia Binotto as the technical director of this new flat organization, alongside of Simone Resta (design), Enrico Cardile (aerodynamics), Luigi Fraboni (Power Unit Operations). Many of these men have grown within the Company, worked for this change and, by looking at the results, even at this early stage, we can say they were the right choice.
Simone Resta - Chief Designer Scuderia Ferrari F1
I personally had the chance to meet Mattia Binotto and Simone Resta a few months ago. The first one is a perfect combination of technical knowledge and the ability to make complex concepts extremely easy; he can capture people's attention with ease and disarming tranquillity. The second one, less voluble, but with an uncommon technical knowledge.
Both are extremely determined and passionate in what they do, they have a strong sense of belonging toward the Company that they live ad an entity, a world symbol and that pushes them to give it their best 24/7. This is an example but we could say the same thing for all the members of the team. No one excluded. Combining these people's abilities into a flat organization has produced obvious positive effects. Results that reflect on the entire business ecology, affecting not only the brand but also F1 in general.
Together we stand
I was looking for some organizational models outside the car racing world and I came across an Italian institution with the same mentality; another Italian excellence: the National Acrobatic Patrol of the Italian Military air force; the renowned "Frecce Tricolori".
Their low-level fly by on the Monza track, just a few minutes before the green light of the F1 Italian GP, is always awaited, colourful and exciting. This is clearly a different sector than car racing but it shows similar characteristics in terms of organization, commitment, technology and quality of work. Some of the similarities are: the training of pilots and technicians, the incredible attention in the preparation and maintenance of the aircrafts, a Patrol Commander's duty, and vehicles, a Team Principal's duty for a racing team.
I had the privilege to witness a typical day of the Acrobatic Patrol, last march (2017), and in my mind I had the aim of verifying affinities between the two organization systems. Team work, team building and constant dialogue are essential elements, as well as physical and mental preparation, alongside unconditional confidence in the work of all the team members.
Mirco Caffelli - Chief Commander P.A.N. Frecce Tricolori
A perfect chain that start with Chief Commander Major Mirco Caffelli, and his colleagues: Major Gaetano Farina (Head of Formation in flight), Captain Mattia Bortoluzzi (Aircraft crossing and rejoins coordinator) and all the ground specialists such as Major Daniele Baldo (Head of Aircraft Efficiency).
This is a model that cannot exactly be defined as "flat" because of the respect due to the military hierarchy, but that surely shows similar features in the ways it is carried out with the goal of maximum performance, in safety.
I'm going to be honest, there are also other affinities and connection between Ferrari and "Frecce Tricolori", especially on an emotional level. One example, the radio name used by the Pilots of the Acrobat Patrol is "Pony" which proceeds from the "Prancing Horse" the unmistakable symbol of the Maranello Company. Moreover, to implement the "Ferrari Corporate Culture Project", a project which aim is the consolidation of the corporate culture, Ferrari had asked to a former Acrobatic Patrol Commander for professional contribution, namely Mr. Massimo Tammaro. No choice could have been better targeted.
A winning change
Formula 1 is not just a sport, it is much more. It's an "organized, technological and economic universe" that needs and deserves to be studied and understood, analysing every decision and solution made by the different teams. The organizational change made by Ferrari is a clear example of this.
And if the results are excellence and winning, we can't stop there. We have to observe the value produced projected across the all Organization, from Team Partners to Sponsors, toward the World Championship, and enthusiasts. Surely a noteworthy value.
Thanks for the availability and permissions granted:
- Military Air Force - General Communications Office - Public Information Office, Colonel Urbano Floreani and Lieutenant Simone Antonetti.
- the 313th Group A.A. – Frecce Tricolori, Commander Major Mirco Caffelli, all the Pilots, and Lieutenant Liberata D'Aniello and Captain Riccardo Chiapolino - Public Relations Officials
Piero Savazzi - for The Paddock Magazine
F1 photos from Ferrari Official Archive 2017 – Photos of Frecce Tricolori P.A.N. by Piero Savazzi
About the Author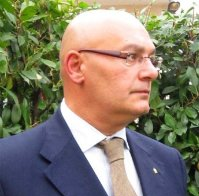 Piero Savazzi
Brand Journalist & Communication Manager
Journalist and expert in business organisation, Piero has a great passion for car racing, especially Formula 1, Endurance series, takes interest in the history of motorsports, and has never missed an edition of the Italian Grand Prix in Monza.