Round 3 brought the F1 circus under the floodlights of Sakhir. By the time of qualifying the sun had already set. Q2 showed that it was extremely tight between Mercedes and Ferrari. There were only 61 thousandths of a second separating the top three - Hamilton, Bottas and Vettel. However, in the decisive last session, the Ferraris seemed a bit toothless. Hamilton went fastest on his first run, but teammate Bottas managed to improve his time on the second run, and made it on pole by 23 thousandths of a second to his teammate Hamilton! This was the Finn's maiden pole; an impressive result considering the fact that Hamilton is known as one of the best qualifiers in the sport. Sebastian qualified third, being four tenths off Bottas' pace, which was surprisingly much.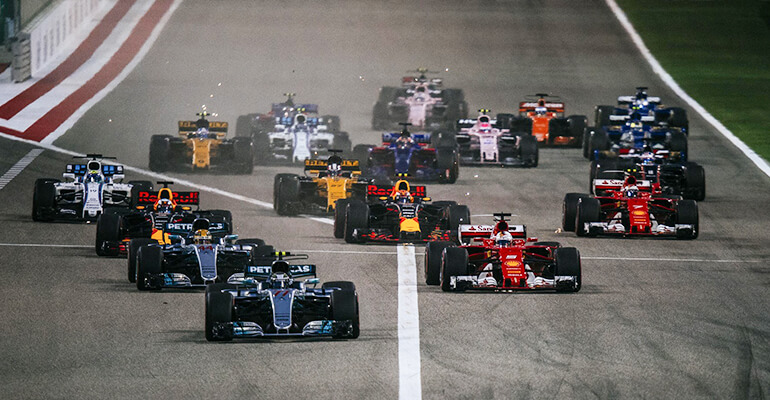 Once again Kimi in the other Ferrari complained about understeering issues. It seems that for some steering-related reason Kimi can't extract the maximum out of his SF70-H. The Iceman's qualifying was far from perfect, and the Finn had to be content with P5. Ricciardo in his Red Bull managed to qualify ahead of Kimi, but Verstappen in the other Red Bull got beaten by Kimi and was left in P7. Renault was the team that caught my eye in the qualifying as well, as Hulkenberg made it as high as P7 and teammate Palmer also made it among the top ten (P10).
When the lights went out, pole-sitter Bottas got the best start and held on to his lead. Teammate Hamilton, who started on the dirty side of the track, didn't get the best possible start, and was overtaken by storming Sebastian! Unfortunately, the poorest start was taken by Kimi, who lost positions both to Verstappen and Massa on the opening lap and was dropped down to P7. Sebastian was right at Bottas' tail and was hungry to overtake the Finn.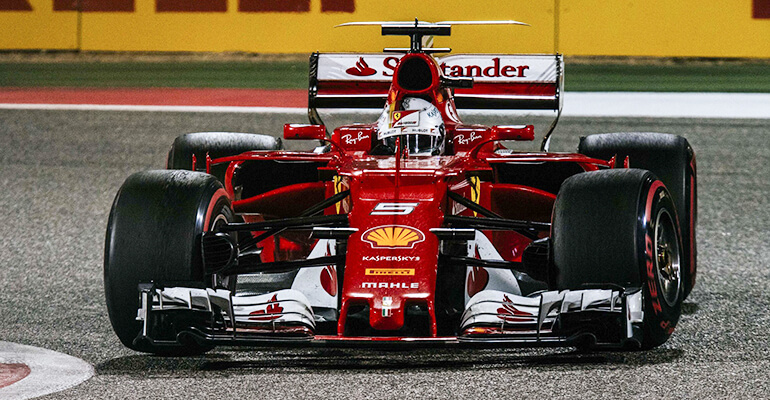 It was extremely tight between the top five. Race leader Bottas complained about lack of grip in terms of his rear tyres, and the team told him that his tyre pressures were high. Bottas was clearly struggling with his pace. Kimi was determined to get past his ex-teammate Massa; the Iceman made an overtaking move on lap 8 and passed the Brazilian. Ferrari made a bold strategic move on lap 11 as they called Sebastian in. Ferrari's plan was to benefit from the undercut, which worked out perfectly. Sebastian opted for another set of super soft tyres, and he was absolutely flying after his pit stop. Red Bull reacted right away and called Verstappen in. However, there was drama to come. Right after his pit stop, the Dutch Red Bull pilot suffered from a rear brake failure, and Max's race was over.
Another incident occurred only a moment later. Toro Rosso's Sainz was exiting the pits, but he crashed into Stroll's Williams, which caused a lot of debris on the track. Both drivers were out of the race, and safety car was deployed. (After the race Sainz was handed a 3-place grid penalty for Russian GP for causing the collision.) The Mercedes teammates drove into the pits sequentially, Bottas first. Hamilton, who came second, slowed down unnecessarily much; by this move he impeded Red Bull's Ricciardo, who was right at the Briton's tail. Stewards took this move into investigation, and Hamilton was given a 5-second time penalty for his manoeuvre.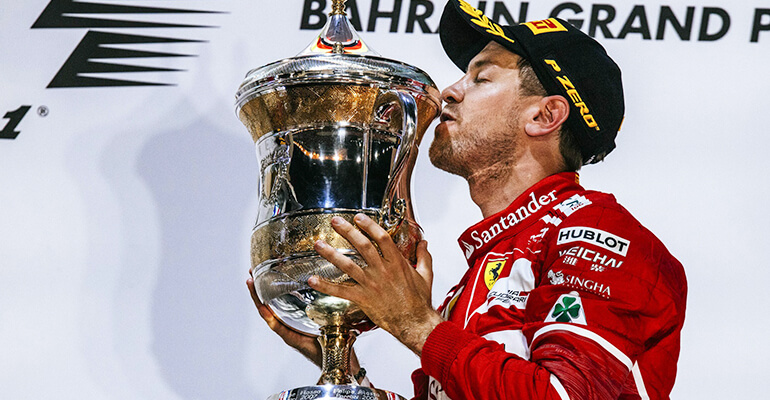 After the restart, Sebastian was leading the race with Bottas second and Hamilton third. Once again Kimi had dropped behind Massa and Ricciardo! Ricciardo, however, had opted for yellow-marked soft Pirellis and was suffering from lack of grip. Kimi had it easy to overtake the Australian! After passing Ricciardo, the Iceman "smelled Massa's blood" and a moment later the Finn made it past the Brazilian on the finish straight. Kimi was definitely driving a strong race.
Sebastian had increased his gap to Bottas into five seconds already. However, Hamilton had begun his hunt! Bottas, whose pace had miraculously disappeared over night, was told to let Hamilton past. That must have been a bittersweet moment for pole-setter Bottas. Hamilton had to suffer his penalty during the second pit stop, and he dropped down behind his teammate. However, there was nothing Bottas could do, as Hamilton stormed past him some laps later. Sebastian and Hamilton were on a different tyre compound - Sebastian on the soft and Hamilton on the super soft -, but there was no catching Sebastian! He took the second win of the season and made it on the top step of the podium. It was such a pleasure to watch Sebastian jumping for joy!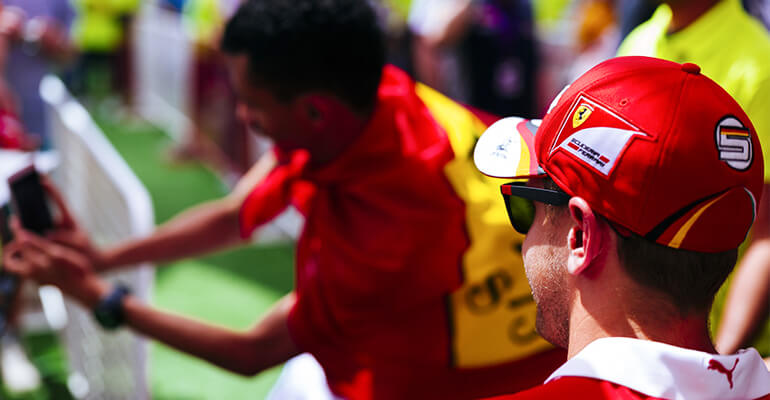 Kimi had to settle for P4. Behind the top four, Ricciardo finished 5th for Red Bull, Massa 6th for Williams, Perez 7th for Force India, Grosjean 8th for Haas, Hulkenberg 9th for Renault and Ocon 10th for Force India. Once again, good points for the pink cars! During and after the race there was a lot of talk about Kimi's strategy, and Kimi himself sounded extremely pissed on the team radio, questioning the team's strategy not to take him in sooner. In terms of the constructors' championship, it isn't enough, that Sebastian is winning races, the team has to do a better job with Kimi, too! So, in spite of the victory, Ferrari has some homework to do.
But it's absolutely brilliant that Sebastian is now leading the drivers' championship standings with 68 points to Hamilton's 61. Bottas (38 points) and Kimi (34 points) are both significantly down on their teammates. In terms of the constructors' standings, the situation is absolutely hair-raising. Ferrari has now 102 points to Mercedes' 99. Can´t wait for the Russian GP, which I'll be watching live at Sochi Autodrom! 
With passion for racing red, 
Iina Huhmarniemi