Drivers from different ages, even contiguous, cannot be compared, as the young drivers have a twenty-year advantage over the experienced ones regarding new technologies. They are born in a world that the oldest pilots have met much later than them. And so it happens that Senna, at the end of his career, is beaten by Schumacher, and the same Schumi, on his way out, is sometimes almost derided by a quick but not super quick driver like Nico Rorberg. And that Rosberg is in turn clearly beaten by Hamilton, who, however, is starting to be under pressure from Verstappen, who in fifteen years will be possibly beaten by semi-artificial drivers.
There is an opponent, in fact, that even the fastest driver ever will never be able to defeat: the passing of time. The greatest driver of all time is the quickest of our present time. So today it may be Verstappen, tomorrow someone else. Pilots are the expression of their time. Any driver from an era long past, parachuted in a today's F1 car, could be faster than current drivers.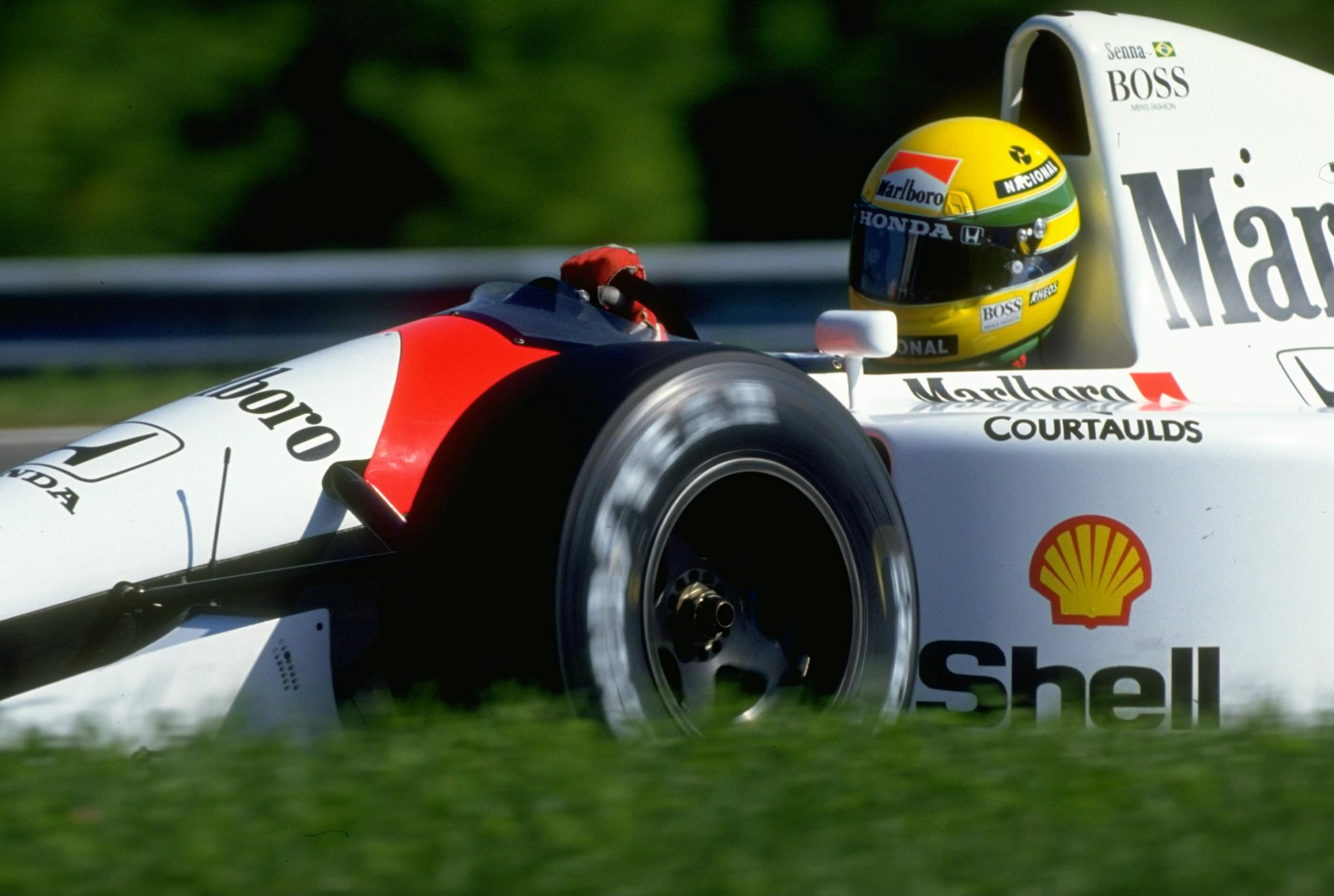 A ranking of top drivers of all time is therefore a strictly theoretical exercise and is necessarily based on sympathies, subjective impressions, parochial misconceptions, and so on. However, if we are to make an all-time ranking, Ayrton Senna is the driver who more than anyone could be considered number one.
There never was, in fact, a driver with no weaknesses, who combines speed over one lap and tactical intelligence to win championships. Hamilton and Verstappen are very quick over one lap but win even for the shortage of high-level strategists such as Prost, Schumi, Lauda or Ayrton, Schumacher had a very quick pace but wasn't the fastest over one lap.
"Senna just had all the credentials – the qualifying, the start, the first lap, the race pace, the consistency. He was good in traffic and he was very good in the rain. He had a sixth sense and a gift for knowing where the grip was," Martin Brundle has said. The charisma of Ayrton was the consequence of the uniqueness of his skills. He won, however, a lot less than Schumi, who had more approachable competitors indeed. But Schumi was driving with his head, Senna - with heart and instinct.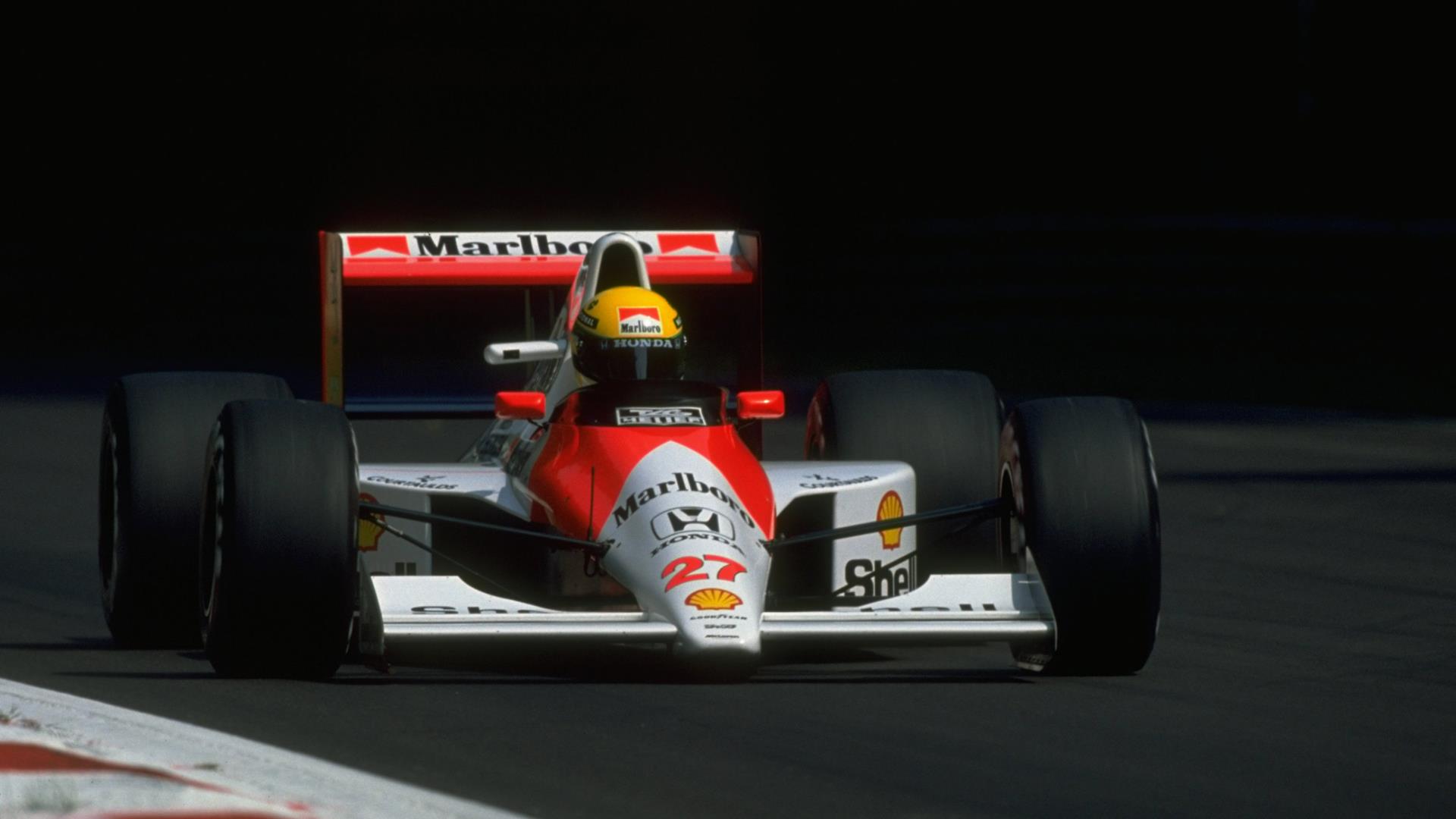 The Brazilia- born Ayrton Senna da Silva was like a comet in the history of Formula One; he was brilliant as a driver, with dazzling intellect and charisma; he burned bright, illuminating his way. Already as a boy he was excited by F1, and his ruthless ambition and determination to become a Formula driver – a champion – knew no obstacles. He drove like a madman – he was brave, daring, extreme, and fast; he always sought to extend his limits, to go faster than himself. His natural ease with modern cars and the profound understanding of them enabled him to reach new goals all the time; he saw driving as means of self-discovery. Balancing on the edge, he was always acutely aware of his own mortality: "The same moment you become the fastest, you are enormously fragile. Because in a split second, it can be gone. All of it." That split second found him in San Marino Grand Prix 1994, as millions watched Senna race to his death. His passion for speed and racing, and the willpower that drove him to always aim for more will forever be inspiring to all Formula fans throughout generations.
The Brazilian was often quoted as using driving as a means for self-discovery and racing as a metaphor for life: "the harder I push, the more I find within myself. I am always looking for the next step, a different world to go into, areas where I have not been before. It's lonely driving a Grand Prix car, but very absorbing. I have experienced new sensations, and I want more. That is my excitement, my motivation." Ayrton Senna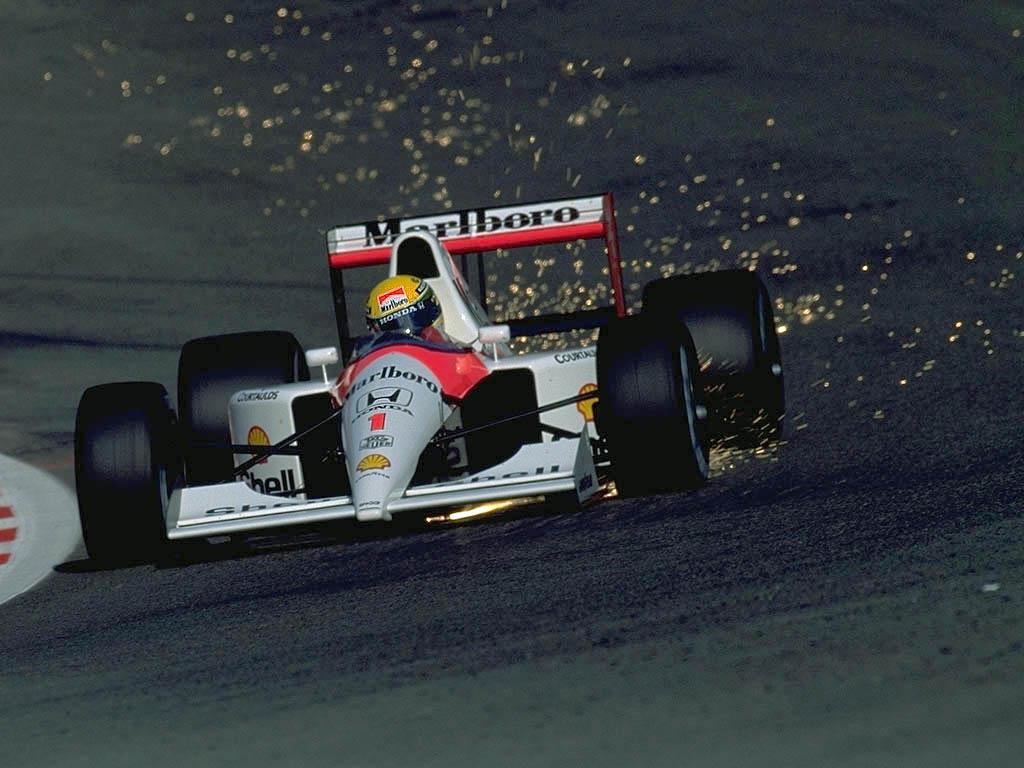 "Ayrton had a great talent and determination. He pushed the car to the limit, trying to make it doing even what it was unable to make. One of the things that I'm obsessed with more is that he made to believe from us we're the best as for the past three years we were. But the car of 1994, unfortunately, wasn't a good car." Adrian Newey
"Ayrton Senna is a genius. I define genius as just the right side of imbalance. He is highly developed to the point where he's almost over the edge. It's a close call". "I haven't seen another Ayrton. Possibly Michael Schumacher was one of those who got more closer to him. But Schumacher was driving with his head, Senna with the heart. Schumacher was one of the most complete drivers, Senna was more natural." "Obviously he had his adventures with Prost later on, particularly Suzuka '90. I'd say he was a tough and hard racer, but I didn't find him unfair." Martin Brundle
"Ayrton Senna may be a genius, but he is a flawed genius". "The best driver in Grand Prix racing, the best driver in the world by a long way. Probably the greatest racing driver of all time". "Prost burned his brain because of Senna. Before the race starts, he knows to get beat." James Hunt
"Senna was an inspiration and, even though it's been 20 years, his spirit survives in all the racing drivers." Valentino Rossi
"Senna really is the best racing driver in the world, not only the fastest". "He was probably the fastest champion I ever saw. He was always stretching the elastic. My goodness was he quick." Jackie Stewart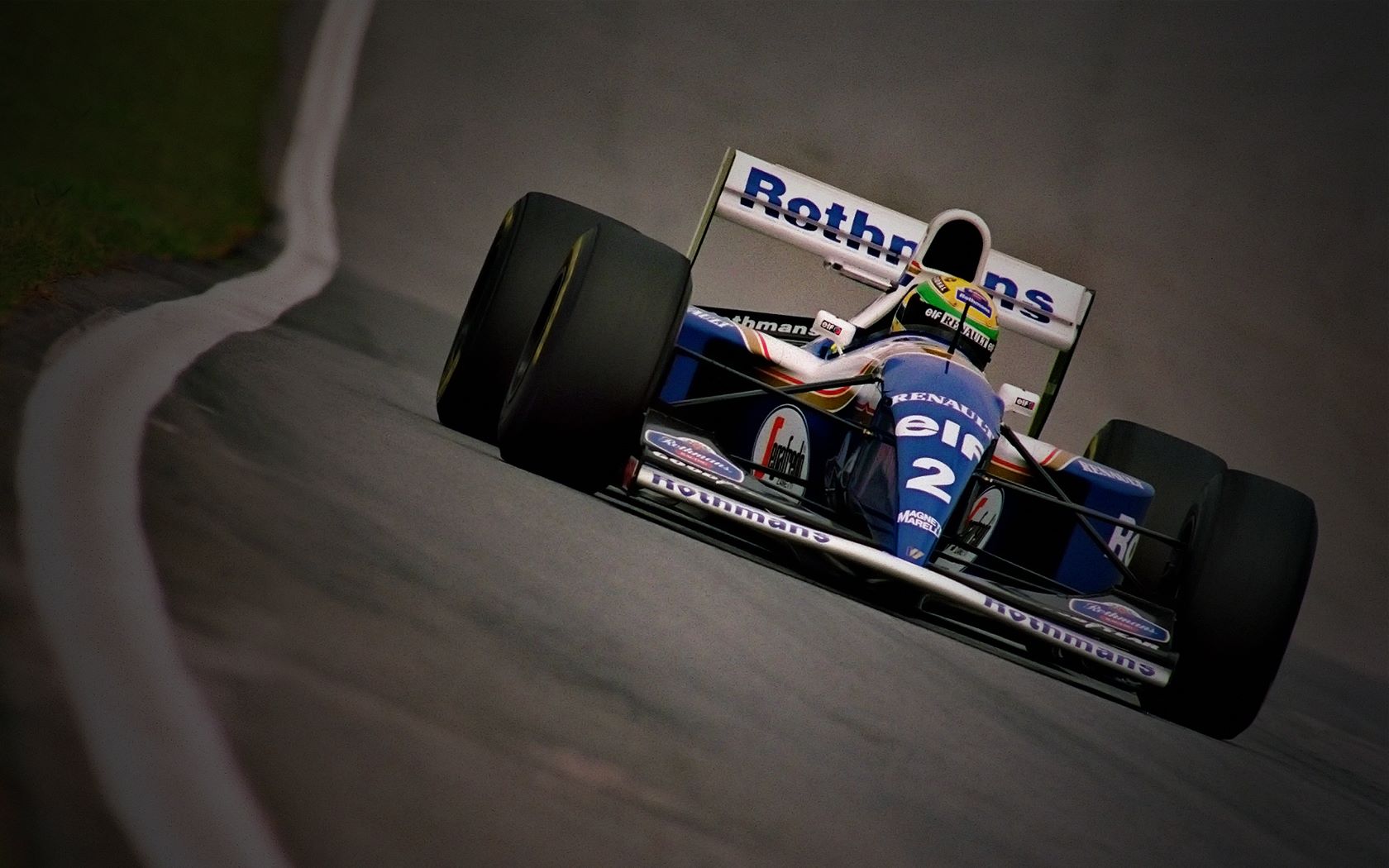 "Without any doubt the best driver in Grand Prix racing today." Alan Jones, 1993
"Without doubt the greatest racing driver ever. The guy is head and shoulders ahead of everybody else currently in Formula One." John Watson
"I tried to find weaknesses in Senna, but I couldn't. He is 100 per cent in everything. I learned a lot from him, so for me it was a good three years. And I still like Senna. We had good fun, a good relationship." Gerhard Berger, 1993
"Senna was the greatest driver ever and when someone like him is killed you have to ask yourself what is the point of it all." Niki Lauda, May 1 1994
"To my mind, he was the best driver Grand Prix racing has ever seen." Jonathan Palmer, May 1 1994
"He might have been the greatest driver of all time. There was not a weakness in Ayrton Senna." Michael Andretti, 1994
"His loss is impossible to quantify. Everyone who has ever met him in whatever capacity feels they have lost someone very special." Frank Williams, 1994
"He got to a position where he was only equalled probably, by Fangio." Stirling Moss, 1994
"I still believe Senna was and remains the best F1 driver I have ever seen." Bernie Ecclestone
"I'll be honest with you; I was never a Senna fan. I always thought Gilles Villeneuve was the greatest racing driver of them all. But, to make this film, I've watched hours and hours and hours of footage. And the thing is, Villeneuve was spectacular on a number of occasions. Senna — he was spectacular every single time he got in a car." Jeremy Clarkson, 2010, Top Gear, Series 15, Episode 5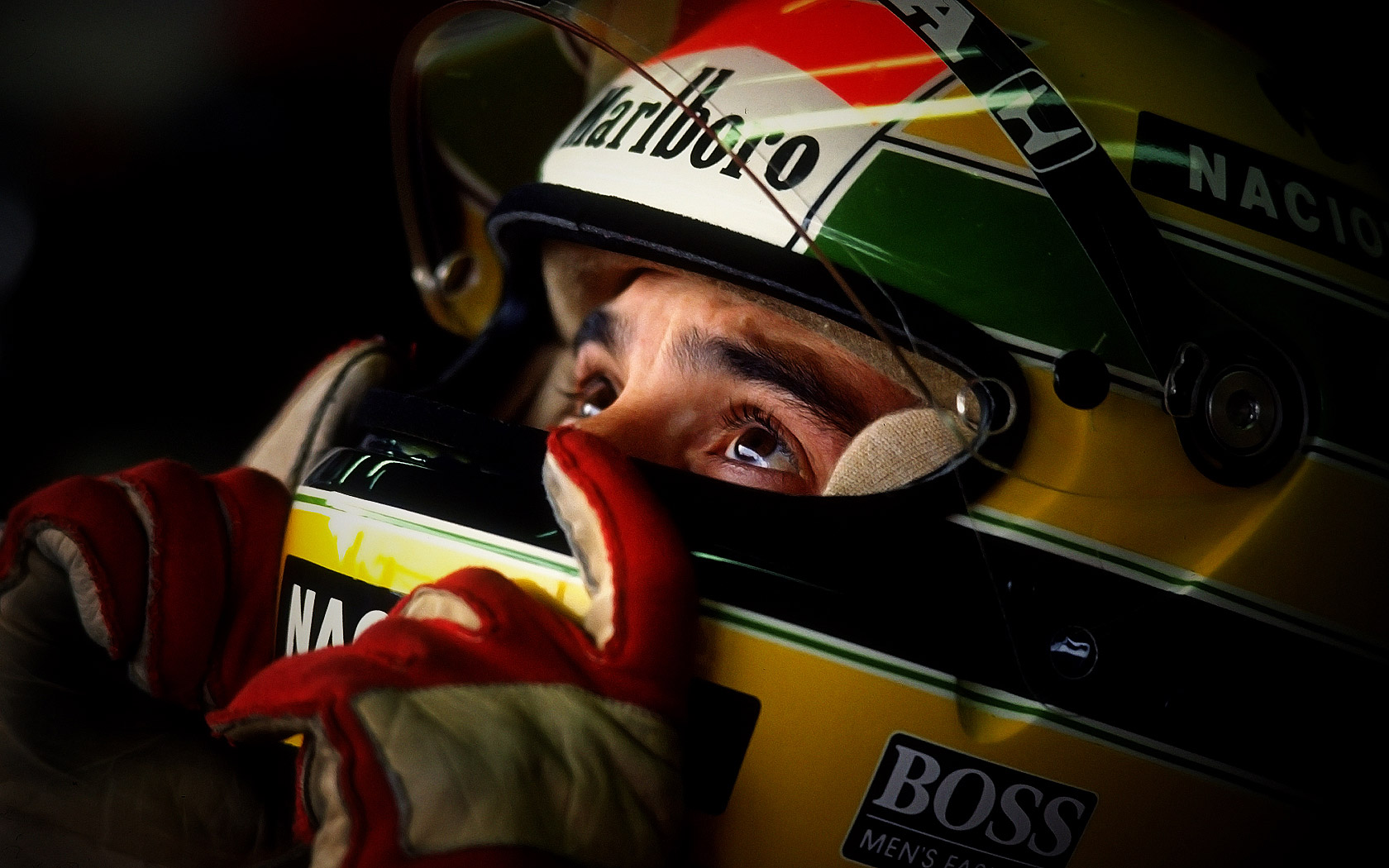 Sometimes the target is too important not to risk a little more than we have to. And people who do this become legends. Very quick on track, mystical off it. His capacity of focus and abstraction, due to the practice of meditation, in addition to maniacal physical preparation uncommon at the time, were his best weapons. Ayrton was unbeatable in his head and in his body. Racing and winning were his only life goals, no wife, no children, no family, nothing that remotely turn him away from what he set out to do. Ready to stay in the pits until midnight, keeping on asking questions to everyone about everything. He knew the car like had never happened before to any other driver.
He went into the corners every time faster putting unlimited trust in his ability to get out of them anyway. Very precise in a race and in qualification, impenetrable when he didn't want to open up to the world. Unique. Delusional. Magic. Charming. Complicated. Wonderfully talented. The pilot of the hearth, before than of numbers. His eyes were not cheerful all the way, not even when he was walking around the pits hand in hand with his girlfriend of the moment, girls who didn't go unnoticed, from Xuxa to Adriane and Carol Alt. There was always a drop of melancholy in his deep gaze. Intense and rarely smiling was always the expression on his face. Constantly divided between tension and concentration.
He was not an easy guy, but he could explain in simple terms how he felt even when, to the world he admitted that at Suzuka in 1991, a year before, he kicked Prost and the Ferrari off the track on purpose "non for revenge, but to bring justice." Watkins told of a conversation he had with Senna the evening before the Grand Prix when he'd be dead. Watkins said to Senna that anyone couldn't have blamed him – he, Ayrton Senna, the greatest driver ever – if on Sunday he'd have chosen not to race, or even to retire. "Come on, I will retire too, and we'll go fishing together," Watkins told him. "Sid, you know I cannot," Senna answered.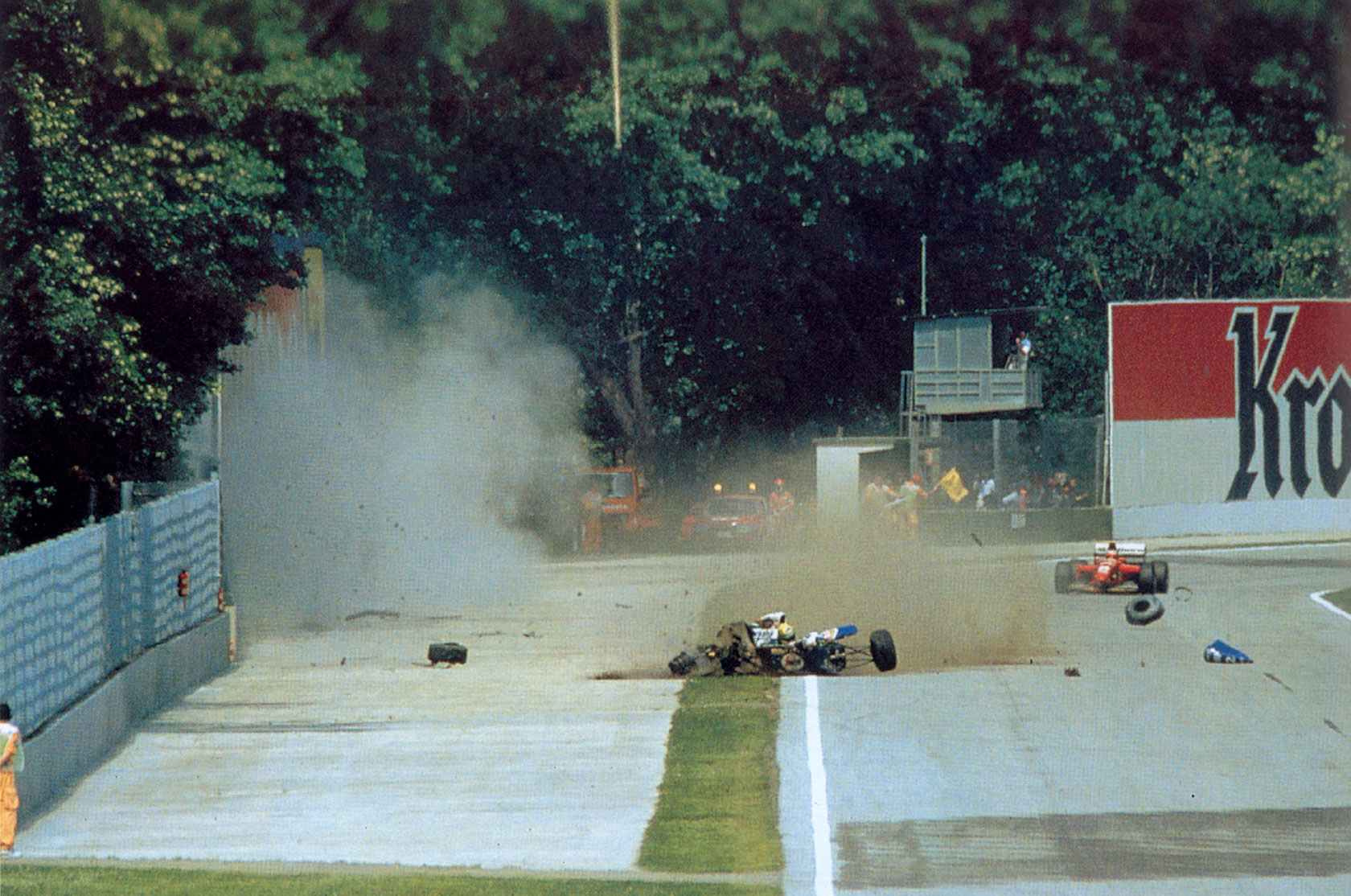 It has been calculated that, in the very small space and time before the impact, Senna tried to stop the car braking and decelerating abruptly, and that he managed to reduce the speed of about a hundred of kilometres per hour. The impact was very violent and almost frontal anyway, and the car bounced off stopping near the track, half-ruined but with the safety cage substantially intact. On air, the television footage of the car, now stopped, showed the helmet of Senna moving slightly and then not anymore. Watkins, who in treating Senna appreciated that he would not survive as soon as he studied the wounds beneath his yellow helmet, recalled it thus: "he sighed, then his body relaxed." Not an avowedly religious man, the neurosurgeon said: "that was the moment I thought his spirit departed."
Turrini told that, rather than travel in cargo, Senna's coffin was placed in business class, wrapped in a Brazilian flag, in a space obtained by removing same seats. The captain of the plane informed passengers of the presence of the body of Senna on board, and gave to all those who'd want the opportunity to go to say him goodbye, in some kind of flying funeral parlor.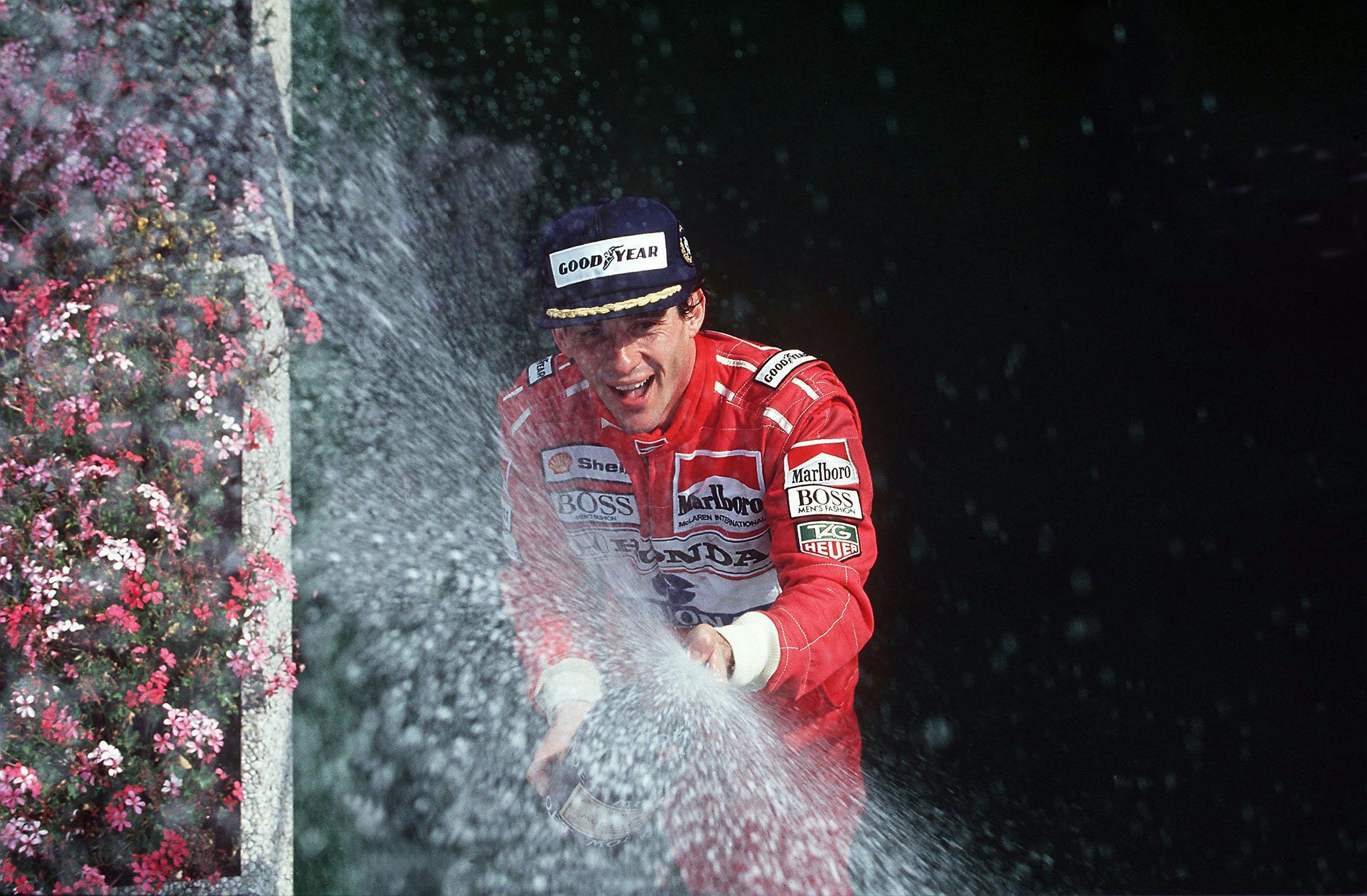 Ayrton Senna da Silva, 21 March 1960 – 1 May 1994, won three F1 world championships for McLaren in 1988, 1990 and 1991. He made his F1 debut with Toleman-Hart in 1984, before moving to Lotus-Renault the following year and winning six GP over the next three seasons. In 1988, he joined McLaren-Honda. In 1992, the Williams-Renault combination began to dominate F1. Senna nonetheless managed to finish the 1993 season as runner-up, winning five races and negotiating a move to Williams in 1994. Senna has often been voted as the best and most influential F1 driver of all time in various motorsport polls. He was recognised for his qualifying speed over one lap and also acclaimed for his wet weather performances, such as the 1984 Monaco GP, the 1985 Portuguese GP, and the 1993 European GP. He holds a record six victories at the Monaco Grand Prix.
Senna was born in a neighbourhood of São Paulo. The middle child of wealthy Brazilian landowner and factory owner Milton da Silva and his wife Neide Senna da Silva, he had an older sister, Viviane and a younger brother, Leonardo. He was left-handed. Senna was highly athletic, excelling in gymnastics and other sports, and developed an interest in cars and motor racing at the age of four. His parents gave Senna the nickname "Beco". At the age of seven, Senna first learned to drive a Jeep around his family's farm. Senna graduated in 1977 and later enrolled in a college that specialised in business administration, but dropped out after three months.
Senna's first kart was built by his father using a small 1-HP lawnmower engine. Ayrton started racing at Interlagos and entered a karting competition at the age of 13. He started his first race on pole position, facing rivals who were some years older than him. Senna went on to win the South American Kart Championship in 1977 and contested the Karting World Championship each year from 1978 to 1982, finishing runner-up in 1979 and 1980. In 1978, he was the teammate of Terry Fullerton, from whom Senna later felt was the rival he got the most satisfaction racing against, also because of the lack of money and politics at that level.
In 1981, Senna moved to England to begin single-seater racing. As da Silva is the most common Brazilian surname, he instead adopted his mother's maiden name, Senna. Ayrton went on to win the 1982 British and European Formula Ford 2000 championships. In 1983, Senna drove in the British F3 Championship for the West Surrey Racing team and won the title at the final round after a closely fought and, at times, acrimonious battle with Martin Brundle.
In 1984 he joined Toleman racing team and made his debut in F1 at the Brazilian GP in Rio de Janeiro. A combination of tyre issues and a fuel-pressure problem resulted in his failure to qualify for the San Marino GP, the only time this happened during his career. Senna's best result of the season came at the Monaco Grand Prix, the first wet-weather race of the season. Qualifying 13th on the grid, he quickly began to cut the gap to race leader Alain Prost, but before he could attack Prost, the race was stopped on lap 31 for safety reasons, as the rain had grown even heavier. At the time the race was stopped, Senna was catching Prost by about 4 seconds per lap.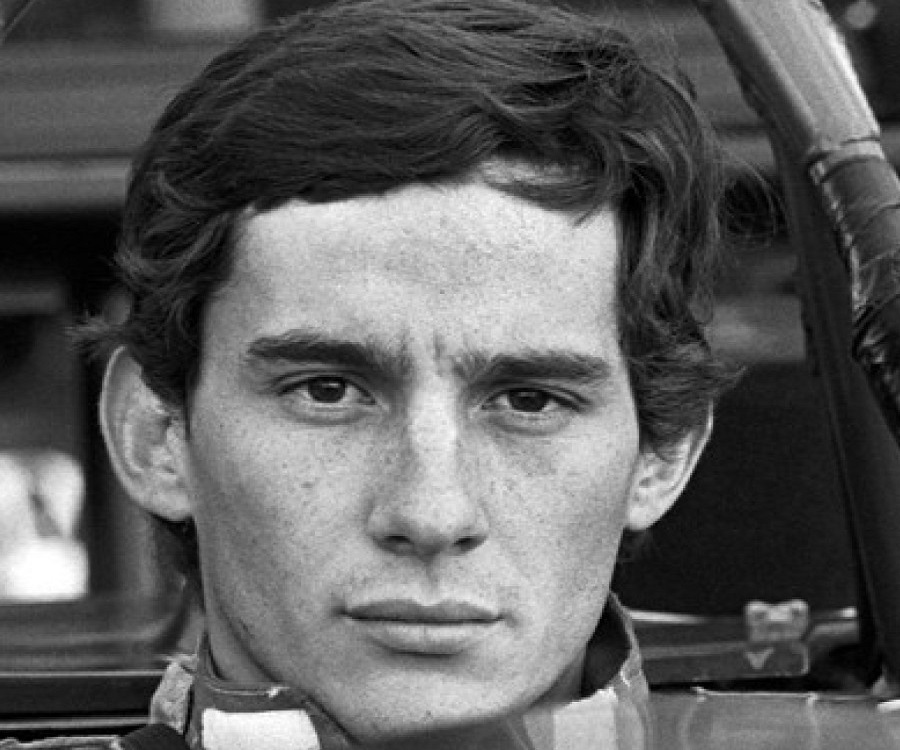 Renowned throughout his career for his capacity to provide very specific technical details about the performance of his cars and track conditions long before the advent of telemetry, this characteristic led Senna's first F1 race engineer, Pat Symonds, to regard the US GP in Dallas as the initial highlight of Senna's debut season, instead of the more popular Monaco, where Senna and Toleman scored their first podium finish. This is by reference to the following recollection given by Symonds in an interview in 2014: "the car was reasonably competitive there, so we expected to have a good race but Ayrton spun early in the race. He then found his way back through the field in a quite effective way and we were looking for a pretty good finish but then he hit the wall, damaged the rear wheel and the driveshaft and retired, which was a real shame. The real significance of that was that when he came back to the pits he told me what happened and said "I'm sure that the wall moved!" and even though I've heard every excuse every driver has ever made, I certainly hadn't heard of that one! But Ayrton being Ayrton, with his incredible belief in himself, the absolute conviction, he then talked me into going with him, after the race, to have a look at the place where he had crashed. And he was absolutely right, which was the amazing thing! Dallas being a street circuit the track was surrounded by concrete blocks and what had happened – we could see it from the tyre marks – was that someone had hit at the far end of the concrete block and that made it swivel slightly, so that the leading edge of the block was standing out by a few millimetres. And he was driving with such precision that those few millimetres were the difference between hitting the wall and not hitting the wall. While I had been, at first, annoyed that we had retired from the race through a driver error, when I saw what had happened, when I saw how he had been driving, that increased my respect for the guy by quite a lot."
In 1985 Senna became the first driver Lotus had signed not personally chosen by team founder Colin Chapman, who had died in 1982. At the second round of the season, the Portuguese GP, Senna took the first pole position of his F1 career. He converted it into his first victory in the race, which was held in very wet conditions, winning by over a minute. The race was the first 'Grand Slam' of Senna's career, as he also set the fastest lap.
In 1986 the Brazilian was once more the top qualifier with eight poles, with another win at the Detroit Grand Prix, thus finishing the season fourth in the driver's standings again. After winning at Detroit, one day after Brazil was eliminated from the 1986 FIFA World Cup, Senna asked a trackside supporter for the Brazilian flag and he drove one lap waving it. Thereafter, he repeated this ritual every time he won a race.
Team Lotus had a new engine deal in 1987, running the turbocharged Honda V6 engines. At Spa-Francorchamps Senna collided with Mansell, and afterward in the pits an angered Englishman grabbed him by the throat and had to be restrained by Lotus mechanics. Senna then won the ensuing Monaco GP (the first of his record six victories at Monte Carlo) and the Detroit GP, his second victory in two years at the Michigan street circuit. Ayrton, classified third in the final standings and with only one pole position, became dissatisfied with his chances at Lotus and, at Monza, it was announced that he would be joining McLaren for 1988.
The foundation for a fierce competition between Senna and Prost was laid, culminating in a number of dramatic incidents between the two over the next five years. The pair won 15 of 16 races in the McLaren MP4/4 in 1988 with Senna coming out on top, winning his first F1 world title by taking eight wins to Prost's seven.
In 1989, the rivalry between Senna and Prost intensified into numerous battles on the track and a psychological war off it. Alain took the title after a collision with Senna at Suzuka, the penultimate race of the season. Senna finished the season second with six wins. Prost left McLaren for rivals Ferrari for the following year.
In 1990, at the penultimate round of the championship in Japan at Suzuka, where Senna and Prost collided the previous year, at the beginning of the race, Prost pulled ahead of Senna, who immediately tried to repass the Frenchman at the first corner. While Prost turned in, Senna kept his foot on the accelerator and the cars collided at 270 km/h (170 mph) and spun out of the race, making the Brazilian world champion. Prost would later go on record criticising Senna's actions as "disgusting", saying that he seriously considered retiring from the sport after that accident.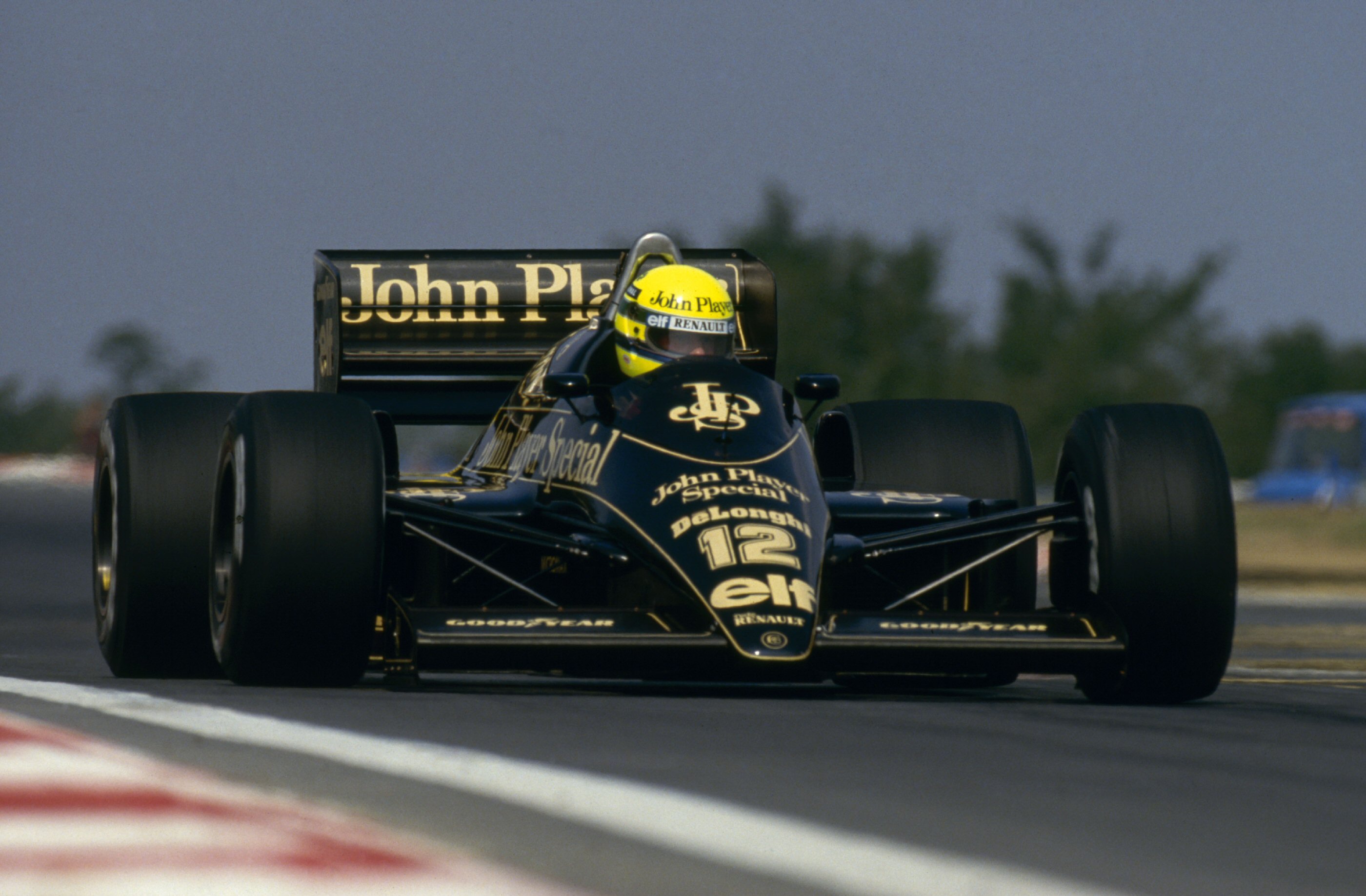 "Senna was driven from his heart, supported by his head. I'm not saying he wasn't a clever guy, because he was, but for me his primary energy was his emotions. Suzuka '90 was an emotional decision. I saw it in '83 quite a lot. This feeling that the world was against him. He was an emotionally driven guy. He had a God-given gift to drive a racing car just over the limit, and beyond that he was complex." Martin Brundle, familiar with his adversary's Machiavellian streak since their F3 days, said.
In 1991, Senna became the youngest ever three-time world champion, taking seven wins. In 1992, he finished fourth overall in the championship as McLaren's new car for the season had several shortcomings, being incapable of challenging Williams FW14B car, while its Honda V12 engine was no longer the most powerful on the circuit. Senna's relationship with Schumacher had deteriorated throughout 1992. At the Brazilian GP, the German accused Ayrton of 'playing around' while attempting to overtake him, who had a problem with his engine. At the French GP, Schumacher collided with Senna, resulting in Senna's retirement. Senna later confronted Schumacher, who admitted responsibility for the accident. At a test session for the German GP, Senna and Schumacher had a confrontation in the pits, with Senna grabbing Schumacher by the collar and accusing him of endangering him by blocking him on the track.
For 1993, Dennis finally persuaded Senna to stay with McLaren. The season concluded in Australia, with what would be Senna's 41st and last F1 career win. The win in Adelaide was an emotional one due to Senna ending his successful career with McLaren and defeating his biggest rival, Prost, for the last time. Because of the Frenchman's imminent retirement from the sport, Senna surprised the F1 community by openly welcoming Prost on the top step of the podium. Overall, Senna finished the championship second to Prost.
For 1994, Senna was able to finally join the Williams team given the retirement of Prost. Rule changes had banned active suspension, traction control, and ABS. The new Williams FW16 car exhibited none of the superiority of the FW15C and FW14B cars that preceded it, and Senna found himself in close running with the Benetton B194 of Schumacher. Senna expressed his discomfort with the handling of his car, stating, "I have a very negative feeling about driving the car and driving it on the limit and so on ... Some of that is down to the lack of electronic change. Also, the car has its own characteristics which I'm not fully confident in yet." Senna further added, "it's going to be a season with lots of accidents, and I'll risk saying that we'll be lucky if something really serious doesn't happen."
It was Senna's worst start to a F1 season, failing to finish or score points in the first two races, despite taking pole position both times. Schumacher was leading Senna in the Drivers' Championship by 20 points. Ferrari president Luca Cordero di Montezemolo revealed that, on 27 April 1994, he had held discussions at his home in Bologna with Senna about a future Ferrari engagement. The season ended at the Australian GP, where the first-corner chicane at the Adelaide Street Circuit was renamed the "Senna Chicane". Schumacher went on to win the driver's world title, dedicating it to Senna.
Senna died on 1 May 1994, aged 34, after succumbing to fatal injuries sustained during his final race at the San Marino GP at the "Autodromo Enzo e Dino Ferrari" in Imola, Italy. Few tracks could be as terrifying at full tilt as Imola. From the sweeping curve of Tamburello to the hairpin bend at Tosa, from the intricate kink of Acque Minerali to the double left-hander at Rivazza, it was a three-mile sequence of warp-speed straights, high-compression corners and alarming changes in elevation.
Senna stayed in room n° 200 at the Hotel Castello in Castel San Pietro Terme. On Friday, he placed the car on the pole for a then-record 65th and final time, but he was upset by events unfolding that race weekend. Senna complained about the FW16's handling and reported that the car's performance was generally worse after the engineers' latest adjustments. On lap 6 the race resumed after Safety Car left and Senna swept through every section like a man possessed. His lap time of one minute 24.887 seconds was only surpassed by two drivers by the end of the race – an extraordinary feat, given that it was achieved on cold tyres and a full tank of fuel. Watkins, sitting in his medical car as the Williams barrelled past him on the finishing straight, thought it appeared skittish and unstable, was telling his driver Mario Casoni: "there's going to be a b----- awful accident any minute."
Schumacher, likewise, instantly intuited that the car in front was not responding as it should, claiming afterwards that he noticed its chassis hit the tarmac as it rattled over the sharp bumps. Maintaining a 0.6 sec lead over Schumacher, as Senna rounded the high-speed Tamburello corner on lap 7, his car left the racing line at around 307 km/h, ran in a straight line off the track, and hit the concrete retaining wall at around 233 km/h, after what telemetry showed to be an application of the brakes for around two seconds. The red flag was shown as a consequence of the accident. Hill at first did not recognise the severity of the impact.
"When Ayrton went off, I remember thinking, 'I can't believe this, it's just one thing after another, non-stop.' That was my initial thought: 'Now what?' I didn't have a feeling in my guts that it was serious." Brundle, in seventh, knew otherwise, having spun off in jarring fashion at precisely the same spot. "It is a very scary corner," he says. "You don't have small accidents at Tamburello."
Galvao Bueno, a Brazilian commentator and one of the driver's best friends, told viewers on the TV Globo network: "Ayrton has hit the wall badly. It's very serious." And yet, 7,000 miles away in Buenos Aires, Juan Manuel Fangio concluded it was an involuntary spasm that could only mean a massive head injury. "I turned off my television," he said. "I knew he was dead." Within two minutes of crashing, Senna was extracted from his car by Watkins and his medical team. A patch of crimson was visible next to the wreck: Senna's blood.
Initial treatment took place by the side of the car, with Ayrton having a weak heartbeat and significant blood loss (around 4.5 liters). Because of Senna's poor neurological condition, Watkins performed an on-site tracheotomy and requested the immediate airlifting of the champion to Bologna's Maggiore Hospital. Medically, the prognosis was unambiguous, but Brundle expresses the confusion that prevailed in the paddock. "I didn't immediately think it was fatal. I just saw the red flag and went back to the start line. I was originally told it was Damon who had had the crash. We were informed that he had moved his head, that it seemed like he was OK, but you subsequently learn that was the nervous reaction of a man finally dying."
At 18:40, the head of the hospital's emergency department, Maria Teresa Fiandri made the announcement that Senna had died, but said the official time of death under Italian law was 14:17, which is when he impacted the wall and his brain stopped working. Watkins later said that as soon as he saw Senna's fully dilated pupils, he knew that his brainstem was inactive and that he would not survive.
The right-front wheel and suspension are believed to have been sent back into the cockpit, striking Senna on the right side of his helmet, forcing his head back against the headrest. In addition, a piece of the upright assembly, most likely a tie rod, penetrated the helmet visor, which was a new, thinner version, above his right eye. Senna sustained fatal skull fractures, brain injuries and a ruptured temporal artery.
The race was re-started a mere 38 minutes after Senna's accident and won by Schumacher. No champagne was sprayed on the podium. Brundle depicts a "pall of silence" over Imola that afternoon, as a welter of misinformation circulated about Senna's fate. "I didn't know he had died until after the race. Keke Rosberg told me, then I told Ron Dennis. We all knew something was up." Even Adriane received precious few details. She was still on the runway in Faro, preparing to fly out, 15 minutes after her boyfriend's life-support machine had been switched off. Photographs of Senna being treated on the track by emergency medical personnel were taken by Senna's friend and Autosprint's picture editor, Angelo Orsi. Out of respect, those photographs have never been made public. Hill's admiration of the driver with whom he was able to spend just three races at Williams is boundless.
"He was on a mission, wholeheartedly committed to giving himself completely to his profession. The fact that he never offered anything other than his absolute best incurred greater risk, and he knew that. So I believe he was one of the most courageous racing drivers there has ever been – the most gifted, the most fascinating. I don't think you will ever see anyone else like him."
One who could propel himself from fifth to first inside 40 seconds in the wet. On 27 April 2014, a three-journalist panel composed of Murray Walker, Maurice Hamilton, and David Tremayne concurred that, at his final F1 GP race, Senna was under extreme pressure due to: the serious crash of Rubens Barrichello during Friday practice; the death of Roland Ratzenberger during Saturday qualifying; being 20 points behind in the Drivers' Championship; suspicion of the rival Benetton B194 car using an illegal traction control system; the poor performance of his Williams FW16; family disapproval of his then-girlfriend, Adriane Galisteu.
Senna's death was considered by many of his Brazilian fans to be a national tragedy, and the Brazilian government declared three days of national mourning. The Italian Air Force offered to fly the coffin back to Brazil, but the Senna family wished that it return home in a Brazilian plane. Contrary to airline policy and out of respect, Senna's coffin was allowed to be flown back to his home country in the passenger cabin of a VARIG McDonnell-Douglas MD-11 airliner, accompanied by his distraught younger brother, Leonardo, and close friends. The plane was escorted by fighter jets into São Paulo–Guarulhos International Airport on 4 May 1994, where it was met by São Paulo's mayor and state governor. The coffin was carried by soldiers from the Policia da Aeronautical to a fire engine, where eight cadets from the Military Police Academy mounted guard as it carried the coffin on the 20-mile journey into the city. Leading the motorcade were 17 police motorbikes, and 2,500 policemen lined the route to keep the crowds at bay.
An estimated three million people flocked to the streets of Senna's hometown of São Paulo to offer him their salute. This is widely accepted as the largest recorded gathering of mourners in modern times. Over 200,000 people filed past as his body lay in state at the Legislative Assembly building in Ibirapuera Park. After the public viewing, a 21-gun salute was fired by the 2nd Artillery Brigade and seven Brazilian Air Force jets flew in a diamond formation as the funeral procession made its way to Morumbi Cemetery. Many prominent motor-racing figures attended Senna's state funeral, such as team managers Ken Tyrrell, Peter Collins, Ron Dennis, and Frank Williams, and pilot Jackie Stewart. The pallbearers included Gerhard Berger, Michele Alboreto, Alain Prost, Damon Hill, Rubens Barrichello, Johnny Herbert and Emerson Fittipaldi. Neither Sid Watkins nor Jo Ramírez, the McLaren team coordinator, could bear to attend because they were so grief-stricken. Senna's family did not allow Bernie Ecclestone, a friend of Senna's, to attend the ceremony, after an altercation at Imola regarding Ecclestone's misconstrued reaction to the news of Ayrton's death and the fact that the race had not been abandoned after his accident. Senna's grave bears the epitaph "Nada pode me separar do amor de Deus," which means "Nothing can separate me from the love of God" (a reference to Romans 8:38–39).
For the next race at Monaco, the FIA decided to leave the first two grid positions empty and painted them with the colours of the Brazilian and the Austrian flags, to honour Senna and Ratzenberger. Senna's death was the subject of criminal proceedings in Italy, culminated with verdict on 13 April 2007, which stated: "It has been determined that the accident was caused by a steering column failure. This failure was caused by badly designed and badly executed modifications. The responsibility of this falls on Patrick Head, culpable of omitted control."
Head, however, was never arrested because the Italian statute of limitation for manslaughter is 7 years and 6 months, and the final verdict was pronounced 13 years after the accident. The Williams team conceded to this failure, but only as caused by the impact at the Tamburello corner. Senna had not liked the position of his FW16's steering wheel relative to the seating position and had asked for the former to be changed. Head and Adrian Newey satisfied Senna's request by having the existing column cut and extended with a smaller-diameter piece of tubing, which was welded together with reinforcing plates. The modification was carried out in this manner as there was no time to manufacture a new longer steering column in time for the race. Senna was a devout Catholic, often reading the Bible on long flights from São Paulo to Europe. According to sister Viviane, his brother had sought strength from the Bible on the morning of his death, after the events of the race weekend: "on that final morning, he woke and opened his Bible and read a text that he would receive the greatest gift of all, which was God himself."
After his death, Senna was discovered to have quietly donated millions of his personal fortune (estimated at around $400 million) to help poor children. Shortly before his death, he created the framework for an organisation dedicated to Brazilian children, which later became the Instituto Ayrton Senna (IAS). The Senninha ("Little Senna") cartoon character, born in 1993/94, was another means by which Senna extended his role-model status in favour of Brazilian children. Senna owned several properties, including an organic farm in Tatuí, Brazil (where he built a go-kart track in 1991), a beach house in Angra dos Reis, Brazil, an apartment in São Paulo, Brazil, an apartment in Monaco, and a house in Algarve, Portugal.
Senna enjoyed running, waterskiing, jet skiing, and paddleboarding. He also had several hobbies, such as flying real and model planes and helicopters, boating, fishing, and riding his favourite Ducati motorbikes. His private jet was a British Aerospace 125, and he also piloted his own helicopter between his residences in Brazil along with travelling to races. Senna was close friends with McLaren teammate Gerhard Berger, and the two were always playing practical jokes on each other. Berger is quoted as saying: "he taught me a lot about our sport, I taught him to laugh." Frank Williams notably recalls that as good a driver as Senna was, ultimately "he was an even greater man outside of the car than he was in it."
Senna was married to Lilian de Vasconcelos Souza from 1981 until 1982. Lilian, whom he had known since childhood, had difficulty adapting to her husband's racing life in England, and later said: "I was his second passion. His first passion was racing... There was nothing more important in the world for him, not family, not wife, nothing." The marriage ended in divorce.
In July 1994, the Brazil national football team dedicated their World Cup victory to Senna, who had met various members of the squad, including Ronaldo and Leonardo, three months earlier in Paris, telling them "this is our year." In Brazil, the main freeway from the international airport to São Paulo and a tunnel along route to the heart of the city are named in his honour. Also, one of the most important freeways of Rio de Janeiro is named after Senna ("Avenida Ayrton Senna"). The main road in Senna's Portuguese resort at Quinta do Lago, Algarve, was also dedicated to him. A portion of the Interlagos circuit in São Paulo is named the "Senna Esses Chicane" in his honor. In the English town of Reading, Berkshire, where Senna lived for a short period of time, an avenue in the suburb of Tilehurst was named after him.
In April 2000, Senna was inducted into the International Motorsports Hall of Fame. Senna remains a national hero in Brazil and his grave attracts more visitors than the ones of John F. Kennedy, Marilyn Monroe, and Elvis Presley combined. In 2009, a poll of 217 current and former F1 drivers, conducted by Autosport magazine, named Senna as "the greatest F1 driver who ever lived". In 2012, BBC Sport journalists voted Senna as the greatest F1 driver of all time. In 1993, a poll of F1 drivers gave Senna a near-unanimous vote as the best driver in F1.
Since Senna's death, every Williams F1 car has incorporated a small Senna 'S' logo in its Formula 1 car to honour their former driver. On 10 June 2017, after qualifying on pole for the Canadian GP, Lewis Hamilton was presented with a Senna helmet that had been worn by Senna during a race. It was given by Senna's family in recognition of Hamilton's 65th pole position, matching Senna's tally. On 9 December 2017, McLaren unveiled the McLaren Senna, a 789bhp track-focused hypercar, named after Senna.
For Brundle, the abiding example of the Brazilian's craftsmanship will always be his mastery of the sinuous angles of Monte Carlo, where Senna could carve not just tenths off his lap-times but whole seconds. "Ayrton got into such a trance driving around Monaco," he says. "He was almost outside his car, outside his body."
Bruno, his nephew, says: "people were aware he was fighting for something more important than just winning races. It was a belief. He was convinced that he had been given a singular opportunity by God, and he had the personality to make the most of it. These are the qualities that make special people in history."
A statue of Senna behind Tamburello, within the "Acque Minerali public park", captures his enigmatic aspect beautifully. The bronze figure is sitting, earnest and contemplative, as if perched on the pit wall. He was essentially a simple, soft-natured soul, so the monument is refreshingly devoid of ostentation. The only sound is of birds warbling in the verdant Romagna forest.
Famous quotes by Ayrton Senna
"Every year somebody wins a title. I want to do more."
"Life's too short to have enemies."
"When I will be short of a hundredth of a second than the day before I will chuck it all."
"If someone has no dreams anymore, no longer has reason to live. Dreaming is mandatory, even though in the dream it has to be glimpsed reality. For me it's one of the principles of life."
"Racing, competing, it's in my blood. It's part of me, it's part of my life; I have been doing it all my life and it stands out above everything else."
"Because I believe in God and have faith in God, it doesn't mean I am immortal. It doesn't mean I am immune, as has been claimed. I am as scared as anyone of getting hurt, especially driving a Formula One car."
"Winning is most important. Everything is consequence of that."
"I continuously go further and further learning about my own limitations, my body limitation, psychological limitations. It's a way of life for me."
"Money is a strange business. People who haven't got it aim it strongly. People who have are full of troubles."
"And suddenly I realised that I was no longer driving the car consciously. I was driving it by a kind of instinct, only I was in a different dimension."
"I have no idols. I admire work, dedication and competence."
"I don't know driving in another way which isn't risky. Each one has to improve himself. Each driver has his limit. My limit is a little bit further than other's."
"Fear is exciting for me."
"These things bring you to reality as to how fragile you are; at the same moment you are doing something that nobody else is able to do. The same moment that you are seen as the best, the fastest and somebody that cannot be touched, you are enormously fragile."
"I started racing go-karts. And I love karts. It's the most breathtaking sport in the world. More than F1, indeed, I used to like it most."
"I believe in the ability of focusing strongly in something, then you are able to extract even more out of it. It's been like this all my life, and it's been only a question of improving it, and learning more and more and there is almost no end. As you go through you just keep finding more and more. It's very interesting, it's fascinating."
"On a given day, a given circumstance, you think you have a limit. And you then go for this limit and you touch this limit, and you think, 'Okay, this is the limit.' As soon as you touch this limit, something happens and you suddenly can go a little bit further. With your mind power, your determination, your instinct, and the experience as well, you can fly very high."
"I'm very privileged. I've always had a very good life. But everything that I've gotten out of life was obtained through dedication and a tremendous desire to achieve my goals... a great desire for victory, meaning victory in life, not as a driver. To all of you who have experienced this or are searching now, let me say that whoever you may be in your life, whether you're at the highest or most modest level, you must show great strength and determination and do everything with love and a deep belief in God. One day, you'll achieve your aim and you'll be successful."
"If you take away Eau Rouge, you take away the reason why I do this."
"If I ever happen to have an accident that eventually costs me my life, I hope it is in one go. I would not like to be in a wheelchair. I would not like to be in a hospital suffering from whatever injury it was. If I'm going to live, I want to live fully, very intensely, because I am an intense person. It would ruin my life if I had to live partially."
"There are no small accidents here." Interview after Friday qualifying, April 29, 1994.