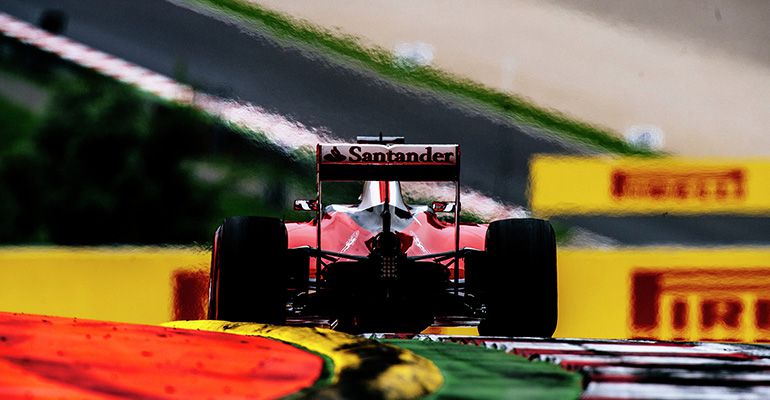 The yellow kerb stones at the Red Bull Ring were the topic number one in Austria. As soon as in Q1 Force India's Perez was forced to retire early due to a suspected rear suspension failure after hitting the much-talked-about yellow kerbs. At the end of the first session Toro Rosso's Kvyat also took too much of the kerbs, which caused him a suspension failure as well. The unfortunate Russian ended up in the tyre wall after having just barely avoided hitting the pit entry wall sideways on. After a brief red-flag period there was immediate drama as Sainz's Toro Rosso's engine appeared to blow up. Luckily, both Ferrari drivers stayed out of trouble and had no difficulties to make it through to Q2.
In Q2 Ferrari cleverly ran both Sebastian and Kimi on supersoft tyres, meaning they could use them to start their races. Red Bull used similar strategy, whereas Mercedes opted for the purple-marked ultrasoft tyres. At this point Ferrari's and Red Bull's strategy seemed genius, especially because Mercedes had suffered from very high degradation in terms of the ultrasoft tyres. Q2 was rain-hit, and everyone started to the last decisive session on the intermediate tyres. The times were improving every lap as conditions improved.
The track dried so fast that at the end of the session everyone pitted for a fresh set of ultrasoft tyres. Massa, Räikkönen, Hamilton, Hulkenberg and Vettel all had turns at the top, but in the end it was the reigning world champion Hamilton who clinched the pole in Spielberg. Rosberg completed the front row alongside his teammate. Force India's Hulkenberg, surprisingly, came in third, Sebastian fourth and McLaren's Button - fifth. Kimi had to settle for P6 - not the perfect qualifying for Ferrari, especially considering that Sebastian had been handed a 5-place grid penalty for an unscheduled gearbox change, same as Mercedes' Rosberg. After complicated calculations, Sebastian was dropped down to P9, and Rosberg to P6.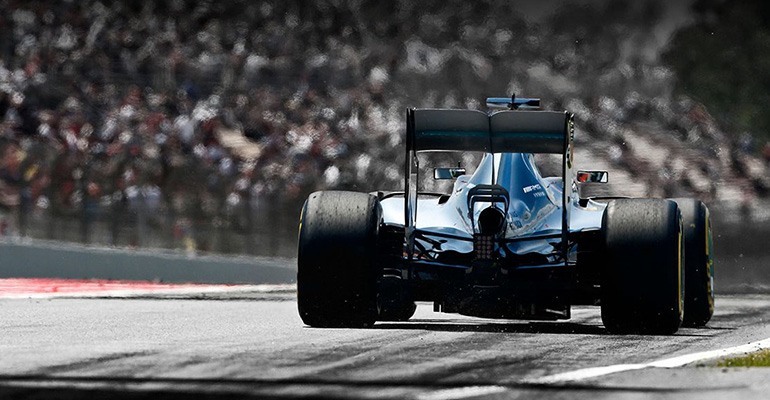 (source: www.mercedesamgf1.com)
Dark clouds were lurking over the Red Bull Ring as the lights went out. However, the Austrian GP turned out to be a dry race. Hamilton got an excellent start and had no difficulties to maintain his lead. Force India's Hulkenberg was responsible for the poorest start in terms of the top ten, but Kimi managed to get past the German at the start. Rosberg didn't hesitate to make his way through the field.
It was surprising how long the ultrasoft tyres actually lasted in the race, as Hamilton didn't pit until lap 22. Kimi pitted only a lap after Hamilton in spite of having started the race on the harder supersoft rubber. Both Red Bulls had pitted already before Kimi, and the Iceman rejoined the track in P6 on a fresh set of soft tyres. Would it be possible to drive till the very end on that same set of tyres?
Lap 27 took a dramatic turn; Sebastian - who hadn't pitted yet and was leading the race - was driving on the pit straight, when suddenly and unexpectedly his rear-right tyre exploded! The puncture caused Sebastian to hit the wall, and his race was over. I was so gutted for him! This definitely wasn't the way I wanted Sebastian to celebrate his 29th birthday! Maybe it was risky tactics from Ferrari to make the first stint that long; on the other hand, there were drivers that had even more mileage on their tyres...
Rosberg benefitted from the undercut and Hamilton's slightly delayed pit stop (the team had difficulties with attaching one of his rear tyres), and the German was leading the race, with his teammate being second. Stunningly, Verstappen in his RB12 came third, his teammate Ricciardo 4th, and Kimi - 5th. For some reason Ricciardo seemed unable to match his teammate's pace. Soon Kimi started putting some serious pressure on the Australian. Overtaking, though, seemed to be not an easy task. But, finally, the Iceman was able to make it past Ricciardo, who made a small mistake.
Towards the end of the race Kimi had chased down Verstappen, who had pitted only once, same as Kimi. Verstappen had already 50 laps on his tyres, which seemed quite unbelievable. On the closing laps there were two hair-raising battles on the track: Rosberg vs. Hamilton for the victory and Verstappen vs. Räikkönen for the last podium place.
Oh gosh, what happened between the Mercedes teammates on the final lap! Rosberg had made a small mistake in Turn 1, which caused Hamilton to get extremely close. Going into Turn 2, Hamilton took the outside line causing the teammates to collide! It seemed as if Rosberg hadn't even tried to turn in, but had deliberately hit his teammate to prevent him from taking the lead. The collision severely damaged Rosberg's front wing, and the German ended up losing positions both to Verstappen and Räikkönen, dropping him 4th in the race. There was no question on who was at fault; after the race, Rosberg was given a 10-second time penalty (which did not have an effect on his position) and two penalty points.
Kimi, on the other hand, could possibly have been able to make it past Verstappen on the final lap, had Perez not suffered from a brake failure, ending up in the barriers and causing yellow flags! Kimi was right at the Dutchman's tail on the much fresher set of tyres, but there was no way Kimi could have made an overtaking move under the yellow flags. So Hamilton took victory, Verstappen was the runner-up, and Kimi completed the podium.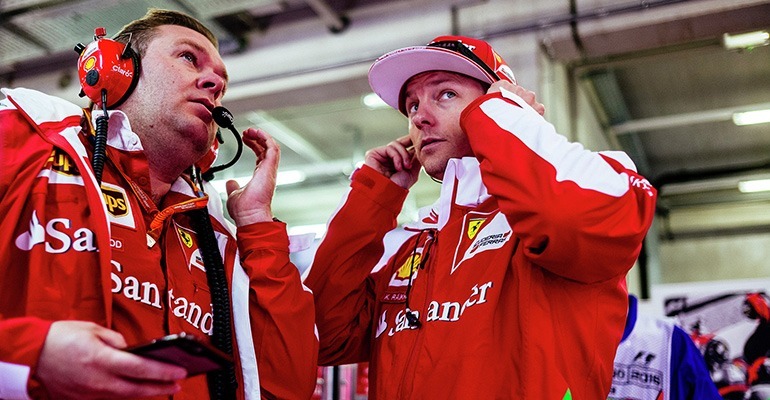 Rosberg had to settle for P4 due to the brainless collision. Button in his McLaren came impressive 6th. Pascal Wehrlein is also worth mentioning, having finished 10th and scored his first point for Manor. Both Kimi and Verstappen proved that it was possible to make a one-stop strategy work after all. After the frustrating DNF for Sebastian, I was so, so happy to see Kimi on the podium after a strong race!
Rosberg's lead in the drivers' standings has now decreased to just 11 points. Both Ferrari aces have now 99 points to Rosberg's 153 and Hamilton's 142. Still there's one advantage, which Ferrari has over their closest rival Mercedes. It's the team work between the teammates. I dare to claim that if Kimi and Sebastian had been battling wheel-to-wheel for the victory, they wouldn't have collided with each other! Mercedes seems to have an issue with the rivalry between their drivers. Now there is only one burning question: will Mercedes start using team orders from now on?
With passion for racing red, 
Iina Huhmarniemi