Antonio Tomaini – a former Ferrari assistant team manager that turned to car design with a long spell with Osella. Antonio joined Ferrari in 1974 after working with Abarth, and as well as working in his managerial role. He was also, for a time, Gilles Villeneuve's chief race engineer. Tomaini also had a spell in sportscars. Antonio still keeps links with the sport after his retirement, especially with Ferrari related links and the historic side of the sport. He currently lives in Castelnuovo Rangone.
Antonio Tomaini was the head of the "Gestione Sportiva" at Scuderia Ferrari Formula 1 for 13 years. The war, the terrible conditions in which his passion was developed, took him away from a land more used to tractor than race cars, yet took him to managing some of the top drivers that the history of motorsport has ever had: Niki Lauda, Gilles Villeneuve, Clay Regazzoni, Mario Andretti, Alessandro Nannini, René Arnoux and many others. There has been no lack of woes into this man's life. He turned 80 and his spirit was even strengthened by them.
The journalist Carlo Marincovich has said about Tomaini: "When "Furia" (Mauro Forghieri) was at Ferrari, he was relegated to second string, following orders, maybe grumbling. Then he became the big boss into the pits. He often gives the impression of getting lost in a teacup. At every Grand Prix, it looks like it's his first time on that track. But, in ten years, who knows how much he has already seen. Only he manages to get the whole team unnecessarily working for hours and hours on replacing springs and dampers, no longer knowing which one works best or worst. We are not talking about the time you have to "figure out" the inclinations of allerons!"
Antonio Tomaini has said: "Apart from spaghetti, Ferrari was not the exception. Other teams as well had structures close to our own that were into the pits, where the public had no problem accessing to take a photo or to get autographs signed by drivers. Prices and access possibilities were considerably more sustainable."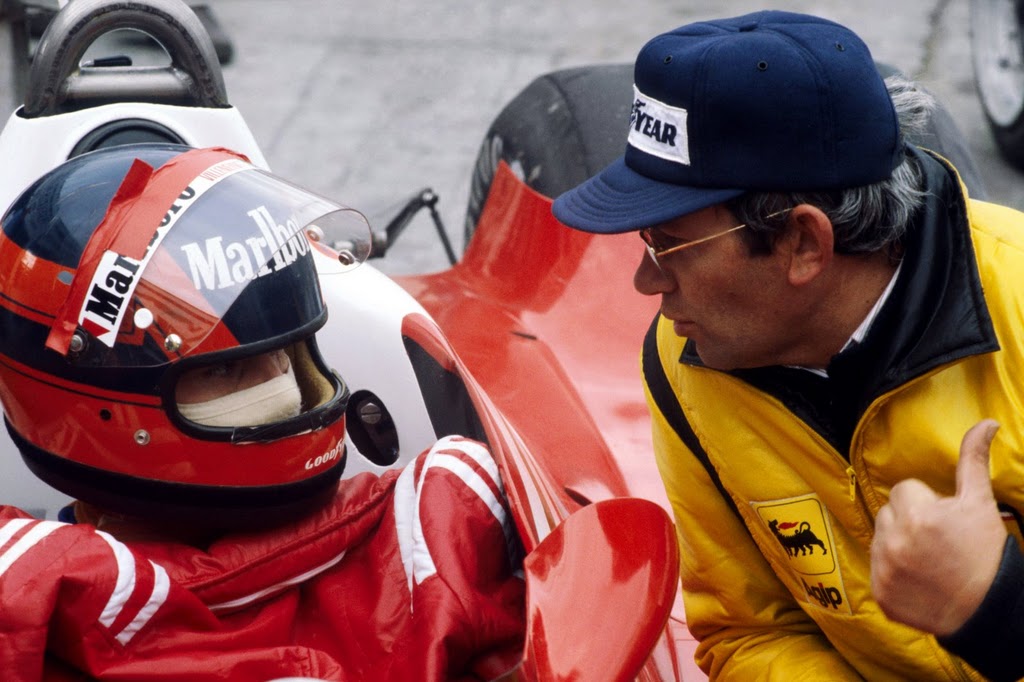 1977: F1 test session on an unidentified British circuit (possibly Brands Hatch), frame into pit lane close to Ferrari's pit. The 312 T2 Ferrari driven by Carlos Reutemann stops. Mauro Forghieri sits down on the side of the car: "The old trouble," he says to the Argentinean driver, "why can't you sit the same time of the tests?" You can understand "Lole's" answer amidst the noise of engines: "I have less grip." You can't tell if he's trying to say that the car or the track has less grip, the fact is that "Furia" exposes him right away telling that his competitors, principally his team-mate, are confirming their times. Then he's aware of having been maybe too impulsive and calms him down asking if he wants some modifications, he recommends some of them indeed, as Reutemann doesn't seem to have a pretty good idea: "The roll centre," he says to Forghieri; the answer: "Do we get back? Consider that you have changed it, however if you want it's all right"; and, in the meantime, he commands to mechanics wings modifications and suggests the driver to use a new alleron. The whole thing building on experience, no computer, no aerodynamics, just the trusted Antonio Tomaini to follow him documenting everything, and the team manager Sante Ghedini to counsel. Reutemann restarts. Images move around on Niki Lauda who gets back to the pits. Forghieri rushes the car, along with Tomaini, Ghedini and the trusted Lauda's chief mechanic Ermanno Cuoghi. Four words, two indications, questions and answers are quick, tires temperatures are measured. Forghieri briefly comments with Tomaini, unfortunately the exact words cannot be understood but it can be seen that the technician is satisfied and Lauda is calm, he has no problem. The Austrian knows his stuff. It's a time when Formula 1 was still improvisation, experience, telemetry didn't exist and brilliant characters like Forghieri had to face everything: design at the factory, track management, relationships, not least at the psychological level, with drivers. "Lole" Reutemann confirms his fame of "tormented and tormenting" driver, although very fast on good days, struggling to take a technical course in his tests. Quite the contrary Lauda, who has evidently decided what he wants to do and thus he runs also team's work, with the clear relief of his technician. We can presume from these few images what it meant to Forghieri's team, at the end of that same 1977, to suddenly come up with Reutemann as experienced driver and, in place of Lauda, the Canadian Gilles Villeneuve who was coming preceded by a reputation of snow scooters ace.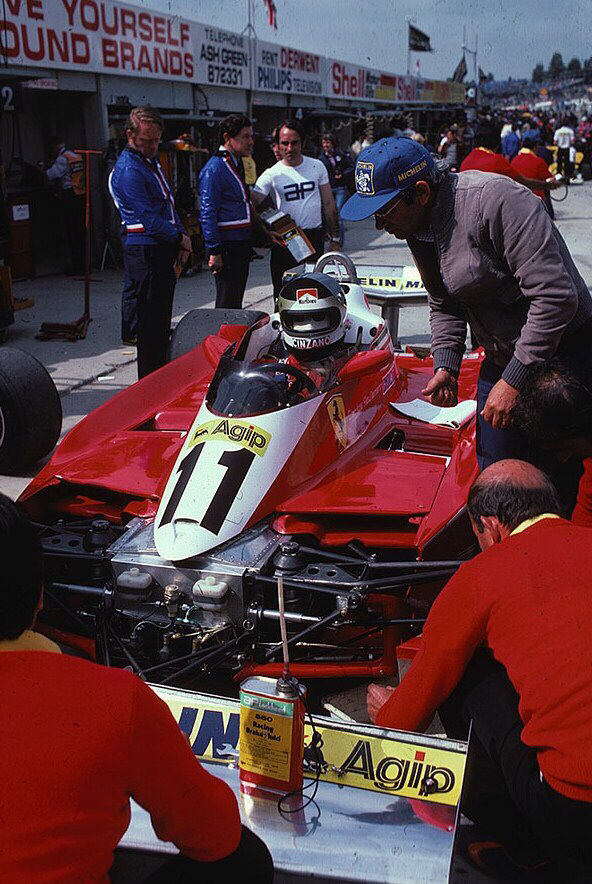 Niki Lauda, a real legend of Formula 1, shouldn't have been so easy to handle anyway, if we consider what he has said: "To win in Formula 1 you must have two characteristics: to be talented and to be a bloody selfish jerk, and I won a lot ….". Not a hypocrite indeed.
An age when the television hasn't been flooding into houses yet; it was a world very popular among enthusiasts. As if races were a thirst for freedom, to be themselves, living in the fresh air in company, even with inconveniences, sometimes, to watch races on the ground. A race world totally different compared to today. Recently, in almost all motorsport competition, money went ahead the pleasure. Or better, the pleasure to earn money has surpassed the one for races. Anyway, maybe, it's not just melancholy about the days gone by, but the objective beauty and purity of a noble sport. Not only, then, a matter of charm of much more dangerous cars or the absence of political correctness, anti-smoking laws or formalities.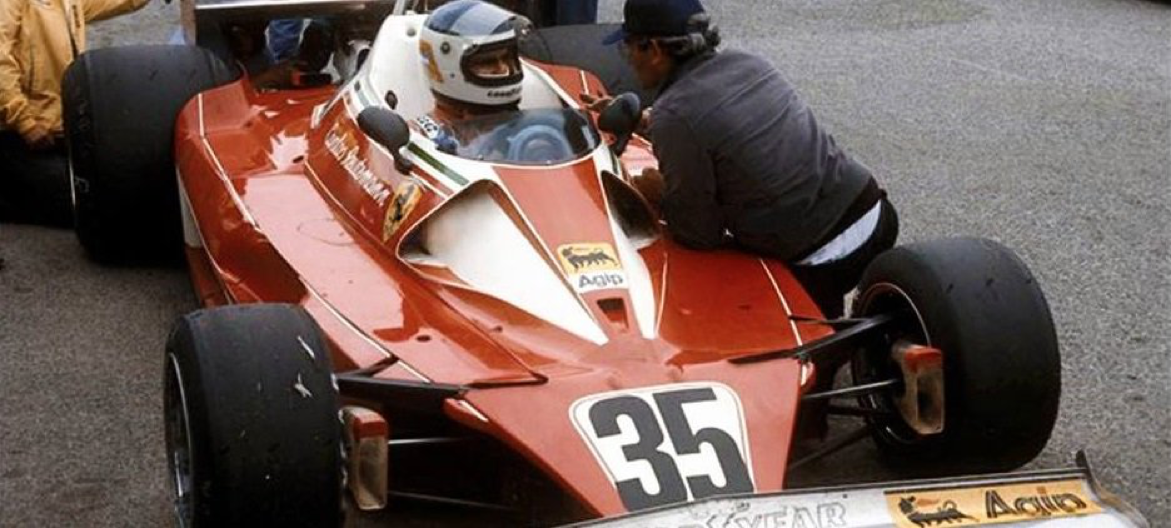 The documentary "Formula 1 Febbre della Velocità" (Speed Fever) of 1978, one of the most spectacular movies on races, revive the days when Formula 1 was really frequented by "the Knights of risk". Its scenes lead the heart and mind to heroic days of Formula 1. Lauda, Andretti, Regazzoni, Hunt, Reutemann, Brambilla, Scheckter, Fittipaldi, Patrese, Villeneuve and many other ace of the car, in some moments of the most interesting, tragic and famous races ever. The best years of Formula 1. We won't see them anymore and maybe it's for the best, they were unique and it is right to keep them that way. The greatest cars and races ever. And those manual gearboxes … How much sportsmanship …, how much nostalgia! Who had the luck of living back then and has seen this movie at the cinema, can't not get deeply emotional and relive every last frame. Thanks heroes of a vanished age! When men were men ….. and women were women. A masterpiece, this documentary, made by never forgotten Oscar Orefici. The real Formula 1, the "analogue" version of it. It cannot come back as Formula 1 represents itself progress at its most intense. Cars at the time were death traps, although seductive and beautiful, and too many heroes of the age have lost their lives. But what has really changed most of all is the paddock soul of those years, simpler and easy-going, less politically correct.