Alain Prost, "le professeur", a controversial driver. Not always the quickest, often plotting behind the scenes. Tenacious politician. He got in the way of great champions that committed him in epic battles in which he would often lose. Despite all this, he won a lot and was a symbol of Formula 1 of his time. No maths in the Lauda style or perfectionism in Senna's - he won by strategy. And he was undoubtedly a champion. That image of him carrying the coffin of Senna, his greatest enemy on track, shows him in his true colours, the ones of a determined driver and a truthful person. Him and Ayrton, having gotten closer after his retirement, side by side for the last time. One of the most touching moments of Formula 1, always on the edge between life and death.
Cold, analytical and intelligent, impenetrable to emotions. Almost insensitive to sunlight. To see him racing with a darkened visor, the environmental conditions were to be truly amazing. Another mania of the Professor were gloves. They had to be shabby, almost tattered, and the grip on the wheel was hooked with fingerprints in the crown. It was needed for driving sensibility, especially on wet. But, according to Ayrton Senna, wetness was not the centrepiece of Alain Prost, to the point that the Brazilian called him "o cauteloso".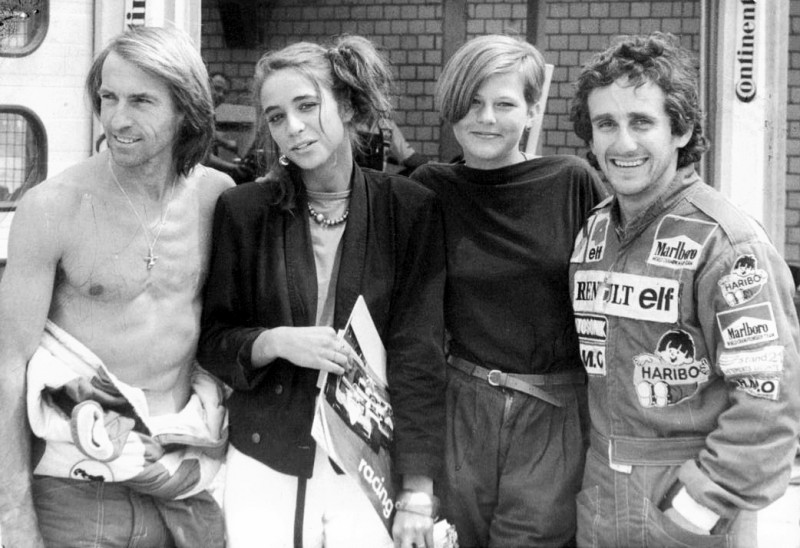 However, the Frenchman was a perfect test driver; exasperating in setting up the car, of which then he used its talents on track, with a lead as well as precise foot, with fast but never excessive times, without extreme risking. His mind before the passion, this was Alain Prost; in some respects comparable to Niki Lauda and absolutely the antipodes of exuberant drivers like Gilles Villeneuve, James Hunt and Nigel Mansell. According to Bernie Ecclestone Prost has been the best Formula 1 driver of all time: "Michael (Schumacher) had many advantages, a strong team and team mates who helped him. And for a time, it was the same for Senna as well. Prost, instead, has never enjoyed these privileges. He has always had competitive team mates, like Senna. Therefore, even though it's hard to choose, I'd say Prost".
For years Alain and Ayrton were the fiercest adversaries on Formula 1 tracks. First as team mates at McLaren, and then after the Frenchman joined Ferrari and Williams. To their rivalry on track corresponded a mutual appreciation, a great friendship. Senna had said several times: "the only competitor I fear is Prost, the rest of them do not count". When the Frenchman retired, Ayrton begged him many times to come back to racing.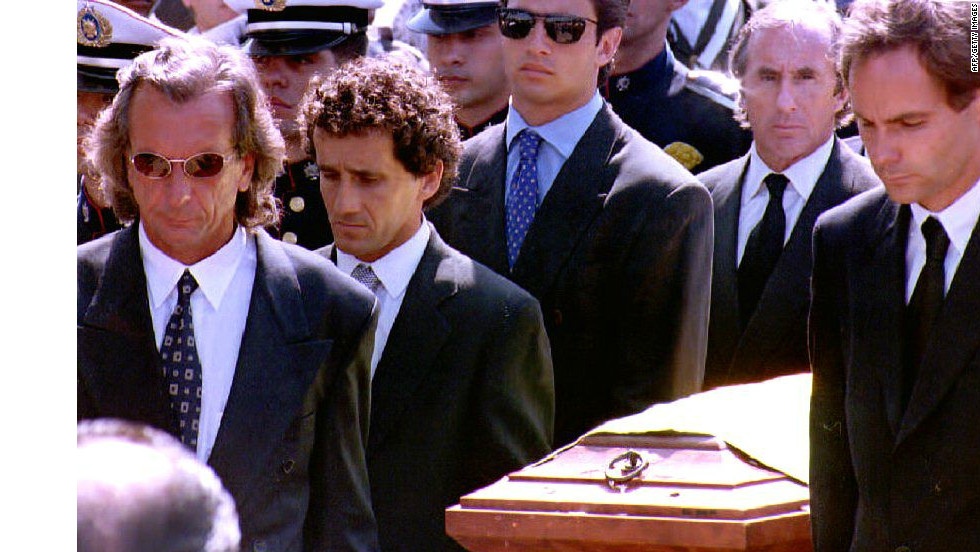 "Modern Formula 1 cars are more complicated, but less communicative than those of the past. During my career, when you braked or swerved, the car reacted moving or generating roll. Today there are more aid measures useful for the management. Even to follow another car was more complicated at the time. The car was harder to drive and we were more prone to mistakes", Alain has said. "Once, when it was raining, even the drivers would be wet; today something like that is unimaginable. No, today, rain or shine, drivers get to the paddock in giant cars and with tinted windows, which pass through roadblocks, barriers and barricades; they don't meet someone, never talk to anyone, have an assistant who holds an umbrella and another one who answers the mobile phone. They want to be insulated, but are alone instead".
One of the problems of this Formula 1 is the lack of characters. In fact, in the Formula 1 of the past, we would be amazed by driver's faces: Graham Hill with his white sideburns is straight out of a Clint Eastwood film …. Who's the new Prost? "There's no one who reminds me of my characteristics. Someone said Rosberg, but no, we're going the wrong way. One of the similarities is a cutesy game: or there's something of net or it doesn't work. The thing is, I'm one of a kind".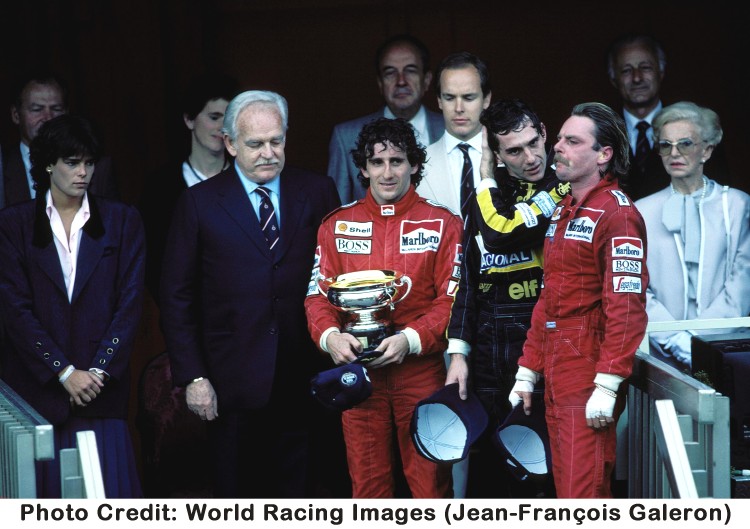 Alain, at the last 2014 Monaco Historic, had the opportunity to drive again the Renault RE40 Turbo with which, right here in Monte Carlo, he had achieved the 1983 pole position. "The car's been shoved away in a museum for about 25 years. Just about two, three years ago it was kick-started and driven by several drivers: that's why I didn't find neither my seat and my position nor my pedals. At Le Castellet, all in all, there were no major incidents, but driving it here was significantly more difficult: I wasn't comfortable. This track is incredible. On second thought, it's unbelievable how did we manage to drive such cars, especially considering the turbo-lag from which they were infected and the gear box we used. I didn't want to push, especially under braking. If it's not right, you can't go. The clutch also is really very hard, especially when you were using the first gear. When I think about we took the pole position here in 1982 and 1983 with that car, that means the potential was there. But it was really, really hard".
Prost employed a smooth, relaxed style behind the wheel, deliberately modelling himself on personal heroes like Jackie Stewart and Jim Clark. He was nicknamed "The Professor" for his intellectual approach to competition. Though it was not a name he particularly cared for, he would admit later that it was an appropriate summation of his approach to his racing. Skilled at setting up his car for race conditions, Prost would often conserve his brakes and tyres early in a race, leaving them fresher for a challenge at the end.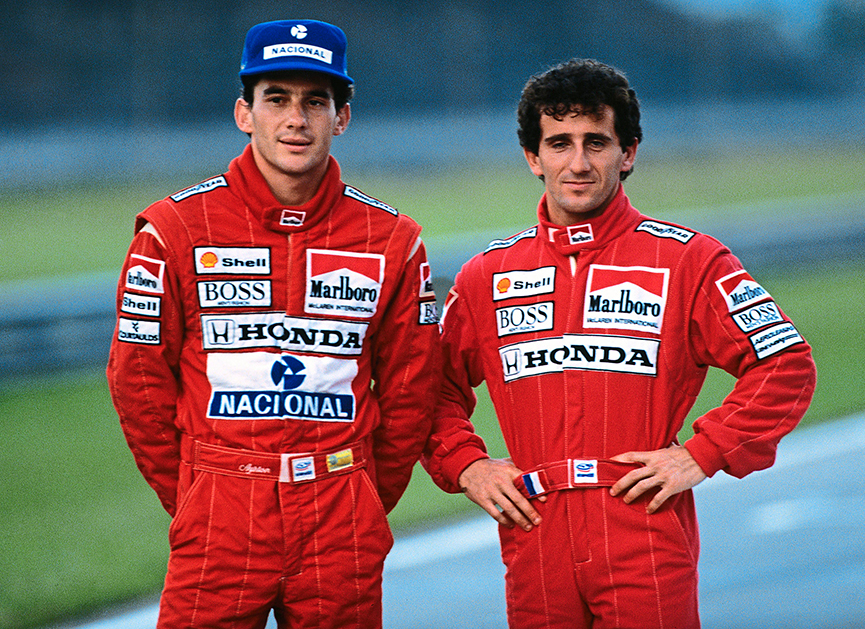 Formula One auto racing (F1) is the most elite, well-funded, avidly followed, and competitive sport in the world. The drivers of F1 are among the most talented racing car drivers in the world. Known for his seemingly effortless ability, Prost, fiercely intelligent, won a record breaking fifty-one races in his career, with a style so understated that it was joked he lacked verve. "He can go stunningly fast without looking as if he's trying", Frank Williams, head of the Williams F1 team once said. He was considered "a master strategist on the racecourse and a cunning opportunist off it". Prost would possibly be in the top 4 greatest drivers of all time. The super-minded Frenchman was a brilliant driver, to which he won 4 world championships, although some say he won them in the wrong years.
Jackie Stewart is the epitome of smooth but the French one isn't far behind. He had a different style to Ayrton, where instead of driving flat out as Ayrton did, Alain would often drive smoothly and for points as they counted towards the championship. You don't get points for pole position. Alain outscored the fastest driver in history twice in 1988 and 1989 and won two world championships in turbo powered cars in 1985 and 1986, so dangerous. "To finish first, first you must finish" is a famous quote by Rick Mears, an American race car driver. Prost was only as fast as he needed to be and his 41 fastest laps during the highly competitive unrestricted turbo era and later 3,5 litre V10 era proves this.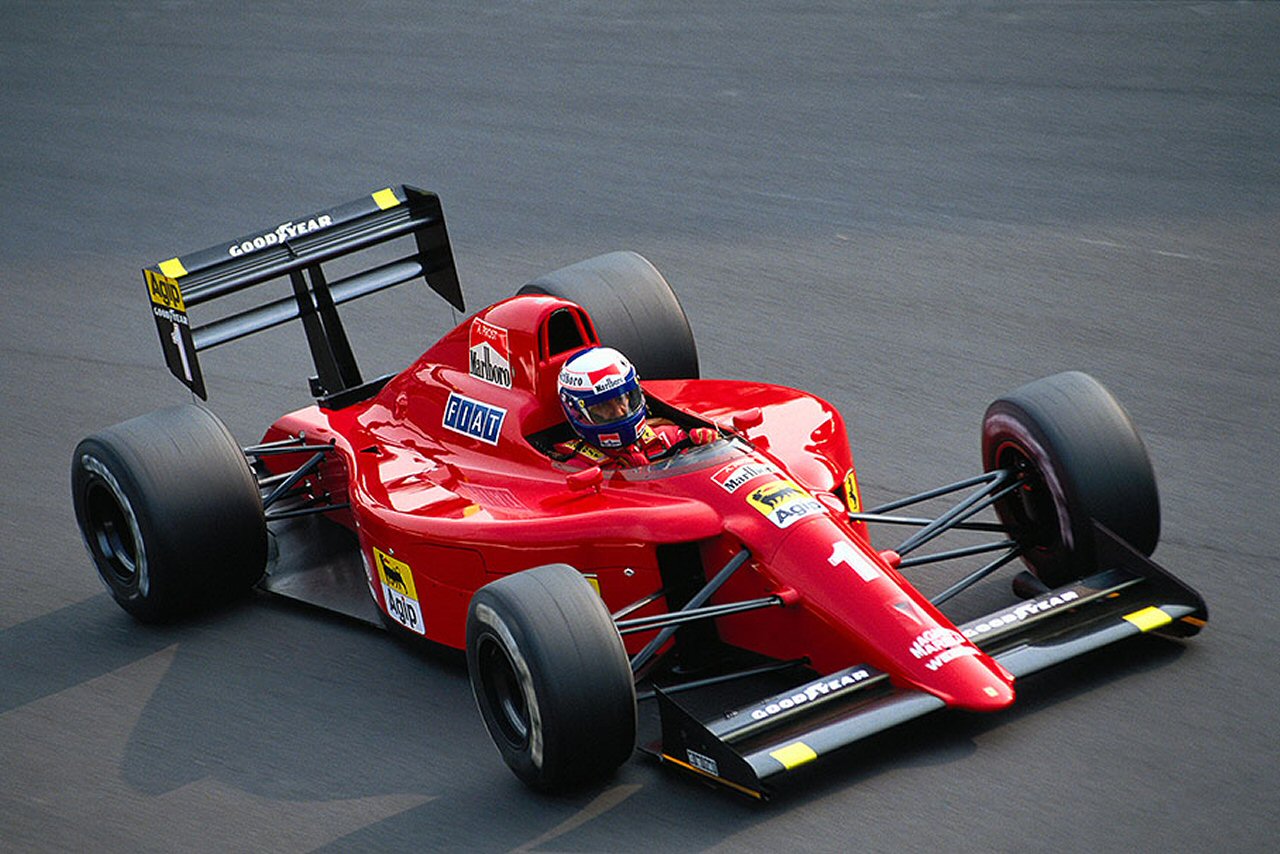 One of the greatest driver in Formula One history but many have their eyes deceived by a fake scheme of media have tarnished this legend. Alain Prost was truly underrated. He is a proper racing legend, the most complete driver there has ever been. Prost was a lot like Senna during his early years in F1. Most of his retirements came from the early 80s. That, coupled with the death of Villeneuve (a very good friend), the accident of Pironi, and other reckless accidents from fellow drivers, made a lot of things to start clicking in his head, when it came to safety and race-craft. Although he never stopped emphasizing on qualifying over race day, Senna was just beginning to reach a level of understanding that Prost had. Jo Ramirez knew how good Prost was and said of him that he was difficult to judge when setting up the car. He would do something unexpected with the set up that left a lot of people not understanding him, which eventually turned a lot of people in the team against him. When driving he never looked fast with his chosen set up. Until he posted the lap time or under certain conditions in the race that he calculated for with regard to the set up. Knowing it would suit him best. The smartest F1 driver ever, he had the skills to drive as fast as the fastest drivers with him, he only did it when it mattered.
Although rare, it's nice to see someone putting up a video complimenting Prost's achievements. It's hard to find a driver bashed so often by the press (and quite a few of the nasty critics were his fellow Frenchmen!). Whenever Prost had a bad day, the press rubbed it in by calling him a whiner and some reporters had the nerve to say he was never fit to be a driver. For poor Alain, the problem with the media was "Damned if you do, damned if you don't, and damned if you tried!" Prost himself admitted that the ugly relationship with the media was one of many factors behind his decision to quit in 1994. Even in history books about Formula One, they didn't say many neutral words about Prost, the best French pilot ever, "Monsieur Formule 1", the Professor taking kids to school.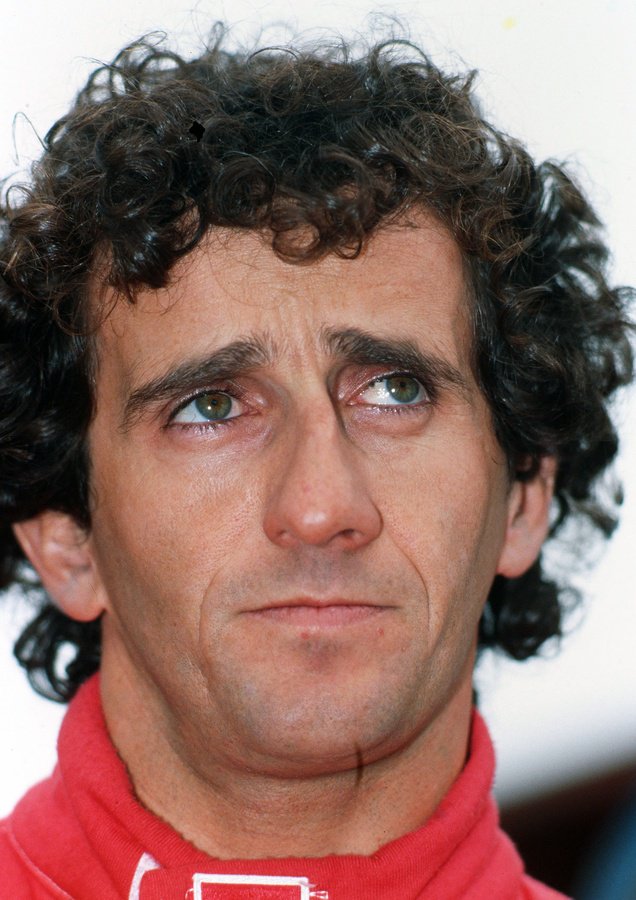 Alain Marie Pascal Prost, Chevalier de la Légion d'honneur (born 24 February 1955), born near the town of Saint-Chamond, close to the cities of Lyon and Saint-Etienne in the département of Loire, France, to André Prost and Marie-Rose Karatchian, is a four-time Formula One Drivers' Champion. He received the World Sports Awards of the Century in the motor sport category.
Alain Prost, born in France of Armenian descent, had one younger brother called Daniel, who died of cancer in September 1986. Although short, standing at 1.67 m (5 ft 6 in) Prost was an active, athletic child, who enthusiastically took part in diverse sports, including wrestling, roller skating and football. In doing so he broke his nose several times. He considered careers as a gym instructor or a professional footballer.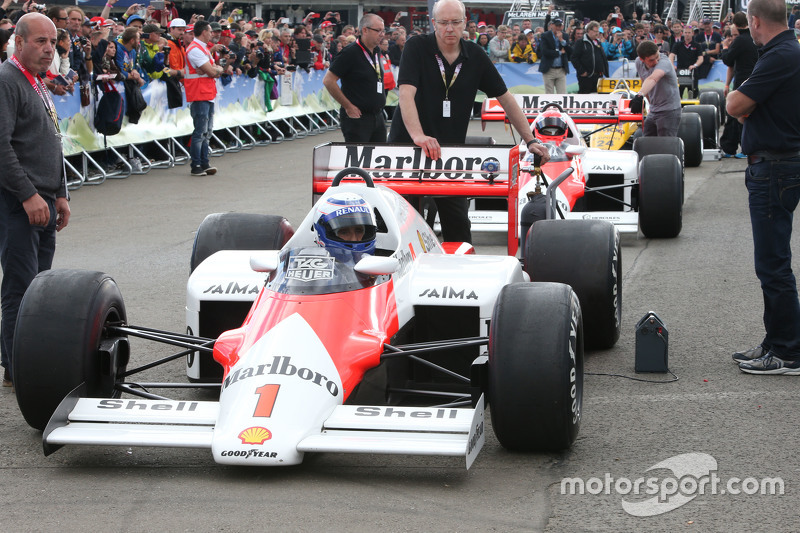 Prost discovered karting at the age of 14 during a family holiday and won several championships in his teens. In 1974, he left school to become a full-time racer, supporting himself by tuning engines and becoming a kart distributor. He progressed through motor sport's junior ranks, winning the French and European Formula Three championships, before joining the McLaren Formula One team in 1980 at the age of 24. He took his first race victory at his home Grand Prix in France a year later, driving for the factory Renault team. "When I went to Renault the journalists wrote good things about me, but by 1982 I had become the bad guy. I think, to be honest, I had made the mistake of winning! The French don't really like winners".
During the 1980s and early 1990s, Prost formed a fierce rivalry mainly with Ayrton Senna, but also Nelson Piquet and Nigel Mansell. He re-signed for McLaren for the 1984 season and moved his family home to Switzerland after Renault factory workers burned the second of the 2 of Prost's cars. In 1986, at the last race of the season, he beat Mansell and Piquet of Williams to the title after Mansell retired late on in the race, and Piquet was pulled in for a late precautionary pit stop.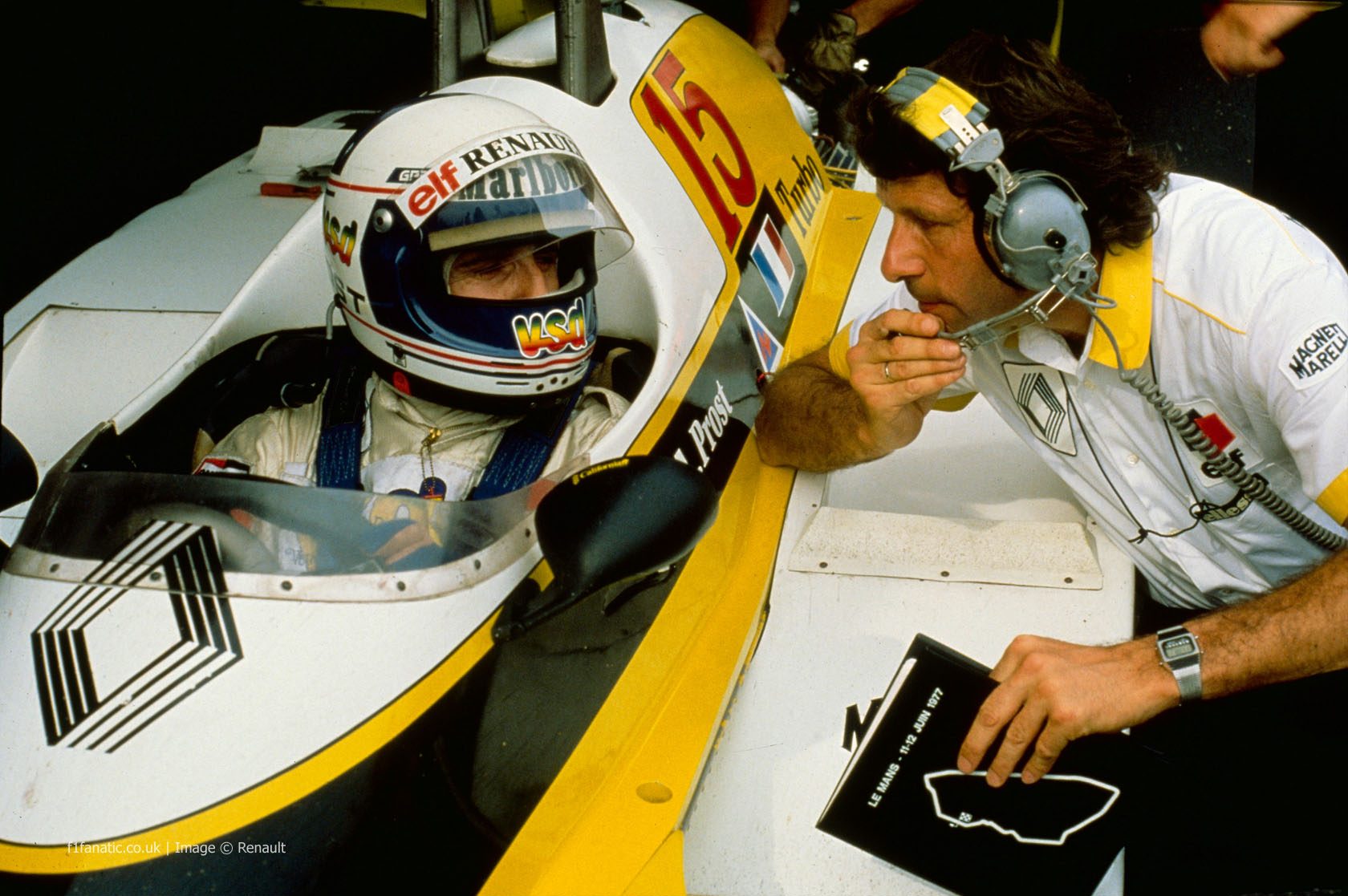 Prost considers his win in 1987 in the opening round in Brazil as his best and most rewarding race ever. The Williams-Hondas had been dominant during qualifying, and Prost started fifth on the grid with a time three seconds slower than Mansell's pole time. Knowing he didn't have the qualifying speed, he instead worked on his race set-up, and with everyone else going for a high-downforce set-up, the Frenchman went the other way. The set-up meant less tyre wear, thanks to slower speeds in the corners while going fast down the straights. With his car having less tyre wear than his rivals, Prost was able to get through the 61 laps of the abrasive Jacarepaguá Circuit with only two stops compared to the three or more by his rivals (Piquet pitted for tyres 3 times within the first 40 laps). Prost finished 40 seconds in front of Piquet, with Johansson a further 16 seconds back in third. "When you win a race like this the feeling is very, very good. There have been times when I have been flat-out to finish sixth, but you can't see that from the outside. In 1980 I finished three or four times in seventh place. I pushed like mad, yet everyone was gathered around the winner and they were thinking that I was just trundling around. But that's motor racing. So, in fact, the only thing you can judge in this sport is the long term. You can judge a career or a season, but not one race".
In 1988 Prost had convinced Ron Dennis to sign Ayrton Senna to a three-year contract at McLaren, which played a role in luring Honda (Senna's ability had been highly regarded by the Japanese giant when using their engines with Lotus in 1987 and both were keen to continue their association). However, this began the rivalry that pushed two of the sport's greatest drivers to unprecedented heights of success and a series of controversial clashes. McLaren-Honda dominated the season, winning 15 out of 16 races. Prost finished first or second in every race other than his two retirements at Silverstone and Monza. He won seven races and in total outscored his new teammate Ayrton Senna by 11 points, despite Senna winning one more race than Prost. However, only the 11 best results from the season counted toward the championship total, and this gave Senna the title by three points.
Prost went on to be a proponent of essentially the 1990s scoring system – all results counting to the final results with the winner scoring 10, not 9, points. In November of that year, Prost had a meeting with the head of Honda's R&D department and F1 racing program, Nobuhiko Kawamoto in Geneva. He expressed his feelings that Honda was giving Senna preferential treatment, and Kawamoto then confirmed Prost's fears, explaining that the Honda engineers were of a new generation, and that they liked Senna's panache and samurai-like driving. Kawamoto was able to convince Prost that he would work something out on the Honda end of the McLaren-Honda partnership for the 1989 season, but this was not to be. McLaren's domination continued throughout 1989, and the Prost-Senna struggle for supremacy put them on a collision course. Mutual admiration turned to all-out hatred, with the Frenchman accusing his Brazilian teammate of "dangerous driving" and of receiving more than a fair share of attention from both McLaren and Honda. For his part, Senna accused Prost of being in the pocket of FISA's French president Jean-Marie Balestre. The animosity between the two drivers came to a head at Round 2 in San Marino.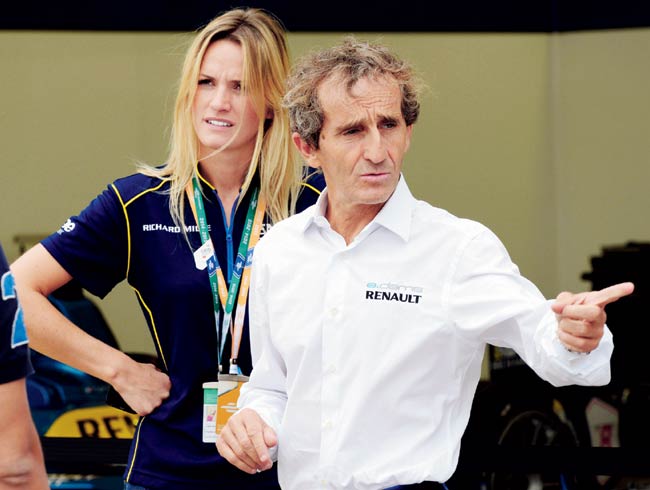 The drivers made an agreement between them that whoever won the start would not be challenged by the other going into the first turn (in this case, the Tosa bend on the Imola circuit). Prost kept to the agreement after Senna won the first start. Prost, however, won the restart (caused by Gerhard Berger's fiery crash in his Ferrari), but was passed by Senna under brakes for Tosa. Prost went to a friend of his, a French journalist, and told him about the broken agreement between him and Senna. Against Prost's wishes, the journalist went public with the story. During testing at Pembrey in Wales, Senna denied in public any such agreement had ever existed between himself and Prost, but the Frenchman's claim was backed up by Marlboro's John Hogan who had been present when the agreement was made.
Their embittered season ended as many pundits had feared. In the Japanese Grand Prix at the end of lap 46, Senna made his move at the Casino Chicane. Prost, turning into the corner, turned into his teammate's path resulting in a collision and the cars sliding interlocked down the escape road. Prost, thinking the World Championship was over, climbed out of his stalled car. To separate the cars, the marshals pushed Senna's McLaren backwards onto the track. This left it in a dangerous position, so they pushed it forwards again. As they did so, Senna bump-started the engine. He drove through the chicane and re-joined. The nose of his car was damaged and he had to pit, but he re-joined only five seconds behind the Benetton of Alessandro Nannini. On lap 50, Ayrton sliced past Nannini at the chicane to take the lead and won the race. But it was Nannini who appeared on the top step of the podium, race officials having excluded Senna for missing the chicane. McLaren appealed the decision, but the FIA Court of Appeal not only upheld the decision, but also fined Senna $ 100,000 and gave him a suspended six-month ban. Thus, Prost clinched his third driver's title in controversial circumstances.
However, Prost had the firm belief that Honda and Ron Dennis viewed Senna as the future of the team. Prost recalled that by the Italian Grand Prix he had one car with maybe four or five mechanics, while his teammate had two cars and 20 people around him. Before the race Prost, who had announced in July 1989 that he would depart from McLaren, announced he was joining Ferrari. As 1989 wore on, Prost continually claimed his Honda V10s were not producing the same amount of power as those in Senna's car. It actually got to the point where Honda F1 boss Osamu Goto felt compelled to speak to the specialist British media on the matter. He claimed that Senna's foot-tapping style with the accelerator helped keep the RA109-E's revs up in the engine's mid-range where most of the power was, while Prost's smoother style dropped the engines into low revs where they had a pick-up problem. Apparently, the talk was convincing. An example of Prost's claims came during the Mexican Grand Prix. Despite his car running less wing than Senna's which theoretically would give him greater top speed, Prost's McLaren was not able to pass Senna's on the long front straight even though he came of the final Peraltada Curve clearly faster than the Brazilian and also had the benefit of a tow. In stark contrast, late in the race when Senna was lapping Prost (who was on fresh tyres), Senna was easily able to power past Prost on the straight.
Prost signed to join Ferrari in 1990 becoming the first driver signed to the team after the death of team founder Enzo Ferrari in 1988. As reigning world champion, Prost took over as the team's lead driver and was said to have played on Mansell's inferiority complex. Mansell recalls one incident where at the 1990 British Grand Prix, the car he drove didn't handle the same as in the previous race where he had taken pole position, and later found out from team mechanics that Prost saw Mansell as having a superior car and had them swapped without Mansell knowing.
The championship once again came to the penultimate round of the season in Suzuka, Japan, with Prost trailing his McLaren adversary, Ayrton Senna, by nine points. As in 1989, a controversial collision between the two settled the race. Prost qualified second with Senna on pole. Between the end of qualifying and race day, pole position was switched to the other side of the track without explanation. Senna complained that no longer being on the racing line, his side of the grid was dirty, meaning he would get less grip and therefore a slower start compared to Prost who had been moved to the clean side of the grid. The Brazilian's appeal was rejected. At the start of the race, Prost got the better start of the two; but whilst braking for the first corner, Senna refused to back off and collided with Prost at 160 mph (260 km/h), clinching the title for the Brazilian. Prost almost retired from the sport, saying "What he did was disgusting. He is a man without value". A year later, Senna admitted that the move was premeditated, in retaliation for the collision at the chicane on the same course the previous year. Prost finished the season seven points behind Senna, and his Ferrari team were runners-up to McLaren.
There was another controversial incident in 1991. Prost's inferior Ferrari was unable to put up a challenge regularly to Senna's front-running McLaren. At the German Grand Prix at Hockenheim, Prost battled Senna for 4th place, but he felt Senna defended too aggressively and at the first chicane forced Prost to take avoiding action by using the escape road. Prost stalled his car re-joining the race. Coincidentally, Senna ran out of fuel on the last lap at the very same point. Mansell left the Scuderia due to his unstable relationship with Prost, to rejoin Williams for the 1991 Formula One season. Prost won no races, only getting onto the podium five times. He took this out on the team, publicly criticising the team and the Ferrari 643, and subsequently had his contract terminated before the end of the season, immediately prior to the Australian Grand Prix. "In Japan, the car was like a horrible truck to drive. No pleasure at all. I've underlined the defects of the Ferrari throughout the season, but no-one has listened to a word". Despite being sacked, Prost received a significant payment from Ferrari to not drive for any other team. It was the second time in his career that Alain Prost had been fired by a factory backed team for his public criticism of the team and car, having been fired under similar circumstances by Renault at the end of the 1983 season.
1991 was the first time since his debut year in 1980 in which Alain Prost did not win a Formula One Grands Prix. Prost went on a sabbatical year in 1992, which was dominated by Nigel Mansell in a Williams-Renault. Prost performed pre-season testing for Ligier early in 1992 and later turned down an offer to drive for the team. After hearing that Prost would be his teammate again in 1993, Mansell left Williams to race in the CART series. The Frenchman had a clause in his contract which prevented rival Ayrton Senna from joining the team that year. An infuriated Brazilian called his colleague a "coward" during a press conference at Estoril: "I think if Prost wants to be called the sole champion, three-times world champion, come back in a sportive way, maybe win another championship, he should be sportive. The way he's doing, he's behaving like a coward. And if he wants to be sportive, he must be prepared to race anybody, at any condition, at equal terms".
During the 1993 season, Prost and Senna continued their on-track rivalry. Prost was escorted by police to the Interlagos circuit for the 1993 Brazilian Grand Prix due to the hostility of Brazilians towards him. The two continued their on-track battles at Silverstone where Senna aggressively defended his position against Prost. Prost won his fourth, and final, title, but in a year where he was regularly challenged by teammate Hill, and Ayrton Senna. Shortly before the Portuguese Grand Prix in October 1993, Prost announced he would not defend his world title, as the clause in the Frenchman's contract did not extend to 1994 and Senna would be able to join Williams for the upcoming season, and instead opted to retire as the driver with the record for most grand prix victories — a record which stood for almost a decade.
At Prost's last Grand Prix, the 1993 Australian Grand Prix in Adelaide, he was pulled up by Senna onto the top step of the podium for an embrace. Prost was surprised by the gesture, as Senna had declined a handshake the race before. On 1 May 1994, Ayrton Senna was killed during the San Marino Grand Prix. Prost was a pallbearer at the Brazilian's funeral. Speaking four years after the Brazilian's death, Prost told Nigel Roebuck that he had "always refused to speak about him". When Senna died, Prost stated that "a part of himself had died also", because their careers had been so bound together. Senna had also felt the same when Prost had retired at the end of 1993, when he admitted to a close friend that he had realised how much of his motivation had come from fighting with Prost. Only a couple of days before his death, when filming an in-car lap of Imola for French television channel TF1, he greeted Prost, by then a pundit on the channel: "A special hello to my, ... to our dear friend Alain. We all miss you Alain". Prost said that he was amazed and very touched by the comment.
Prost's performances earned him an OBE. German Michael Schumacher broke Prost's record of 51 Grand Prix wins during the 2001 season. However, the Frenchman still holds the records for the most Grand Prix starts in turbo powered cars (126). He is also thus far the most recent Frenchman to win his home Grand Prix. In 1997, Prost took over the French Ligier team by Flavio Briatore, running it as Prost Grand Prix until it went bankrupt in 2002, leaving debts of around $30 million. From 2003 to 2012 he competed in the Andros Trophy, which is an ice racing championship, taking 38 race victories and winning the championship 3 times.
Prost was married to Anne-Marie (born 14 February 1955), but they divorced sometime later. They have two sons, Nicolas (born 18 October 1981) and Sacha Prost (born 30 May 1990). Prost also has a daughter, Victoria.
Quotes
On emotion you feel in a single-seater car: "pure adrenaline, huge bursts, fear, excitement, reflexes under high vacuum, ongoing difficulties".
On the death of Senna: "I felt like I would have left Formula 1 one more time. After, I never saw our sport in the same way. It was something big, incredible. I think of it often. Many years have passed and I see now that me and Ayrton keep that same popularity. That's why in our challenges we wrote some of the most beautiful pages of this sport. It was an irretrievable loss that still hurts. You cannot forget. Now, besides the anniversary of recent days, you try not to talk much. But the thought remains".
"I race for myself and for Renault, not for France, as France has never raced for me".
"My sport is very dangerous, luck is needed, unfortunately I've lost friends, the last Ayrton Senna".
"Senna says he believes in Jesus… Probably he's so convinced of it to think of being immortal, otherwise he wouldn't do what he does".
"There are times, in the career of a driver, when the car is very, very good and becomes one with him. They are moments that come no more than four or five times in a life".
"Without going to what I think is my limit. I always say that my ideal is to get pole with the minimum effort, and to win the race at the slowest speed possible".
"You can't always have the best team. It's always a compromise".
"Another big part of my success is that I hated not to finish a race".
"Sometimes I think I could have gotten some better results if I would have had a different mentality; if I could have pushed hard and attacked. But then I would have had a good chance of making a mistake".
"I have always had this mentality because I hated to break anything on the car".
"People don't understand that it was maybe my biggest pleasure to drive a F1 car when it's wet".
"I'm brave to say that I won't take this sort of risk".
"The people who criticise you will not be the ones taking care of your legs when you are in your wheelchair. People who never drove a car in these conditions, they just don't know".
"When I test I never go right to the limit. Only because when you are below the limit you can go at the same speed all day, and that's the only way you can be absolutely sure about what you are testing".