Season opening – Australian GP
After the winter tests it was obvious that Mercedes had a significant edge over their rivals, but Ferrari's pace seemed very promising regardless. In the season-opening Australian GP it proved to be true that Ferrari had been able to take a huge step forward in terms of improving their car after the almost catastrophic season of 2014.
The Silver Arrows were a light-year ahead of everyone else, but Ferrari and Williams were quite evenly matched. Vettel had the upper hand over his Finnish teammate; Sebastian managed to finish the race in 3rd place, but Kimi had a problem-filled race.
The Iceman collided both with Toro Rosso's Sainz and Sauber's Nasr on the first laps and was dropped down to P8. Later the Finn was released from the pits with rear left wheel not properly attached, and Kimi had to retire from the race.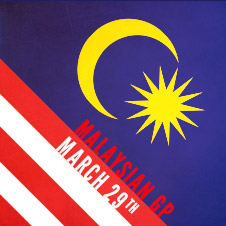 Malaysian GP
Malaysia witnessed a thunder-hit qualifying with Kimi missing out on the final segment; Sebastian managed to make it as high as P2, splitting the Mercedes duo. Hamilton conquered the second pole of the season.
Kimi's difficulties continued in the race. Once again the Iceman collided with Nasr, causing the Finn a puncture. Sebastian, on the other hand, was driving a race of his dreams. Although Mercedes' pace had seemed so dominant in Australia, this time around Sebastian managed to overtake both of the Mercedes drivers on track! Unbelievable, but true – the German Ferrari ace snatched the victory at Sepang, and at last Kimi made a very decent P4 after the first-lap incident.
Ferrari did an awesome job in terms of tyre management, and it was a clear advantage for the Italian-based team.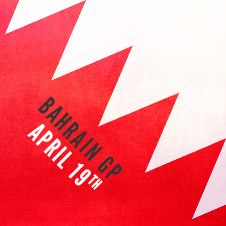 Bahrain GP
In Bahrain Sebastian once again out-qualified his teammate, making it in the first row alongside Hamilton; Kimi drove convincingly as well, making it his best P4 of the season.
Hot conditions seemed to suit Ferrari extremely well. There's something special about Kimi and the Sakhir circuit, for Kimi always shines like a star there. This time Kimi took a staggering start and passed Rosberg right away. Sebastian made a mistake in the race, which is not typical of him, and had to pit for a new front wing. Kimi finished in P2 behind Hamilton, which was very impressive. Sebastian, on the other hand, had to settle for P5 this time.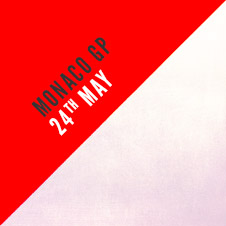 Monaco GP
The Monaco race was certainly dramatic. Hamilton was leading the race, but, further down in the pack, Toro Rosso's rookie driver Verstappen ended up in the wall after trying to overtake Lotus' Grosjean; a safety car was deployed.
The race had a bizarre turn as Hamilton was called into the pits, but Rosberg and Vettel behind him didn't pit. That caused Hamilton to drop down to P3. For a while Hamilton and Vettel were driving wheel-to-wheel, but Sebastian made it ahead of the shocked Briton.
It was the 3rd Monaco victory for Rosberg in his home streets. Kimi drove to the chequered flag in P6 and had the first problem-free weekend this far!
Canada GP
In Canada it was Sebastian's turn to face difficulties. The German had a MGU-H issue with his SF15-T, and he was left in P16 in the qualifying. In addition to that he was handed a 5-place grid penalty for a red flag infraction in FP3!
Hamilton took a sweeping pole with Rosberg coming in second and Kimi – third. During the race it seemed that Kimi had every possibility to make it on the podium, but after Kimi's pit stop the race took an unexpected turn.
All of a sudden Kimi span and lost some 10 seconds, which meant that Williams' Bottas managed to jump his compatriot after his pit stop. After the race it still wasn't clear what had caused the spin, but it was said to be an engine mapping issue and that it had happened to Kimi once before in the previous season as well.
Once again it was a 1-2 for Mercedes and one more victory for Hamilton. Sebastian finished the race in stunning P5 despite the lousy grid slot.
Red Bull Ring
At Red Bull Ring, in mixed conditions, Mercedes proved to be in a class of their own. Both Hamilton and Rosberg made a mistake on their second flyer, but Hamilton still snatched the pole with his teammate coming in second! This was the 19th consecutive pole for Mercedes, which practically meant that Mercedes had been on pole for an entire calendar year!
The Ferrari teammates enjoyed differing fortunes: Sebastian made it as "best of the rest", being the 3rd fastest, but Kimi had a miscommunication issue with his team and was left in P18 in the qualifying.
Things didn't get any better for Kimi during the race. He got a massive wheel spin exiting turn 2 and his SF15-T came into contact with Alonso's McLaren. Both hit a wall and the Spaniard's MP4-30 ended up atop the Ferrari's cockpit, only inches from Kimi's head!
Sebastian faced difficulties of his own during the race. His only pit stop was delayed as the right rear wheel took longer to change, which cost 13 extra seconds, and Sebastian had to settle for P4. However, the German Ferrari star didn't point his finger at the team for the failed pit stop, but took the disappointment as a part of motor racing.
On a side note, during this GP weekend, I was referred to as "the biggest Vettel fan in Finland" live on TV by the Finnish F1 commentator! He had been wondering what was the name that Sebastian had given to his car this year, so I tweeted him that it was Eva. He also mentioned my F1 blog, which I found to be a huge honour.
Media speculation around Kimi in July
In July there was huge media speculation around Kimi's future with Ferrari. Rumours had it that Kimi had only two GP weekends to convince his team that he was worth keeping in 2016.
At Silverstone Kimi managed to beat his teammate in the qualifying laps for the first time this season. Williams emerged as serious contenders for Ferrari; both Williams drivers made it ahead of the Ferrari duo. During the race Massa and Bottas managed to take a double lead, but, when rain began and conditions changed, the Williams drivers were in trouble and they lost their positions to the Mercedes duo.
Nothing new under the British sun: 1-2 for Mercedes and P3 for Sebastian. Kimi had made a wrong call to pit for the intermediate tyres, leaving the Iceman with P8 in final standings.
Hungarian GP
Hungarian GP was a moment of contradictory feelings.
The talented Marussia driver Jules Bianchi had just succumbed to his injuries; a 1-minute silence was held before the race started. At the same time I had read on the news that the Finnish F1 doctor Aki Hintsa had been diagnosed with cancer; Hintsa has worked with many F1 drivers, including Kimi and Sebastian. The news came as a shock to me, since only a couple of months earlier there had been a book published on Hintsa and his life's work.
 However, the start of the race was absolutely glorious. Sebastian stormed into the lead with Kimi right at his tail. The joy, however, proved to be premature; Kimi had an issue with his power unit and there was nothing the team could do to fix the problem, and Kimi had no choice but to retire from the race.
Sebastian took his second win of the season! Kvyat in his Red Bull finished 2nd, which was the first podium finish for the Russian. His teammate Ricciardo completed the podium. Quite shocking – no Mercedes on the podium!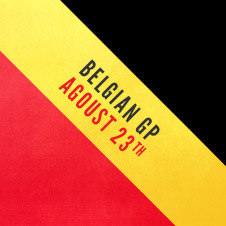 Belgian GP
Luckily the speculation about Kimi's future was put to an end as Ferrari announced that they will keep the Iceman on their team also in 2016. The atmosphere in the team seemed so good with Kimi and Sebastian as teammates; no psychological games, only fair teamwork with mutual respect!
Although there isn't such a thing as bad luck in the Formula 1 world, things definitely didn't go as planned for the Ferrari duo in Belgium. Kimi had an oil pressure issue in the qualifying, which caused the Finn to miss out on Q3. Sebastian didn't have a perfect qualifying, either, and P9 was his reality.
Podium finish was already within Sebastian's reach during the race, but then something dramatic happened on the second last lap of the race – Sebastian's tyre exploded, and with it – his chances of a podium finish!
Once again Hamilton and Rosberg took 1-2, but what was new was the fact that Lotus' Grosjean made it on the podium as well.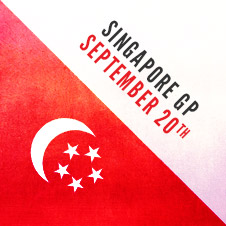 Singapore GP
Under the shining artificial lights of the dark night of Singapore it seemed as if a curse had hit Mercedes. Suddenly their pace was gone – something that had not been seen any time before.
Red Bull proved to be impressively competitive as well. Sebastian had an incredible qualifying and the Ferrari ace made it on pole. Ricciardo at the wheel of his RB11 took second, but Kimi – third. Hamilton couldn't make it higher than P5, with his teammate making it as 6th.
The Mercedes duo was 1.4 seconds off Sebastian's pace, which was unbelievable yet true. This time it was Hamilton's turn to face DNF – the Briton was hit with significant loss of power, which forced him to retire.
Toro Rosso's teenager Verstappen had impressed everyone with his stunning overtaking moves already earlier in this season, but in Singapore he made a huge impact on me by not obeying the team orders to let his teammate Sainz pass him.
Sebastian drove to the chequered flag as a winner for the third time this season; Ricciardo came in second, followed by Kimi. No Mercedes on podium in Singapore, either. Absolutely great work from the Ferrari teammates!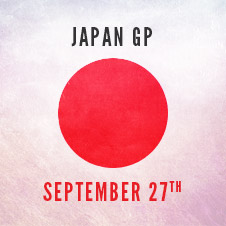 Japan GP
Sebastian's ex-trainer Tommi Pärmäkoski had been invited to MTV's F1 studio during the Japanese GP weekend. Finnish F1 fans were asked to tweet questions to Tommi, and I was utterly delighted to see my question being picked out; I had asked the following: "During those three years that you worked with Sebastian, what was the most difficult moment, and, on the opposite, what was the most rewarding moment?"
Tommi told that the most difficult moment was the Turkish GP 2010 when Sebastian collided with his teammate Mark Webber, which didn't surprise me. I remember that race clearly! As the most rewarding moment Tommi mentioned the time when Red Bull started to succeed as a team, overcoming all the setbacks and difficulties.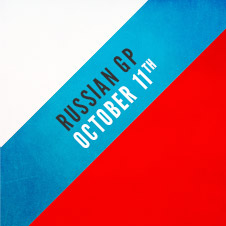 Russia GP
I remember the Russian GP because of the collision between the Finns. On the closing lap of the race Kimi tried desperately to overtake his compatriot Bottas while fighting for P3, but the manoeuvre ended up in a collision, which ruined Bottas' race and dropped Kimi down to P8 after he received the 30-second time penalty, which was handed to Kimi for causing the collision.
Mercedes secured the constructors' world championship at Sochi, although Rosberg suffered from an issue with the throttle and had to retire from the race. Hamilton won, Sebastian impressive came in second, and Force India's Perez took a surprising 3rd.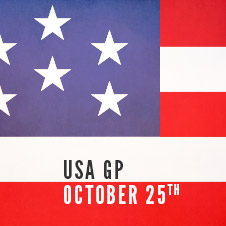 USA GP
US GP weekend saw extreme weather conditions as the hurricane Patricia brought massive amount of rain into Texas area. Qualifying was postponed to the day of the race, but the Q3 didn't take place due to the heavy rain and deteriorating conditions.
Both Ferrari drivers were handed a 10-place grid penalty for an engine change. This meant P13 for Sebastian and P18 for Kimi. Red Bull were on top form on the damp track, but the tricky conditions made Kimi drive off the track, destroying his front wing. Finally Kimi had to retire from the race due to the overheating of the brakes caused by the crash.
Hamilton clinched his third world title on Texas soil, which was inevitably going to happen sooner or later. In spite of the poor grid slot, Sebastian once again made it on the podium!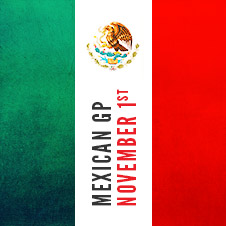 Mexican GP
Mexican GP was a collision-filled race for the red-suited drivers.
Sebastian, starting from P3, collided with his ex-teammate Ricciardo on the opening lap, which caused the German a puncture. Later on in the race Sebastian made unusual mistakes – he lost the control of his SF15-T twice. The first spin cost him only a few positions, but the second time put him into the barriers and his race was over.
Kimi, on the other hand, had another collision with his compatriot Bottas! This time Bottas was trying to overtake Kimi, but Kimi was stubborn, having decided to not to let Bottas through. Bottas got his revenge as the collision ended Kimi's race, but the Williams pilot still made it on the podium.
All in all, this was definitely a nightmare of a race for the Prancing Horse!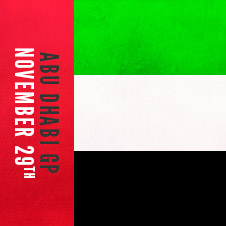 Season finale – Abu Dhabi GP
After Hamilton secured his world title, his teammate Rosberg seemed to find his pace and self-confidence again, getting the upper hand over his teammate again. Such was the case at the season finale in Abu Dhabi – Rosberg topped the standings both in the qualifying and in the race!
Ferrari's pace was excellent, but not good enough to challenge Mercedes. Kimi finished the season-ending GP in P3 and Sebastian in P4, making it a not so bad of a closure to a successful season.
I'm already eagerly looking forward to the season of 2016. I'm confident that Ferrari has been able to take another significant step forward and that they can take the battle with Mercedes for real this year!
Yours truly,
Iina Huhmarniemi