Round 19 brought Formula 1 circus to Autodromo Hermanos Rodrigues, Mexico for the second consecutive year. All eyes were on the Silver Arrows, as the 2016 title fight could be settled for the first time this season. If Rosberg won the race and teammate Hamilton finished 10th or lower, the German would be the world champion.
Once again, qualifying was all about tyre strategy. At the beginning of Q2, Ferrari, Mercedes and Force India all opted for the yellow-marked soft rubber. Red Bull stood out as they ran both Verstappen and Ricciardo on the super soft compound. During the second session it seemed that the pack was mixed-up nicely, as Verstappen was topping the timesheets with Hamilton being second, Vettel third, Ricciardo fourth and Rosberg fifth. Kimi made a second run on the red-marked super soft Pirellis; however, the Iceman was unable to improve his lap time. This meant that Kimi, too, was going to start the race on the more durable soft rubber.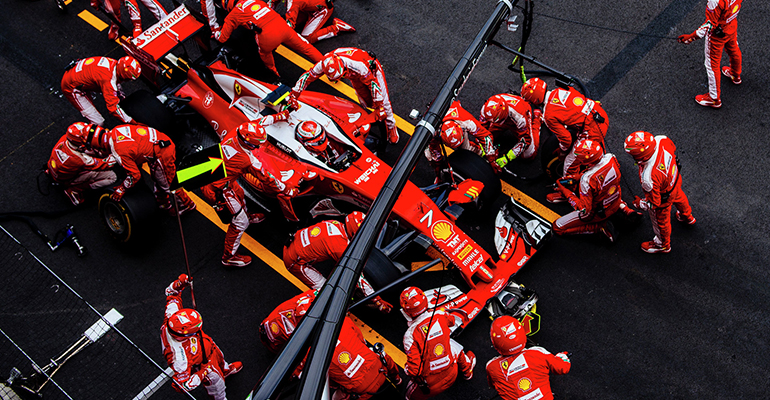 Hamilton set the pace on the first runs; the Briton also clinched his 10th pole of the season. Initially teammate Rosberg was well behind Hamilton, but managed to claim the other front-row grid slot at the end of the decisive last session. Once again Red Bull impressed by conquering row two with Verstappen third and Ricciardo fourth. In comparison, Ferrari were nowhere near! Force India´s Hulkenberg starred as he beat both red cars to secure fifth! Kimi had to settle for P6 and Sebastian for P7. That definitely wasn't the result the red-suited drivers were hoping for... To be honest, qualifying left a lot to hope for in terms of Ferrari's pace and performance.
Yesterday's race went deep into my emotions. But let's begin from the start. All top eight drivers got excellent starts, and Hamilton maintained his lead. However, he locked up his front tyres going into Turn 1, which caused the Briton to go wide. In spite of cutting the corner, Hamilton managed to stay ahead of teammate Rosberg, who was having a battle of his own with Red Bull's Verstappen. There was a first-corner incident between Sauber's Nasr and Manor's Wehrlei as they collided with each other. There was a lot of debris on the track, and a safety car was deployed.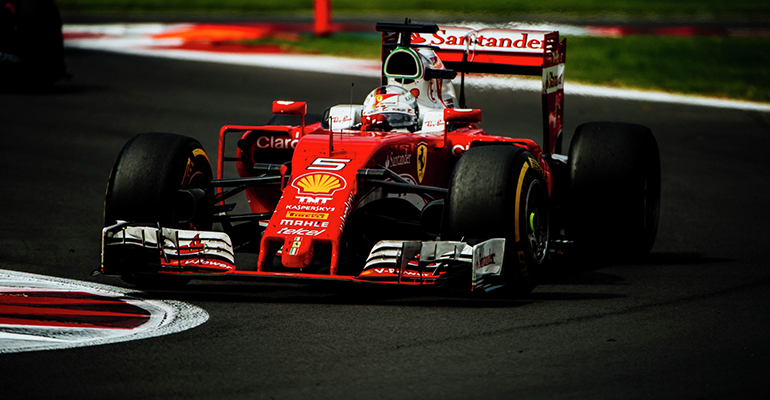 Sebastian drove an extremely long first stint, and he was the last top driver to pit on lap 33. All top drivers had a similar tyre strategy; everyone opted for a fresh set of medium rubber. Sebastian was driving a strong race, although he re-joined the track in P6 behind Kimi. Hamilton was leading the race with teammate Rosberg second, Verstappen third and Ricciardo fourth. However, both Mercedes drivers, Red Bull's Verstappen and Ferrari's Vettel were on a one-stop strategy, whereas Kimi and Ricciardo were on a two-stopper. Kimi opted for another set of medium Pirellis for his last stint, which differed from Ricciardo's strategy; the Australian opted for the yellow-marked soft rubber, which meant an aggressive last stint.
The last ten laps were absolutely hair-raising. Sebastian had closed the gap to Verstappen, who had already over 50 laps on his tyres. Ricciardo, on the other hand, had chased down Sebastian on his fresher soft tyres. Sebastian was having a wheel-banging battle with the Flying Dutchman for the last podium place. The German Ferrari ace planned a move on the Dutchman, who ended up going on the grass and cutting the corner. Sebastian was absolutely furious on the team radio shouting that Verstappen should give the position for him because he had gained advantage by cutting the corner. Aggressive swear words told more than enough about the quadruple world champion's frustration! The incident was taken into investigation by the stewards to be investigated after the race.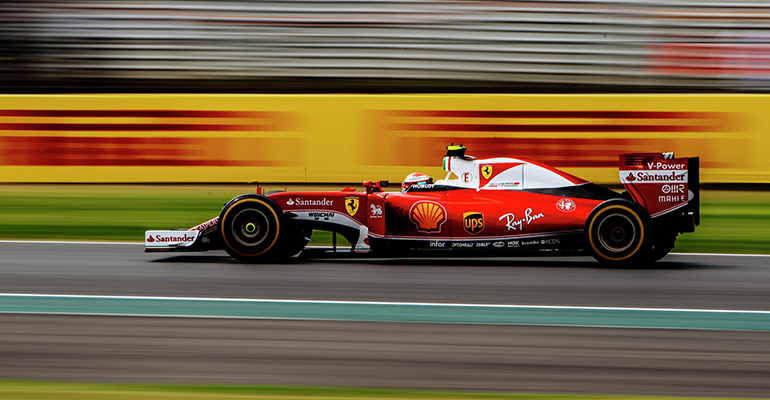 Meanwhile, Ricciardo had also got within DRS distance from the German Ferrari ace. The Australian seemed absolutely passionate about getting past his ex-teammate. Ricciardo made a move on Sebastian, but, in order to defend his position, Sebastian changed his line at the braking, which prevented the hungry Australian from overtaking. Only a few weeks earlier Sebastian had been one of those who had loudly complained about such manoeuvres in terms of Verstappen. This had lead into new rule by the FIA prohibiting drivers to change line in the braking zone. This incident, too, was to be investigated after the race.
On the second last lap I decided to vote Sebastian as the Driver of the Day, as the German had fought in the race like a lion. I was so happy to see "the good old Vettel" back! The final lap and crossing the finish line changed my opinion radically. I was absolutely shocked to hear the outrageous and shoddy team radio message by Sebastian (telling Charlie Whiting to f**k off) and to see those inappropriate hand gestures to Verstappen... Of course, it happened in the heat of the moment and in a huge adrenaline rush, but nothing justifies such behaviour from a quadruple world champion! I got a heart-stopping flashback from the Turkish GP in 2010 when Sebastian had collided with teammate Webber and showed rude hand gestures implying that Webber was "crazy".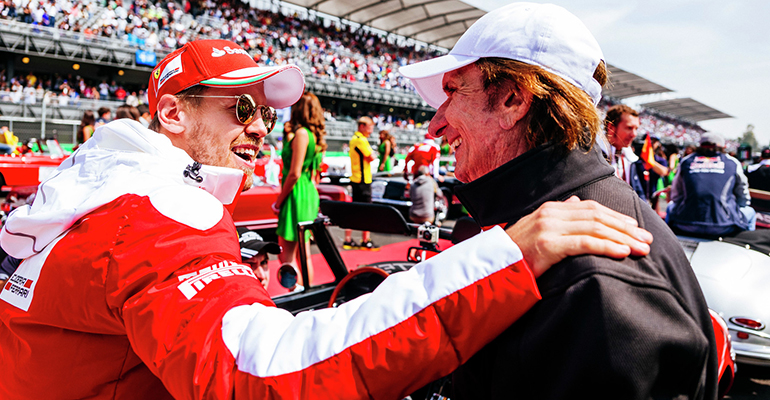 Hamilton won the race, teammate Rosberg finishing as the runner-up. Red Bull's Verstappen crossed the finish line in third, but there was more drama to come. The Dutchman was already in the pre-podium room as there was an announcement that Verstappen had been given a 5-second time penalty for gaining advantage by cutting the corner! To me the penalty seemed a bit questionable, as Hamilton hadn't been penalised for a similar manoeuvre in Turn 1 on the opening lap. Sebastian looked so happy on the podium, but, in my opinion, he didn't deserve to be there. Sebastian got his penalty a few hours later when he was given a 10-second time penalty for changing the line at the braking. After all the penalties, Ricciardo was placed third, Verstappen fourth and Sebastian fifth. Kimi finished 6th on a two-stop strategy. Rosberg still has a 19-point lead in the drivers' standings with only two more rounds to go. However, all my thoughts are with Sebastian at the moment.
Even a quadruple world champion is a human being, and everybody makes mistakes. However, he has his responsibility as a role model and an idol so there's definitely a lesson to be learnt. But being a fan means standing by your idol also when things are not going according to plan - and even when you don't accept or agree with everything your idol is doing on or off track. So chin up, Sebastian, and towards new challenges!
With passion for racing red, 
Iina Huhmarniemi