The Scuderia Ferrari Club Riga aims to create events that combine the glamour of Ferrari with the traditional, cultural and natural excellence of select places around the world. The Ferrari, therefore, not only for its road and track performances but also for its ability to admirably interact with nature, even the most extreme one of the most inaccessible places. The High North remains to us an amazing stage for the Reds, with its great spaces, its colours, its cold beauties. Here, nature did its very best; one can meet one of the most beautiful among human endeavours, one of the very few that can hang out at these enchanted places without being out of tune, without upsetting the balance. To describe these magical regions, we choose who will let us discover them in the best way, the most passionate one, our contemporaries or not.

Jonna Jinton has spent many nights taking pictures of the northern lights, the most fascinating and magical expression of nature. She has showed them to us and let us have great knowledge of traits of the lives in those northernmost territories which would have remained the heritage of the very few residents of those regions. We are not talking of brief moments – we mean record of years spent in those places. She has done it with passion, with the nice touch of the Swedes from a long time ago, in love with their traditions, and having the language skills needed to explain her feelings in a manner that is directly usable. No one has ever done it before, this is the reason of her success.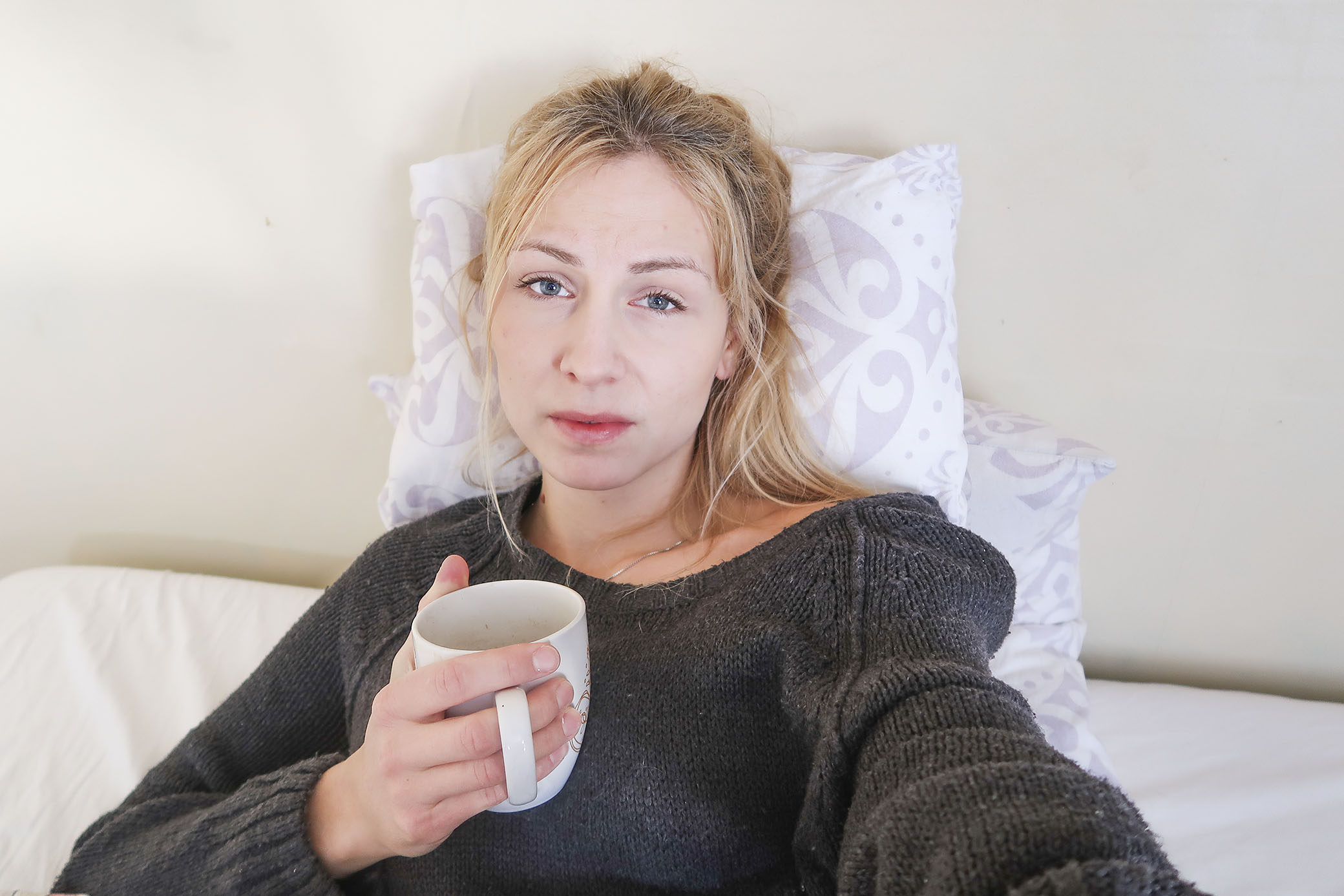 She wasn't attracted to Goteborg's supermarkets; instead, she was drawn to wildlife up north, of which she delivered us the soul. And it was an inescapable, ancestral call. She listens to classical music and sings traditional Celtic chants with which she calls animals. She likes to combine nature with people in her photos. She prefers shoots in the dead of night or very early in the morning to get the right light. She lives in a village of ten inhabitants together with her beloved dog, her best friend, and her cats. And with her cows and her favourite "Star", that fills her with affection. A simple world where she can express herself. When she is for the first time in a new location that she explores she feels overcome, oppressed, insufficient; she would like to be everywhere but she can't.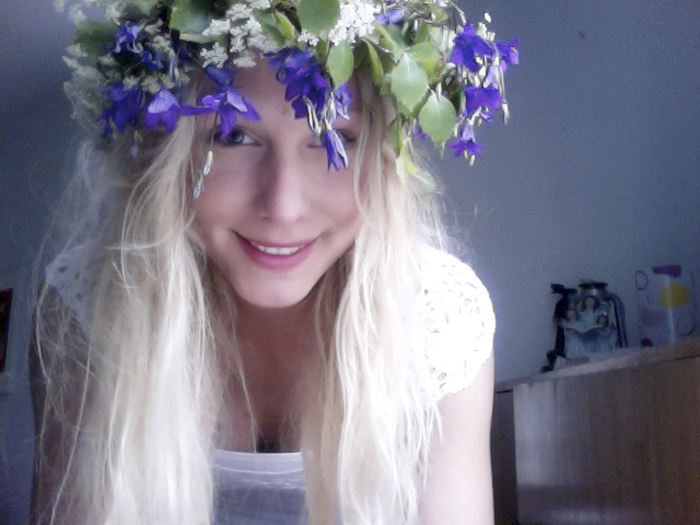 Her dream photo is "the princess on a moose", being guided by John Bauer, a Swedish illustrator who has sketched that image in a magical way. The works of Jonna exude passion and simplicity, expressing the energy she put in to achieve them, with a sober elegance. She doesn't clash with the landscapes she describes, she's fully part of them, gracefully. She has achieved her equilibrium in these mystical places, like her ancestors 10 generations ago.
Jonna Jinton lives in the woods in Grundtjärn in north of Sweden. She practices "kulning" which to her has become a form of art. Besides kulning, she works as an artist, photographer and is running one of the most popular blogs in Sweden. She left the city life 8 years ago, moved 1000 km north and started to live close to nature and to all the things her heart was longing for. She came to an old house in a small village in a forest with no money, no job and no plan on what to do in the future.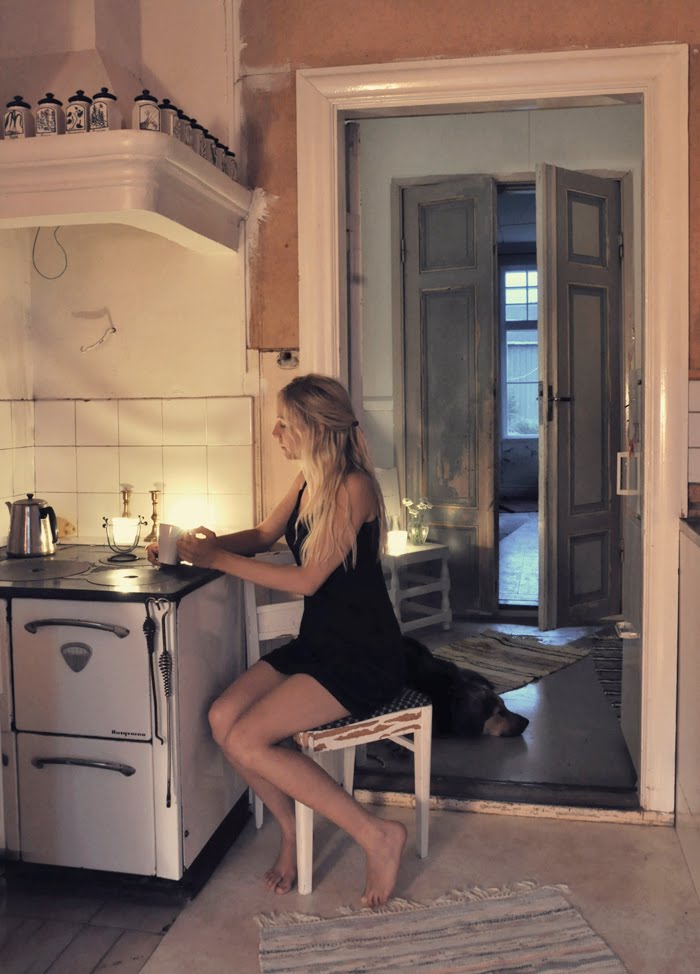 She started appreciating things that she had never even thought of when living in an apartment in a city. And she learnt that you can never feel the wonderful, comforting feeling of warmth if you have not yet been cold. She started living, for real. A story of rejecting urbanism to get back to the roots of it all. And a struggle through adversity. A living embodiment of traditionalism and ruralism in the modern age.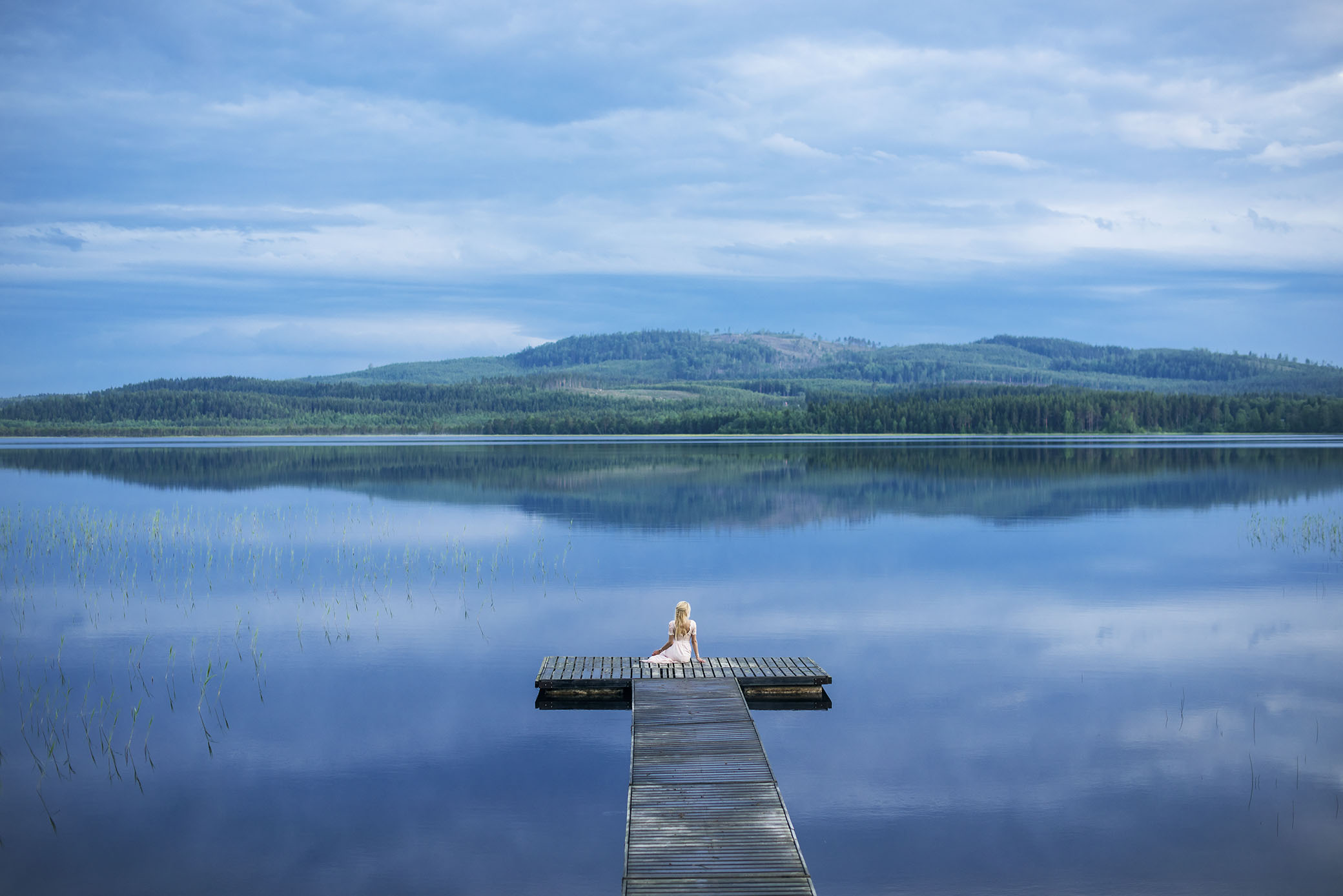 This is how people, especially Swedes are meant to live. Like their ancestors have done for thousands of years, in the rural beautiful forests in small communities. Jonna is a great inspiration for everyone and we admire her decision to reconnect with her roots and home. She's truly a beautiful soul. Thank you for your authenticity, grace and openness. What a beautiful life it is! A harsh magic world.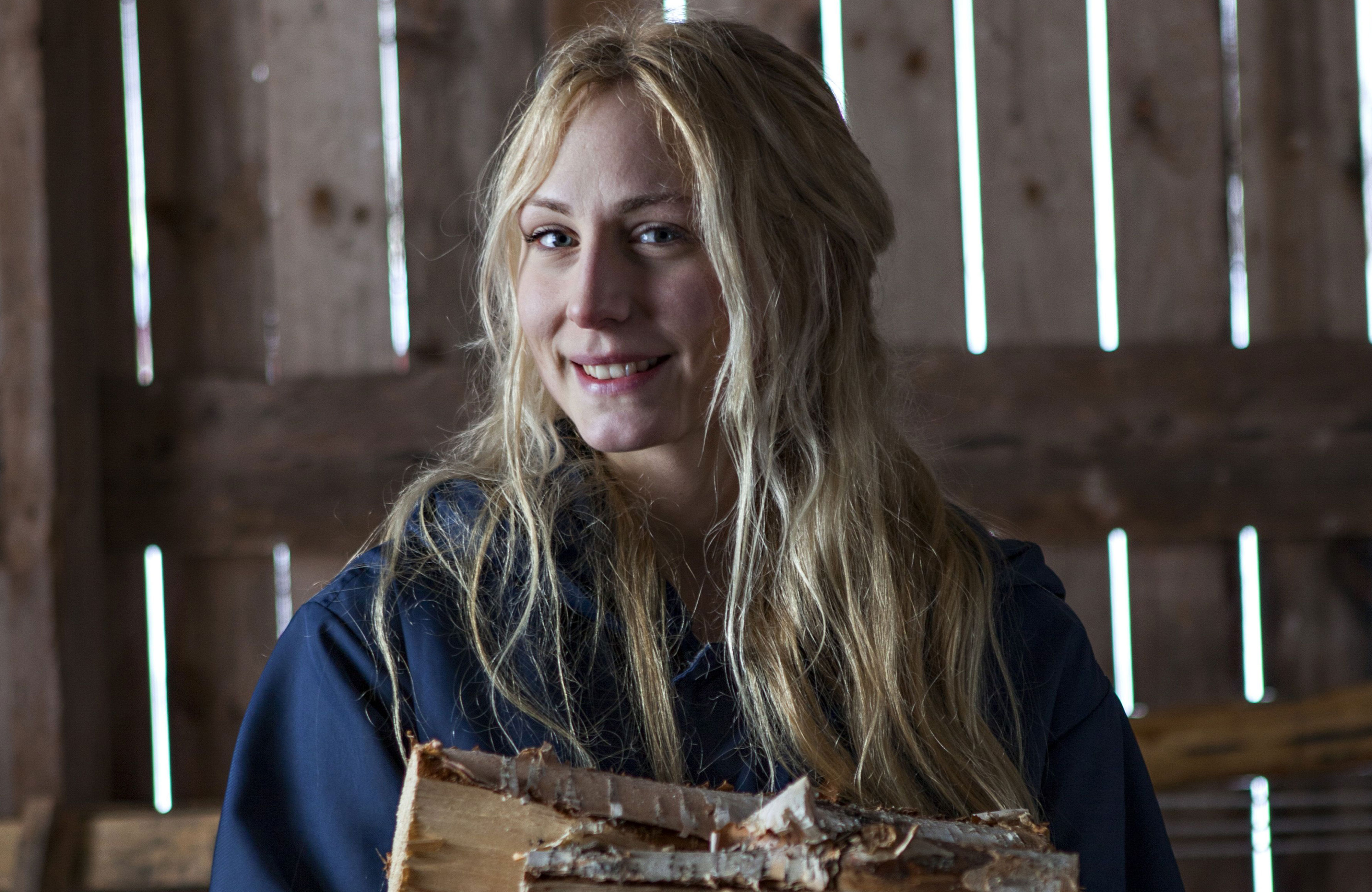 Swedish blogger summoned a herd of cows using an ancient call. The cows wandered over intrigued by her 'Kulning' herding calls. 'Until the cows come home' is a famous saying which usually refers to something that takes a very long time. But clearly it does not apply to this Swedish cow caller who has mastered the art of summoning forth the herd in record time. Jonna calls over to a herd of cows, making full use of an ancient Swedish herding call to request the presence of the cows. Grazing off in the distance the herd immediately prick up their ears at the sound of her voice. Although they do not exactly sprint across the field they wonder over as quick as could be expected for such cumbrous animals. They crowd around the caller and attentively listen to her mystical chants.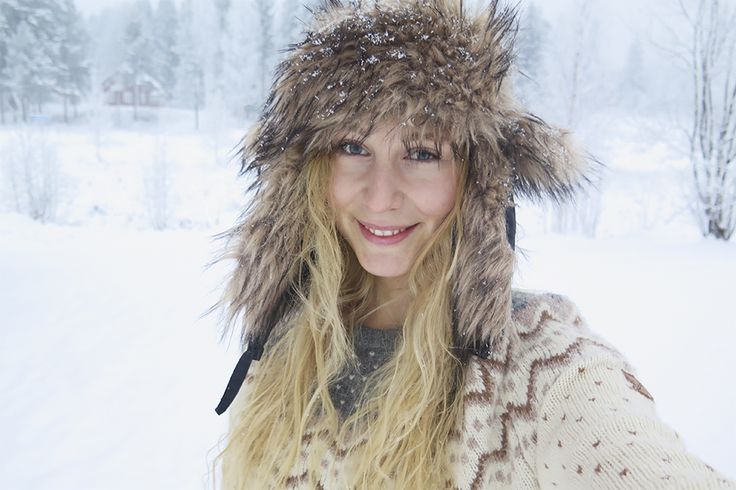 As Jonna has written: "The cows come running and I love the feeling… although they also take with them millions of tiny gnats and mosquitoes. But the feeling of getting to stand there and share a moment with the cows is unbeatable. [..] I sang for the cows one last time before they had to go back to the farm for the winter. I always feel sorrow when they leave the village in the autumn. Since May they have been here on the fields, bringing some life to our little quiet village with only 10 inhabitants in the middle of the northern woods. The sounds of cowbells in the quiet evening is one of the best sounds I know. And I love the feeling of seeing them running towards me as I sing. Especially when I see my favourite cow, Stjärna (star). She is always the first one coming. I already miss them so much."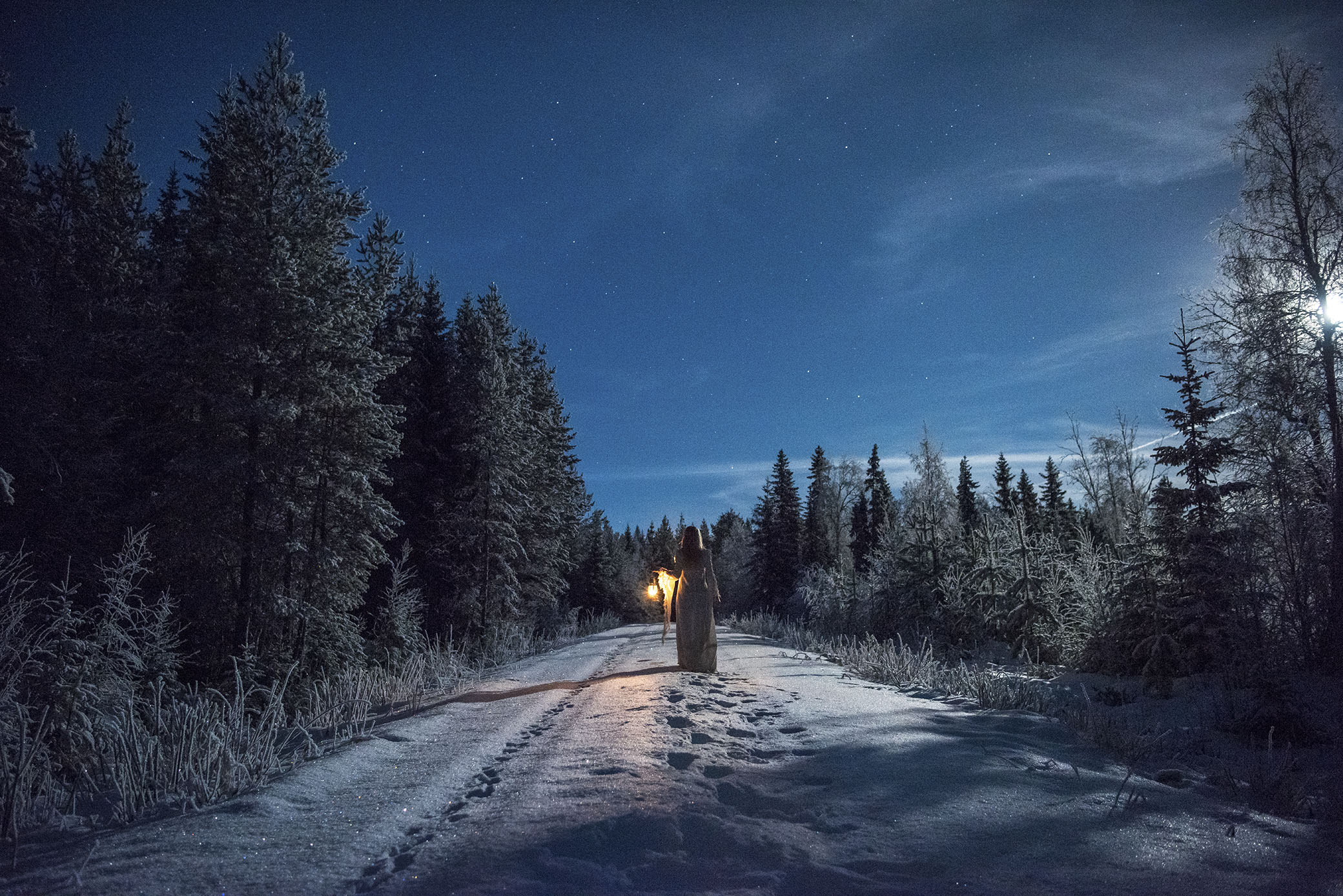 Kulning, the traditional Swedish ancient herdingcall, (called laling, lalning or lålning in Norway and neighbouring parts of Sweden, kauking or kaukning in some parts of Norway, in the provinces of Dalarna and Hälsingland in Sweden and the former Norwegian provinces in Sweden, Jämtland and Härjedalen, also kulokker, kyrlokker or a lockrop) is a domestic Scandinavian music form, often used to call livestock (cows, goats, etc.) down from high mountain pastures where they have been grazing during the day back home to the farm in the evenings. It is possible that the sound also serves to scare away predators (wolves, bears, etc.), but this is not the main purpose of the call.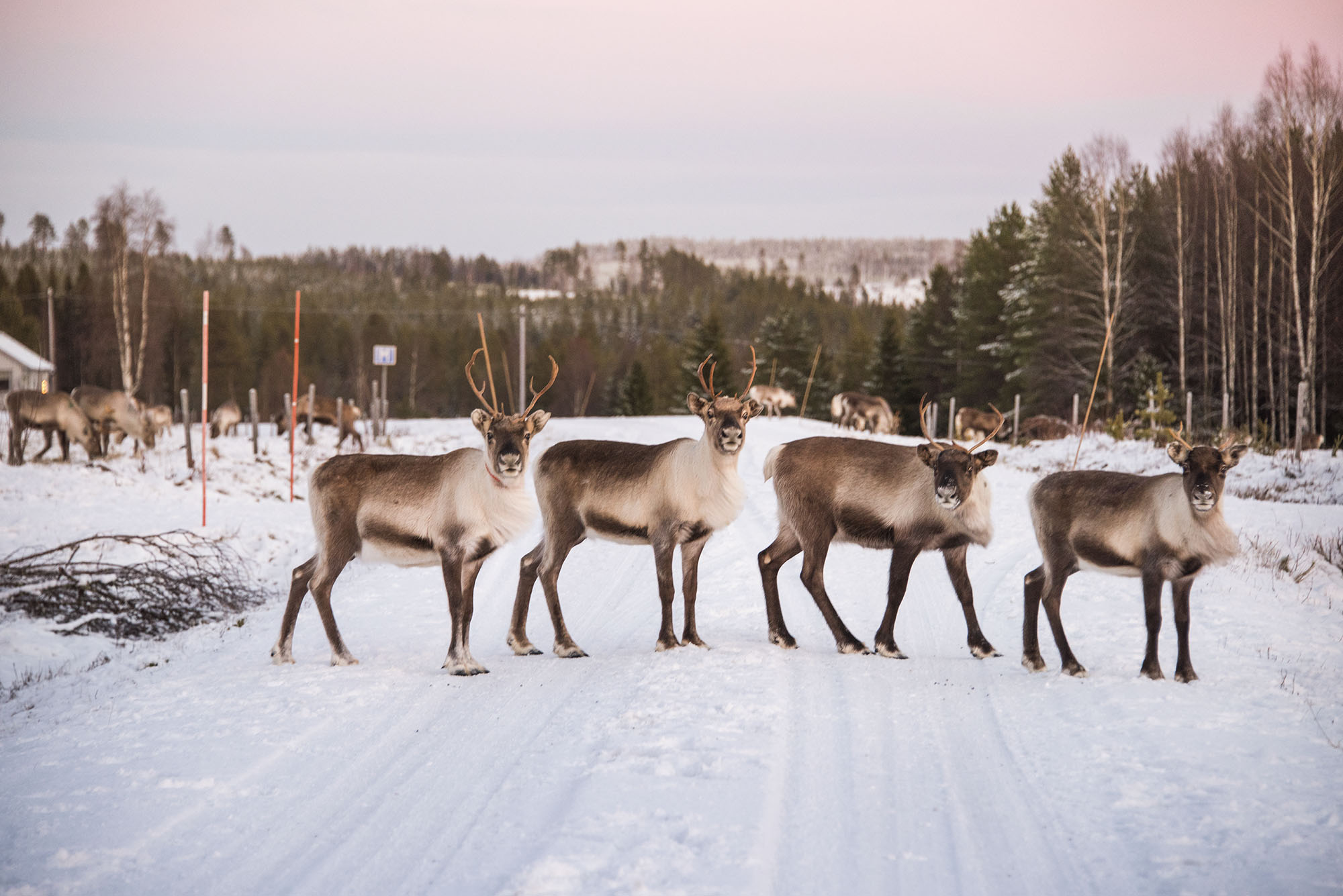 The song form is often used by women, as they were the ones tending the herds and flocks in the high mountain pastures, but there are recordings of these calls sung by men. The knowledge about it today originates, however, from regions near mid-Fennoscandia. The song has a high-pitched vocal technique, i.e. a loud call using head tones, so that it can be heard or be used to communicate over long distances. It has a fascinating and haunting tone, often conveying a feeling of sadness, in large part because the lokks often include typical half-tones and quarter-tones (also known as "blue tones") found in the music of the region.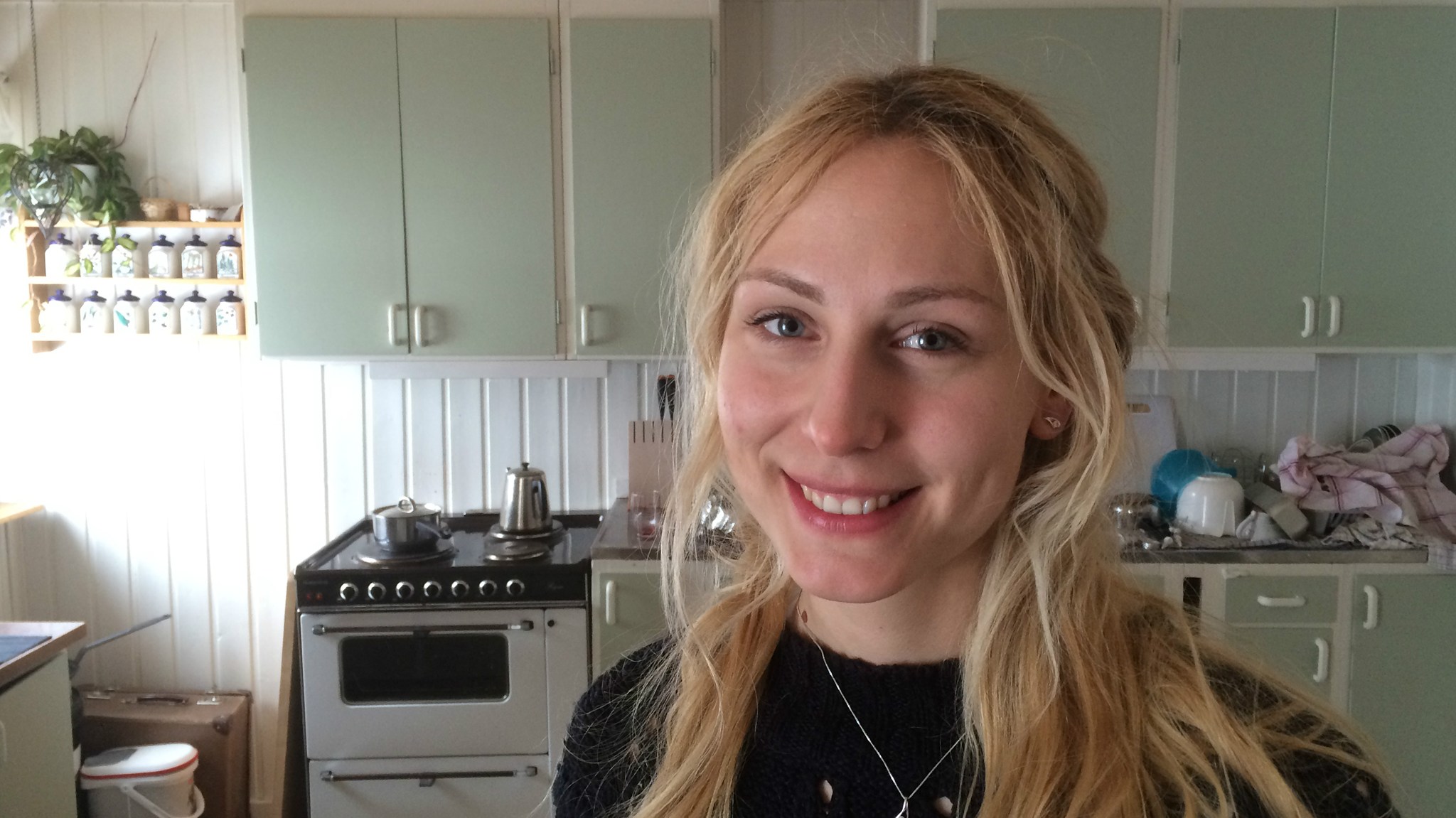 Kulning is well-suited to carry over long distances in an outdoor setting and as a singing mode was developed for calling cattle that might be at considerable distance from the singer. When a call is made in a valley, it rings and echoes against the mountains. The animals, a number of whom wear bells tuned so that the livestock's location can be heard, begin to respond to the call, answering back and the sound of the bells indicates that they are moving down the mountain towards their home farm.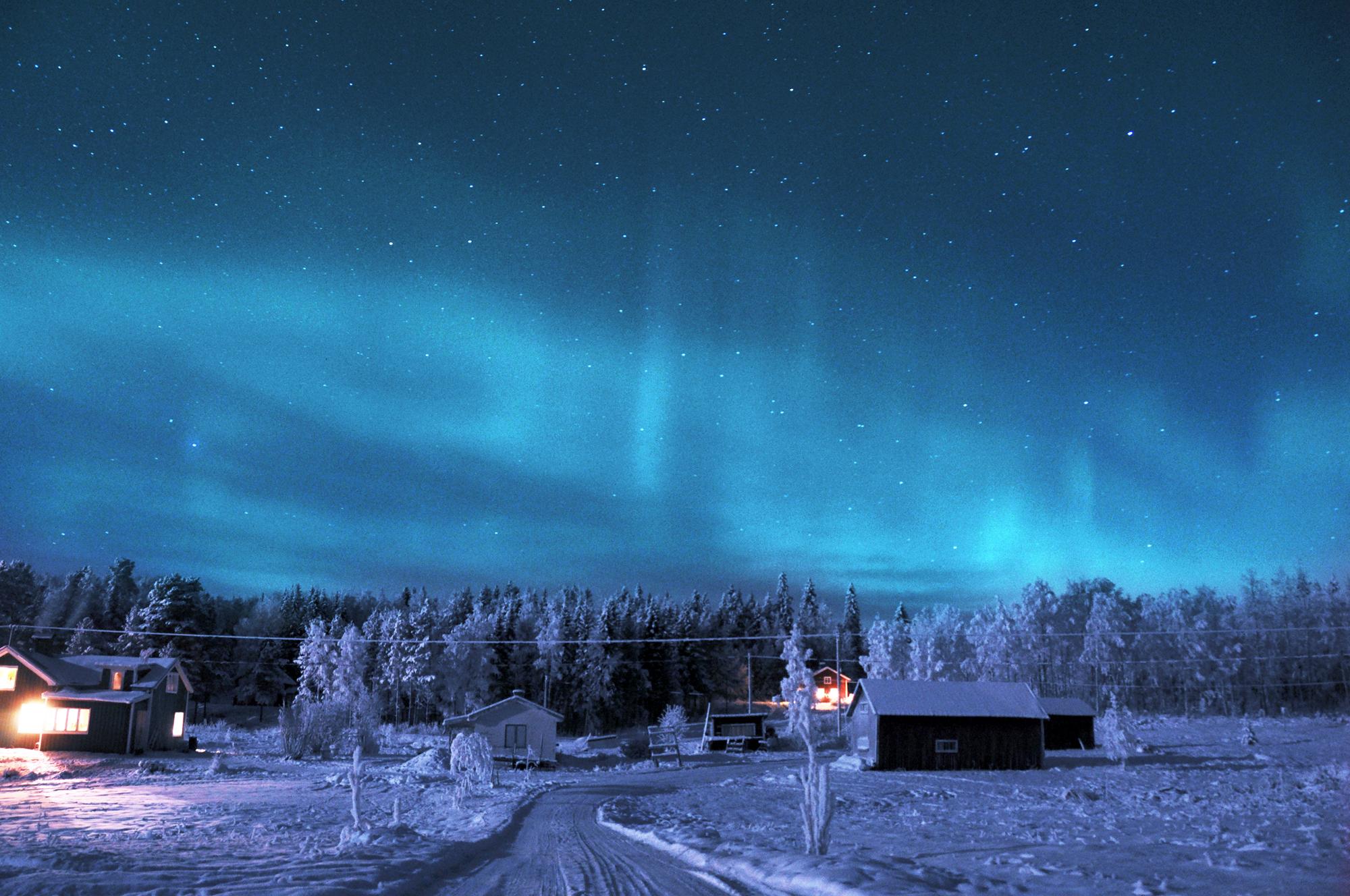 The kulokks can belong to an individual, but are sometimes family-based and are handed down so that a family's cows know they are being called and thus respond. A number of calls contain names of individual (sometimes the "lead") animals, as herds are not very large. In comparison with other song traditions used in northern Scandinavia, e.g. joik, there is no evidence that kulning has been used in religious rituals or for other purposes. It has been used on farms in stock-raising since the medieval times. The tradition is still alive today, although waning. Kulning is, however, similar to yodeling, a singing style also developed for long-distance sound propagation.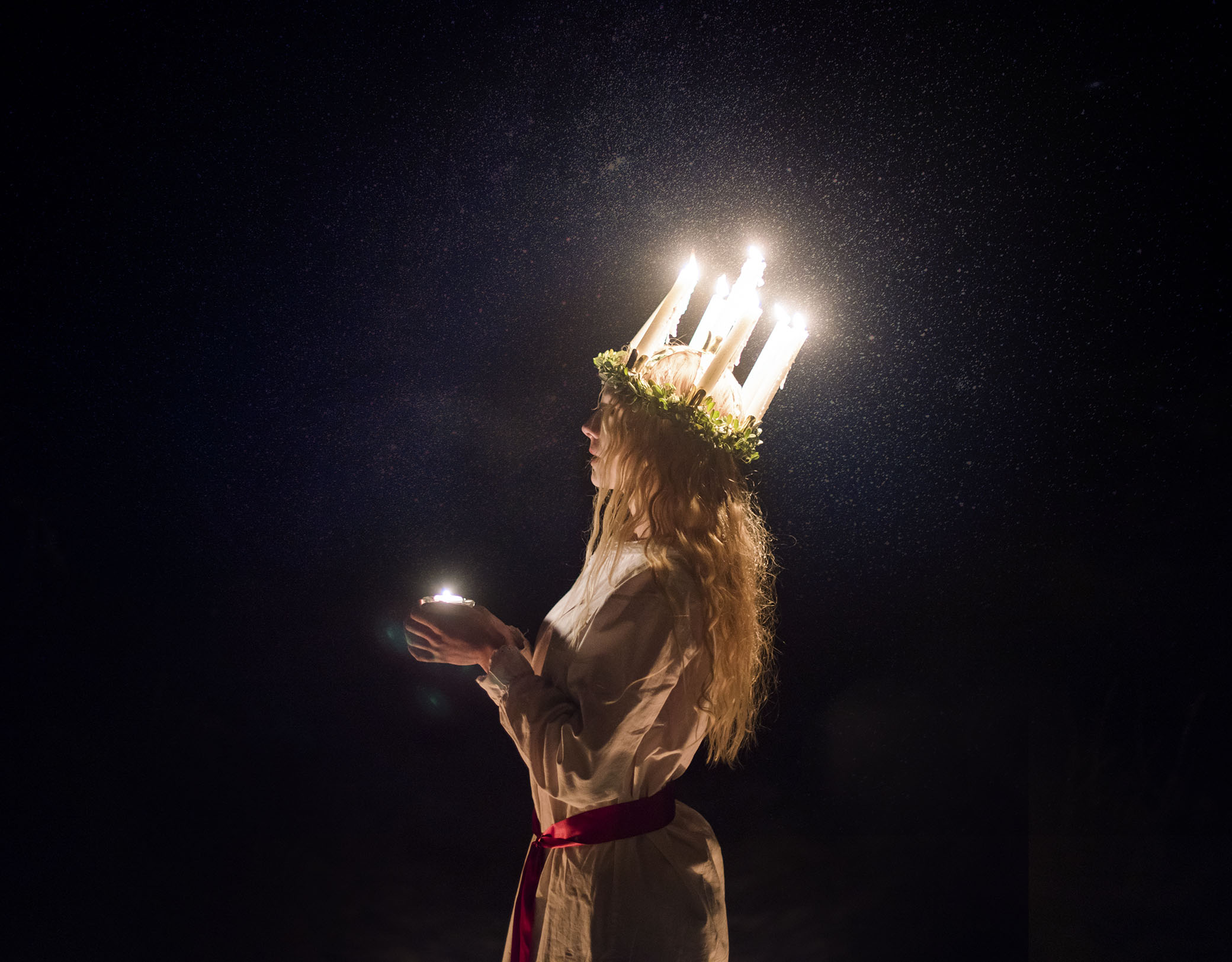 John Bauer, an Art Nouveau master of Nordic mysticism, lived a short life but in the most beautiful places in the world. For most of his life the world for him was a fairy tale. He left indelible traces behind him, his forests and their magical figures. A world of tiny, pretty princesses, handsome princes and noblemen, bold young lads, old witches and giant trolls of the deep forest of the North. Only he knew them well to the point of being capable of describing them. He was the best of all to draw this world and passed it on to us. His joyful gift.
| | |
| --- | --- |
| | |
| | |
| --- | --- |
| | |

John Albert Bauer, 4 June 1882 – 20 November 1918, was a Swedish painter and illustrator. His work is concerned with landscape and mythology, but he also composed portraits. He is best known for his illustrations of early editions of Bland tomtar och troll (Among Gnomes and Trolls), an anthology of Swedish folklore and fairy tales. Bauer was born and raised in Jönköping. At 16 he moved to Stockholm to study at the Royal Swedish Academy of Arts. While there he received his first commissions to illustrate stories in books and magazines, and met the artist Ester Ellqvist, whom he married in 1906.
| | |
| --- | --- |
| | |
| | |
| --- | --- |
| | |

He studied traditional illustrations and made drawings of plants, medieval costumes and croquis; all of which served him in his later work. One of his teachers, professor and noted historic painter, Gustaf Cederström praised Bauer: "his art is what I would call great art, in his almost miniaturized works he gives an impression of something much more powerful than many monumental artists can accomplice on acres of canvas. It is not size that matters but content."

He traveled throughout Lappland, Germany and Italy early in his career, and these cultures deeply informed his work. He painted and illustrated in a romantic nationalistic style, in part influenced by the Italian Renaissance and Sami cultures. Most of his works are watercolors or prints in monochrome or muted colours; he also produced oil paintings and frescos. His illustrations and paintings broadened the understanding and appreciation of Swedish folklore, fairy tales and landscape.

In 1904 he traveled to Lappland to create paintings for a book on the culture of the county and its "exotic wilderness". Following the discovery of iron ore deposits in the north of Sweden, Lappland became a frontier for industrial development, instead of an exotic wilderness of the Sami culture and midnight sun. Coming from the dense, dark forests of Småland he was overwhelmed by the open vistas and colorful landscapes.

His encounters with the Sami people and their culture became important for his later works. He took many photos, sketched and made notes of the tools, costumes and objects he saw, but he had difficulty becoming close to the Sami, due to their shyness. He recorded his experiences in his diary and in letters to his family and friends. After a visit to a Sami goahti he noted: "all light from above. If the head is tilted forward it is dark. The lit parts of the figure always lighter than the tent canvas. Sharp shadows run like spokes from the middle of the goathi."
| | |
| --- | --- |
| | |
| | |
| --- | --- |
| | |

The book on Lappland was published in 1908, with eleven watercolors by Bauer. They were painted in Stockholm, almost 18 months after his visit, using the photos and sketches he had collected during his journey. Many of the photos resulted in other drawings and paintings. Most of these were romanticized versions of the photos, but he succeeded in capturing the nuances and ambiance of the goahtis, and the richness of the Sami garments and crafts. Details from the Sami culture, such as the bent knives, shoes, spears, pots and belts, became important elements in the clothes and ornamentations of Bauer's trolls. Bauer's eye for detail and his numerous notes also made the material an ethnographic documentation of the era.
| | |
| --- | --- |
| | |
| | |
| --- | --- |
| | |

For Bauer, Ellqvist became his inspiration, muse, and "fairy princess"; it was as such he painted her for the first time in Sagoprinsessan (The Fairy Princess). He made sketches for the painting in 1904, and finalized them in an oil painting in 1905. Ellqvist is portrayed as a strong, enlightened and unobtainable Valkyrie. Bauer tried to mold Ellqvist into his vision of a creature of the woods and as the perfect artist's wife; he wanted her to make a home for them in a romantic cottage in the woods, while he wandered about the forest seeking inspiration.
| | |
| --- | --- |
| | |
| | |
| --- | --- |
| | |

Bauer's favorite subject was Swedish nature, the dense forests where the light trickled down through the tree canopies. Ever since he was little he had wandered in the dark woods of Småland imagining all the creatures living there. His paintings frequently included detailed depictions of plants, mosses, lichens and mushrooms found in the Swedish woods. He is best known for his illustrations of Among Gnomes and Trolls. In a 1953 article in Allers Familje-journal (Allers Family Journal), his friend Ove Eklund stated that "although [Bauer] only mumbled about and never said clearly, he believed that all the creatures he drew actually existed." Eklund had on several occasions accompanied Bauer on his walks through the forests by Lake Vättern, and Bauer's description of all the things he thought existed made Eklund feel he could see them as well.
| | |
| --- | --- |
| | |
| | |
| --- | --- |
| | |

Ove on Bauer: "yes, there he was, John Bauer, with his brown, eternal pipe glued to the corner of his mouth. Now and then he blew a small cloud of brown troll smoke straight up into the turquoise-bleu, sun-sparkling space. And muttered something far behind his tight, narrow lips —not always so easy to decipher. But I, having had the key for many years, understood most of it."

In 1907, Bauer was asked by the Åhlén & Åkerlund publishing house (now Bonnier Group) to illustrate their new series of books, Among Gnomes and Trolls. Bauer's most significant creatures, the trolls, were rendered in shades of gray, green, and brown, the colors of the forests, as if these beings had grown from the landscape itself. Due to the limitations of the technology available to his printers, the 1907–10 editions were produced in just two colors: black and yellow. Some of Bauer's original paintings for these prints were in full color.
| | |
| --- | --- |
| | |
| | |
| --- | --- |
| | |

The publisher yielded to Bauer for the 1912 edition; he was again illustrating his own book. Printing techniques had also been updated and the pictures could be printed in three colors: black, yellow and blue. With this technical improvement, the prints almost resembled Bauer's original paintings. Bauer illustrated the 1913–15 editions, printed in the same three colors as previously. 1913 marked the peak of his performance in these books, and Bauer's illustrations from that edition are among the most reproduced of his works.

In 1914, his illustrations started to be influenced by the Italian Renaissance. At that time Bauer wanted to stop illustrating the series, but was contractually obligated to illustrate one more edition. 1915 was the last year he worked with trolls and gnomes; he said he "was done with them and wanted to move on". The war in Europe had altered Bauer's vision of the world and he stated that he could no longer imagine it as a fairy tale.

When Bauer was 36, he, Ester and their son, Bengt, drowned in a shipwreck on Lake Vättern in southern Sweden. On 18 August 1922, the Bauers were buried at the Östra cemetery in Jönköping.
Until the 1980s, the most reproduced and publicized of Bauer's works were two paintings depicting the princess and the moose from Sagan om älgtjuren Skutt och lilla prinsessan Tuvstarr (The Tale of the Moose Hop and the Little Princess Cotton Grass), published in 1913. The first picture is of the princess riding on the moose and the second is of the moose standing guard over the sleeping princess. The same tale also contains the picture of Tuvstarr gazing down into the tarn looking for her lost heart, an allegory of innocence lost. His illustrations have been reprinted many times, and are considered among the classics in fairy tales.
John Bauer - Videos
Jonna Jinton - Videos